Roger and Mary Ellen Sanders Invested in Indoor!
WGI's Donor Spotlight is a deep dive into the WGI Community where we shine a much-deserved light on some of the many amazing individuals that have gone out of their way to support WGI's mission through our Invest In Indoor Fund. Read the article below to learn more about our first featured donors, Roger and Mary Ellen Sanders!
Interested in donating? Click the button below!
Now more than ever, the generous donors of WGI continue to build the future of the activity. Among these generous donors are Roger Sanders and his wife, Mary Ellen. The Sanders have invested in the next generation through countless hours of support and generous contributions.
Roger and Mary Ellen became advocates when their son, Brady, began teaching color guard during his five-year performance career with The Cavaliers Drum and Bugle Corps. Like many marching arts parents, the Sanders were unaware of WGI before their son's involvement, but now find themselves—fifteen years later—continuing to enjoy and celebrate performances at every level of winter guard.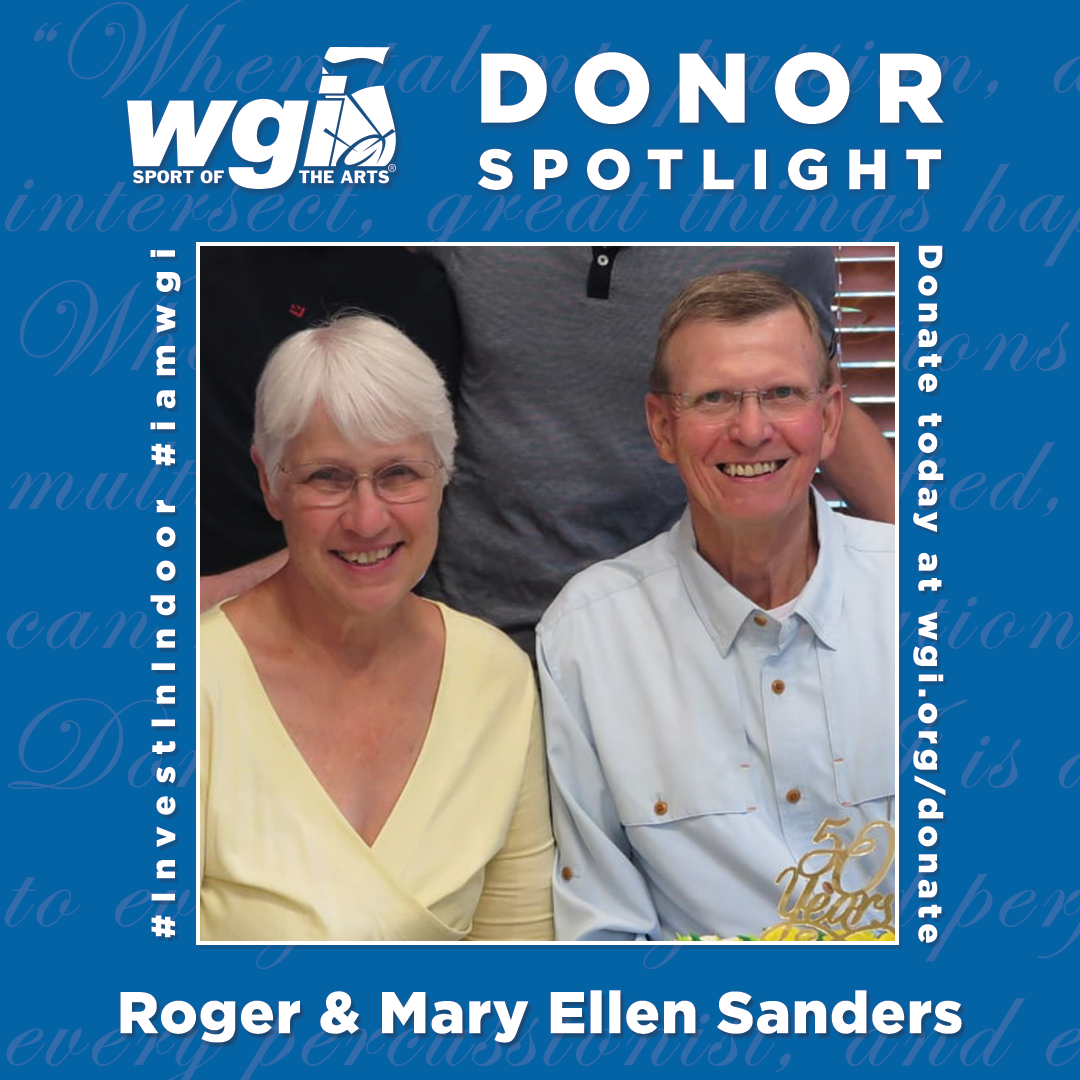 It is not uncommon to see Roger and Mary Ellen at rehearsals, local shows, regional competitions, and WGI finals, cheering for every group—especially those that their son contributes to. The Sanders feel fortunate to have the means to travel and support students of WGI. They hope to encourage current members to continue nurturing their passion and commitment to the arts.
The Sanders admire the irreplaceable opportunities that WGI and local circuits create for students, family, and fans. The family has been especially involved with Pride of Cincinnati, where they admire a culture that upholds excellence in life and performance. Their hope is that every student experiences the positive impact that occurs at the pinnacle of the activity.
Of WGI's global reach, Roger says: "WGI is the organization that builds upon the great efforts of local and regional organizations to provide a world-renowned performance stage that all performers can aspire to. Further, WGI provides leadership in performance excellence, professional development, and elevating the persona of winter guard throughout the community."
As lifelong educators—Mary Ellen as an elementary teacher, reading specialist, and educational consultant and Roger as a teacher, administrator, and educational program designer—the Sanders have dedicated their adult lives toward the purpose of helping young people discover their talents, pursue their passion, and make a difference. When they see opportunities that support the vision of the marching arts, they want to offer their adamant support.
"Great works, especially in difficult times, require extraordinary effort and support. We know that financial support for WGI has a direct impact on the lives of young people," Roger says.
He sees WGI as a fiscally prudent and purpose-driven organization that has a long history of sustained programming. He emphasizes that WGI's framework for individual performance during the pandemic—including eShowcases and virtual competitions—has illustrated dedication, creativity, and innovation that warrants support.
To Roger, donating to WGI represents many things: "Donating to WGI is a statement to every winter guard performer, every percussionist, and every wind ensemble that their pursuit of performance excellence has value and warrants a world-class stage."
In WGI, Roger sees another significant impact—its effect on the fans. When he and Mary Ellen leave a show, they leave with a renewed sense of hope and joy. It is this sense of joy that the Sanders hope to continue to pay forward through their generous involvement with the WGI community.
Click the links below to read through more Donor Spotlight Stories!
ABOUT THE AUTHOR: Jenny Lyons is a freelance writer and master's student of writing at San Francisco State University. She has a BA in Literary Journalism from the University of California, Irvine. She is an alumna of WGI, having performed with the Santa Clara Vanguard Winter Guard from 2013 to 2015, during which time she was fortunate enough to become a WGI World Champion. Jenny has also marched with several drum corps including the Santa Clara Vanguard. When she is not writing, Jenny can be found continuing her passion for color guard through teaching in the Bay Area and serving as caption head to the Vanguard Cadets.