JALLIL Invested in Indoor!
WGI's Donor Spotlight is a deep dive into the WGI Community where we shine a much-deserved light on some of the many amazing individuals that have gone out of their way to support WGI's mission through our Invest In Indoor Fund. Read the article below to learn more about our next featured donor, Jallil Muh!
Interested in donating? Click the button below to help us reach our fundraising goal by April 19, 2021!
Anyone who has enjoyed a WGI event knows that community is one of the cornerstones of the marching arts. As WGI expands around the globe, the sense of community has only grown in depth and scope. A shining example of the far-reaching impact of WGI is Jallil Muh, one of the many generous donors who have invested in the future of the activity.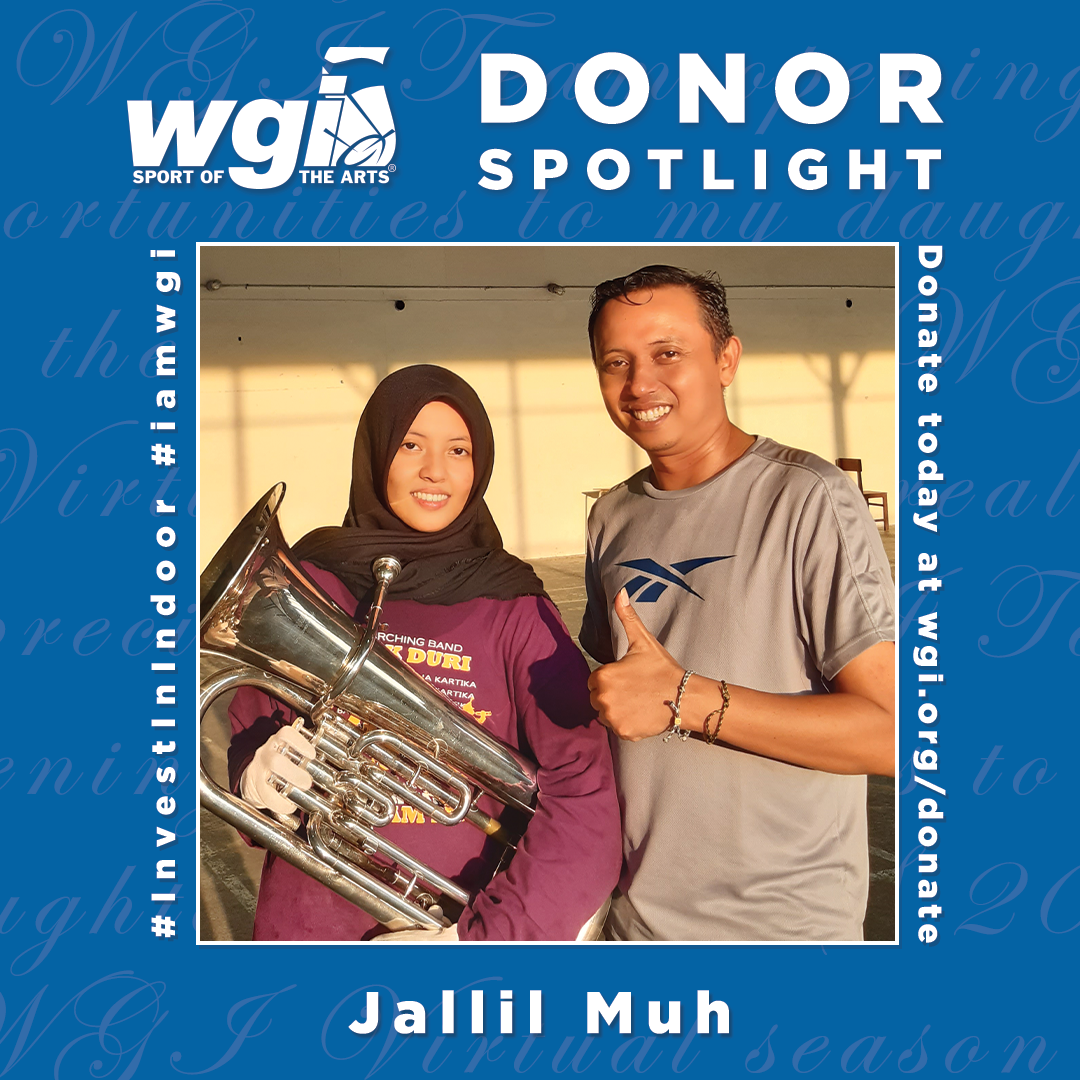 Jallil connected with WGI when his daughter participated in the inaugural WGI Indonesia Championship in 2017. While he could not attend the event—he was supporting his wife during her treatment for blood cancer—he anxiously awaited hearing the results of the event. To his joy, his daughter's group placed first in their class.
The achievement sparked a newfound resolve in his daughter.
From that moment onward, Jallil's daughter was inspired to be a part of a stateside WGI Championships. Through an unexpected turn of events, she was able to participate virtually in this year's remote season. Jallil is grateful that his daughter was able to live out her dream through the WGI's 2021 virtual season, in which she competed as a solo performer. Jallil says that the feedback his daughter received has fueled her motivation even further.
ABOUT THE AUTHOR: Jenny Lyons is a freelance writer and master's student of writing at San Francisco State University. She has a BA in Literary Journalism from the University of California, Irvine. She is an alumna of WGI, having performed with the Santa Clara Vanguard Winter Guard from 2013 to 2015, during which time she was fortunate enough to become a WGI World Champion. Jenny has also marched with several drum corps including the Santa Clara Vanguard. When she is not writing, Jenny can be found continuing her passion for color guard through teaching in the Bay Area and serving as caption head to the Vanguard Cadets.