Kaleena Invested in Indoor!
WGI's Donor Spotlight is a deep dive into the WGI Community where we shine a much-deserved light on some of the many amazing individuals that have gone out of their way to support WGI's mission through our Invest In Indoor Fund. Read the article below to learn more about our first featured donor, Kaleena Thompson!
Interested in donating? Click the button below to help us reach our fundraising goal by April 19, 2021!
About KAleena
Kaleena Thompson first became involved with WGI in the winter of 1998 as a performer when she competed in the MidSouth WGI Regional held in Nashville. She says, it only took one visit to World Championships in 1999 for her to be hooked. Now, she is an instructor, judge, donor, and avid supporter of the WGI organization and community.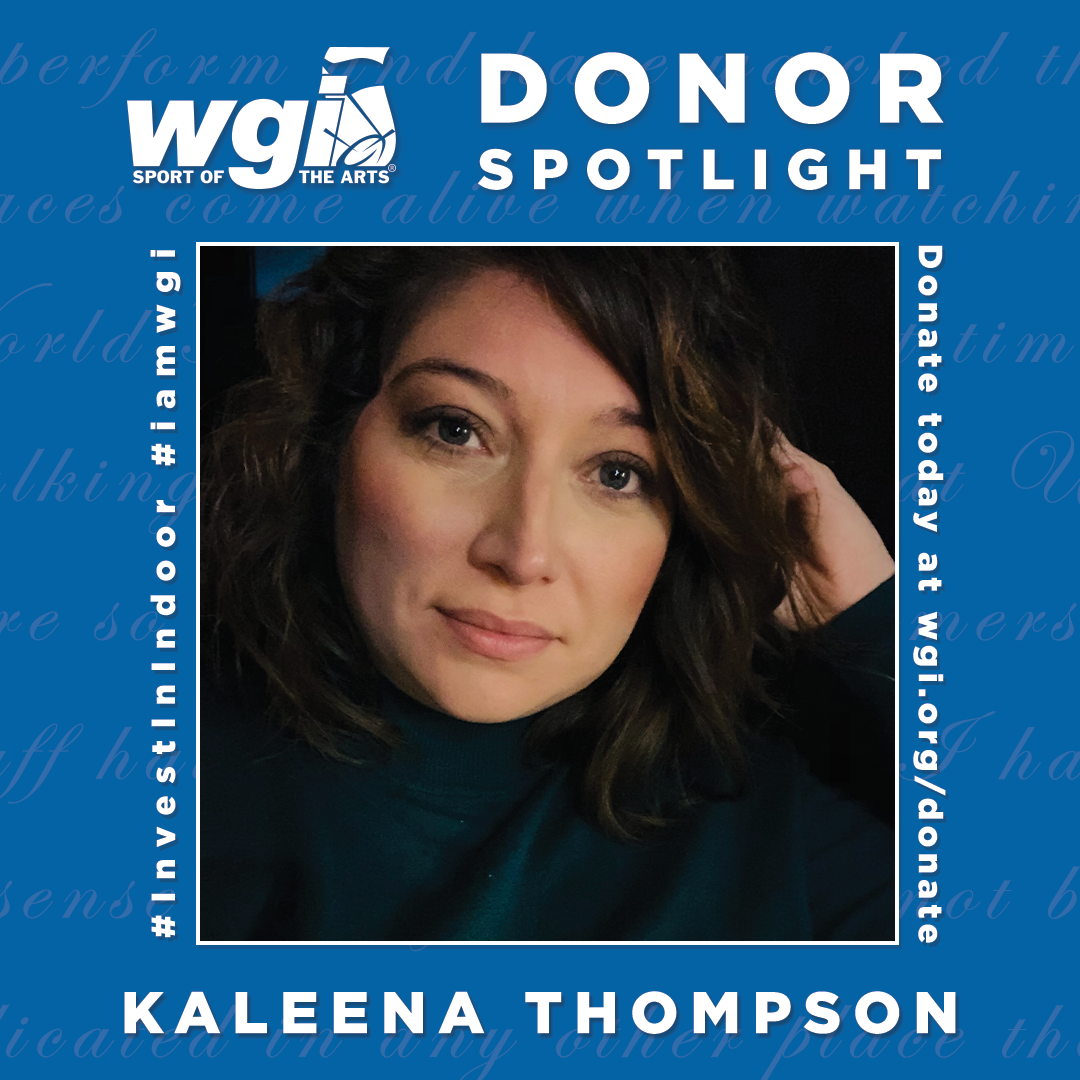 Kaleena has performed with Eklipse and Chimeras winter guards. She began her career as a color guard instructor in 2001. Then, in 2008, she formed her own winter guard team, Elizabethtown Independent, which finished as a 2009 WGI IA Finalist. Now, she works with winter guards, color guards, and marching bands, including writing drill for The Magnolia Project which currently competes in Independent A.
Kaleena also supports the WGI organization as a Design Analysis judge, serving in her home state of Kentucky, as well as Tennessee, Alabama, Texas, Mississippi, Virginia, North Carolina, South Carolina, and California.
The Collective Passion for WGI
Kaleena explains that one of the things she appreciates most about WGI is the environment it creates for all involved. "WGI provides an open environment for anyone who wants to take part. I think that is something I love most of all. The culture is accepting of all of us. The organization, through competitions, offers experiences that create lifelong memories for those who are involved."
She thrives being a part of the process of helping others who share her same passion for the art. She says, "I have taken young people to WGI to perform and have watched their faces come alive when watching World Finals for the first time or walking down the tunnel at UD where so many great performers and staff have ventured. WGI has a sense of magic that cannot be replicated in any other place than a packed gym of lovers of the art!"
WGI fosters relationships for those who love this magic, and Kaleena is grateful to have forged friendships with so many individuals who share not only the same passion for the sport, but the same passion for helping others grow in it. The journey from performer to mentor is what keeps this sport alive. She says, "When I think about the people I have known over the years because of WGI, many were performers back when I was performing and then moved into instructional roles. Many are now some of the top directors and designers in the world. Being able to continue growing in the sport and also giving back by raising up the next generation of performers and teachers is unique and very special."
Keeping the Organization Alive
As a donor, Kaleena speaks to how essential it is for WGI to have the funds to continue to provide the opportunities it does to performers and spectators across the world.
She says, "WGI is unique. There is no other organization that provides such methodical and organized performance opportunities for young people. WGI is invested in the growth of the activity and the growth of its members."
Kaleena explains that throughout her time in WGI, she's never seen a moment of stagnancy. Every year, there are new developments providing new opportunities for performers. She says, "It has been exciting to see the indoor winds portion of the activity come to life, which shows that WGI is committed to growth. Through implementation of Box 6 in World Class, they opened the door for even more creative leaps, which has pushed the activity at all levels even further. We should all do what we can to support creative growth."
It's all about supporting longevity of WGI which has provided her, and all those involved, so much.
She says, "this organization and the activity have been instrumental in my life and the lives of those I have taught. My own children are starting to reach the age where they can join performing groups, so I want to make sure that I do my part to help this special organization continue on so that younger generations can enjoy the journey as well!"
ABOUT THE AUTHOR: Trudy Horsting is a graduate student at Arizona State University pursuing her PhD in Political Science. She holds a BA in Political Science and a BA in Writing, Rhetoric and Technical Communication from James Madison University. While at JMU, she was a member, and captain for two years, of the Marching Royal Dukes Colorguard and JMU Nuance Winterguard. In 2019, she spun with First Flight World and is currently a member of FeniX Independent World.