By Jenny Lyons
Emerging sunlight peeks from behind the temporary clouds and retreating chill of a Southern California morning. A guitar strums thoughtfully in the background, swelling into focus as nondescript joggers hustle by the high school campus behind them. Color guard members pull on well-worn gloves and pick up freshly-taped equipment. They move gracefully over the grass in soft dresses and crisp dress shirts. As the music builds, the progression of preparation into practice feels familiar.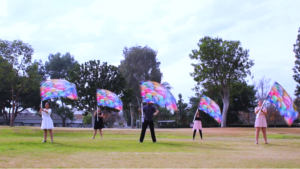 These are the opening shots of Megan Freedman's new music video, "Lift You Up." For anyone who has been involved in the color guard activity, the depiction of pulling on one's gloves and taking the first tosses of the morning will feel comfortable and familiar; for the general audience, this will be a new viewing experience. This is what drew Megan Freedman, an alumna of Woodbridge High School's Color Guard, to feature the current WHS Color Guard in her work.
Megan's budding music career, now based in in British Columbia, Canada, began hundreds of miles away in Irvine, California at Woodbridge High School. Along with color guard, Megan dabbled in choir. Her love for music and performance only intensified over time, and she went on to pursue musical theatre at a local community college. After a brief stint of "finding [herself]" in Europe, Megan moved to British Columbia to be near her family and–incidentally–music. Both Megan's mother and step-father are accomplished musicians in their own right and are part of a country duo. This family connection with the arts renewed Megan's passion for music and she sought out new mentors and avenues by which to grow within her craft. Her mentors and producers included Darby Mills, Aaron Gordon, Dez Black, Skip Sailor, Lynne Sailor, and Bernie Grundman–all of whom led Megan to her current project. Beyond "Lift You Up," Megan is traveling to LA to record new singles. She has recently assembled the new Megan Freedman Band and plans to tour BC and Alberta in the near future. She hopes to eventually travel to her home state of California with her new band mates. Megan has big plans to release a six song EP in the fall, but this is just the start for her promising music career.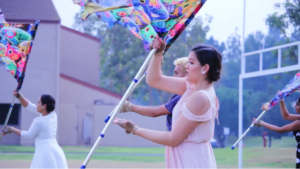 As a fledgling musician, this will be Megan's biggest project to date. As such, she views it as her introduction to the world, an introduction in which it felt natural to include her first love: color guard. "My entire life from the time I was 12 to 18 revolved around color guard," Megan says. "I felt that the best way to introduce myself to the world as an artist was to show everyone the activity that had so heavily influenced my life." She originally envisioned that her music video would include an intricate routine set to her song, much like a winter guard show turned music video. However, once Megan teamed up with her close friend and fellow WHS alum Aura Meza, her vision shifted. When Aura heard the song, she felt the lyrics embodied teamwork and working together toward a common goal. Consequently, in producing the video, she took a more organic approach and filmed the WHS color guard as they spun on one of the expansive green fields of Woodbridge High School. Aura filmed them as they warmed up in a circle, as they stood in technique block, as they performed for each other, and as they tried new skills. The shots feel more natural and holistic than a performed show might have been. She includes several shots of performers dropping before picking back up and trying again. This is a side of color guard that many would not think to include, but one that portrays the perseverance and grit of the activity. Aligned with portraying the guard as a unified group, the final sequence of the video captures two performers trying, unsuccessfully at first, to complete a double flag exchange. The last shot depicts the two finally achieving the new skill and smiling into the camera in celebration. Megan feels Aura connected with the story of individuals working in tandem to move forward and "executed that perfectly" in the video.
Having developed her color guard career during both her middle school and high school years, Megan considers color guard to be a huge part of her life. She attributes her current career as a performer to her color guard roots. "Had director Brad Harris never come to [my middle school] a small group of us to start a team," she says, "I probably would not be a professional performer now."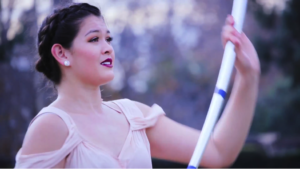 On his part, Band Director Brad Harris was happy to facilitate the vision of his former student. Mr. Harris had lost touch with Megan after she graduated and did not know about her performance career until he stumbled across a few videos on his news feed. Once he reached out to see when she might be performing in Southern California, the idea for her video was born. Brad remembers Megan as having "had two loves in high school: color guard and singing. She wanted to combine those for this video." He also notes that she has always been ambitious and hard-working. As such, he was happy to help Megan in coordinating with the current WHS Color Guard instructor, Manny Ruiz, to bring her artistic vision to fruition.
Both Megan and Mr. Harris are aware that the color guard activity is rarely featured beyond its intended venues of local circuit competitions and the international circuits of both DCI and WGI and were thrilled to share it with a general audience. "I was so excited to have the team and the activity get exposure like this and be involved with this project," Brad says. He adds that his students loved the experience as well. Megan echoes this sentiment. "I wanted to expose the beautiful Sport of the Arts to a new audience."
Listen to Megan describe the concept behind the music video.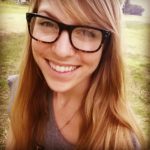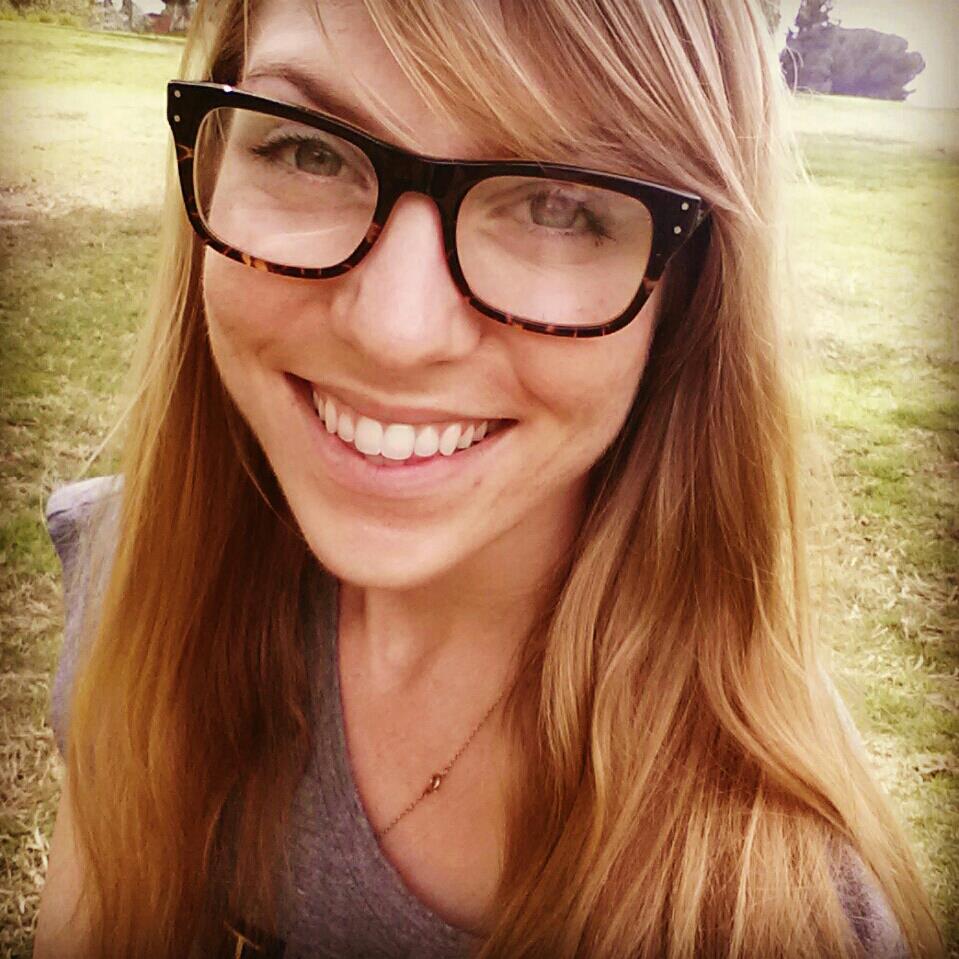 About the Author: Jenny Lyons is a freelance writer and graduate of the Literary Journalism program at the University of California, Irvine. She is particularly enamored with nonfiction writing, archival research and reporting, as well as editing. She is an alumna of WGI, having performed with the Santa Clara Vanguard Winter Guard from 2013 to 2015. Jenny has also marched with several drum corps including Pacific Crest, The Academy, and the Santa Clara Vanguard. When she is not writing, Jenny can be found continuing her passion for color guard through teaching.