By: Emily Ward
In April, teams from around the world competed at the WGI Sport of the Arts 2022 World Championships with a variety of different show concepts, music selections, and beautifully made costumes. One of those teams was the University of South Florida, who took home the World Champion title for the Independent Open class. Coming off of their big win, I had the privilege of speaking to the team's director, Liz Bannon, about what went into creating their show, "The Moments That Made Us."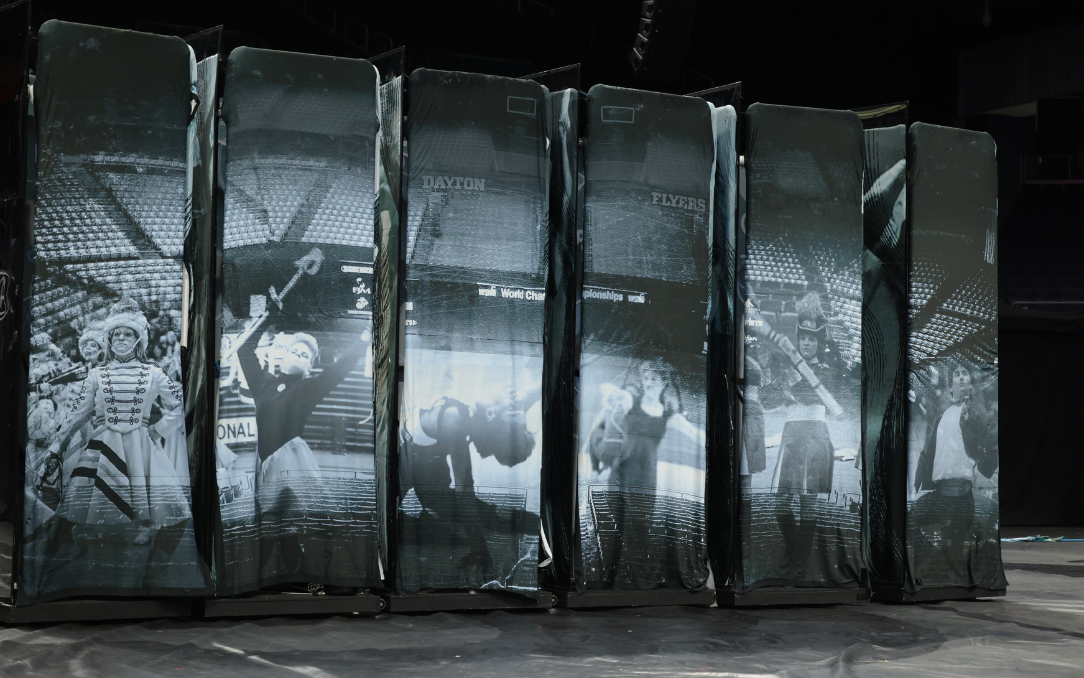 USF's 2022 program was based on an episode of 60 Minutes that designer Michael James saw, telling the story of Tony Bennett's final live performance. Bennett has Alzheimers and had to be reminded of just about everyone he used to know, one of those people being his friend Lady Gaga, with whom he spent his last concert. Once he walked on stage and the music started, Bennett could remember Gaga's name all on his own.
"It was just the idea of memories returning after a long time of not being able to…remember. And so that idea was tied with WGI's 45th anniversary, which also happened to be our 20th anniversary," Bannon said. "When Michael brought the idea to me about creating a show that just pays homage to great mentors and memories of WGI's 45th anniversary, it was…a perfect fit."
When selecting the team's music, Bannon said that "After [Michael James] watched that 60 minutes episode, he went onto whatever music app he was using and looked up Tony Bennett's most recent album, and the very first song he clicked on ended up being our show music." She believes James made his choice because "the lyrics in the song were: 'Where has all the time gone to, we haven't gotten the time to do all the things we want to, I guess we'll catch up some other time' it just so perfectly fit the idea of returning to WGI."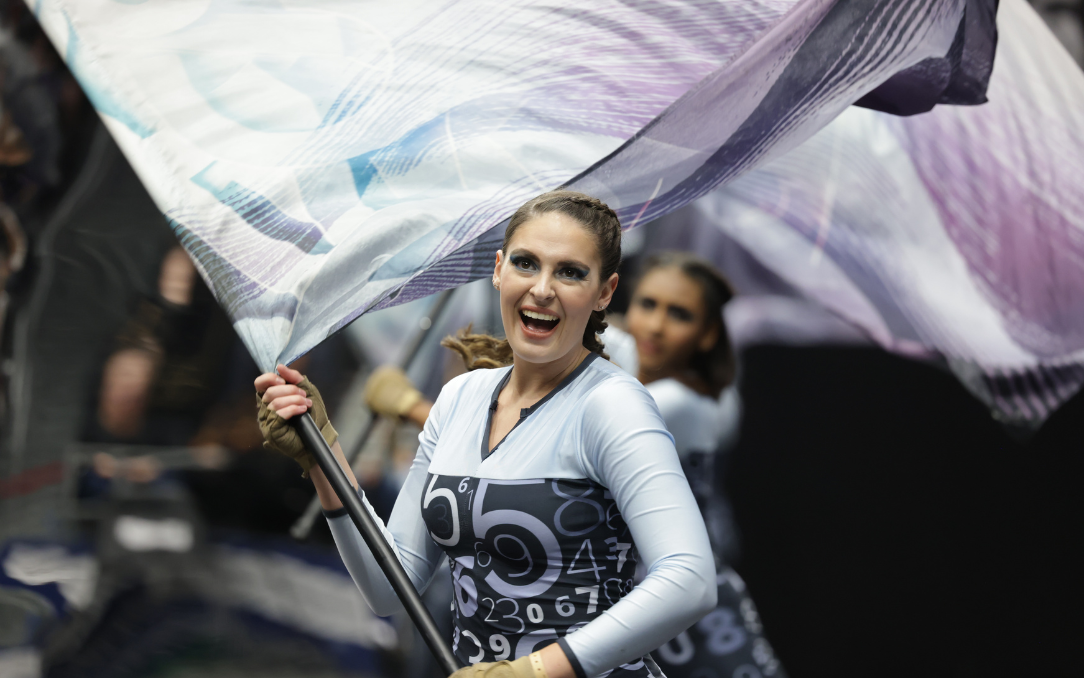 In addition to the song, the staff wanted to add a special touch to their music by having Brandt Crooker's voice recorded, announcing the team to the floor. Bannon said the use of his iconic voice helped to establish the feeling the team was looking to bring to their show. USF ended up meeting Crocker in Dayton, making their soundtrack that much more meaningful to them.
This year's show revolved around a multi-sided set of props. Bannon said, "The first side of the props that the audience got to see displayed numbers, which were supposed to represent time and moments at large in the activity. That was also on [the] uniforms as well."
"The second side of the props [were] inspired by the mentors that inspired [Michael] as a mover." Those impactful dancers were Desmond Richardson, Martha Graham, Mia Michaels, Misty Copeland, José Limón, Debbie Allen, and Mikhail Baryshnikov.
The third side of the props housed acrylic mirrors. Bannon said the point of the mirrors was to "be reflective on how those iconic people [on the props] can reflect into us in the present and then also reflect into the future of the activity."
The final side of the props was covered in iconic moments from the history of WGI. Some of the members shown on the props were from 1989's Blessed Sacrament, State Street Review, and the 1983 Cavaliers. The team surprised their choreographer by adding him to one of their props at the World Championships. Bannon gives credit to Dale Powers, the director of color guard for WGI, and KC Perkins, for helping the team track down the pictures and information about each memorable figure on their props.
USF even had each of their performers select unique hairstyles to pay tribute to shows or members within past years of WGI. Performances selected included CGT Dallas 2018, Paramount 2019, Tarpon Springs 2016, and more. One member honored Gina from Stoneman Douglass, who passed away in 2018, by doing her show hair of a half-up, half-down with a braid.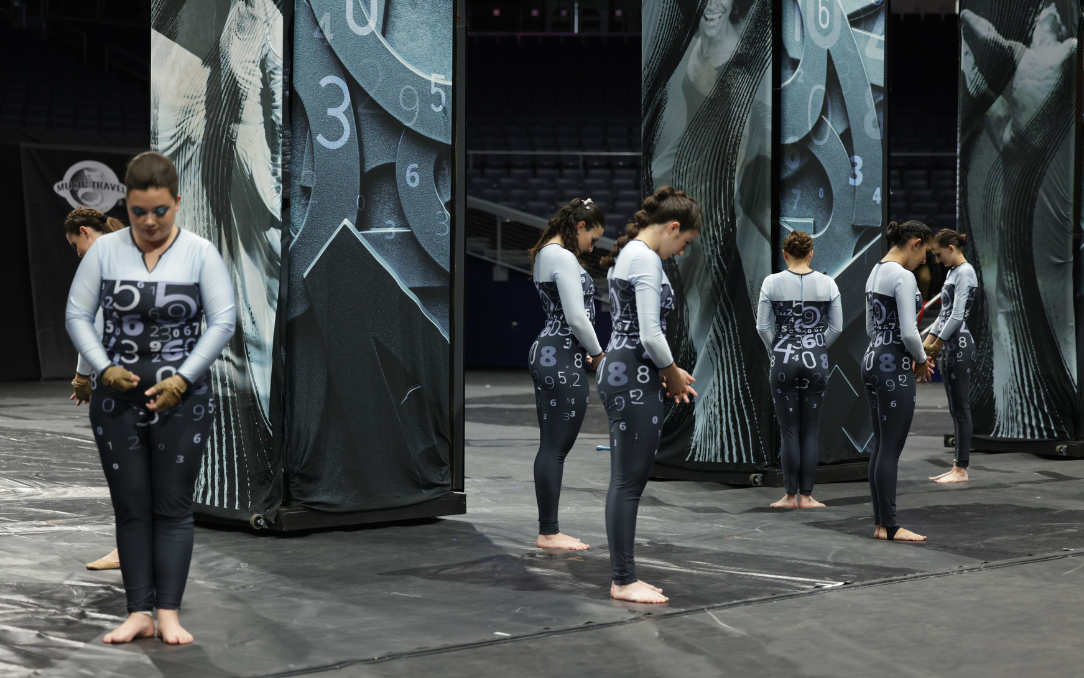 When preparing for the regular part of the season, Bannon said, "it's important to me that it means more than just color guard to our members; I always want it to have a deeper meaning." The staff at USF had the team discuss the moments that made them want to join color guard, which caused them to fall in love with the sport, deepening their connection with the show and each other. Bannon brought up that one of her mentors told her to "go slow in the beginning so that you can go fast at the end, when you need to be going fast," which she applied to USF's team by spending "a lot of time [in the] preseason to identify work ethic, team culture and more."
Once World Championships and the end of the season neared, the team spent time on isolated moments, taking specific chunks of the show during each rehearsal and listening to judges' tapes from throughout the season. When dissecting judges' feedback, Bannon said that she "relisten[s] to all of the tapes, color code[s] them by section, and assign[s] a staff member to each section," assuring that each part of the routine was thoroughly cleaned.
Bannon said, "We knew the show was going to be important to us, but we didn't realize how important it could be to other people until we got to WGI [World Championships]. You can't even fathom making an impact like that, and the fact that we did was overwhelming for us."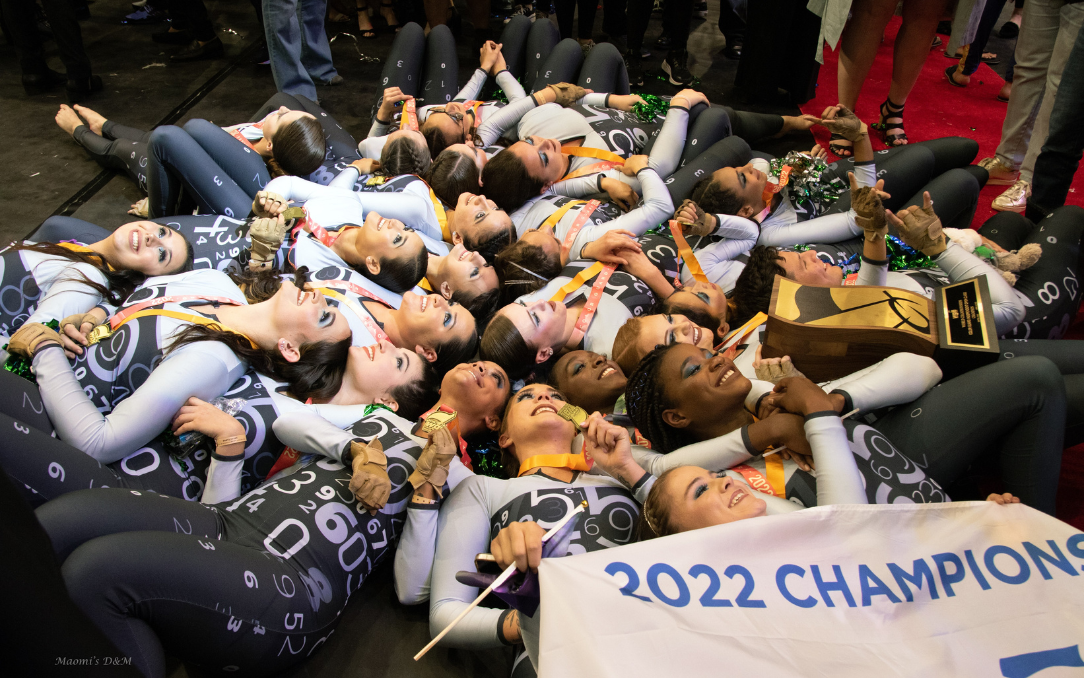 Following the team's win in Independent Open class, they will be headed into Independent World class for the 2023 season. Bannon stated, "Independent World class is a great place to explore and be. Always in the back of my head, I want to remember the Independent A guard we were when we started; I never want to lose sight of that." She also said she's excited for the members to be in the same arena as the people they look up to.
"I love our members–I love every single person that I teach–and I'm excited for them to get to be in the same room as the greats, but [also] realize that 'I get to be there too.'" Bannon said. "I think the world of them. Looking back on this season, it was nothing short of a fairytale."
Bannon said the show would not have been possible without USF's wonderful instructors—Brad Chouinard, Carlos Escobar-Dyer, Angela Hernandez, Melanie Hogan, Ashley Smith, Karissa Swift, and Wyatt White—and the team's amazing choreographers–Michael James, Tyler Edrington, Alex Perez, Stevenson Lumapas, and Marcus Rankin.
About the Author:
Emily Ward is a junior at the University of South Florida in Tampa, Florida, and is studying to receive her bachelor's degree in mass communications with a concentration in broadcast news. She is also a psychology minor. She began colorguard her junior year of high school and was a captain of Sunlake High School's Open Class winterguard team. Since then, she has spun for the University of South Florida.