By Michael Reed
Imagine you're a Guard Director and want to bring your guard to World Championships. Almost every winter guard Director has that dream. Now, imagine trying to do that with no local circuit to compete in. Picture months of rehearsals and a local exhibition or two, but the first time your group will be judged is during their World Championship Prelims performance.
Sounds scary? Crazy? Can you think of one guard daring enough to do that? Actually, two guards did that this past spring. Mililani HS and James Castle HS of Hawaii flew over 4,000 miles to compete at the big show in Dayton.
Mililani HS has had a winter program since 1994. Susan Segawa has led the unit since 1996. She reflected on the program's history. "The former band director was a color guard person when he was in high school, and he really wanted to start the winter program. Even if all those years we never had any type of competitive venue, we always felt that it was a great training ground for our students."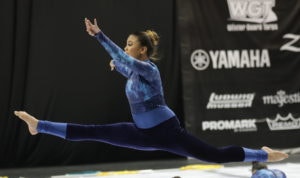 The guard has been coming to Championships approximately every other year since 2005. This year marked their seventh appearance and what a wonderful trip it was, culminating in a 4th place finish in Scholastic A Finals. One thing people may not be aware of is the school's guard has grown so large, they have an A guard and a B guard.
Segawa explained why her guard has come to Dayton so often. "It really helps to grow the program. We have amazing kids with great work ethic. We could always watch a video, but we just felt that them being exposed to it was really going to help push the program forward and grow their skills."
The Mililani band travelled to the Bands of America Grand Nationals in 2015 and will return this November. Band Director Derek Kaapana elaborated on the benefits of National competitions. "It's definitely the growth for the performers. We don't have opportunities to do a lot of performances. There's no circuit for winter or for marching band. They can see 'this is what I am capable of doing,' and have a higher aspiration to improve."
Senior Captain Justine Liu shared thoughts about not being in competition until Championship prelims. "It's a little nerve-wracking because everyone else has had so much more experience in front of a judging panel, but it's really exciting because we get to take what we've experienced in Hawaii and what we've been working super hard for and we get to show people who have never seen us before."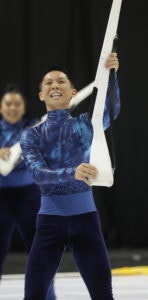 Directors and students felt pride in their accomplishments. For Kaapana, "I think the most rewarding thing is seeing my students perform at these types of events. Seeing them in venues like Lucas Oil with the marching band or here at WGI and how that affects them in a positive way. Their eyes light up when they come here!" From the student's perspective, Liu stated her favorite aspect "is the people. We've become such a close group that we're like family. It's the group that really makes it meaningful to me."
Twenty-five miles away on the island of Oahu is James Castle HS. United States marine Jimmy Esquibel has led the guard for three seasons. "I'm stationed near the school. I came on board wanting to teach because I used to march when I was in drum corps and did WGI and really wanted to continue. I started working with them and realized there is a lot of potential here."
Mililani HS has had a guard for years, but this was a new venture for James Castle HS. Esquibel described how he explained the activity. "It was 'imagine marching band but without the band. It's just the color guard.' I showed them WGI videos and I was like 'this is what WGI is.' The whole concept of spinning in a gym is foreign. We don't get gyms in Hawaii. We get a small cafeteria that we can barely toss a triple in."
Why did he decide to take his group to World Championships? "I wanted it to be educational for the kids. I wanted them to learn and experience winter guard and see what it actually is and see the World Class color guards like Fantasia and Pride of Cincinnati. I really wanted them to get exposed to that. There's a passion here, and if you work really hard, you can be at that level too one day."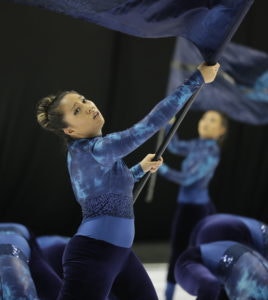 Getting his entourage to Dayton took lots of work. He elaborated on what it took to raise enough money for the trip. "We started over a year ago. A lot of the kids worked numerous hours at concession stands. A lot of it also had to come out of their own pockets. However, the amount of fundraising that we did really helped decrease a lot of the cost. The amount of hours these students put in is unbelievable."
Jimmy gave several reasons why a WGI Hawaii Regional could be successful. "We're starting to see a growth in winter guards in Hawaii. Not only that, we're a Pacific hub with schools from Asia coming over. There are international festivals all the time in Hawaii. We have mainlanders come over from California. I think Hawaii is overlooked because it's so far away, but if they can establish a schedule there, I think we're going see more international groups coming since it's closer to fly to Hawaii than the mainland."
The entire WGI family congratulates both Miliani HS and James Castle HS for their accomplishments. We look forward to more Hawaii guards at World Championships in future seasons. Aloha!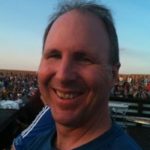 About the Author: Michael Reed provides online and print media content for WGI, Bands of America, and Drum Corps International. 2017 marks his sixteenth year of writing for WGI. He is an active music arranger, composer, and all-around avid pageantry fan. Michael was a member of the Cavaliers Drum and Bugle Corps and holds a bachelor's degree in music composition and music education from Ball State University. He currently works in the health care field and resides in Fishers, Indiana.