In 2020, there are very few aspects of our daily lives that have not been impacted by immense change. From the global pandemic, to the rumbling of social justice, to a never-ending, chaotic news cycle, the world of indoor marching arts has never felt farther apart, and—at times—farther away from what it used to be. But, if the marching arts has taught us anything, it has imparted on its participants, educators, and fans alike the importance of perseverance—and persevere it has.
In the nearly eight months since COVID-19 shut down much of the country, color guard performers, musicians, and visual artists around the world have found a way to connect and continue growing. One of the most positive products of this year has been the influx of pageantry podcasts that have been born in these unprecedented times. It is a true testament to the positive spirit of the WGI community.
One example of this uplifting energy is "Get It!", a bright new entrant to Spotify's rich lineup of podcasts. Hosted by color guard educators Mark Istratie, Tykeem Rainey, and Johnny Talamantes, "Get It!" dives into the everyday realities of the guard world with verve.
"As many doors as COVID closed, it did open this one up," Mark says optimistically.
This vibrant new podcast is alive with fresh segments including a weekly COVID check-in, the "Show You Should Know" where the triad breaks down a beloved show with their guest, and a "60-second Shout Out" that highlights up-and-comers and underappreciated magic-makers in the activity.
Co-creator and host Mark Istratie says that "Get It!" is the fruit of a longtime friendship between himself, Tykeem, and Johnny—who bonded while marching Madison Scouts Drum and Bugle Corps together in the early 2000s.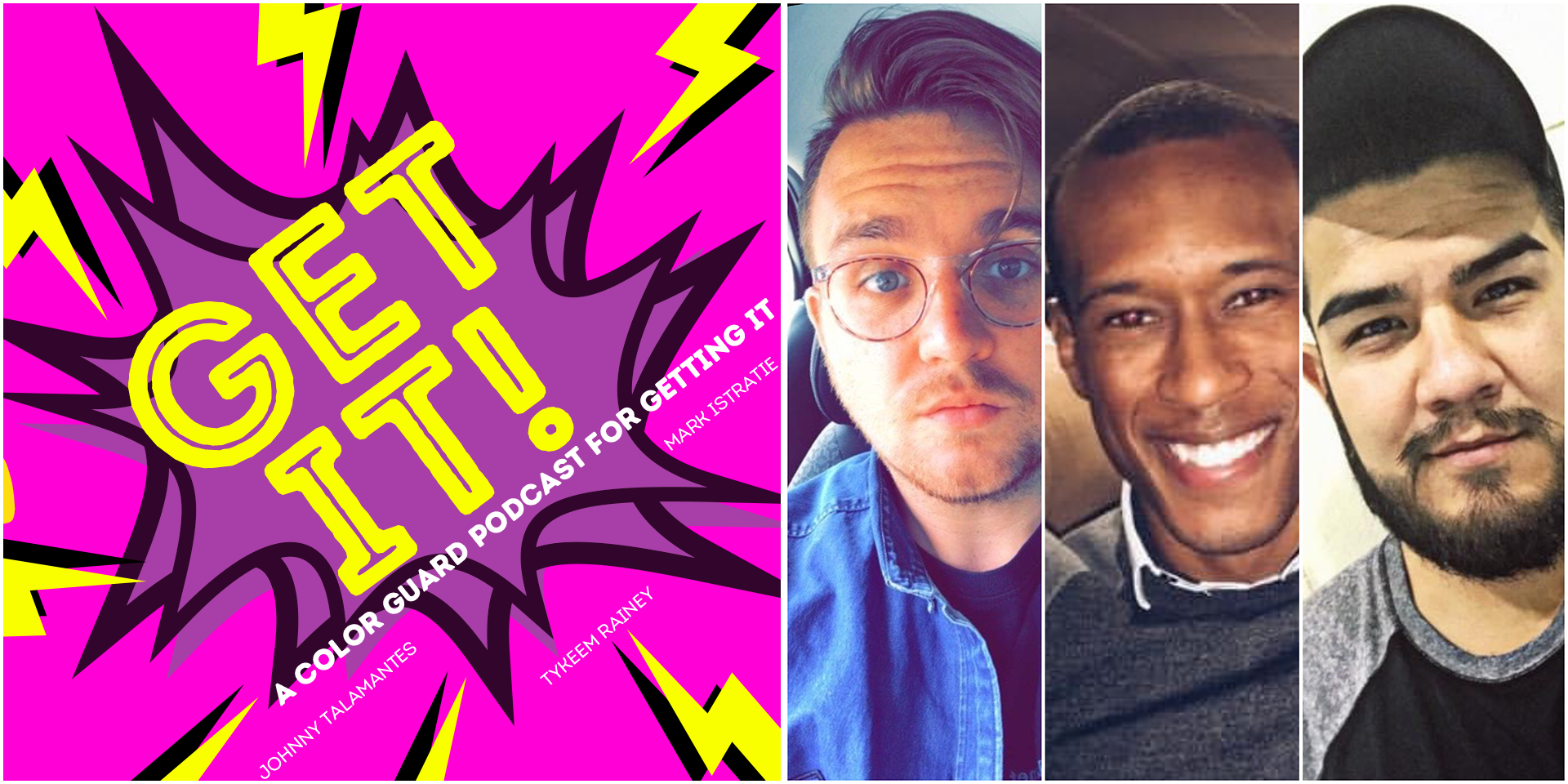 "We talk about color guard all the time, [but we felt that there were] certain conversations in color guard that weren't being had," Mark says. "While there are really great platforms and tools for people to educate themselves or think about color guard, we wanted to bring a more human experience."
The trio has come up together in the color guard world, each navigating their unique performance and teaching careers—Tykeem as a performer in Blast!, educator at Raiders, Blue Knights, Onyx, George Mason, Madison Scouts, and Ronald Raegan High School; Johnny as a performer in First Flight, and educator at Carolina Visual Productions, West Johnson HS, Green Hope HS, Legacy, First Flight; Mark as a performer at Ancora Winter Guard, and educator at Origins Winter Guard, Plymouth Canton Educational Park, and Madison Scouts, respectively.
Their exploration of the educational world and the challenges it entails has led them to share meaningful after-rehearsal conversations. In the void left by COVID-19, the three recognized a gap in the color guard content that exists and hoped to fill it with their own experiences, to which they feel any instructor can relate.
"At some point in the season, everyone's trailer breaks down, everyone gets a costume they're not happy with everyone goes through four soundtracks," Mark notes, "but when you go to a show or listen to a podcast, you always see the finished product."
Through the "Get It!" podcast, Mark, Johnny, and Tykeem hope to shed light on the beauty that lies in the messy moments. These small, but not insignificant, moments highlight the love for creating and connecting that the color guard world has in common. The team has been sure to touch on another important commonality, the COVID pandemic, in hopes of banding the color guard community together while keeping up with an ever-changing world.
The three hosts of "Get It!" unpack their successes and challenges in navigating distance learning, socially distanced rehearsals, and beyond. In a time of true uncertainty, they feel it helps to be honest about the difficulties of our new reality and offer whatever information they can.
Tykeem notes that many educators have found themselves faced with the difficult choice between relocating to a region that can fund color guard or waiting out the proverbial storm. "There's no right or wrong answer, but if someone is going through something similar, we hope we can help someone through our own experiences," Tykeem asserts.
The lofty values of this podcast go far beyond logistical concerns, however. Instead, one of its anchoring goals is tackling some of the most pressing issues of our time. The "Get It!" crew does not shy away from conversations surrounding the Black Lives Matter movement, cultural appropriation, tokenism and more. In traversing these difficult topics together, the trio hopes to help current educators and burgeoning educators alike take a deeper look into this rich activity and its diversity of performers and creatives.
"We do our best to encourage diversity," says Mark, "This is one microcosm, one little way, that we can help make that happen."
Tykeem asserts that improving the activity is about "doing more research" and asking the right questions when designing and creating a show for our students. Tykeem, Johnny, and Mark are adamant about raising voices in the activity, which they do quite effectively in both their interviews and the "60-second Shout Out" segment.
"Other voices matter," Johnny—who designs the dynamic soundscape of the podcast—emphasizes, "Everyone has something they bring to the table. Everyone in this activity puts in work—whether you're in first place or last. Every little voice counts, and we hope ours brings some knowledge, or at least some fun."
And theirs is not the only voice that is rising during this time of navigating the new normal. "So You Think You're Box 5?," is a new podcast created by color guard performers and educators Rachel Montanez and Pedro Evenezer this April.
The duo was inspired by the color guard community and the shared feeling of loss and separation at the beginning of quarantine.
"We know from our personal experiences that the individuals behind the action shots [and videos] are so full of nuance and creativity," says Montanez. "SYTYB5" hopes to capture this nuance in our new digital normal in which personality and humanity often get lost in translation. They view themselves as an extension of the guard activity, and their title is a fun homage to the 5th box in WGI's judging system, which denotes excellence.
Pedro notes that he and his co-host value levity and honesty: "Every guest we bring on is BOX 5 in one way or another—but let's be real, you can't be BOX 5 without riding on the struggle bus," he says, "Our goal is to highlight the stories of those around us who are pushing the bar in this activity and spreading joy through the marching arts."
Much like their podcast neighbors, Pedro and Montana dive into the topical challenges of today's world. Their podcast features readings that invoke discussions about everything from the Black Lives Matter movement, through Dr. Martin Luther King's Letters from Birmingham Jail, to the importance of movement in a time of crisis through Don'Té Cuauhtémoc's "Meditative Notes on Dance During a Pandemic." In the future, they hope to discuss the importance of safety for all races, genders, and LGTBQ+ communities within the activity. Unsurprisingly, the unifying themes between these podcasts lie in exploring the activities we love and understanding new ways to grow within them. Invictus Winter Guard has joined this ongoing conversation with its own podcast, "OnGuard."
"We created the podcast to give our fans and supporters a peek behind the curtain of who we are," says President Matt Ferry of the inspiration to get started—in part because of the social media team's established success in telling members' stories.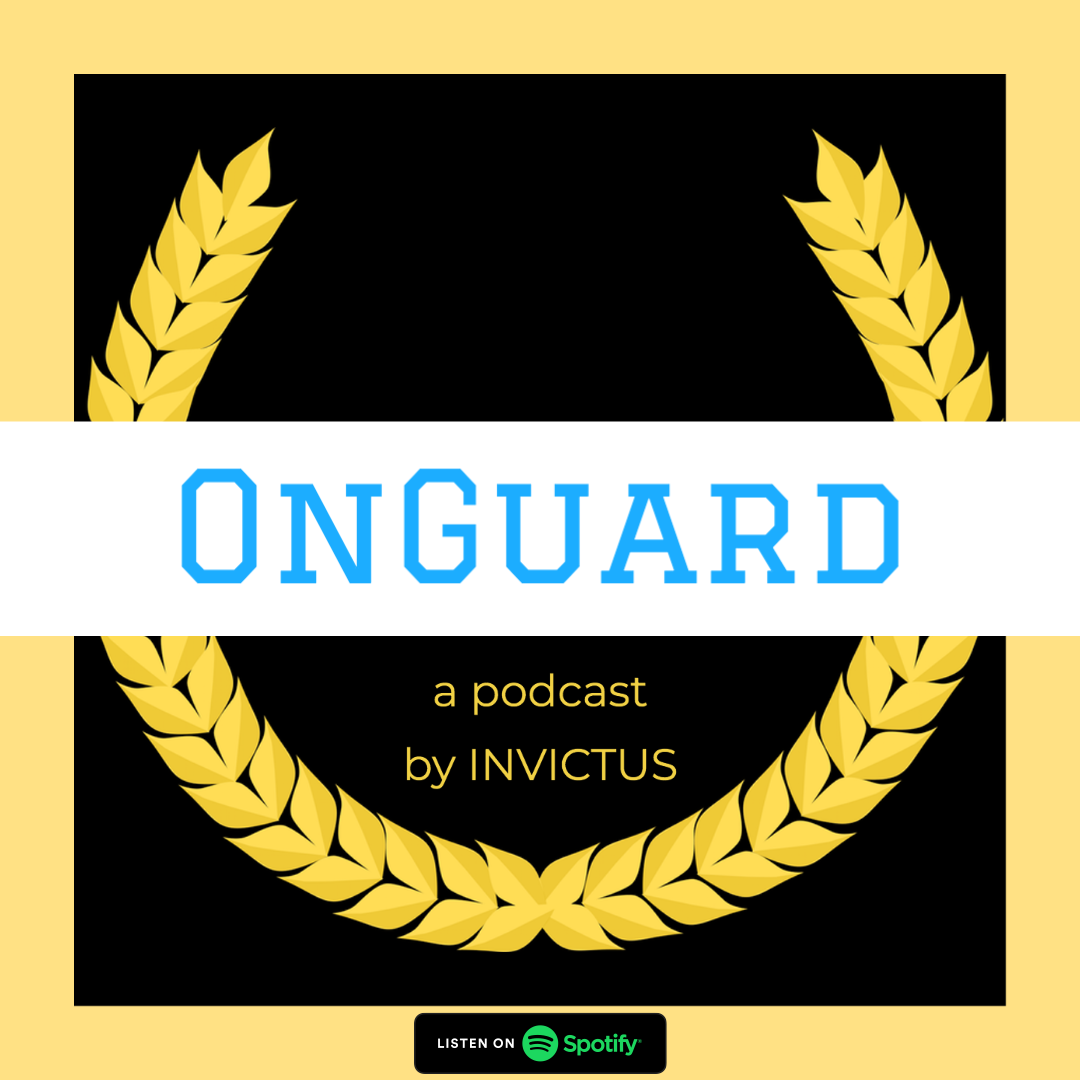 "Every member of Invictus—no matter their age, experience, or resume has a story to tell. We want to capture these stories and allow people to have real, long-form conversations," he adds. What makes the Invictus pod unique is that all episodes are in-house, highlighting its own members and staff. The comfort between the Invictus family brings a distinctive spark to the podcast medium.
"Also, I think we are all in a social and emotional deficit from this pandemic. The podcast helped us recharge those basic human needs," Matt says of their goal to create a community among the chaotic times.
A broader goal of the Invictus podcast is to archive meaningful stories. Much like both "Get It!" and "SYTYB5," Invictus aims to enshrine the stories of our time for future generations. Ferry says he was compelled by his conversations with Invictus director Tracy Wooton, to whom he credits an immense amount of education and value. Preserving stories for future generations is a common thread among all of the newest marching arts podcasts.
He says, "For years I would have conversations with Tracy where I wished it had been recorded so I could go back and listen later. I've learned so much from Tracy about work, teaching, creativity, and people… so maybe this is just selfish on my part, but I hope you all benefit."
The Invictus team expresses the importance of opening the conversation to their listeners. "Subscribe everywhere!" Matt says. This is a sentiment echoed by Mark at "Get It!" who emphasizes, "Write to us! Don't be shy…we will talk to you!"
Speaking of continuing the conversation, another voice in the activity that is elevating the discussion around indoor arts and community is the "Pastime" podcast by Los Angeles drill designer and visual educator Noe Gomez. "Podcasts have become a method of learning and entertainment," Noe says of the popular medium. He enjoys the long-form conversation for its versatility and allowance for other voices to take up space.
"Opinions and stances [on] live podcasts encourage people to be more willing to search for the truth, rather [than sticking within] their inherent team they feel they belong to," he adds.
Plus, sharing his work has allowed him to connect beyond his own community in the indoor percussion and marching arts world. "Pastime" operates in a three-part format which highlights creative minds within the marching activities. Noe takes the time to learn more about each mind, including their creative work space, their unique pastime, and their favorite local eatery.
"Pastime" is Noe's brainchild, but he emphasizes that he couldn't create his podcast without his team—Matt Alvarico, Rudy Ruiz and Connor Yasuda. "They help me create high-quality content for a high-quality community!" says Noe.
It is this high-quality community that inspired Noe to create a platform that he hopes will go beyond technical knowledge about design. Rather, as a person of color, Noe hopes to eventually be able to give back and act as a resource for programs and performers in need. At the heart of "Pastime" is a hunger to get to know the designers who serve these communities and what drives them forward.
"I feel 'Pastime' is unique because it's traversing all sections of an ensemble," says Noe. Ultimately, it's about "getting to know a bit more about these designers on a personal level."
In exploring the many parts that make a whole marching arts ensemble—winds, percussionists, and color guard performers—Noe attracted the attention of the "Get It!" podcast and was featured in their "60-second Shout Out." This full-circle moment is an exemplar of the inter-community connections that these budding marching-arts podcasts are creating.
Indeed, humanity lies at the heart of these and other emerging podcasts. There is a clear desire to elevate new voices and inspire positive growth during a time when the indoor marching community cannot go on as normal—for now. In the meantime, the sense of community being established through each of these podcasts is one that transcends its virtual medium.
Mark of "Get It!", along with his co-hosts Tykeem and Johnny, hopes to impart, "This is worth fighting for! It's more than just flags in a gym, or else we wouldn't be talking about how to promote people of color in the activity, we wouldn't be talking about that show from 20 years ago, and we wouldn't be this close—these are my brothers."
He adds, "I would love for people to feel that from the podcast in some small way."
Where to find the featured podcasts:
Get It!:
SYTYB5:
OnGuard:
Pastime:
Have a marching arts podcast of your own? We want to hear about it!
Fill out the form below and you could be featured in the next part of this series!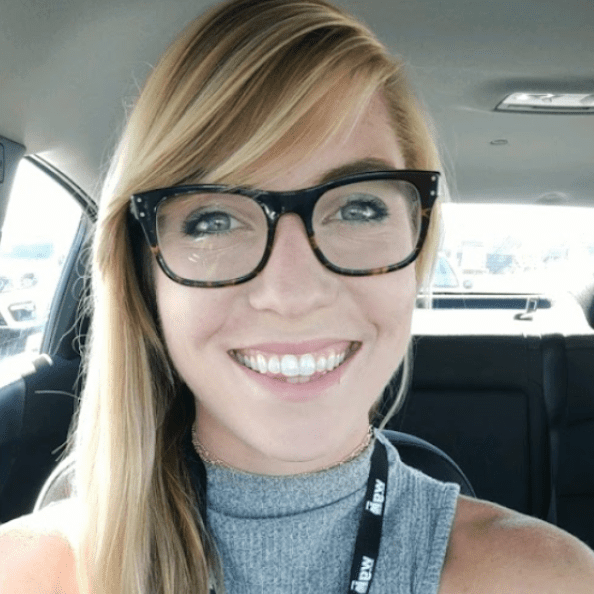 Jenny Lyons is a freelance writer and master's student of writing at San Francisco State University. She has a BA in Literary Journalism from the University of California, Irvine. She is an alumna of WGI, having performed with the Santa Clara Vanguard Winter Guard from 2013 to 2015, during which time she was fortunate enough to become a WGI World Champion. Jenny has also marched with several drum corps including the Santa Clara Vanguard. When she is not writing, Jenny can be found continuing her passion for color guard through teaching in the Bay Area and serving as caption head to the Vanguard Cadets.