By Michael Boo
"Out of (Drum)Line" is a new monthly feature that takes a close look at what individual members of WGI percussion ensembles do outside of marching. In between those monthly installments will be "Caught Off Guard ," when we'll do the same for members of WGI color guards.
Our first "Out of (Drum)Line" is about Zack Kraft and Kyle McComb, two graduating members of the Minooka (Illinois) HS drum line, located about an hour southwest of Chicago. Kyle performed tenors in the line and Zack performed synthesizer; each for the past three years. It was in the line that they became friends and got the idea to go into business together as professional DJs.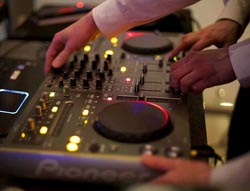 Zack made a deal with his dad that if he raised $1200, his dad would contribute an equal amount towards the initial investment in equipment. Zack bought all that initial equipment from Guitar Center in one day and taught himself how to use it. A proficient artist, he also designed the company t-shirts.
Kyle already had speakers and amps for the new enterprise because he plays drum set in a rock band. He also contributed his laptop, digital turntable and the main speakers to the enterprise. Just as Zack taught himself the equipment, Kyle taught himself to design a Facebook website to promote the company and has created event posters and other graphic designs.
Every company needs a name; Zack and Kyle came up with Senex DJs. (Senex is the name of a Mid Rim Territories sector in the "Children of the Jedi" "Star Wars" book.)
Through connections Zack's mom had as a member of the local Parent Teacher Organization, Senex got a job doing a small school event, then performed DJ activities for a Girl Scout Father-Daughter dance and also the school district's 8th grade dance. They must have done a good job, because the Girl Scouts asked them to do their next banquet. Just prior to the WGI World Championship weekend, they performed for the Minooka HS Senior Banquet at Chicago's Shedd Aquarium, for which Zack designed special event shirts.
Just about everything they earn from working as DJs goes back into the company so they can buy new equipment and cover their operating expenses. Zack now owns a sub-woofer, all the lights, and both lighting rigs. He and Kyle split the transportation costs for the three vehicles needed to transport all the equipment to the gigs.
Zack and Kyle proclaim themselves to be the best equipped high school DJ group in their area, now owning three 18″ subwoofers, two 15″ main speakers, three lights, three lasers, two custom built light rigs, two laptops, a midline digital turntable, and lots of other gear as well. They strive to offer a professional event experience at affordable prices, much lower than that of a larger corporate DJ companies.
After the WGI World Championships, the two had to finalize plans to do several graduation parties and a 15-hour gig for an American Cancer Society Relay For Life. They're proud to live mix everything and they've even created online forms so their clients can tell them what kind of music is desired for each event.
Outside of their DJ duties, both Zack and Kyle produce EDM (Electronic Dance Music) for electronic composers and distribute the music online on Soundcloud.com for free. (Think of Soundcloud as Twitter for musicians.) As producers, Kyle goes by the moniker DJ Nightfighter and Zack uses the name Simian Vibe.
In the fall, Zack is entering Columbia College in Chicago, where he's going to major in Audio Arts and Acoustics with a focus on audio production and design. He's hoping this will help him score some gigs in Chicago's healthy club scene. Kyle will be attending Northern Illinois University in DeKalb to study jazz percussion.
So far, Senex DJs has already been hired to do two weddings during the upcoming school year. With the two DJs just over an hour apart from each other, they'll still be close enough to do gigs together.
You can read more about Senex DJs at www.facebook.com/SenexDJs.