By Mai Tran
Founded in the summer of 1988 by Michael Lentz and Denny Campbell, Onyx Color Guard is now celebrating its 30th anniversary. The three-time WGI Gold Medalists consistently perform shows filled with a multitude of hidden messages, and expect the upcoming season to be their best work. As we take a look back at the history of the group and what its future holds, they hope that each audience member will have their own unique experience while watching Onyx.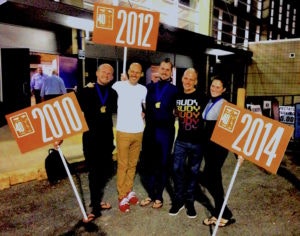 Originally named Dimension, the guard was based in Steubenville, Ohio, and advertised for its first cast in the local paper. Twenty-one performers attended the first audition at the National Guard armory, and ten members were cast for the 1989 season; their show "Jupiter" would finish second in the local Ohio Color Guard Circuit. The next year the guard made their WGI debut, winning the WGI Dayton Regional and becoming an Independent A Class Finalist at WGI World Championships in Buffalo, New York, with their fittingly named show "Pretty Good Year."
Onyx was promoted to Open Class in 1993, and as interest in the group increased, Onyx A and Onyx Open were founded, later being renamed O3 and O2. The primary group entered the World Class division in 2001 with their show "SymphONYX," each performer acting as a musician in an orchestra, complete with music stands, chairs, and a conductor.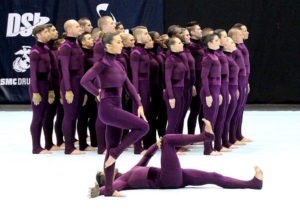 After several years of "outrageous fun shows," some set to disco music and Queen, the group decided to change their design style in 2005. Fitted costumes, slicked back hair, minimal floor designs, and a simple color scheme gave the guard their signature sleek look and allowed their forms and body design choices to be more readable. Staying away from props, Onyx utilizes the human body to create their desired highs, lows, and lines. Bringing in a variety of dance technicians helped maintain the performers' physicality in order to constantly be in motion, building, shaping, and sharing.
One of Onyx's movement collaborators is Kate Jablonski, director of Beyond Words Dance Company in Chicago. In 2013, Kate taught the WGI Day After Class, a master class on the floor of the UD Arena the day after finals. Several Onyx members attended the class and had a very positive experience, and the group reached out to her to become involved with Onyx. Kate began working with the guard for the 2014 season and has had a large impact on their movement; other collaborators include Mikey Perkins from Phoenix Project Dance, Derek Stratton from PILOBOLUS and Vincent Thomas from VT Dance.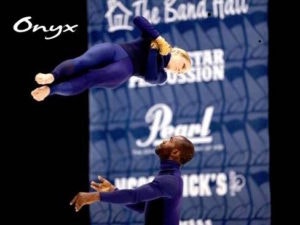 Working with dancers outside of the color guard realm also opens up opportunities for performances outside of WGI. In the summer of 2017 Onyx performed three stage shows in Chicago with The Kate Jablonski Statement, and in October, the guard traveled to New York to perform at the Guggenheim Museum Theatre in collaboration with Phoenix Project Dance and The Teen Company NYC. On the performances, Onyx founder and artistic director Michael Lentz says, "Onyx does thrive in the theater and stage setting due to the lack of limitations and rules. We find ourselves performing in the audience and using all of the space in the theater beyond just the stage itself. Of course, there are limitations of ceiling height and stage space but the trade off is lighting. Lighting can add much to the depth of mood for performance and helps create emphasis."
In the 2017 competitive season, Onyx delved from their traditional design with the show "Bizarre BAZAAR," intentionally making every decision in opposition to the ones they would normally make. Going for the unusual, they did away with the clean lines and crafted, deep thinking design ideas, exploring a different side of Onyx. After the season, it was announced that Onyx would be retiring from WGI. "We thought we were done," said Michael. "After twenty-nine consecutive years we just thought it was time to try something else. But, very quickly, we were reminded of how much color guard and WGI have been crucial in our lives. A few iconic individuals approached us separately and shared their thoughts on our retirement. We decided we were in fact not done, but rather reenergized and reinvigorated and ready to get back to work!"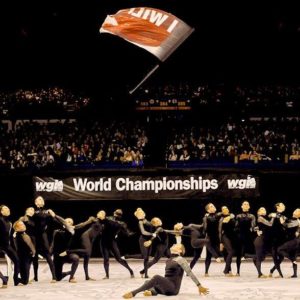 Onyx's 30th anniversary season will feature an invitation all-star cast, and the program is an "opportunity for creation, collaboration, and inspiration from Onyx about Onyx." The opening set is inspired by their guard song "Konstantine," a tradition that was started in 2005. The guard song is used at the end of every camp weekend, during challenging times, and on show days. As part of their anniversary celebration, the group has invited all former members and staff to do "Konstantine" with the cast of Onyx 2018 before they perform at the UD Arena. After the completion of the season, Onyx has no plans to retire from WGI, but will continue to explore creative opportunities on stage in addition to WGI competition.
Reflecting on Onyx's impact on WGI, Michael says, "Onyx works hard to bring creative, quality, and memorable ideas to the floor and each show is a continuation, or response, to the ones that came before. It's many chapters in a growing book. A book we hope to continue to write for many more years to come. For Onyx, movement is life is movement."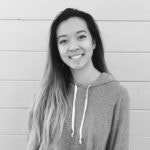 About the Author: Mai Tran is a student at New York University, studying English with minors in dance and American Sign Language. She writes for several on-campus publications and is a volunteer editor at October Hill Magazine. Originally from southern California, she has performed with the Pacific Crest Drum and Bugle Corps and Alter Ego Winter Guard.