Elena Coba grew up in Miamisburg, Ohio and graduated as Salutatorian from Miamisburg High School in 2007. She then attended Ball State University in Muncie, Indiana and studied Accounting. While Elena was at school, she worked a few years at university dining and as a barista at Starbucks. After graduating, she returned to her roots, back in Miamisburg as well as WGI!
How did you first become interested in color guard?
My next-door neighbor, who was about six years older than me, practiced color guard in her front yard. The first time I saw her spinning rifle I knew that was what I wanted to do!
What were some of your first experiences being involved in color guard?
I started color guard in the Miamisburg Junior High flag line, and the next season I was in both the flag line and rifle line shows. I performed with Miamisburg HS from 2004 to 2007. Later I performed with Onyx in 2009, and marched with the Colts Drum Corps. I also spent four summers teaching color guard at FJM Summer Clinics.
When was the first WGI World Championships you saw?
My first WGI was my freshman year of high school. The 2004 Championships were in San Diego, California so the trip there was almost an event itself! Everything was so new and exciting, from arriving to when the confetti started falling. I think that was one of the best experiences I've had.
How are you currently involved with WGI?
I am the bookkeeper for WGI, so I deal with a lot of our finances. Mostly, I record all of our financial transactions in our accounting system and make sure we balance! I pay bills, send out receipts, and run reports, as well as anything else that needs to be done!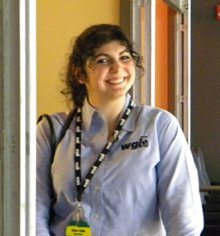 How long have you worked for WGI?
I have worked for WGI for almost a year and a half. My experience has been great! I learned how much happens behind the scenes that I never knew as a performer or instructor. I guess the biggest surprise for me was that the busy season at the office starts in September!
What life skills are learned through winter marching arts activities?
I learned many things though my years of winter guard. Hard work and time management are the obvious ones, but the best thing I learned was how much you can bond with people while working for a common goal.
What are some of your favorites shows?
My favorite show that I performed in was Miamisburg 2004 "The Journey", closely followed by Onyx 2009 "At Arm's Length".
Some of the shows that inspired me to continue with the activity after high school were Onyx 2007 "The Human Condition", Northern Lights 2006 "Meditation", and Paradigm 2005 "Typical Situation"