By Kathryn Hardison
Leigh Howard Stevens, the man TIME Magazine called "The World's Greatest Classical Marimbist," made his first debut at the WGI Percussion World Championships during the 2016 competition. Stevens is well known for creating his own mallet-gripping method, the "Stevens grip" or "Stevens technique," which is very popular among percussionists today. Stevens has also published his own book Method of Movement for Marimba, which dives into the art of the four-mallet technique with diagrams, exercises, and more. Stevens has made his mark in the world of percussion and has excelled as a classical marimbist, earning his way into the Percussive Arts Society Hall of Fame. After Stevens' interview with WGI and Dennis DeLucia, Stevens explained his perspectives and outlooks for young percussionists after his first experience at the WGI World Percussion Championships.
Q. What's your first impression after watching an indoor group perform?
A. Well, I suppose that the number one thing is that, in certain cases, I can follow the storyline, and in other cases, I can't follow the storyline. That's not a criticism of WGI, it's probably because I'm new at it, and I'm just not familiar with the culture of it. But in certain cases, they announce the theme of the program and it's immediately apparent to me. I can find it and follow it, sort of like a piece of poetry, which is not literal because it's impressionistic in a way. And in other cases, I can't really figure out what's going on. So, I default as a musician to listen to the music: that's really what my primary interest is.
Q. Did you ever envision this level of performance and competition for young percussionists?
A. Never, and before I knew much about this [WGI competition], I was sort of inclined to not subscribe to it. I was thinking that music is an art form and you should do it for self-fulfillment and for the community, by performing together in a concert band or orchestra. And so, in this sort of competitive aspect of it, I found it a little off-putting, but I'm seeing here that it is a very healthy environment and it really is very positive. Everyone's promoting each other, and it doesn't seem to be cut-throat in any way, shape, or form; it's a really, very positive experience from what I have seen so far.
Q. What techniques, if any, do you notice are the most popular for young performers to execute at WGI World Championships?
A. One thing is that it's combining the very visual element with a musical element. Now, I'm primarily a classical musician; I play Bach, Tchaikovsky, Debussy, and music like that, and I was always harped on by my teachers to really down play the theatrics and really focus on the music, but this [WGI competition] is an entirely different thing. This is an arena where people can be a thousand feet away, or a quarter of a mile away, and watching you. So there's a lot of drama, there's a lot of huge and overplayed strokes—and I mean that in a visual way, not necessarily volume-wise—but there are big, huge gestures that are not necessarily related to the sound coming out or the musical impact. But that's an important parcel of the visual element, which is so important to this whole experience.
Q. How do you think music affects an individual's character?
A. I just know, intuitively, that if I didn't get really interested in classical music, I would probably be in prison right now. I was a real juvenile delinquent, and when I finally found music, and rock and roll in particular— I started out as a rock and roller and I was kind of wild — but when I found classical music, I found something that had such depth that I was able to get into and study it pretty much endlessly. And I think that kept me out of trouble, and gave me a path in my life and a discipline in my life, that I would not have had if I had not stumbled into classical music.
Q. What advice do you have for young musicians?
A. Love it or leave it. Like a good relationship, I suppose. If you love the person, then do everything you can to stay in it and work at it, and if you don't, then just enjoy it for now, but find some other way to earn a living. If you love it enough to really stay with it and face the consequences of it, as I did — I knew I really couldn't be anything else … my parents wanted me to be a doctor, lawyer, Indian Chief— but if you don't have that kind of commitment to it, then enjoy it. Become a good player, support your local symphony orchestra, support the local band boosters, but don't necessarily pursue it as a career. I say this because that's a whole different thing than playing in a WGI group, DCI group, or school band or orchestra.
---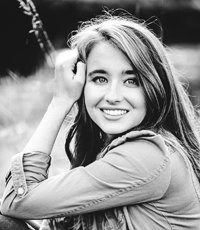 About the Author: Kathryn Hardison is a journalism student at the University of Missouri. Her focus is on convergence news reporting and she plans to earn a minor in politicalscience. Prior to college, Kathryn went to Kickapoo High School in Springfield, Missouri, where she found her love for marching the flute in the fall and playing the cymbals for the Kickapoo Indoor Drumline. During her four years in marching band, Kathryn competed with the Kickapoo Golden Arrow Marching Band, of which she later became the flute soloist and a junior and senior flute section leader. Kathryn's career in the Kickapoo Indoor Drumline included a promotion to Percussion Scholastic Open class and placing 8th in WGI World Championship Finals. After college, Kathryn hopes to become a foreign correspondent for the Middle East.