Waking up early on Friday mornings and frantically packing overnight bags is a common occurrence during the indoor season. Many WGI participants travel several hours each weekend to rehearse, organizing carpools or commuting via busses and trains. Some even move to different states altogether, but few can top the commitment of Yuuka Okura, Naruhiro Mori, and Masato Hirata, three drummers who moved from Japan for the 2018 season.
This will be Yuuka's second year participating in WGI, having marched Dark Sky in 2017 and currently playing snare for Broken City. She became interested in drumming at only nine years old, when she saw a Drum Corps International show on television. Marching for four years in high school and one year at a small independent drumline weren't enough to satisfy her, and she began seriously thinking about moving to the U.S. when encouraged by her high school instructor Kaito Haruta.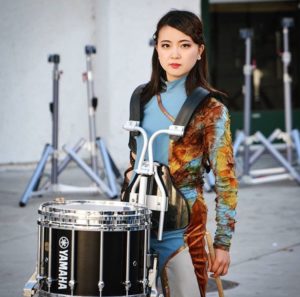 The first time she auditioned for an American group, Yuuka remembers, "I was so small and I'm a girl and I didn't speak English at all, so people kind of laughed at me in the beginning. I got sad so I tried harder. I was too shy to speak English so I couldn't communicate, so I started learning on Youtube."
When Yuuka was in high school there were few percussion instructors, so she supplemented her learning by watching Youtube videos and practicing on her own. Instructors who had marched in the U.S. like Kaito, a former Blue Devils snare drummer, encouraged their students to drum overseas where there was a larger community and more opportunities to learn. There are now many more marching arts instructors in Japan, who perform in the U.S. and bring their knowledge back to local organizations.
Kaito is also cited as one of the main instructors who helped Naruhiro participate in U.S. drumming. This will be Naruhiro's first season competing in WGI, playing bass for Broken City. Like Yuuka, he was inspired to audition for American groups when he saw a video of drum corps, specifically a Youtube video of the 2013 Bluecoats bass line. After performing with the Bluecoats in 2016, Naruhiro suggested marching in the U.S. to Masato, who will be playing bass at STRYKE for his first year of WGI. Beginning with Kaito, referrals and word-of-mouth seem to be the best form of recruitment within the Japanese community.
Describing the differences between American and Japanese drumming, Naruhiro says, "Japanese often use their ears, but Americans feel the groove well." Yuuka shares a similar sentiment: "Japanese tend to think more seriously about things, so they practice politely. American people are more emotional than Japanese people. It is important to play the instrument and perform, and I respect their passion in America. They have expression." Masato points out one of the more obvious differences that Americans often forget—they don't perform outside, as there are no football fields.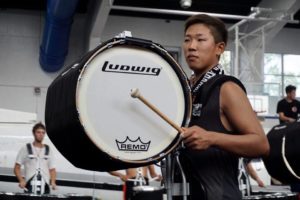 Many performers from Japan participate in DCI over the course of the summer, but it is far less common for them to march WGI, a longer commitment beginning with auditions in October and ending with finals week in April. Indoor performers from Japan usually number in the single digits, while it ranges in the fifties and sixties for outdoor. Language barriers, visas, traveling expenses, and housing can make the long-term move especially daunting.
Yuuka's flight from Kanagawa to southern California can be up to sixteen hours, while it takes Naruhiro about twelve hours to travel from his hometown of Yokohama. Masato travels seventeen hours from Oita to Florida. They all applied for tourist visas, which will allow them to stay in the U.S. for six months. The visas bar them from working, so they spend their free time going to the park to drum, practicing English, writing music, or watching videos. After championships in April when their visas expire, they will return to Japan for two weeks only to come back in May for drum corps move-ins.
Having a good support system is one of the most helpful aspects of moving. Both Yuuka and Naruhiro are housed by the same members of Broken City, while Masato houses with a team member from STRYKE. All three have parents that understand and support their decision to march in the U.S.—although they miss their family and friends in Japan, they are fulfilling lifelong dreams.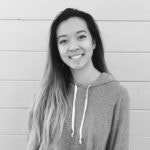 About the Author: Mai Tran is a student at New York University, studying English with minors in dance and American Sign Language. She writes for several on-campus publications and is a volunteer editor at October Hill Magazine. Originally from southern California, she has performed with the Pacific Crest Drum and Bugle Corps and Alter Ego Winter Guard.