By: Jeffrey Peterson
In late May, almost a month after the close of the 2022 WGI season, I sat down with David Sankus, Percussion Director for Homestead HS in Cupertino, CA. With over 30 years in pageantry arts and 15 of those with Homestead, David has grown the percussion group to upwards of 50 students.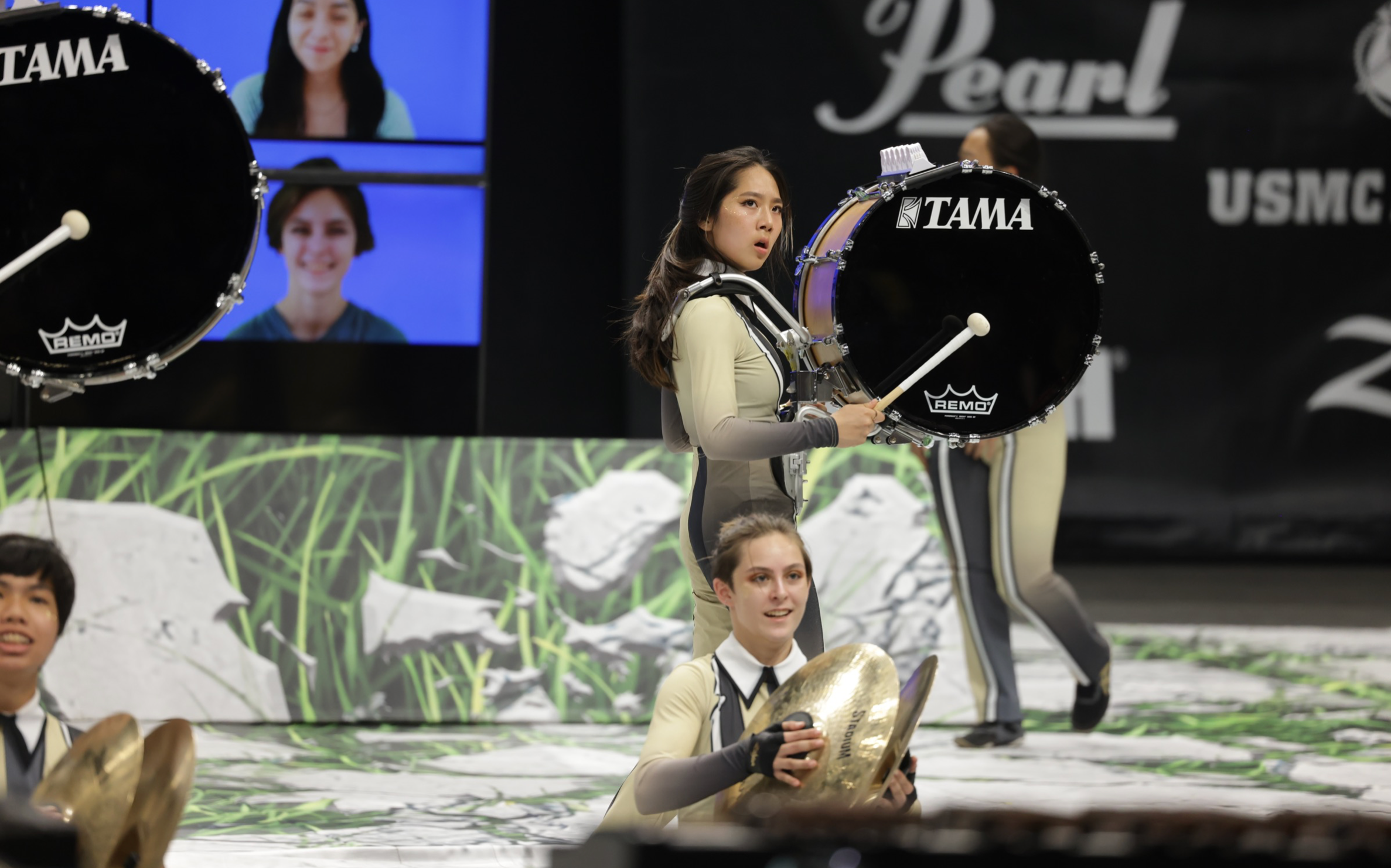 David, thanks for talking this morning. If you don't mind, introduce yourself and tell me a little about you before we talk about the marching landscape in your area.
Thank you for having me! We really appreciate WGI doing this. I worked with Vanguard and The Blue Devils organization throughout the '90s. I was fortunate to work and be surrounded by some great people—Jim Casella, Ralph Hardimon, Murray Gusseck, and Scott Johnson. I learned so much from all of them. In 97, Scott and I were at James Logan HS from Union City, CA. Indoor percussion was happening, but it wasn't the strong appearance it is today in Northern California. Scott and I took the James Logan winter program to their first WGI Championships in Arizona. It was a massive success for the group. And a huge eye-opening experience for me. It was my first time attending WGI Championships. I kept saying "WOW" to myself as I watched high school and independent groups. After that, I was hooked.
So if we turn to your area, tell me how it's different. How would you describe the arts in your area?
NC-PA (Northern California Percussion Alliance) started as an SC-PA sister. A few Vanguard teachers started it at a time when there was only one other guard-focused circuit. We got tired of going on early at shows and having bad venues for percussion. So over the next ten years, the NC-PA grew. That growth was healthy for our area, with 30 + groups, 5 scholastic worlds, 4 scholastic open, 2 independent open, and the rest A class. Homestead was fortunate enough to go to Dayton 8 times.
Sounds like a healthy space. What about the other factors though, local corps and the independent groups that you mentioned? How do they affect your program?
The drum corps are great and healthy, and so are the indoor groups and their feeders. One of the most exciting parts is that they're finalists too. Mandarins, for example, is on a great run right now, and we've had students there. Students have gone on to The Blue Knights, SCVC, BDB, BD, Blue Coats, Troopers, Blue Stars, POW, Pulse, Broken City, Dark Sky, RCC, and Thesis from North California. We had students in Pulse this year that I hadn't seen in forever.
We know we're doing the right thing because our kids want to come back and teach with us. We have 9 instructors, and only 2 of them aren't alumni, 1 being me. So, it's a neat process to come back to the bay area and work with the ensemble. We can tell it's bigger than just "I want to give back."
Clearly your kids are coming back for something. How early do you plan out the shows?
We do everything on Google Drive, and the winter percussion members start in the middle of November, so our first design meeting is middle to late June. We have 3 visual guys and 2 music guys. I do all the music arranging, and Justin does all the sound. We all come up with a topic or show title or anything that's intriguing. Throwing darts at a board basically. Everyone presents what they've been thinking about and afterward, we vote on the one that's the best or most intriguing.
Is that your typical number of people in the room for storyboarding and design?
Yes. It's typically 5 and it's not odd on purpose. It just works out that way.
What's the priority though? Do you all think of music and technique first, visual effect, student interaction, or a mix of things?
Our number one priority is student experience and interaction. In a normal year, we prioritize music in the winter and technique during the marching band season. We had 50 members this year and only 6 had done indoor. With 44 that had never done the activity, we had to focus on visual. We wanted to put them into the safest environment, so the design team purposefully set them up for success. The Visual team (Lane Armey, Ryan Springler, and Zak Stillwell) did an awesome job with the show. We have learned in the past that sometimes leaning on one section to pull you through the show can create more challenges throughout the show. We try to keep everything balanced.
Ok, so tell me about the story behind the 2022 production then.
"Learning to Wait" is about anything and everything you have ever waited for. It could be because of Covid, and we had to wait for winter percussion to happen again. For others, it could be anything they've been waiting for, for years even. We had boredom, irritation, laughing, thinking, and crying tears. So many emotions that were about waiting in a much bigger picture. We felt this would be a great message and story to tell for this first year back after 2 years. One of the visual guys brought up a show idea about boredom and we started laughing, so we knew it would be fun. We had 3 or 4 shows on the board and started to get deep with the boredom idea.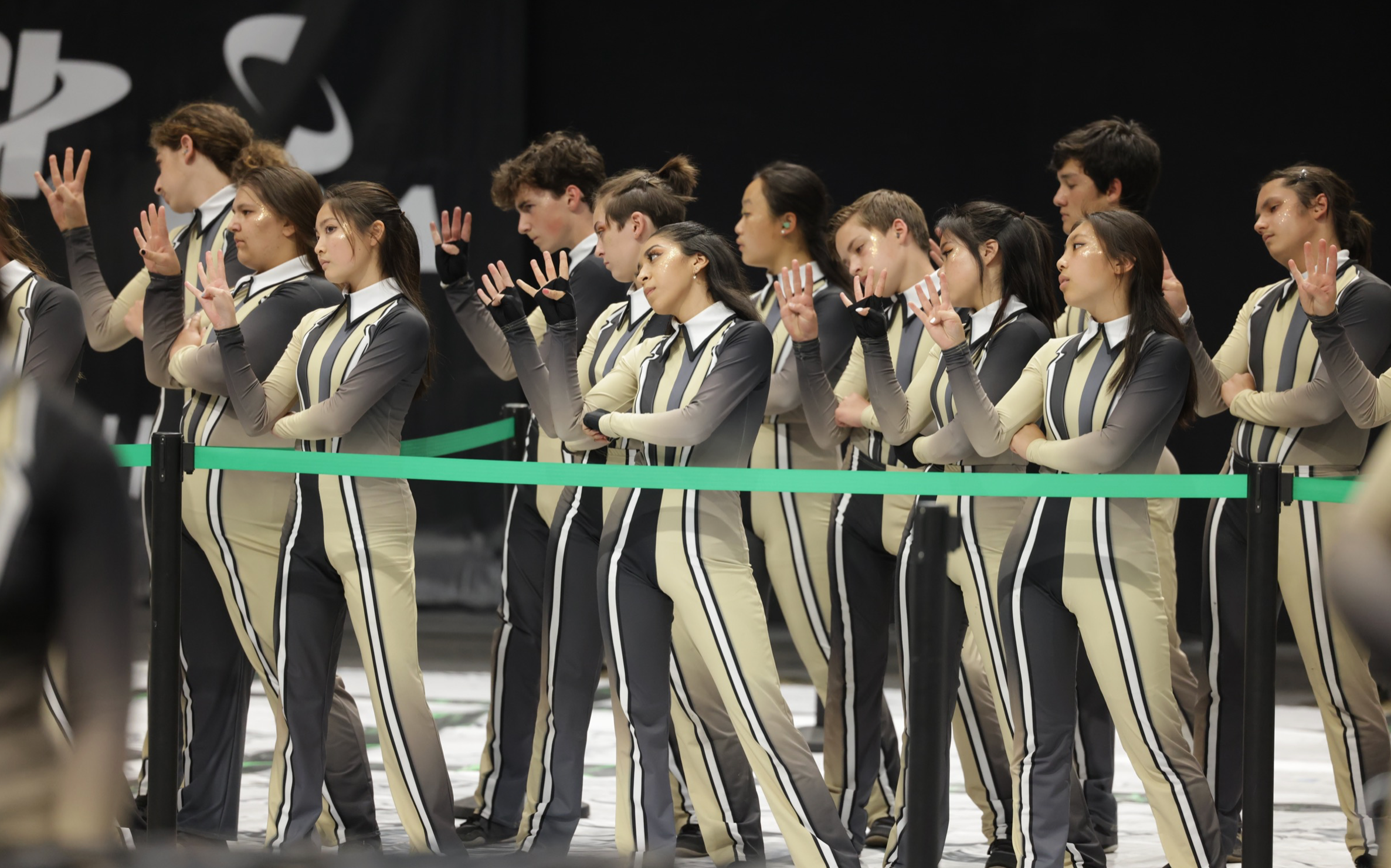 Exactly. I think it was the perfect time to do shows that were slightly influenced by the shut down, but still tug at those human feelings and emotions.
During the design meeting, we're throwing things out like a buffering internet connectivity or a tv that says please wait or the idea of channel surfing while you're on the coach clicking through channels. We liked the idea and finally landed on what it really was. The first rep of the show was not clear. No one knew what we were doing. Then we switched to comedy and leaned into it. That rendition was the best it could possibly be. Laughter was the key.
Comedy is tough to portray, but so impactful if done correctly.
For sure. The second half of the show is about thinking and getting deep into yourself and what you're waiting for. We thought the title of the show had to be "Learning to Wait." We thought that was crafty. One section is watching paint dry and the other is watching the grass grow. The narration is a constant through line of boredom and irritation and then comedy and then the words change to self-reflection: why are you constantly waiting? It didn't matter what show we went to, we always got emotional every time. Then we end the show by smelling the roses and showing that life isn't as bad as it seems. This was the crying moment. We had a Zoom call every week and we'd just put all this together. We had to be unafraid to make a mistake.
That's awesome. When did you finish it all?
By the end of January, we have the entire storyboard done. Maybe still working on sources and ideas, but the effect or main idea is there.
Why the props though? Why did you choose those props and musical selections to tell this particular story?
We like the idea of using the TVs because of the success from our "Space Between" show in 2019. We also used lots of animation for our virtual season, which gave us more ideas. Thanks to Mike Pindara for that work. We wanted to develop the use of technology to enhance the show and tell the story. The music selections were solid. Debussy Piano Etude, Philip Glass Etude 8, and Interstellar music for the closer.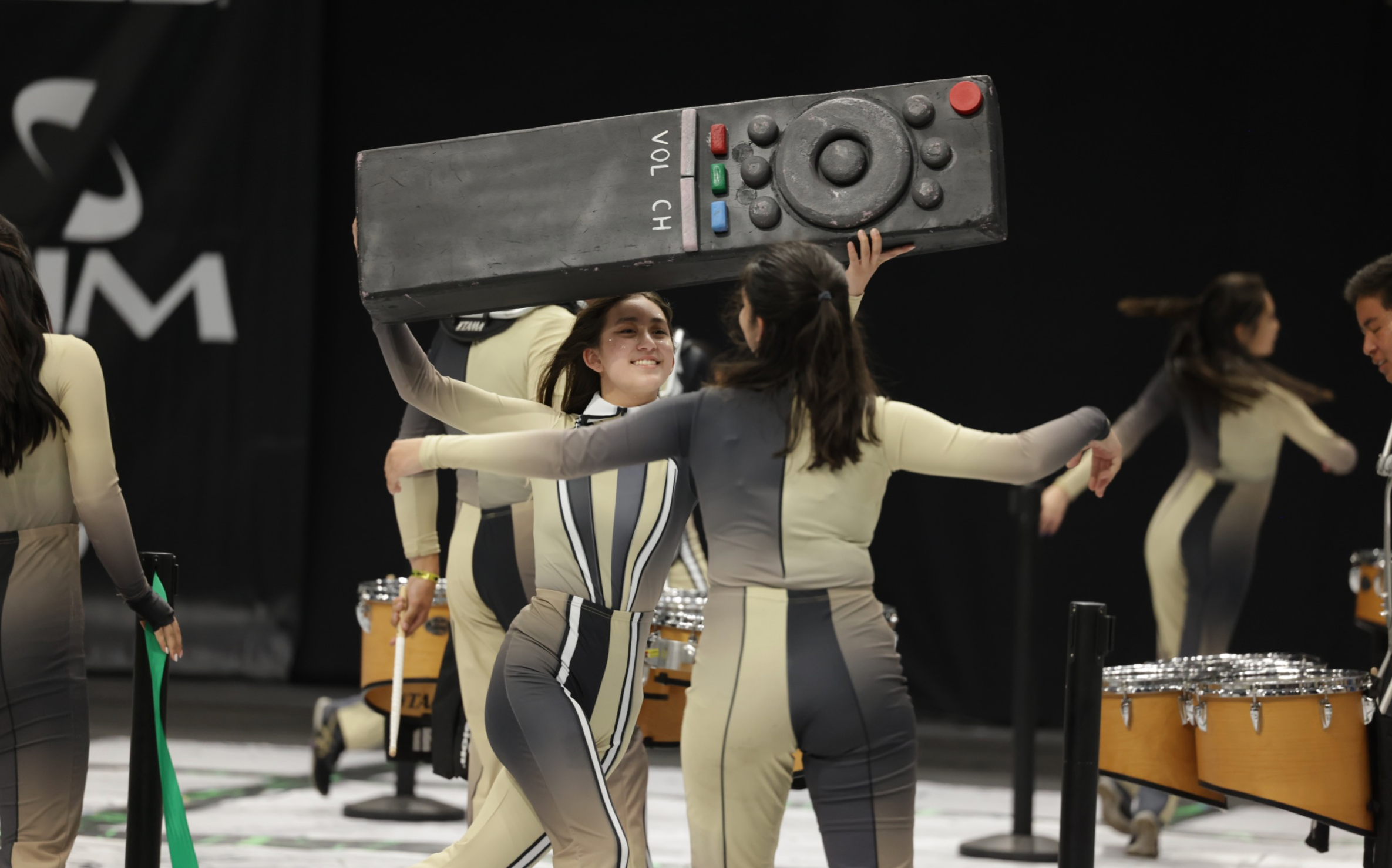 We haven't talked about the members and their environment in a while. How is the competitive space in your area? Do you often "compete" with other world-class finalists like Ayala, Cupertino, and Chino Hills?
Yes. Every year it's getting better and better. NC-PA is a great circuit that supports and guides all the groups to be better. We're always striving for better venues, better judges, and better student experiences. And luckily NC-PA championships is in a large arena. We have also attended SC-PA Championships, the WGI Western Champs Regional, as well as the Temecula WGI Regional. It's really great and healthy to have so many outstanding groups at the same show site.
You have 4 or 5 really strong SW groups in LA, and we go down there every year for The San Bernardino WGI Regional. As you know, you must do a regional to qualify for WGI Championships. We use the trip as a gauge, and as a student experience. Let's say when we go down there, and we are kind of close to let's say Chino Hills, who is always awesome, within 10 points or so; that makes us feel we are good enough to make finals in Dayton. Nothing is ever guaranteed, and we never approach it that way, but it is a great trip for the students and a great gauge for us. We always appreciate the privilege to perform at any site or any show. There's been years we made finals because we're good enough and a little bit lucky enough. We don't know what group has a penalty or bad shows or luck of the draw. I explain that in detail to our kids. We just need to try the best we can and celebrate our personal accomplishments..
And you'll be in Dayton again in 2023 or do you all alternate?
Yes. We are lucky to live in High Tech Central. Apple and Cupertino are closely tied. Many kids' parents are working in great high-tech jobs so economically, we've been able to go to Dayton every year since 2013 and that will likely continue.
Thank you for your time and I'll make sure to catch you in the lot!
Homestead HS performs on Tama instruments, Zildjian cymbals, Remo heads, and IP mallets and sticks. David is an education artist with Tama, Zildjian, Remo and Innovative Percussion.
About the Author:
Jeffrey Peterson currently teaches English and music at Fugees Academy and previously taught at the University of West Georgia and Spelman College. He graduated from the University of West Georgia with a BA in English and the MFA program of Sarah Lawrence College in Bronxville, NY, with a degree in Writing. Jeffrey currently directs Q2, a PIO finalist from Atlanta, GA. From 2017-2018, he served as one of their bass techs and previously taught bass for Atlanta Quest in 2011, 2014, and 2015. Jeffrey performed with ALLIANCE DBC from 2005-2008 and 2010-2011, while also serving as Executive Director for the corps in 2015 and 2016.