the evolution of edge independent
Katie and Billy Pacifico founded Edge Independent in 2012. At the time, there weren't many places in Georgia for students to go if they wanted to spin after high school. Katie said, "we wanted to create a place where students could continue their marching experience with us."
That first year there were just 12 students, and Katie reflects on the phenomenal help they received from parents. In their very first year, they became Independent A finalists in WGI. In 2013 and 2014, the team was semi-finalists. In 2015, they earned a finalist title again.
After 2015, Edge Independent joined Paramount for a bit. It was an excellent experience for the group and instrumental to their growth. But following the 2019 season, when it was eventually decided not to launch the second team, Katie and Billy agreed to reopen their doors at Edge. Unfortunately, that was in 2020, the year of the pandemic.
Ironically, although no one physically made it to the UD Arena that year, Edge did a show about Dayton. "For the virtual year, we decided to reuse the floor we had with all the histories of Dayton on it," Katie said. "Our show, 'Don't You Wish You Were Here?' was a dedication to the idea that we wished we were in Dayton performing again."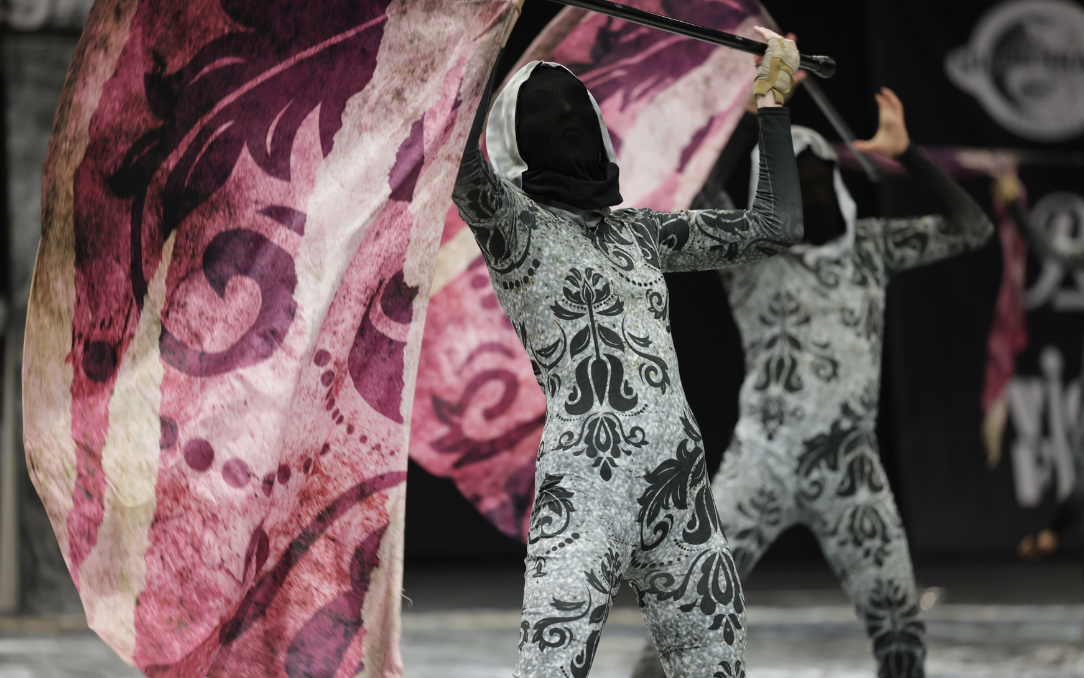 The Idea
Edge Independent's 2022 production, titled Hide, came to be thanks to a TV show. Katie says, "We really didn't have an idea of what to do for 2022 until one day, I watched Sherlock Holmes and saw the part where he hides in the wallpaper. It was like hide and seek. From there, the idea snowballed."
Katie describes how the show developed from a very literal interpretation of the game to a more abstract one. "It started with the idea that we would play the game of hide and seek throughout the show. The first practice of the year, we actually played the game with members as an icebreaker." As the design process progressed, it became more and more abstract. "The next step was figuring out how to do it in a creative, clever way," Katie says. "The show eventually shifted from the child's game. The wallpaper took on a personality. It was an Avant Gard experience where there were no rules."
The soundtrack for Hide was something that Katie had always wanted to use. "I have an unspoken rule that you don't redo shows, but I like to believe that rule is malleable in that if you have a strong idea for a show that has its own identity, you should go for it. I was actually the one who did the soundtrack for Stoneman Douglas when they did the song we used for Edge in 2022. I was very familiar with the piece and wanted to do it for years."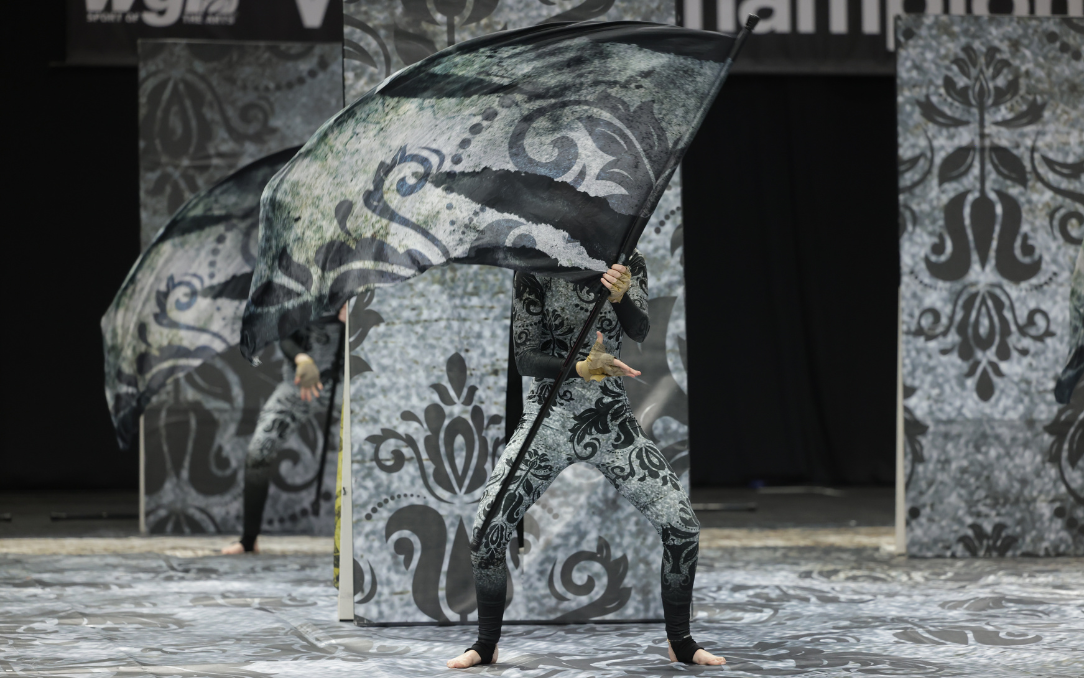 The Logistics
Katie reflects on how much fun it was to play around with how to hide the performers throughout the show. "It was such a fun project," she says. "The original idea was the costume. Then we thought, how can we extend the floor to hide them? That's how we developed the idea that the floor would hide the performers, and only their hands would come through. At the end of the production, everything was pulled through the props. It was what we called the final hide." Sometimes, the design doesn't happen in a structured way. Instead, ideas come organically.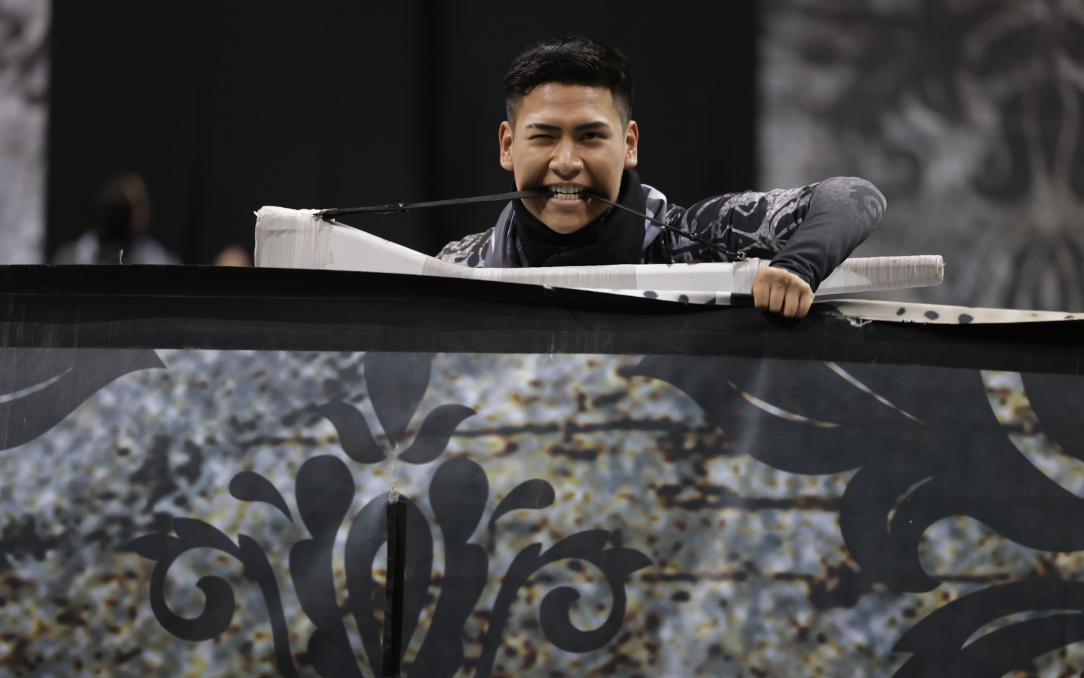 Matching the show's props, uniforms, and flags was critical to creating the camouflage effect. Katie explains, "we decided we had to go with one company, DPG, for the uniforms, props, and floor." Of course, not everything is shipped simultaneously, and Katie says, "we were holding our breath until those printed costumes came in that everything would work. We joked about it being a $25,000 gamble. But it all paid off in the end."
One of the most unique aspects of the design was the hoods the performers wore. "The hoods were never originally part of the design," Katie reveals. "It was the night before premiere, and we had a preshow. I thought, 'I just wish their faces were covered while they set up so they could be completely hidden.'" So, Katie took action.
"I went to my sewing machine and got to work. We threw them into the premiere." After the show, Katie received so many questions about the hoods. They sparked so much curiosity that Katie knew she had to implement them in other ways.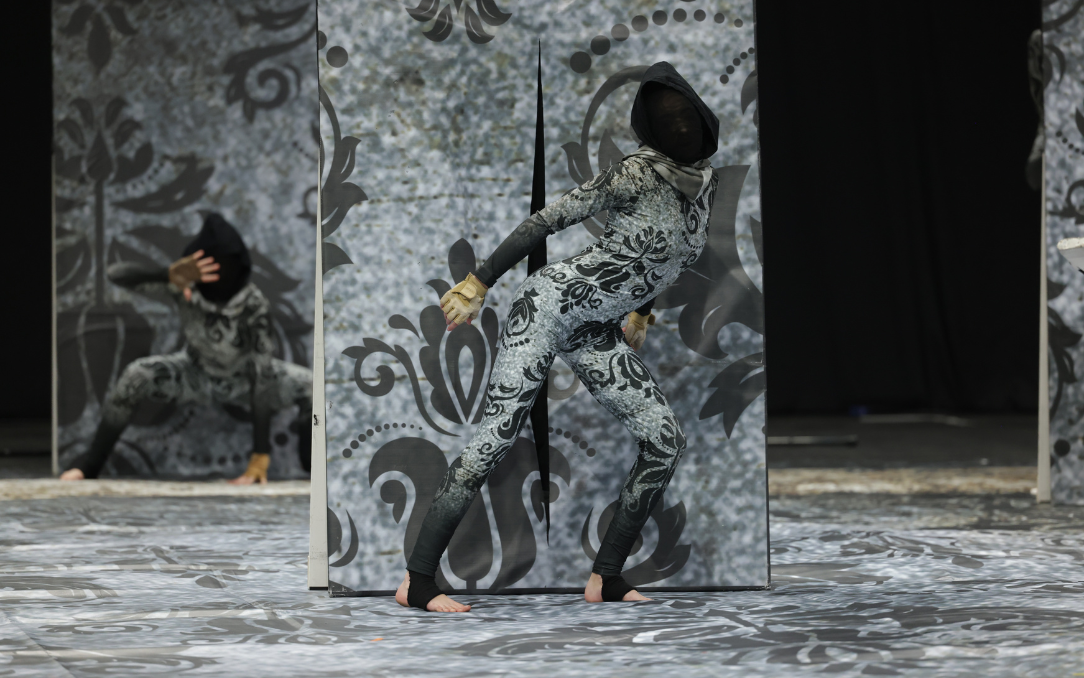 "We always try to dig deeper and connect things further, and the hoods were that moment for us this season. The hiding of their face became their character. They weren't themselves anymore. They were another identity. It really gave the members an opportunity to act with no boundaries." Katie expressed how grateful she was for DPG coming through once again at the end of the season to provide the camouflage hoods.
Something unique about Edge is that they don't simply strive to provide entertainment for the audience but rather a full-on experience. "We care just as much about the audience experience as we do the member experience. Our goal is always to ask; how do we keep connecting with people?" The 2022 production, Hide, ensured that the audience was drawn into every moment.
"This past season was just a phenomenal year. Not to mention that we were back in Dayton, which has always been magical. But it was a little extra special this year," says Katie.
Something that made 2022 particularly special for Edge was their new warmup idea. Edge Independent utilizes headphones during their warmups. Katie toyed with the idea for a few years before coming up with a plan. The goal was to allow students to find their own space during warmup.
"We're always looking for technology to improve the process for the students, and where there are problems, there are creative solutions." Katie explains, "I kept thinking it would be great if they could all literally plugin together before they go on the floor together."
In 2022, every student wore headphones that synced to an app during warmups. The instructors played the show music, and the students were able to get a run-through in warmup, wirelessly connected to the music before they went out on the floor. Katie says, "our performers were able to connect to the show in more ways than we'd imagined."
Katie also explains how helpful it was that she was able to communicate with the team without having to ever raise her voice. "I was able to have my app running, the students would have their headphones in, and walking through the hallway at a show, I was able to provide direct instructions to the students regarding where to set up or how much longer we had before it was time to roll."
Katie states, "The headphones are definitely something we'll continue doing in the future."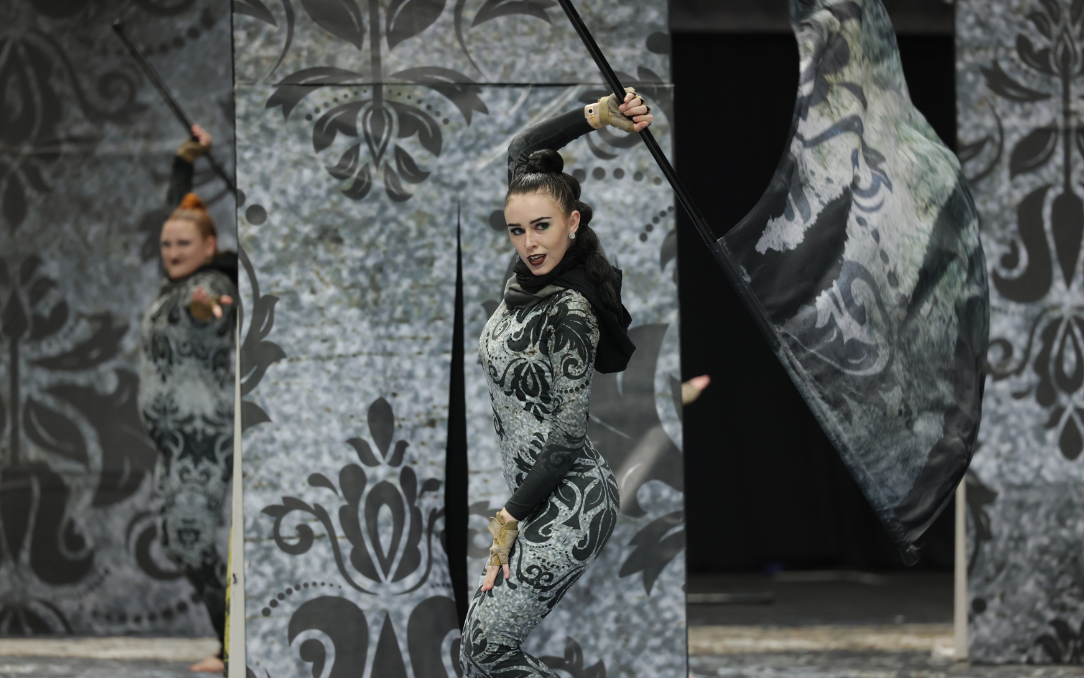 For 2023, Edge Independent has merged with Divenire Winterguard, and both groups are excited about the future. Katie and Billy were friends with Patrick Nolen-Kava and Aaron Kava, directors of Divenire, based out of Alabama. The groups decided to join forces when they relocated to the Atlanta area.
"What we're hoping is that through merging, we're able to field quality experiences for as many students as possible," Katie says. At their auditions for the 2023 season, there were 79 attendees. For the first time, Edge will have two competitive teams. "We're very excited to provide more experiences for more students."
The staff has learned from one another, and together, they hope to provide the best experience for their performers. Katie stresses, "Reach out, and don't try to do this all by yourself, because It's much more enjoyable to share this experience."
Edge Independent's staff includes some brilliant minds. "Chad Berkstresser was an instrumental and artistic force behind our 2022 program in vibe, design, choreography, and overall aesthetic," Katie says. "Shannon Berkstresser was responsible for our staging, Chad Berkstresser and Jason Alexander took the reins and fulfilled our choreographic needs, and Sara Solomonson was a mastermind of graphic design for us. We are all incredibly excited for the new season."
The entire staff agrees that their goal is to continue giving back to their community and giving their performers something beyond "5, 6, 7, 8."
"I'm really excited about our 2023 productions," Katie says. 2020 showed us that we can't take anything for granted. "I'm so grateful we get another shot with our students. We have to live each of these days together like it's the last time we have together that season." Katie ensures she does just that. "I just can't wait to see our performers again at our next rehearsal. Each rehearsal is like a reward. Our membership is a dream," she says.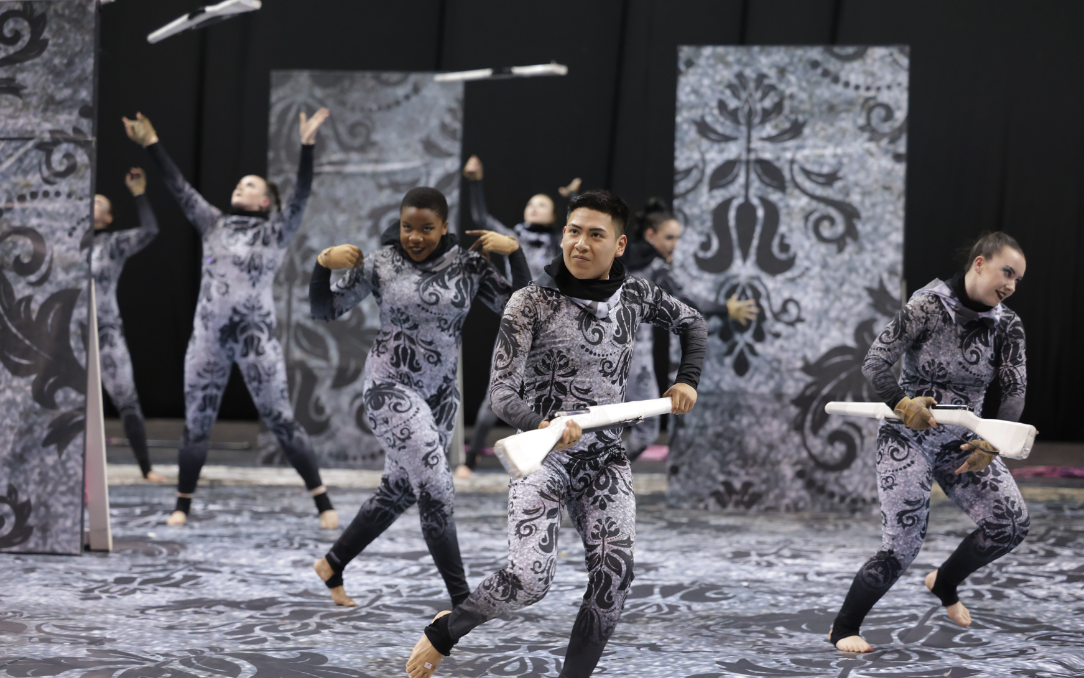 However, Katie also discusses how excited she is for the organization's growth. "We have had a lot of members who want to come back and continue their experience at Edge, but we've also had members go other places. I think it's important to support our members wherever they go. We had students this summer go to the Blue Devils and the Blue Knights. We had students march DCA, and some went elsewhere. I think, in general, the whole idea of us and the tribe has to include supporting students no matter where they are. We're excited for everyone where they are, whether with us or pursuing their love for the activity somewhere else."
The number of alumni who have continued to support the program speaks volumes. "I'm really proud of the alumni we have from our program. There have been six staff members who have continued with our organization," reveals Katie.
Katie also stresses that she couldn't do what she does without support from the community. "I'm just so thankful for the support from WGI as well as the support from our community."
Katie says, "I'm very lucky and I'm very thankful that I get to do what I do. I have the luckiest job in the world, and so does my husband. For years, my mother would say, 'aren't you going to get a real job now?' Now she says, 'thank God you didn't.'"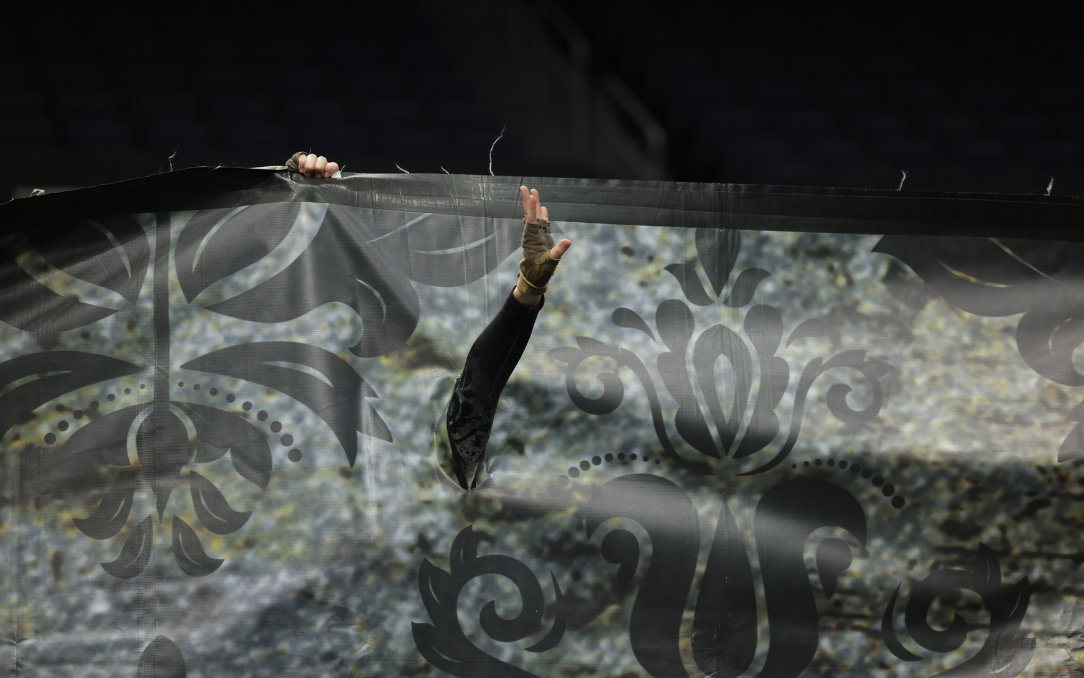 About the Author:
Trudy Horsting is a graduate student at Arizona State University pursuing her Ph.D. in Political Science. She holds a MA in Political Science from ASU as well as a BA in Political Science and a BA in Writing, Rhetoric, and Technical Communication from James Madison University. While at JMU, she was a four year member and two year captain of the Marching Royal Dukes Color guard and JMU Nuance Winter guard. She was a member of First Flight World Winter guard in 2019 and FeniX Independent World Winter guard in 2020.