By Michael Reed
Marsha Shriver is a proud mama. She has good reason to be. You see, her sons Will and Austin have done pretty well for themselves in the marching world. Both march with the Colts Drum and Bugle Corps. In the WGI arena, Austin performs with Infinity and Will competes with Cap City Percussion. Ironically, both are in the cymbal line in their respective groups.
The Shrivers lived in Ohio. Due to a separation, Marsha and younger son Austin moved to Florida in 2013, while older Will opted to stay in his home state. Despite the distance between them, both followed a similar path. Marsha firmly believes her sons' involvement in the marching activity not only helped them grow as people, it also opened doors to a better life.
She explained, "I firmly believe if kids are grounded in some type of extracurricular activity, it sets them up for leadership in life. It gives coping skills."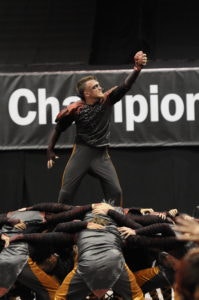 The brothers were percussionists in their high school band. After completing high school, older brother Will mentioned he was not quite ready for his marching days to be done. Luckily, his Band Director was a former Drum Major with Phantom Regiment and explained all about DCI.
Marsha continued, "After that conversation that we found the Colts Cadets in Dubuque, IA. Will marched with the Colts Cadets in 2013 and 2014 and the Colts in 2015. Austin followed his exact footsteps. He had an advantage because he was younger." The boys gravitated to the cymbal line.
Austin smiled when recounting his version of joining the Colts organization. "I was introduced to them against my will at one of the Colts Cadets camps. I hated every second of it until I got there, then I loved it. My next year I was on cymbals and my brother marched again, then he moved up to Colts. The following year, I followed in his footsteps. We basically have the same track record when it comes to drum corps, just a year apart from each other."
Marsha described the changes in her sons after a summer of drum corps. "I sent them boys and they sent me back men. They care about eating healthy, know about doing laundry and taking out garbage. My oldest son describes his first year in corps as a life altering experience. It gives them something to look forward to and be passionate about. They enjoy the camaraderie as much as anything."
Will acknowledges the positive effects that drum corps and winter percussion have made on his life. "It really taught me responsibility and taking things seriously, and pushing through everything. It really changed me around."
The boys discovered WGI through drum corps friends. Will joined Cap City in 2016. Marsha mentioned, "my son wanted to be a part of helping them grow and make the top 10." As Section Leader of the cymbal line, he played an important role in helping the line make Independent World Class Finals for the first time this past April.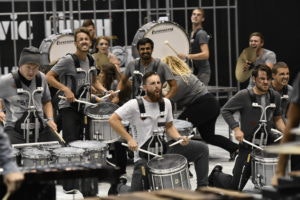 Austin spoke about his experience with Infinity. "This is my first year. I wasn't planning on marching indoor until my brother told me he was going to march his age out season for drum corps, and I was like 'I want to give him a really good line for the summer so I need more experience.' That's when I came out to Infinity, but it's become so much more than that. I love these people. "
The brothers do have a friendly sibling rivalry going. From Austin's perspective, "We always compete. We live in different states, so when he does visit we usually end up starting with who has shorter crash chokes (it's me, by the way, two years running), but we've always pushed each other to be better."
Will echoed the sentiment. "There's definitely a friendly rivalry because we both marched Colts as well. Our relationship got stronger when he moved away I would say, ironically, and we've definitely cherished the time we've spent in drum corps together because that's the only time we're together consistently."
Both drum corps and indoor percussion have financial obligations attached. As a single mother, Marsha had to get creative to help with dues. "I launched an eBay business. I learned the fine art of flipping stuff and last year it paid for WGI and drum corps. We just started selling things out of the house. A lot of things I pick up the boys will say 'oh that's ugly' but I tell them 'but ugly sells.' For example, I paid $2.50 for a rhinestone vest and sold it for $25!"
To any parents who are considering allowing a child to march, Marsha has advice. "It's the best thing I've ever done for my children. I really believe if you keep them busy with a good, clean activity, you will give them direction in life." The benefits truly do outweigh the costs.
Thank you Marsha and all the other parents who have sacrificed time and treasure to allow your children to perform in this Sport of the Arts.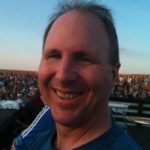 About the Author: Michael Reed provides online and print media content for WGI, Bands of America, and Drum Corps International. 2017 marks his sixteenth year of writing for WGI. He is an active music arranger, composer, and all-around avid pageantry fan. Michael was a member of the Cavaliers Drum and Bugle Corps and holds a bachelor's degree in music composition and music education from Ball State University. He currently works in the health care field and resides in Fishers, Indiana.