By Dan Schack
For anyone in the marching percussion scene, Mike Jackson is a staple. Currently the arranger/designer for Broken City Percussion and the Blue Knights Drum and Bugle Corps, Mike has been a part of the competitive sphere since his days as the director of Mission Viejo High School, starting in 1989. In 2001, Mission Viejo took on a serious and prevalent socio-political issue in their production: "XII." Darkened images of the court room, aggressive drumming, and a commitment to the programmatic elements by the design team and members made for a riveting and memorable show. To this day, it is considered controversial.
I was lucky enough to catch up with Mike to hear about the process behind "XII."
Tell me about your background and your experience in marching percussion and WGI.
I was at Mission Viejo HS from 1989-2015 as the Percussion Director, along with Jim Wunderlich. We attended the first WGI percussion regionals in 1993. We made our first trek to Championships in 1996. We were consecutive Finalists from 1996-2012. I'm pretty sure that's a scholastic record.
I have been heavily involved with the WGI Advisory Board, Steering Committee, and eventually the Board of Directors. Jim and I were also so inspired by this "new" WGI percussion scene; we started SCPA in 1997, along with a few of our like-minded cohorts.
First things first, why the title "XII"?
12 jurors. 12 colors (12 points of view). 12 key signatures. 12 tempos (starting at 80bpm and ascending every 30sec by 12bpm to 212bpm). Lots of twelves, resulting in XII. I don't think we've ever designed with the idea that the audience should understand everything. Most of the interior or conceptual architecture is for motivational purposes: to apply parameters to an otherwise blank page. In this instance, XII would hopefully be obvious due to the trial atmosphere and the association with jurors.
What inspired you to design this show? How did this become realized?
NBC's Law & Order. I think I've watched every episode since 1990. I believe we just gaveled it from the beginning. Pun intended.
As a younger designer, who inspired you? How have you personally changed as a designer in the past 16 years?
Inspiration:
Ralph Hardimon – composition (SCV & BK)

Dave Glyde/Jeff Lee – integration of technology and precision (Clovis West)

Dave Marvin – production (Northglenn)

Honorable mention: Steve Yates, Mike Nevin, Neil Larrivee, and Tom Aungst for showing us excellence (Ponderosa, Gateway, King Philip, and Dartmouth)
I think I've become more and more a recluse when it comes to design. I make it a point to not experience other ensembles until my project is finished. At that point, I love to sit back in the stands and be a fan. It's one of my favorite moments.
I find the dark aesthetic immediately striking, and of course, the blindfolds. Then the narration kick in, " The court is now in session," and it's clear we are in a trial. What is the story behind your scenescape? The blindfolds? Are they members of the jury, the judge, the accused, all of the above?
The blindfolds were more there to signify the axiom that "justice is blind," and not necessarily the role playing of jurors. The panels (eventually of color) definitely correspond to specific jurors: each one with their own perspective and experience, hence the 12 unique shades. This is also reflected in their unanimous decision of "guilty" by all the colors homogenizing into red.
As a percussionist, one of the first things that hits me about this show is that the members are really talented. Can you talk me through some of the conditioning your high school students underwent? How did you get these members to play at such a high caliber? Is your process different now? How does this differ from your training with SCV, Bluecoats, and now Blue Knights?
My first thought here is that we, for the most part, had no techs, aside from the cymbal section. From 1989 to about 2006, Jim and I ran almost everything by ourselves. 2007 on, we were able to increase our budget to get some new family members to help us stay in the mix. It made a huge difference. When I think back to 2001, it was heavily reliant on natural talent. Our "formula" for success was more philosophical and creative than brut force of playing well. In fact, I can't remember a time where Mission's strength was playing well. I felt like we just played differently. Not to sound like false modesty, but it was a serious concern. Groups like King Philip and Dartmouth were setting the standard in such an overt manner, it loomed on us daily. We worked hard to stay relevant.
How did you pitch "XII" to your students? The issue (capital punishment) is something not every high school student thinks about. Did the students buy in to the idea?
The students were not focused on this as a controversy. However, our administration questioned our subject matter. I'm not quite sure if I'm recalling this with complete accuracy, but the gist was this: "The drama department just performed West Side Story – gang violence, stabbings, suicide, etc. All of which are illegal. This raised not a single murmur of controversy. Yet here we are, displaying the most advanced justice system the world has ever known, with an outcome that's perfectly legal (in some states), and I'm here in your office justifying it." After that, we were fine. We moved on to things that mattered.
What challenges did you face designing this show? Are these the same ones you face as a designer today?
Ironically, I don't think I could pull this design off today. It required a lot of interaction with creative parents with resources and time to dedicate to the endeavor. It seems so much more difficult nowadays to get all these cylinders to fire. Those props were very intricate and required weekly maintenance and part replacements to function with reliability and precision. I would steer away from any such design these days.
I see some playing elements that are certainly pushing innovation and creativity (one handed quad lick, snares playing on metal racks, quad lick with hand drums, playing while drum speaking). Where did you derive the ideas for these music GE moments? (I see a little late 1990s-early 2000s Bret Kuhn Cavaliers infusion in there).
I'm not sure Bret's influence was a conscious one. But I wouldn't dismiss it as unlikely. The inspiration for the courtroom arguments (drum speak) came from "Blues for LW" by John McLaughlin Trio with Trilok Gurtu. I fell in love with the "tabla speak" and wanted to do it in a way that was non-ethnic nor idiomatic. We decided to use vernacular that the kids used when singing their parts, along with some inside jokes from Ralph Hardimon: "sherlock sugar daddy no crash". That was something he used to say when describing a generic, uninspiring drum set fill. Note: This same tune was the inspiration for our 2004 show.
Playing on the props was just a way to interact with the courtroom exhibits from the crime. GE moments were never thought of that way. We were just systematically going through the story. In fact, we were often called "boring" from some judges at the start of the season. This is probably a reaction due to the commitment of starting at 80bpm and plateauing by 12bpm every 30sec…it required much patience. This is why I don't think this show aged very well. I would never subject the audience to this now. I'm glad we did it. But it's done.
I think one of your cornerstones as an arranger is your ability to construct rhythmic motifs that resurface over and over, especially in your arrangements for Broken City and Blue Knights. Has this always been your method?
This is not a conscious thing I do. And I don't think I was aware of much in 2001. Nothing back then was as philosophically rooted as it is now. The conscious effort is more in the creation of a proprietary language with percussion instruments. That is, each program/production lives in its own universe. When we read a book that contains all the words we're already familiar with, we experience only the content of story and the order/arrangement of those familiar words. If the words are unfamiliar, perhaps we have to pause to look them up, or read on and figure the meaning out through their contextual use. The latter is what I aim for. Mystery is important. I don't want to hit you on the nose with content. I don't necessarily want the listener to hear and understand everything. Some things are purposefully clouded.
Do you believe musicality was as appreciated in 2001 when visual demands were much lower? If not, what do you believe has changed about the judging community that allows you to arrange the way you do now?
The beauty of WGI Percussion is that it is instructor/designer driven. It's completely unlike the outdoor marching arts. We, as the program directors and staff, are able to push the envelope on the floor and in the boardroom. It's such an amazing and unusual thing when you look at the methods used elsewhere.
With that said, I think everything is appreciated in its due time. Of course, we all have our pet issues and the disappointments along the way. But I'm pretty sure we can all agree that this is absolutely the most groundbreaking approach to recognize all forms of progress within the marching arts.
I would hope that no one is arranging in a certain way due to the judging community. Arrange from within. Then, use your time with the judges to share your method and thoughts as to why you do what you do. I think that approach may lead to more happiness and less suffering.
Does this show take place in an alternate drumline world? This moment also reminds me of the Cadets 2005 drum break ("The zone"), which was formatted pretty similarly. Have you noticed other elements from this show in more contemporary programs? Or is everything just an amalgamation of everything else?
If a program does not take place in an alternate "percussion" universe, then we're all really bad actors and bad dancers. The more abstract I can be, the more it takes on its own reality and won't be judged against a broadway production or the Joffrey Academy of Dance.
As far as noticing similar elements in other contemporary programs, if there has ever been outgoing influence, what an incredible compliment that would be. I mostly choose to keep my head down and not analyze these types of things. However, I think it's great that those on the outside looking in can find it fascinating enough to ponder where things come from and how they got that way. Perhaps it's not so healthy for those doing the creating though.
Once the curtains all turn to red, its clear things are not going to go well for the accused. The music becomes hectic and metallic, and red conventionally alludes to blood, energy, and passion. Does this signify the death of the accused? Is the ending purposefully open ended to allow the audience to make a decision for themselves?
This question threw me. If you took this as open-ended, that's amazing, and certainly a bonus for me to hear. In my book, that guy is gone. The analog scream from the floor was the last panic before meeting his maker. We did not want this to be done in poor taste. We did not want it to be a moment of bad acting. This is probably where the door was left ajar for interpretation of the "death scene".
How was the year of 2001 important to crafting this show? Was this a show you had always planned to do and finally had the players to handle it?
I have never had show designs in a drawer. Each year is designed that year. I've found many designs that are not used are usually discarded for eternity. We do, however, design for specific assets (and weaknesses) of the ensemble. That's every year, every program.
If you could redesign this show for 2017, what things would you do differently? Do you believe the show would still "work?"
I would ditch all the music. It would be a completely different aural interpretation of the visual and conceptual content. I'm suspending reality answering this question. I would never redo this show. However, in thinking about it currently as I type, I would love to see someone else do it… their own way.
I want to thank Mike Jackson for taking time out to answer these questions.
---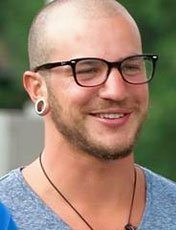 About the Author: Dan Schack is an active designer and educator in pageantry arts. He is currently the Battery Co-Manager/Choreographer for Carolina Crown, the Artistic/Movement Designer for George Mason University, the Visual Coordinator/Choreographer for ConneXus Percussion, and a music and visual technician for Rhythm X and several scholastic percussion ensembles in the Dayton, Ohio area. Dan is currently pursuing a Master's degree in English Literature and Women's Studies at Wright State University, where he works as a Graduate Teaching Assistant. Dan has been a contributing freelance writer for Winter Guard International since 2012.