By Michael Boo
Tim McLaughlin is a 25-year-old who has been involved in the marching activity for 12 years. Originally a clarinetist in the Sachem HS (Long Island, NY) marching band, he admired the work of the band's color guard as his interest for playing music began to dwindle. As a freshman in 2005, he went to his first winter guard show and was so inspired by what he witnessed. After that winter guard show he immediately switched from band to color guard for his final three years. He went on to march Regime, Emanon Open, Alter Ego Independent, and for the past three years, Emanon World. In addition, he also marched drum corps with Sunrisers and The Cadets.
Tim grew up loving art as members of his family had a strong talent for sketching and illustrating. He recounts, "I had tens upon hundreds of sketch books stacked in my bedroom full of ideas and inspiration of anything that would pop into my head; stories, architecture, portraits, the whole nine yards. I started sketching more on the computer and putting together simple websites, with my limited coding and Photoshop knowledge at the time. I started seeing two of my hobbies collide, designing and color guard. Sketching out my own flags and uniforms and scanning them into my computer to color them became a pastime while I was still marching."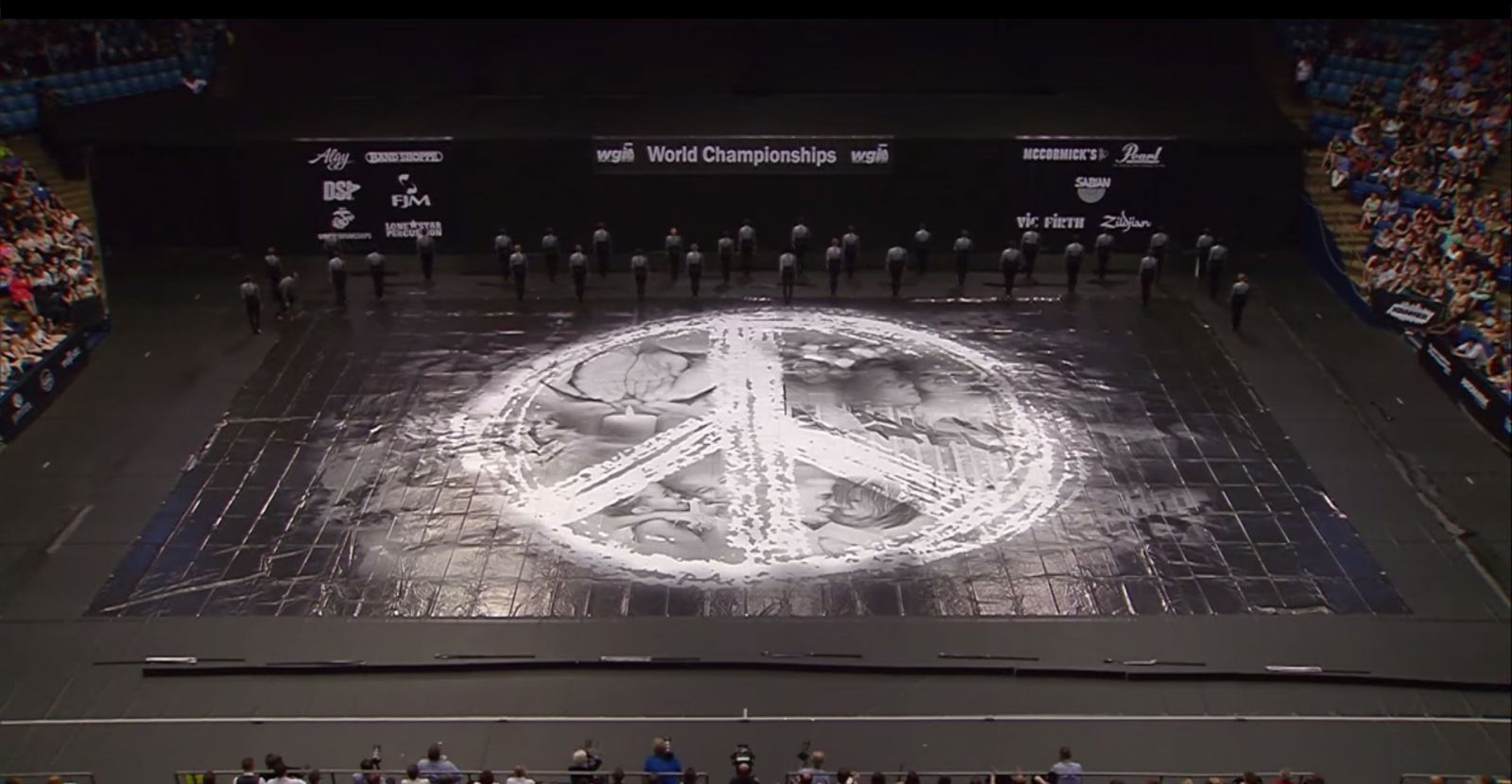 He admits to knowing he would not become a doctor, mathematician, or scientist, realizing he wanted to attend college to study graphic design. After building up his portfolio, he followed his passion and attended the Fashion Institute of Technology for Communication Design in 2008. He then re-enrolled in the very competitive Brand/Packaging Design program for his Bachelors degree in Fine Arts. Throughout his four years at FIT, he balanced his studies with winter guard, traveling from New York City to both New Jersey and Connecticut every weekend to be with Emanon or Alter Ego.
Did that schedule at all affect his studies and grades? Much like countless other guard members, it seems to have helped. He replies, "I can say World Class and color guard in general made me manage my time with homework and studying in the most efficient way possible." No spare time went unused; on his commutes and while at guard housing, he would work on his studies for the coming week.
How does someone like Tim get interested in brand and packaging design? He states, "I had no clue what I wanted to do after my first two years at FIT. You have to reapply for a focused major in the Graphic Arts program upon the completion of your second year; Graphic Design, Advertising Design, and Brand/Packaging Design–Brand/Packaging being the most exclusive and competitive of the three. As a competitive person by nature, I decided to focus my portfolio of design work to get into the Brand/Packaging program after passing a showcase of art from the previous graduating class sitting on glass shelves."
Admittedly, few people think about the designers that create the packaging one sees in stores, yet pretty much everything we buy (other than fresh groceries) is packaged with designs created by people like Tim, designs intended to draw one's eye to a particular product. But the process is more than just designing boxes. Where Tim works, every design starts with a series of strategic evaluations, design ideas about the directions a brand can take their design, and finally the design itself. As for the actual design process, there are times Tim works until midnight to "crack" that one design stuck in his head. After that, there's a lot of production work before the packaging reaches the shelves of markets.
All that work has evolved into Tim's more recent endeavors creating designs for guard floors. According to Tim, "I had a desire to give back to the activity that made me the driven designer I am today. My big break happened my first year in World Class with Alter Ego, when the showdesigner asked me if I could help assist with designing the floor. He had the idea and concept, but needed someone to execute it. Working together, bouncing ideas and details back and forth, we created one of the most beautiful floors on the arena floor in 2011. He then hired me for more Alter Ego floors, and I also ended up designing floors for Trumbull HS, Claudia Taylor Johnson HS, Newtown HS, and Redland HS."
Tim claims that the most rewarding feeling is seeing a floor design being pulled out on the practice floor for the first time. However, the floors typically have little impact until seen from a high vantage point. He admits seeing what once existed on a 15-inch computer screen fill up an arena floor is quite a spectacle. However, as he becomes older, he realizes the time he has available to perform or teachis narrowing. Designing floors for guards thus allows him a way he can give back to the activity.
In addition to an ever-increasing workload as Senior Designer at his firm in New York City, Tim has been teaching the Fusion Drum and Bugle Corps color guard the past two seasons and has picked up designing band flags in Texas. His personal design business is growing and he gives all the credit for that to his experiences in WGI.