By Michael Boo
"Caught Off Guard" is a monthly feature that takes a close look at what individual members of WGI ensembles do outside of marching. Keep an eye out for similar stories called "Out of (Drum)Line," If you know someone marching a WGI ensemble, who also has a unique job or hobby, email wgimages@wgi.org.
Rachel Cooper of Paramount is just your average guard member, having spun sabre for five years and also rifle the past four years. Like most other guard members who are also in school, she ponders what she wants to do as an adult. At first, she thought she was going to major in food science to become a nutritionist, but now, she's leaning towards either going to culinary school or going into psychology, with a minor in dance.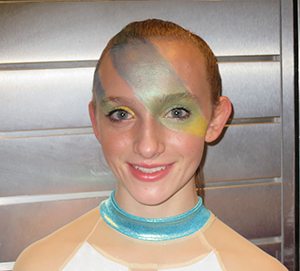 And like other guard members, she loves to drive…except for her, driving means racing cars around a track. She started racing Ford Mustangs in 2013, when she was 18. She knew she wanted to race when she got her own car at the age of 16. Her dad was always a fan of cars and she long watched races with him and went to car shows with her family.
Her first race was the Boss 302 Track Attack, a special race only for those who own the newer Boss 302 Mustang. (She also races the Mustang FR500.) She remembers, "My fellow guard members were shocked when they found out I was a racecar driver; it was priceless. I guess looking at me; I am not the stereotypical racecar driver. They think it's incredible and surprising that I am racing."
Rachel finds that racing cars and being in a guard have many things in common. "When racing, you're not going to execute every curve and turn perfectly, so you need to keep calm and make the best corrections that insure your safety and gets you back in the race ASAP. That ability is dire for guard because mistakes do happen, but it is all about the recovery from them."
She also finds that each activity complements the other: "Racing cars helps me with marching because it gives me the aggression to attack the equipment and get things done. Marching helps me keep calm and confident while racing so I can stay focused. In guard, I have learned to be really confident during rehearsal, and that ability comes really handy in racing because it helps me push my limits and be the best I can be."
Rachel is working on obtaining her NASA (National Auto Sports Association) license, which will open up more racing opportunities for her. She doesn't have any sponsors yet, but hopes that will come as she becomes more experienced on the racing circuit.
Each activity brings out her desire to do her best. She proclaims, "I want to accomplish everything as best as I can and I want to impress everyone."