By Michael Reed
About an hour northwest of Houston, in the shadow of the nation's fourth largest city, is the small town of Waller, TX. Waller High School has approximately 2,000 students. 120 of them are in the marching band. Of those, 23 are in the school's two winter guards overseen by Director Caleb Brown.
Brown has an extensive pageantry background. He performed with Aria Winterguard, First Flight, Cypress Independent, and DCI's Madison Scouts. As an instructor, he has taught Spirit of Atlanta, Cascades, Troopers, Mandarins, and Colts Drum and Bugle Corps, and currently is on staff with Spirit Independent in Houston.
Brown is in his second year at Waller and in the process of building a program that is currently over 50% freshmen. "Last year, our guard made Finals in SRA at the Houston Regional. This year, the JV guard had the pleasure of performing in Finals in SRA at the Houston Regional. We're planning to add more Regionals for the varsity group next year, and hope to earn our spot in Scholastic A Finals!"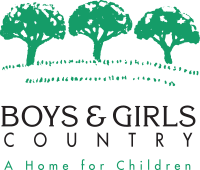 Just outside of Waller amid railroad tracks and cattle ranches is the unincorporated community of Hockley. Hockley is the home to a special place called Boys and Girls Country. Several Waller guard members live here.
Brown explained what this wonderful organization does. "Boys and Girls Country helps families who need help in raising their children. Families are often in conflict; they face issues ranging from alcohol or drug abuse, violence, serious illness, abuse, incarceration, abandonment, or the death of a family member. They need help, but their children are not in the custody of the state."
Caleb shared how one student from Boys and Girls Club got others involved. "My first year, a junior by the name of Morgan decided to audition. At the end of winter guard season, he expressed interest in seeing the program continue to grow. Morgan recruited 8th graders from BGC to come audition. Because of his recruitment, we gained four more students this year."
Kaleigh, one of those students, shared why she auditioned. "I knew it would keep me busy, so that way I couldn't fall into trouble my first year of high school. I was also nervous about starting high school, and figured I could make many new friends [through color guard]." For fellow member Mimi, "I joined because I wanted to find something new to do. I saw color guards in the past and I just felt like I wanted to do it."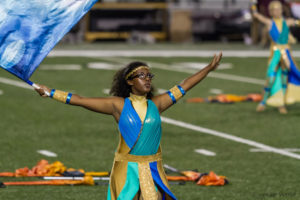 The students have found a welcome home in the guard. For Kaleigh, "The Waller guard has become a piece of my family. Throughout the year we have grown close and spent many hours together." Teammate Mekdelawyt echoed those sentiments, "Waller guard has become family. It is tough, but we laugh a lot."
Just as being in the guard has brought a sense of belonging to the Boys and Girls Country students, they have also touched the heart of their Director. Brown shared one touching story from earlier this year. Mekdelawyt's house parents hosted a dinner where each person could invite their favorite teacher. She invited Caleb.
"I was completely taken aback. At the dinner, she told me that I pushed her to not only be a better performer, but to become a more hard working and responsible person. She told me that color guard offered a place where she could get her mind off of problems and had taught her how to better manage her feelings. It makes every hard day worth it."
All three performers felt their guard experience has provided valuable life skills. For Kaleigh, "Guard has taught me the true meaning of commitment. There have been many times where I wanted to skip a practice or performance. There have been other times where I have wanted to quit, but each time I reminded myself that I made a commitment not only to myself but to the team."
Mekdelawyt had similar thoughts. "Guard has taught me to be committed to my work." As for Mimi, "Lots of time management and the benefit of working with others. The most important thing it has taught me is self-confidence."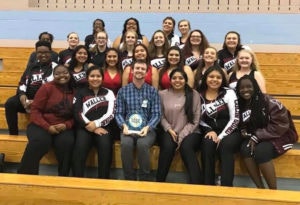 These students have overcome hardships that many never have to face. Some have dealt with abuse and most have come out of single parent situations. Each of the people at Boys and Girls Country, whether in guard or not, have opportunities with their new families that circumstances may not allow with the biological families.
While guard has given much to the Boys and Girls Country students, they in turn have provided motivation for their Director. According to Caleb, "The biggest inspiration from the BGC kids has been witnessing their undying happiness. Knowing that these students have lost family members to various tragedies, yet they are still willing and able to work their hardest and laugh along with us keeps pushing all of us forward.
Their resilience through their hardships keeps me motivated to look at my job and life in a more positive light. It also encourages the other members to continue working hard and remain dedicated to the program." We applaud the successes of the Waller guard and the Boys and Girls Club students. Keep pushing forward, kids. You have a bright future!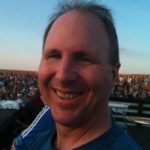 About the Author: Michael Reed provides online and print media content for WGI, Bands of America, and Drum Corps International. 2017 marks his sixteenth year of writing for WGI. He is an active music arranger, composer, and all-around avid pageantry fan. Michael was a member of the Cavaliers Drum and Bugle Corps and holds a bachelor's degree in music composition and music education from Ball State University. He currently works in the health care field and resides in Fishers, Indiana.