By Michael Reed
Millett Hall, on the campus of Miami University in Oxford, OH, is the newest World Championship venue. It was added as a site last year due to the ever-increasing number of entries. There simply were not enough performance times available at the existing venues to accommodate all the groups. For some attendees, the focus is on the action at UD Arena. However, many veteran WGI fans also enjoy sampling the groups at the other venues. It certainly adds a unique flavor to the Championship experience.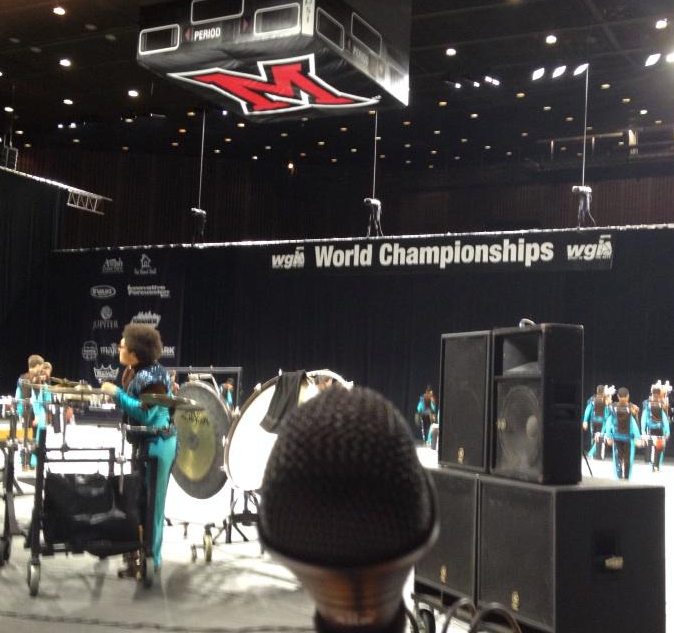 It is an hour's drive from UD Arena to Oxford. In actual distance, it is just over 40 miles away. Unfortunately, there is no direct route from Dayton to Oxford. The first third of the trip is getting on I-75 South for about 20 miles; the rest of the journey involves taking a few state highways through Ohio farmland. With modern GPS devices and websites like Mapquest, directions are just a few clicks away for most people.
The campus is beautiful on a sunny spring day, with students walking to and from class. This is the proverbial college town. Parking is right across the street from the arena, and spectators are separated from the lines warming up in the lot by orange cones. For those that look forward to their "lot time," this is a definite plus for this venue. The concourse is spacious, with plenty of room for large groups of people to congregate around the area where scores are posted. The arena workers are friendly and most helpful.
The actual competition area is perhaps the most theater-like of all the WGI sites. In addition to the black curtain along the back, there are taller black curtains along both sides, giving an aura of watching a play on a stage. The arena also has a dark ceiling which make the colors and lighting "pop" on the performance floor. The seats are a tad closer to the action than at UD Arena, and the padding proved quite comfortable when viewing 30+ Percussion Scholastic Open lines over the course of 7 hours.
In viewing great performance after great performance, it is amazing how our activity has grown in a short time. Lines that would have placed in the top five in the not-too-distant past now have to fight just to qualify for Semi-finals. The experience was heightened by the fantastic sight lines, atmosphere, and acoustics of the building. If you like watching your favorite drum line perform in an environment that has both the feel of a large arena and the intimacy of being "up-close," then Millett Hall is the place for you. We invite our fans to check out all of the great venues hosting World Championship Prelim and Semi-finals competitions. You will be glad you came.