All are things passed down from one person to the next. Shared through stories, memories, and history, remembering the legacy someone left behind, seeing their impact everywhere, and wanting to ensure their voice is still heard.
The concepts of legacy and storytelling were two significant focal points in Ayala High School's 2023 indoor percussion show titled "Passed to the Present." The group's finals performance left its mark, earning them a gold medal in PSW and a score of 97.938.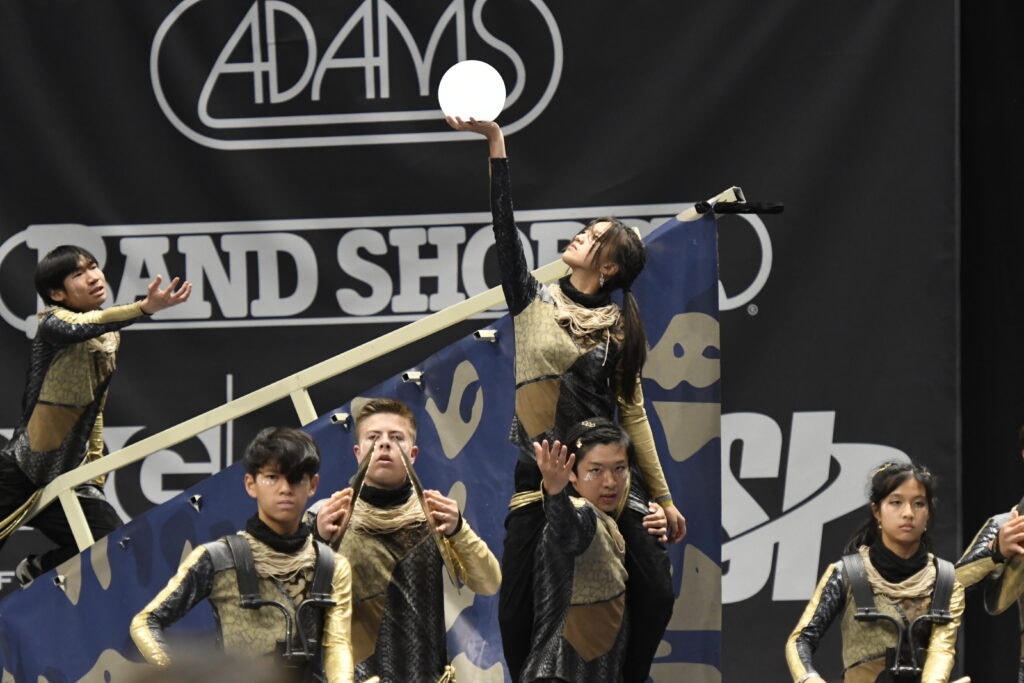 Fitting in well with the show's concept, the original iteration of Ayala's 2023 show was passed down and developed over nearly five years, Percussion Caption Head Darren Van Derpoel said. His current note of show ideas on his phone has been active for nearly a decade.
"Anytime I hear a song that hits me, see something that inspires me, or read something that stirs an idea, I will jot it down," Van Derpoel said. "Sometimes it's a single word, sometimes an image, sometimes a quote from a book or movie."
The song "Frontier" by Holly Herndon acted as the jumpstart for "Passed to the Present," sparking Van Derpoel's inspiration and becoming the opening movement of the show.
"The whole album has a sound and energy that I loved and felt would be great for telling a story on the floor," Van Derpoel said. "It has some amazing and unique use of her voice, a modern sound, all while giving off a folklore vibe."
Van Derpoel and the rest of the Ayala team worked alongside Tony Nuñez from Stay Other and Darren Stack from Stacked Fabrication to ensure every detail of the set design was intentional, particularly in the floor and costuming.
"The floor was intended to represent a tapestry that you may see in someone's home, telling a story of that family's history or culture," Van Derpoel said. "The costumes were intended to almost look rugged and worn, with patches of different fabrics, as if each one had its own story to tell."
Four ladders and a spiral DNA prop acted as clear representations of the show's theme as performers climbed up and down, passing props to one another. This also acted as a reflection of the ensemble's history and what was to come.
"In many ways, our 2023 production was about what the Ayala story has been in the past and what it is becoming now," Van Derpoel said.
For Ayala HS, competition season can be described no better than in one word: busy.
Rehearsals occur twice a week for the marching ensemble and twice more for the concert percussionists, those students performing in both PSW and PSCW in Dayton. This rehearsal schedule and commitment from the students create "veteran performers," Van Derpoel said, making what the organization strives for possible.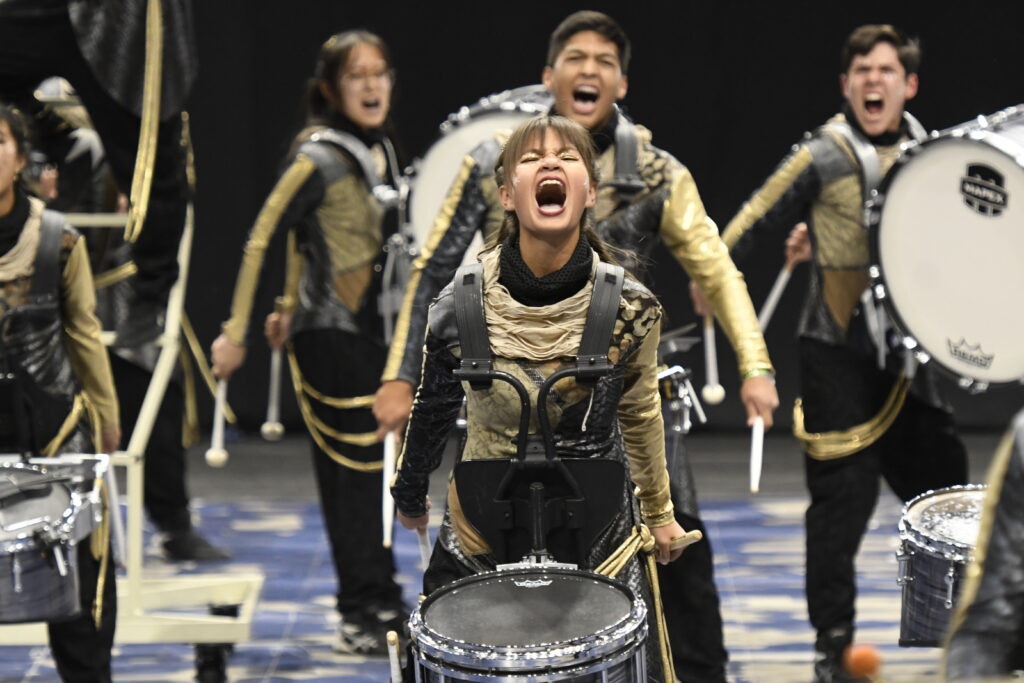 Being based in Chino Hills, California, Ayala HS experiences a much more unique local competition circuit than many ensembles, facing some of their biggest competition from February to April.
"I personally find inspiration and insights from seeing these great ensembles on a weekly basis from PSJ to PIW, and I am sure the students and performers get that as well," Van Derpoel said. "Although there's a natural competitive nature to the 'Sport' part of what we do in WGI, the 'Arts' is able to grow by using each other and the community as a supportive resource."
Ayala's location offers an additional question, one regarding the travel to World Championships, in Dayton, Ohio.
The trip, spanning over 2,000 miles, requires diligent planning and attention to detail. The group's saving grace for the 2023 season was alumni parent Sontri Vista, who stepped up to ensure everything was in place for the trip, including food, hotels, and transportation.
"[Vista] and all the parents that travel with us have done an incredible job in making sure the students' only worry is to have the greatest performance of their lives, which allows the staff to set them up for that success," Van Derpoel said.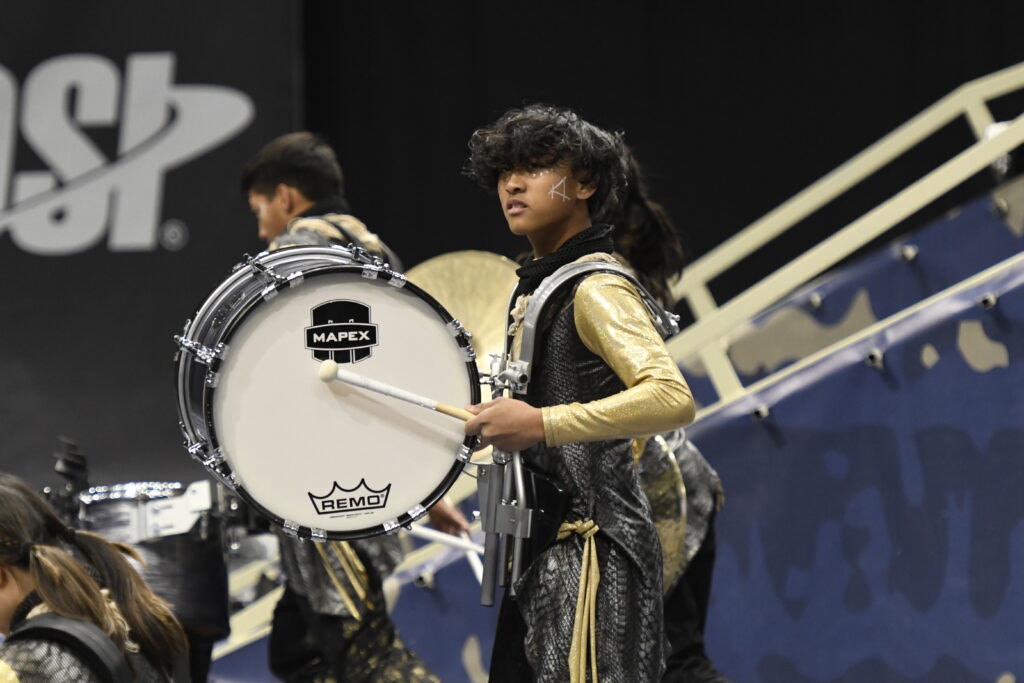 Throughout such a long season, there are plenty of opportunities for unforgettable memories to be made and lessons to be learned. For Nick Miyasato, Ayala's battery captain, it was the people and their commitment that made the season memorable.
"My favorite memories from this past season [were] those little moments between reps or breaks where I could see my fellow members or even staff be who they are," Miyasato said.
The personal growth that can be found within the drumline was an important thing to focus on, Miyasato said. Anything and everything can offer a chance to learn, including the other people in the activity and their devotion to their craft.
"Behind the elation of competition, behind the hours of rigorous practice, and behind the scores was a group of people coming together to make something bigger than themselves," Miyasato said.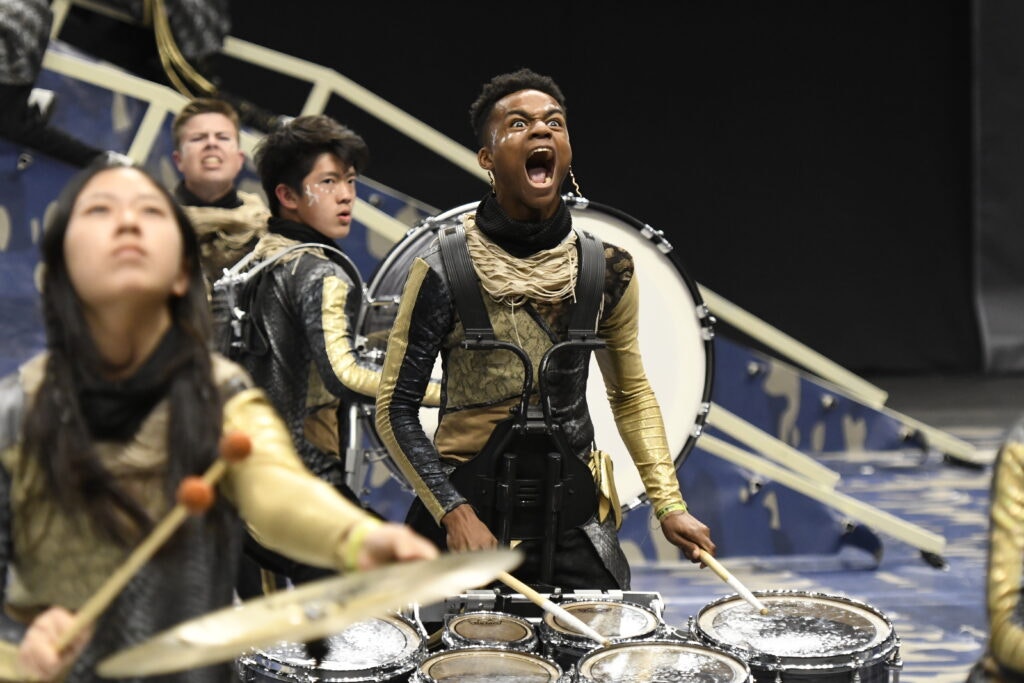 Joanne Lu, Ayala's front ensemble captain, reflected on the feeling of breaking a school record and hearing the audience's screams of joy at the end of the show. Getting to that point, however, took a season of motivation, both individually and as an ensemble.
"There are definitely moments where I thought of giving up," Lu said. "But, when I go to rehearsals and see my instructors who are willing to spend time with us high school kids and my teammates who are all here going through what I'm going through, I tell myself that I need to push through and keep on improving myself so I can keep up with the team."
Ava Carr, Ayala's visual ensemble section leader, loved the excitement and rush of performing, especially how much pride it can create.
"I was told by a wise person to 'savor that last note,'" Carr said. "I will never be able to go back in time, but I can still remember the last note, the last performance of that show."
Although an immense amount of work goes into putting together a show, looking back on the tiring journey it took to get to Dayton makes everything worth it.
"Through all of the blood, sweat, and tears to achieve a high level of performance and entertain the audience, and to feel our efforts and hard work acknowledged, has made this the best and most memorable season in my high school career so far," Carr said.
About the Author:
Kellie Finch is an undergraduate student at the University of North Carolina at Chapel Hill pursuing her BA in Media and Journalism through the Hussman School of Journalism and Media. At UNC, she is a member of the Marching Tar Heels in the tenor saxophone section. She participated in WGI winds during all four years of high school playing the alto saxophone, where she discovered her love for music and the activity through her experiences and the people she met.