In our "WGI Archives" Feature Series, we take a look back at feature stories from past print copies of FOCUS Magazine! In this archive snapshot, we revisit the Percussion finals performances of the WGI 2012 World Championships, first published in the Spring 2012 WGI FOCUS Magazine.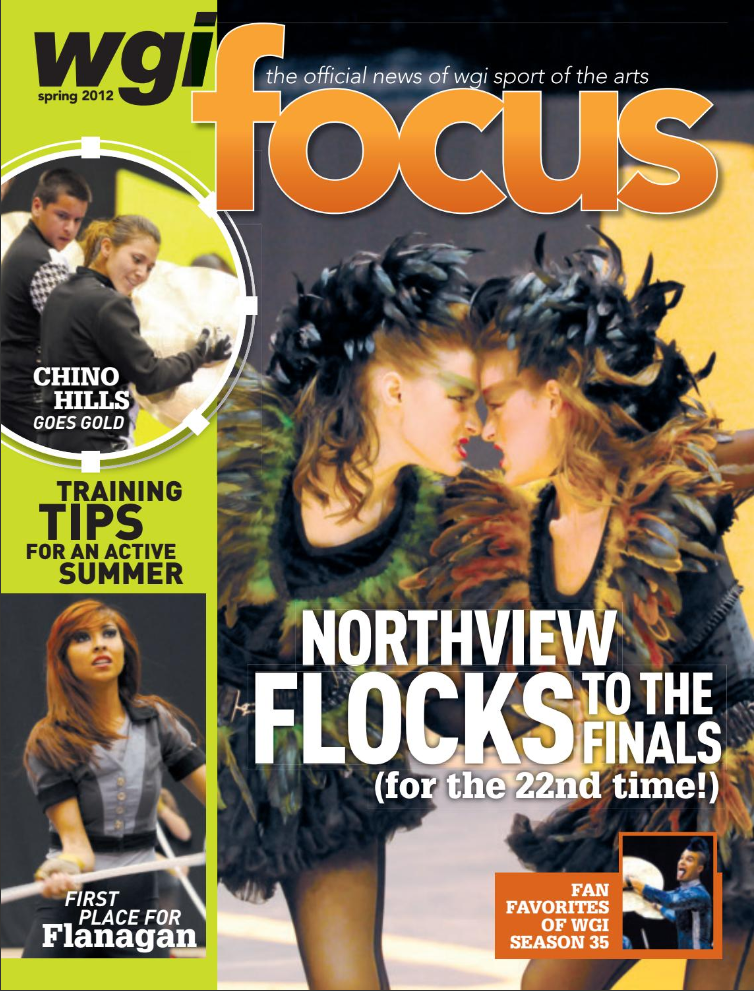 The 20th WGI Percussion Championships were a watershed event, with a record 189 entries, a record high score, and a packed house of drum enthusiasts. Many technological advances were also on display, as ensembles unveiled lighting effects that would make Vegas envious, large monitors with videos synchronized to the music, and even (in one case) an iPhone app.
INDEPENDENT marching WORLD
Riverside Community College (Calif.) took its fourth title with "The Gift," portraying the ferocity of war and the ultimate sacrifice made by heroes who lost their lives defending freedom. Letting out its inner caveman, Music City Mystique (Tenn.) used lighted tubes and domes in the distant-future-meets-prehistoric "Nu-tribe." Pulse Percussion (Calif.) placed two groups in finals, as the "World" line explored the shifting sands of relationships that pass through our lives with "Coming and Going."
Cutting-edge Rhythm X (Ohio) illuminated the way to wisdom with "enLIGHTened," using a lighted seven-pointed star to brighten the path. Matrix (Ohio) probably needed termite insurance for "Wood You?," incorporating a forest's worth of wooden percussion instruments to travel a more acoustic route. North Coast Academy (Mich.) had the crowd on its feet after numerous eye-popping cymbal tricks and a spectacular left-handed mallet feature.
The controlling eyes of a mechanized tyrant watched for any sign of emotion from Gateway Indoor (Mo.) in "Ministry of Love," while United Percussion (N.J.) used three giant projection screens to show live group and audience shots during "NOW." Infinity (Fla.) had us sitting on the front of our seats with the thrilling "On Edge," while Pulse Percussion Open (Calif.) kept at it again and again…and again with the OCD-referencing "Obsessed."
Also qualifying for finals were Tates Creek Indoor (Ky.)'s "Electrify," "BK Crew" by Blue Knights (Colo.), STRYKE Percussion (Fla.)'s "Music in the Shape of a Square," Eastside Fury (Mo.)'s "(No) Strings Attached," and Palmetto Percussion (S.C.)'s "In My Dreams."
SCHOLASTIC marching WORLD
Chino Hills (Calif.) led a quintet of California lines, as the state took a third of the finalist spots. Its "Predictable" was anything but, with surprises galore, including an unexpected trip back to the '80s courtesy of Rick Astley's "Never Gonna Give You Up." Dartmouth (Mass.) soared the skies in avian costumes over an urban metropolis during "Evolved." Ayala (Calif.) cast a long shadow "In the Dark," using nine plasma-screen televisions that showed light-related images.
Arcadia (Calif.) fell just short of a title defense with "Brief Eternity," but its members' lightning-speed hands proved that the group's talent pool is deep despite heavy graduation losses. Center Grove (Ind.) hit anything that clanked with "Twisted Metal," including a unique hi-hat feature in a program of largely heavy metal music. Father Ryan (Tenn.) applied the adage "The Show Must Go On," overcoming Murphy's Law with (intentionally) misplaced props, failed gimmicks, and faked injuries.
Mission Viejo (Calif.) took us beneath Tokyo into the world's largest flood control project in "The Underground," while Forsyth Central (Ga.) created an LED fantasyland in "Pure Imagination" with a captivating use of color-changing lighting. Walled Lake Central (Mich.) constantly moved keyboards around the glass-shard floor in "Shattered Perspective," while West Bloomfield (Mich.) tried to break loose from sticky situations with "Stuck." Remaining finalists were Centerville (Ohio)'s "Equilize," Rowland (Calif.)'s "Before I Sleep," Mt. Juliet (Tenn.)'s "October," Milton (Ga.)'s "City of Hope," and Avon (Ind.)'s "Prime."
INDEPENDENT marching OPEN
George Mason University (Va.)'s journey began with a single step and went farther than the group's ever been with "Go," a blistering showcase that left the crowd breathless. MN Brass Indoor (Minn.) raged against the dying of the light in a brilliant interpretation of the classic poem "Do Not Go Gentle." Orange County Independent (Calif.) turned many heads with "Rhythm Is Life," drawing inspiration from the heartbeat, music, and nature.
Dark Sky Percussion (Ariz.)'s members began "Lost" headed in the wrong direction, but found their way guided by the starlight on their costumes. Like millions of bits of data zipping inside a computer, Green Thunder (Ill.) brought us into "The Grid" with music from Tron: Legacy, while Dojo Percussion (Neb.) took us into a netherworld where "The Faun" grants a princess the immortality she had lost. Atlanta Quest (Ga.) could not be tamed in "Wild," battering us into submission.
Also making finals were Pioneer Indoor (Ill.)'s "The Art of Illusion," Capital City Percussion (Ohio)'s "The Fall," Valley Independent (Calif.)'s "Reflection – Looking Into My Past," River City Rhythm (Minn.)'s "Crossing the Line," and Genesis Percussion (Mich.)'s "Strings Attached."
Scholastic marching OPEN
South Hills (Calif.) won gold with the smallest line in the class. "Home" featured televisions showing scenes from a comfy middle-class house. Victor J. Andrew (Ill.) made our eyes moist in "Until Tomorrow," with yellow ribbons reminding us of loved ones serving in the military overseas. Franklin Central (Ind.) used mirrors positioned at the back of the floor to provide a unique view of the crowd watching itself in "Hindsight 20/12."
Unseen messengers brought Upper Darby (Pa.) to the light in "Send Me an Angel," as the group's dark costumes gradually became whiter. A mad scientist controlled Dorman (S.C.)'s ensemble from a digital console, becoming worried as they continued playing after the power was cut off in "Plugged In." King Philip Regional (Mass.) got the crowd to clap along with call-and-response patterns in "Code," while Cy-Fair (Texas) demonstrated the analytical and artistic sides of the brain with "The Mind in Two."
Rounding out the finalists were Trumbull (Conn.)'s "Goodbye," Old Bridge (N.J.)'s "La Corrida," Monarch (Colo.)'s "Voice," Clover (S.C.)'s "No Regrets," and Pace (Fla.)'s "Vigilante!"
INDEPENDENT marching A
Spirit of America celebrated the cornucopia of American music with "Spirit Fusion". The vibrant colors of their set were matched by the equally bright array of timbres. Chattanooga Independent (Tenn.) did everything but pull a rabbit from a hat in "Abracadabra," with card tricks and magic boxes conjuring drummers out of thin air. Vegas Vanguard (Nev.) emerged from the shadows to exhort viewers to work for a better society in "Anarchy."
A bleak future awaited Notre Dame Indoor (Ohio) in "Unplugged," as the lone human not assimilated into a mechanized society was caught, caged, and wired in. Moving up five positions from prelims, eNVision (Nev.) made the most of its opportunity for greatness with "eNVision Your Life." Double Stop Indoor Percussion (Ala.) endured long hours and a cruel boss man who fell into "The Furnace."
Other finalists were Gulf Coast Independent (Miss.)'s "Redemption," Salem Blue Devils (N.H.)'s "Incendia," River Valley Independent (Ark.)'s "Great Expectations," Frequency (Ga.)'s "Unconquerable," Ancient City Ensemble (Fla.)'s "Tower of Babel," and Marcato (Fla.)'s "Sin and Redemption."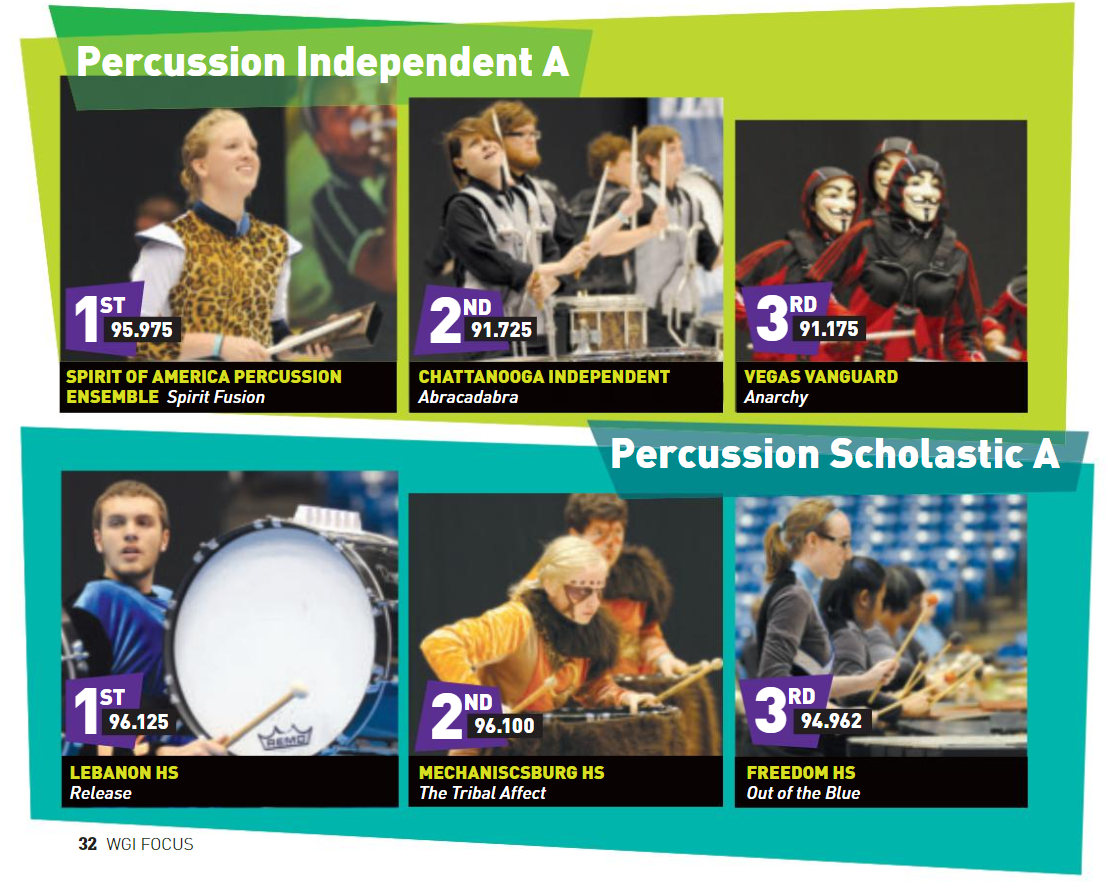 SCHOLASTIC marching A
Lebanon (Ohio) came into finals in third place and left with the title. "Release" featured orange strands of elastic that connected members while they performed. Mechanicsburg (Pa.) was a study in aggression in "The Tribal Affect," costumed in tribal garb and frenziedly pounding drums. Freedom (Va.) ascended to the bronze with "Out of the Blue," flying the friendly skies to music ranging from Steve Miller to Lynyrd Skynyrd.
Plainfield (Ind.) provided nostalgia with "If these walls could talk," as a grandmother shared memories of the house she lived in with her granddaughter. Water, electricity, and traffic currents were illustrated by Seminole (Fla.) as "Flow" fluidly alternated between serenity and sonic tidal waves, while Nation Ford (S.C.) received our adoration in "With Arms Wide Open," a beautiful production with deep spiritual undertones.
Remaining finalists were Downingtown West (Pa.)'s "Rebuild," Westhill (Conn.)'s "Contact from Beyond," Irondale (Minn.)'s "Tribus Electronica," Mansfield (Mass.)'s "Sheltered," Foothill (Nev.)'s "Playback," and Kickapoo (Mo.)'s "From the Heart."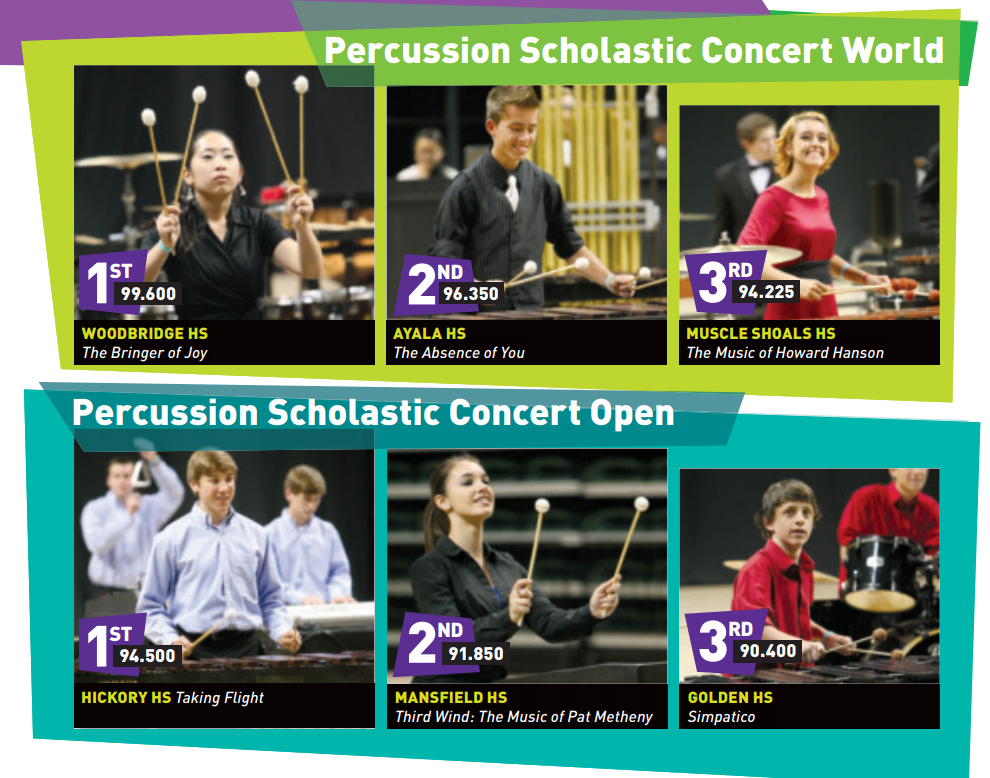 SCHOLASTIC concert world
Woodbridge (Calif.) was nearly flawless, netting a record score of 99.6. "The Bringer of Joy" was a masterful performance of masterpieces by Shostakovich and Holst. Pioneering the use of video storytelling, Ayala (Calif.) conveyed a man's unexpressed love for a childhood friend in "The Absence of You." Muscle Shoals (Ala.) explored music from the symphonic realm, suggesting a concert-hall atmosphere with "The Music of Howard Hanson." "There Will Come Soft Rains" by Rowland (Calif.) featured music of Bach, Mozart, and Verdi with a poetic twist. Other finalists were Tunstall (Va.)'s "The Planets" and Corona Del Sol (Ariz.)'s "Time Machine."
SCHOLASTIC concert open
Hickory (Va.) took the crown with "Taking Flight," featuring narration that described the flight of birds and the flying machines of man. Mansfield (Mass.) conquered the challenging polyrhythms of a jazz titan in "Third Wind: The Music of Pat Metheny," while Golden (Colo.) found their jazz closer to home with tunes by fellow Coloradan Vic Cionetti in "Simpatico." The remaining finalist was Salem (Mass.) with "Energetikos."
See the full scores here.