By Jenny Lyons
Stanley Knaub's legacy lives on not only through his technical contributions, but through the educators who continue to preach his wisdom. Many influential members of the color guard community, such as Karl Lowe, WGI Color Guard Education Coordinator, are among many of his dear friends and students who continue to shape the activity with the passion they shared.
Larger than life, with a dash of chutzpah.
Carol Abohatab remembers meeting Stanley during her final year marching with the State Street Review. She was captivated.
"I remember Stanley as being larger than life, so full of energy and [chutzpah]" she says, "He simultaneously seemed so grounded; so in his body."
Stanley inspired Carol by the way he asked for more from the color guard performers in front of him. He elevated their expectations as movers and dancers beyond the status quo of the color guard community.
"He demanded that color guard performers move with integrity and passion. He made us do it until we felt it."
A contagious belief and future-focused passion.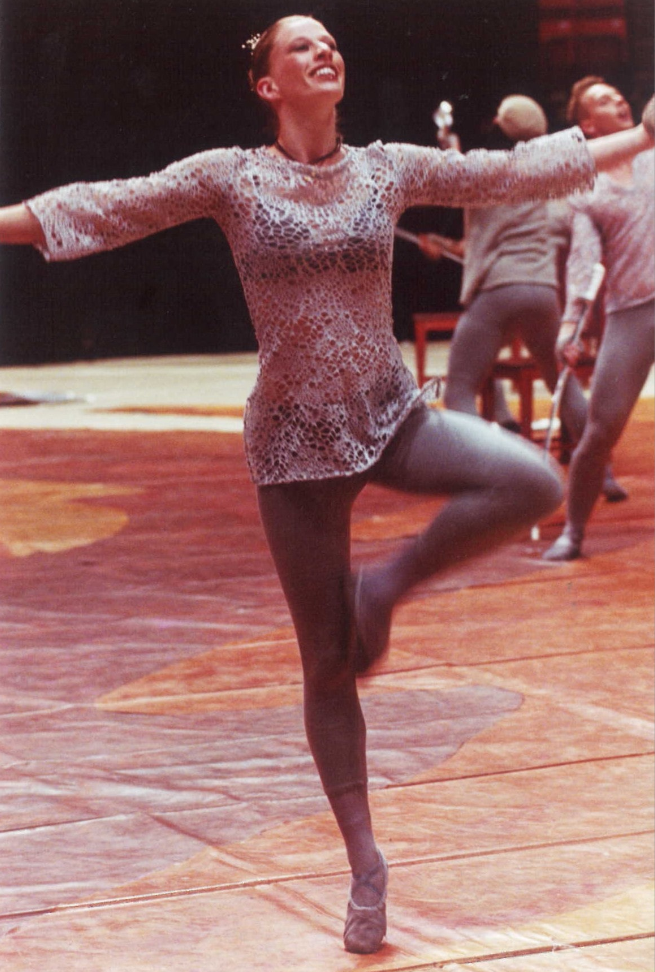 Carol found herself so moved by his passion exploration of dance that she turned to the study of dance, herself, later pursuing an education at the University of Madison-Wisconsin. Carol, who frequently addresses her own color guard students as "dancers," fondly remembers the world that Stanley opened to her that season.
"I never knew that a run could be so important!" she says. "What we take for granted now was still new back then. But we all believed it and didn't think twice about fighting for it."
As to the reaches of Stanley's impact, look no further than Fantasia's 2004 program, "Vanishing Act." Costumed in a soft grey palette and armed with emotional nuance, the program, designed by Karl Lowe in memory of Stanley, is a master class on the type of movement and storytelling that Stanley dreamed of for the activity. It is a visual love letter to an innovator, educator and champion of the activity. The visual cornerstone of the program is a poignant version of musical chairs, with each of the performers interacting with the chair as a representation of their experiences with loss. The musical backdrop of the program, laced with spoken vignettes about Stanley's life, is Lou Reed's "Vanishing Act," which aptly nods to the future:

"To always be looking forward, and never looking back."
Authenticity and a foray into the evocative.
LeAnne Hlavka, just truly beginning her color guard career in 2004, remembers, "At times I wish I could go back and do it over with more experience, but we explored so many great depths of emotion that year that I wouldn't have experienced otherwise at 18 years old."
Eventually going on to perform not only with Fantasia for several years, but also the Santa Clara Vanguard (SCV) Winter Guard, and to teach both SCV and Bluecoats Indoor, LeAnne believes that this foray into the evocative and authentic performance style that Stanley helped pioneer laid the groundwork for the rest of her color guard career.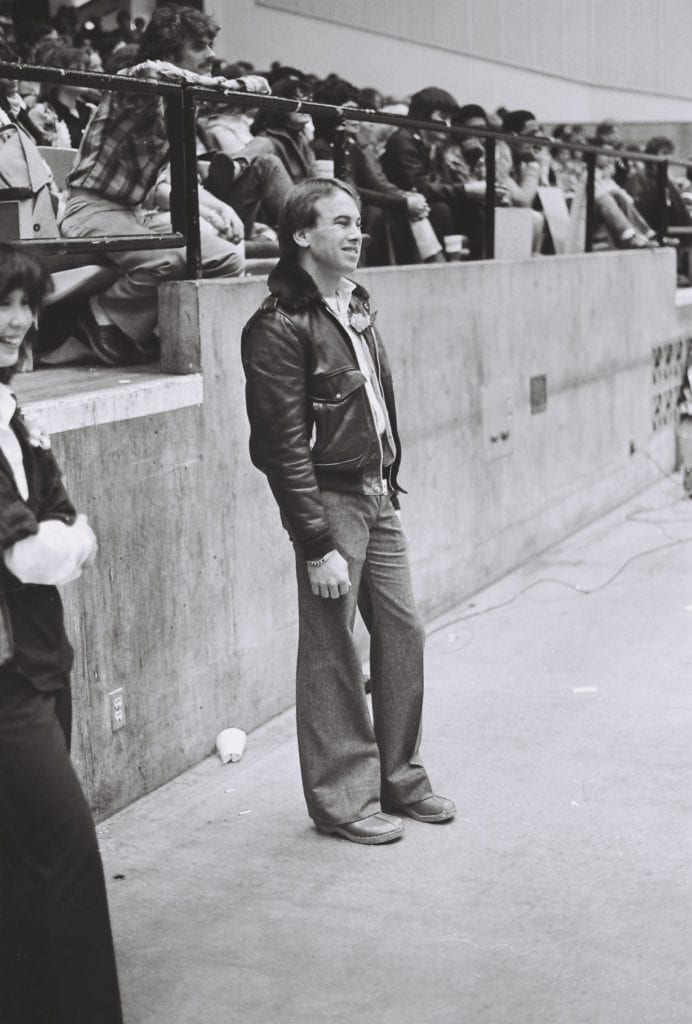 "Stanley's impact on the activity and its people continued to reveal itself to me, and I knew that to be a part of that show was a gift I needed to cherish and continuously earn the right to have," she says. "I would not have become who I did without that season and Stanley's legacy paving the way."
For Angela Tousley, another longtime member of Fantasia during the "Vanishing Act" season, her life would eventually be touched by Stanley's legacy in a far greater way than she could have imagined. She vividly remembers hearing the news of his passing during a rehearsal day with Fantasia in 2002 and the deepened connection she felt during "Vanishing Act," but her strongest ties with Stanley came through her time at Cornish.
Angela had learned about Cornish through stories of Stanley, and through her peers at Fantasia during her four years there. She recalls feeling that the idea of attending Cornish sounded extraordinary. Yet, Angela was accepted, and throughout her time earning her Bachelor's Degree, she was in constant awe of the impact Stanley had made not only in the color guard world, but the dance community.
"Everyone knew who Stanley was," she remembers. "At least two or three times a semester, someone would ask if I knew Stanley and what was going on in the color guard world."
She was surprised and inspired to find Cornish so open and encouraging to the color guard community, and it was clear that this openness came from the lasting impression that Stanley had forged. Immediately, she said, she knew she had found some place special. "This feels right. This is home," she says.
Now, as a long time educator within the activity and current caption head at El Dorado High School and dance educator at Alta Loma High School, Stanley's love of movement colors her educational philosophy. "I hope to continue on in his dream—making dance and movement through color guard—and pushing the activity forward," Angela says. "I hope he would be proud; that this is what he would want us to do."
Stanley's light is one that shines on for many. Much like the storied sunlight that warmed the floor for Fantasia that winter, Carol Abohatab recounts the sun breaking the clouds during Stanley's celebration of life:
"Thank you, [Stanley,] for being demanding, and for the inspirations, the smiles; and thank you for your light."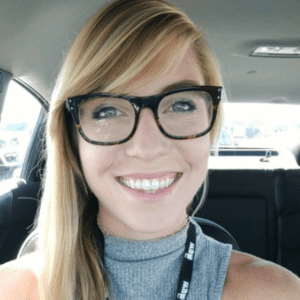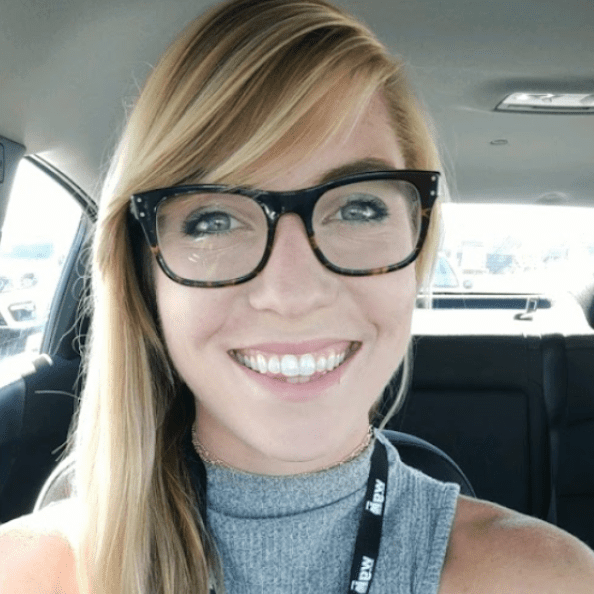 About the Author: Jenny Lyons is a freelance writer and master's student of writing at San Francisco State University. She has a BA in Literary Journalism from the University of California, Irvine. She is an alumna of WGI, having performed with the Santa Clara Vanguard Winter Guard from 2013 to 2015, during which time she was fortunate enough to become a WGI World Champion. Jenny has also marched with several drum corps including the Santa Clara Vanguard. When she is not writing, Jenny can be found continuing her passion for color guard through teaching in the Bay Area and serving as caption head to the Vanguard Cadets.