Surprised would be one way to describe Guard Director Deana Moore's reaction to the email she received stating the Blue Ridge High School Varsity Winter Guard received "Most Outstanding" for WGI's eSolo & Ensemble competition in June. "I wasn't expecting it. It was a different playing field that we weren't used to. It turns out they did really well," Moore said.
Blue Ridge High School is located in Greer, South Carolina. This was the winter guard's first year competing with WGI. They submitted their virtual performance entry on a whim after their local competition through the Carolina Winter Ensemble Association (CWEA) was canceled due to the challenges of putting on a virtual event during the pandemic.
"Our mindset was even if we do it and don't do as great, we'd get a critique from the judges," Moore said. "When we found out they did so well, it was a happy moment for all of us."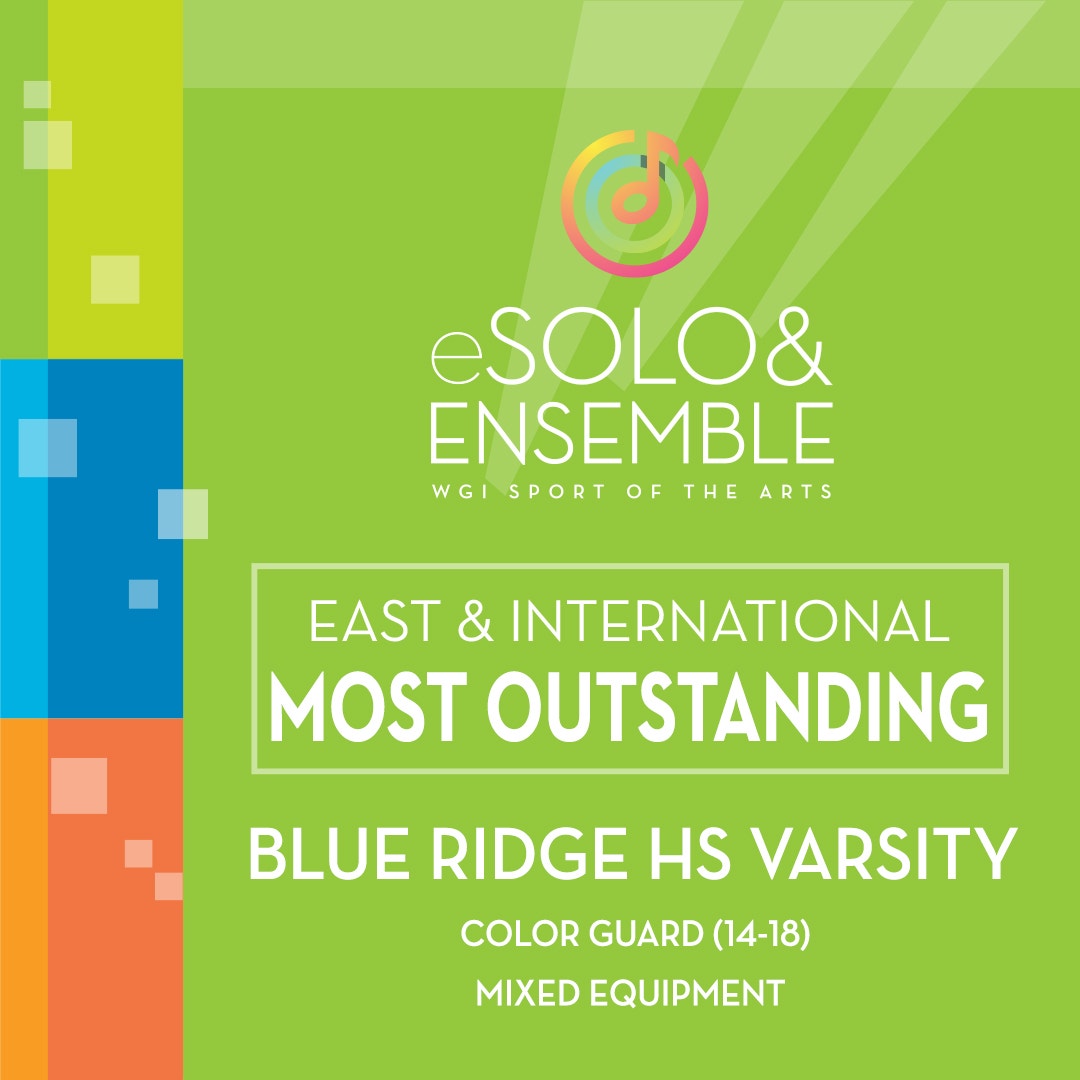 Moore is a Blue Ridge High School alumni who has been involved with the Blue Ridge guard since 2018 when she started as a tech. A few years later, she became the Guard Director. Moore was Guard Captain at the school her senior year. After graduating, she performed with the Atlanta CV Drum and Bugle Corps for five seasons. She attributes her teaching skills to her time with the drum corps. Moore also developed her strong sense of work ethic during her time there, traveling three hours away every weekend to attend rehearsals.
This ethic translated into her work with the Blue Ridge guard. When she came on as guard director, she was determined to make sure everyone had excellent technique. "Everyone could toss and catch. It was just that everyone was doing it differently. We worked hard to make sure everyone did it the same way," she said.
Moore is extremely proud of the guard's ability to learn new skills like spinning sabres and weapons, even with a young ensemble. The youngest guard member is just 11 years old, and the oldest is 16.
The Blue Ridge High School Marching Band (under the direction of Eric Wells) has a legacy of exceptional past performances, winning state championship competitions seven times. In addition to the ensemble achieving "Most Outstanding" during WGI's eSolo & Ensemble competition, one of the guard members, Kai Moore, was acknowledged for a solo performance.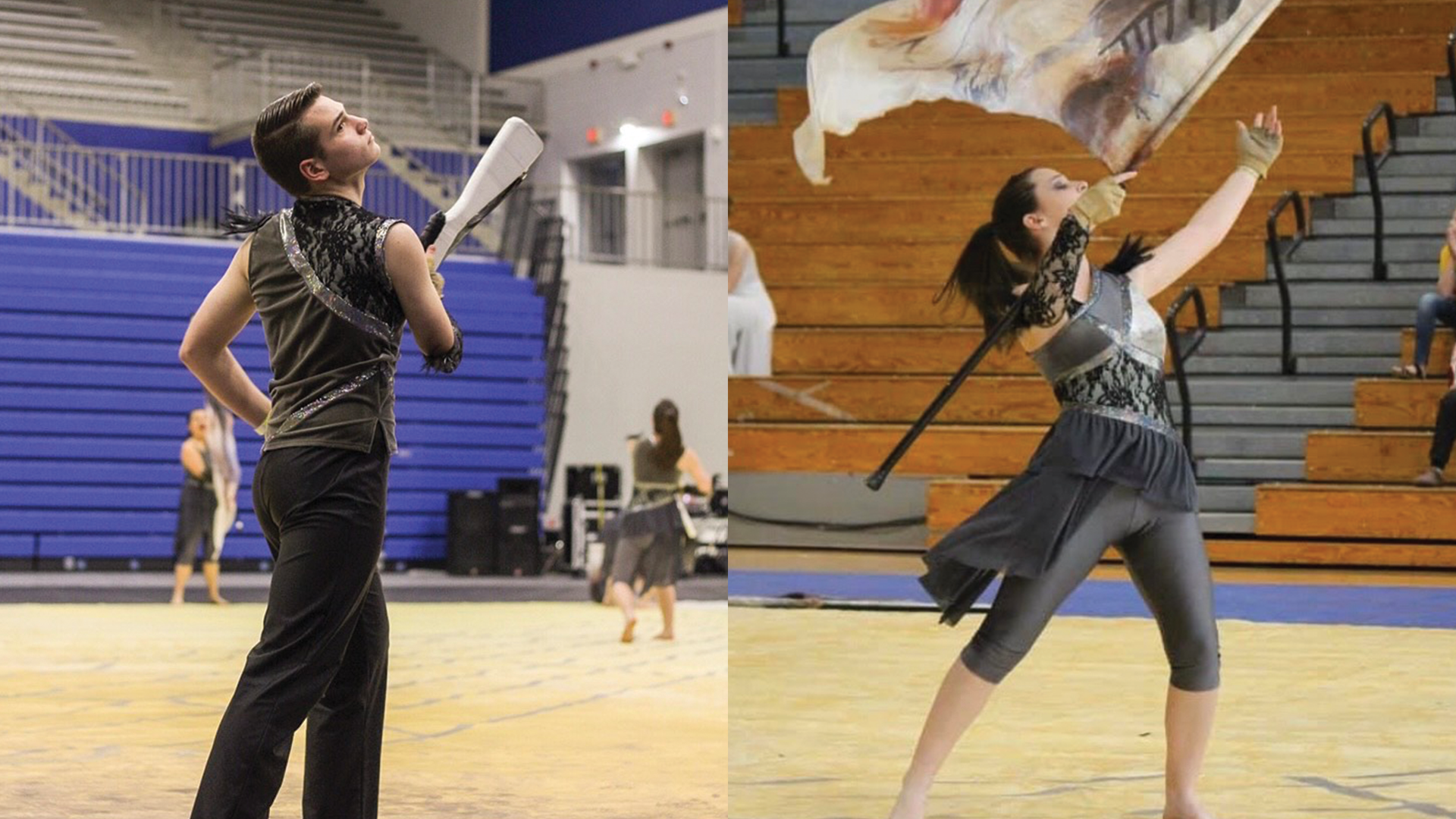 Moore recognizes the success of this year's guard is due to the hard work and dedication of Wells and Assistant Guard Instructors Ashlyn Cadieu and John Webb.
Moore is looking forward to returning to a full season this coming fall, including an ancient Mayan-themed show. "We have some really fun things in store," she said.
The guard has been successful in local competitions, but Moore hopes to get the guard promoted to A-Class and be more active with WGI. Her goal is to take the guard to one WGI Regional competition. "That would be the first time doing anything WGI [in person]," she said. "It would be a big milestone."
One day she hopes the Blue Ridge High School Varsity guard will compete at WGI's World Championships in Dayton, Ohio.
WGI just released the 2022 event schedule for its 45th season. View the event calendar here!
ABOUT THE AUTHOR: Savannah Daigle is a freelance writer, wife, and mom who lives in Orlando, FL. A true performer at heart, Savannah always jumped on the chance to perform whenever she could, whether it was acting in a musical, twirling as a majorette in her high school's marching band, or singing in various choirs. Savannah moved to Florida to work at Walt Disney World, where she performed in shows and parades across the property. She also worked as a Fairy Godmother in Training inside Cinderella's Castle. Now, Savannah spends her days writing and taking on her greatest role ever: being a mom. Connect with Savannah here.