The WGI World Championships is excited to welcome back world-renowned choreographer and three-time Outstanding Choreography Emmy winner, Mia Michaels. Michaels recently confirmed she will conduct a "Mia Michaels Live" session for the "WGI Day After Educational Series". This dance master class and motivational session will be held for up to 500 participants beginning at 10am Sunday, April 15th at the University of Dayton Arena.
Registrations for dancers begin March 5th at 12pm EST and students wishing to participate should go through their director to make reservations. We expect this exceptional experience to sell out once again so mark your calendars! Those wishing to simply observe will be able to purchase spectator tickets for $10 per person at the door.
Michaels' expertise and motivational approach in dance has made her a highly sought-after guest instructor and choreographer worldwide. Her involvement with WGI began back in 2007 when she was the guest clinician at Spinfest!! 2018 marks the fifth appearance of Michaels at the Color Guard World Championships, and her fourth as part of WGI's popular "Day After" series.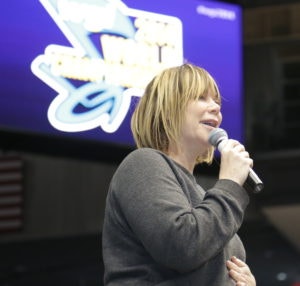 "Each time Mia has headlined our Sunday dance class, we have had an extraordinary amount of interest and sold out the number of spaces we had for dancers in minutes," said WGI Executive Director Ron Nankervis. "It is with great excitement we welcome her back to color guard's premier event."
As the reigning queen of contemporary dance, her work has been described as "personal, passionate, quirky, beautiful, challenging and uncompromisingly original." Her inspirational and dynamic choreography was featured on Fox's hit TV series "So You Think You Can Dance". 

Mia's passionate dance moves have graced the stage in Cirque Du Soleil's live music concert tour, "Delirium" and also the long running Las Vegas theatrical production of "Celine Dion…A New Day" at Caesars Palace in Las Vegas. More recently, Michaels choreographed for the film, "Rock of Ages", the Broadway musical "Finding Neverland" as well as the New York Christmas Spectacular and the New York Spring Spectacular starring the Rockettes.
Mia has also had the pleasure of working with such stars as Madonna, Prince, Ricky Martin, Gloria Estefan and created commercials for Coldwell Banker, Ziploc, WNBA, Star TV and VISA. Mia has held faculty positions with such prestigious dance institutions as Alvin Ailey and the Joffrey Ballet while continuing to teach master classes around the world.
Again, registration will open for dancers on March 5th at 12pm EST through the director dashboard on wgi.org.