In our "WGI Archives" Feature Series, we take a look back at feature stories from past print copies of FOCUS Magazine! In this archive snapshot, we take a look at the evolution of WGI costumes and couture, first published in the Fall 2014 WGI FOCUS Magazine.
Spectacular movement, heart-pounding music, sublime artistry, intense competition: These are the hallmarks of WGI Sport of the Arts. And often (to adapt a famous expression to sports and performing groups), "the clothes make the team." Uniforms help establish group identity, bring show themes to life, and connect performers with fans. With elaborate designs and high-tech athletic materials, WGI uniforms have become a more powerful tool for creative expression than ever before.
A Little History
Today's indoor color guards, drumlines (and, now, wind ensembles) may not look it, but they have their roots in military marching traditions that go back centuries. Soldiers wore colorful uniforms and carried flags to both establish their identity and build esprit de corps. Military bands relayed signals, helped units march in formation, and rallied the troops. The striped trousers, buttoned jackets, straight lines, and helmets worn by outdoor modern marching bands pay homage to the attire of their military forebears.
Early on, many indoor percussion and guard groups looked a lot like their outdoor brethren; some even wore the same "band" uniforms indoors and out. But it didn't take long for WGI groups to get uniform design marching in a whole new direction.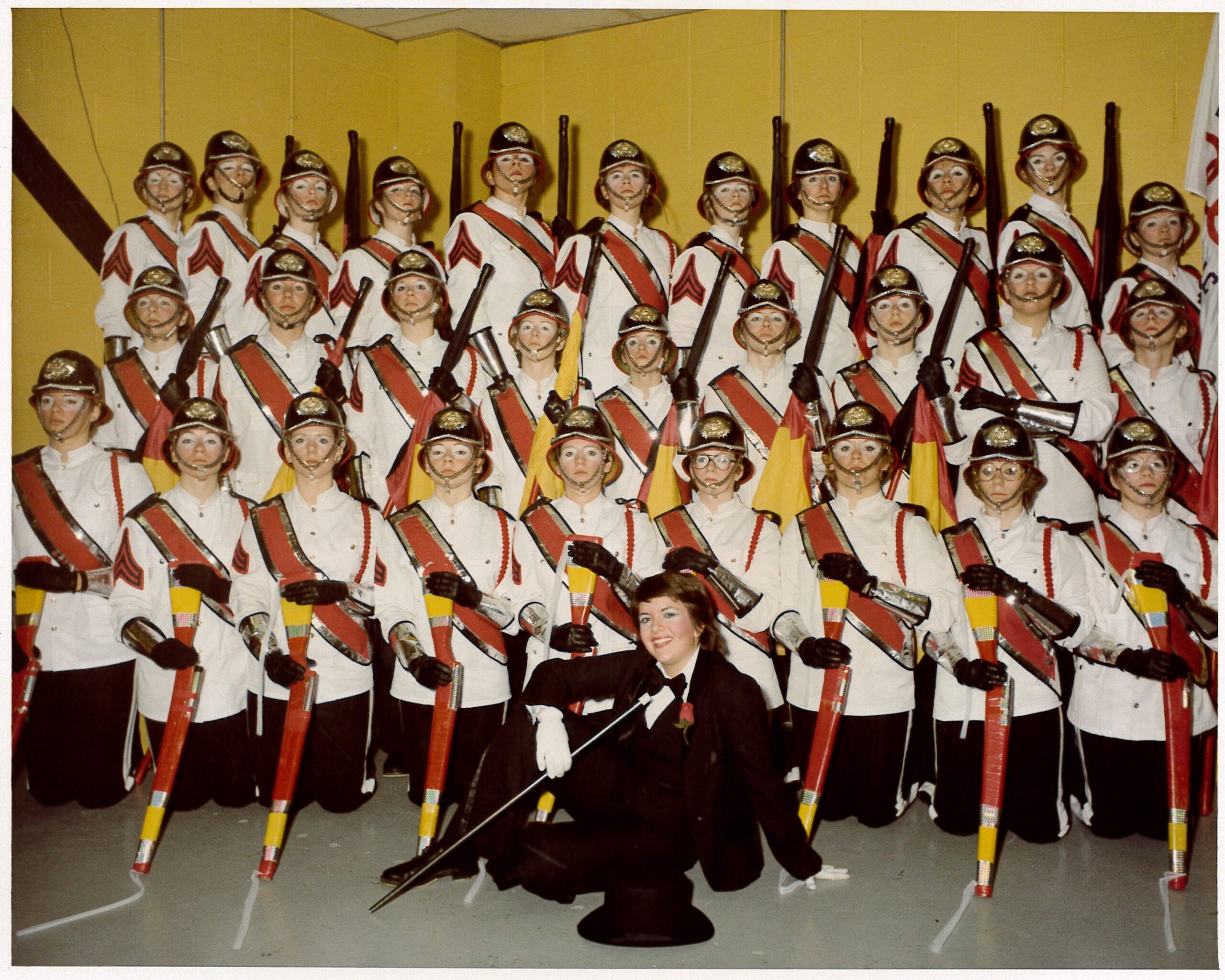 Over the years, several factors have refashioned WGI wear. Since polyester blends replaced wool and cotton as the fabrics of choice for athletes and dancers in the 1960s, there's been an ongoing evolution in performance and athletic wear. Today's materials are lighter, more comfortable, and less restrictive than ever, allowing freer movement as they wick moisture away from sweating performers. Just as important, they offer nearly limitless design options.
These advances are proving to be a perfect fit for the ever-increasing diversity and creativity of WGI shows. Uniforms play an important part in projecting each season's theme while accentuating the movement of the performers. It's not only important to look good—you also have to look different. "I feel it's important to change costumes each season," says Byron Valentine, designer at Fred J. Miller. "With each new season comes a new program, new music, and a new story."
Latest Trends
Dramatic new looks coming from companies like Band Shoppe, Director's Showcase International, A Wish Come True, and Fred J. Miller have taken indoor color guard and drum line uniforms to a new sartorial dimension. "With outdoor marching, the considerations surround durability of fabric and uniforms that last several seasons," says Band Shoppe designer Joe Martinez. "But with indoor marching, you can choose lighter-weight fabrics, sheer fabrics, and even delicate materials."
These days, each new WGI season brings anticipation about what the latest show-stopping fashions and trends will be. Designers study the latest show trends and techniques so they can develop uniforms that enhance the performers. For example, curvilinear movement is more popular than the block marching of yesteryear, so today's uniforms are designed to accentuate curved lines.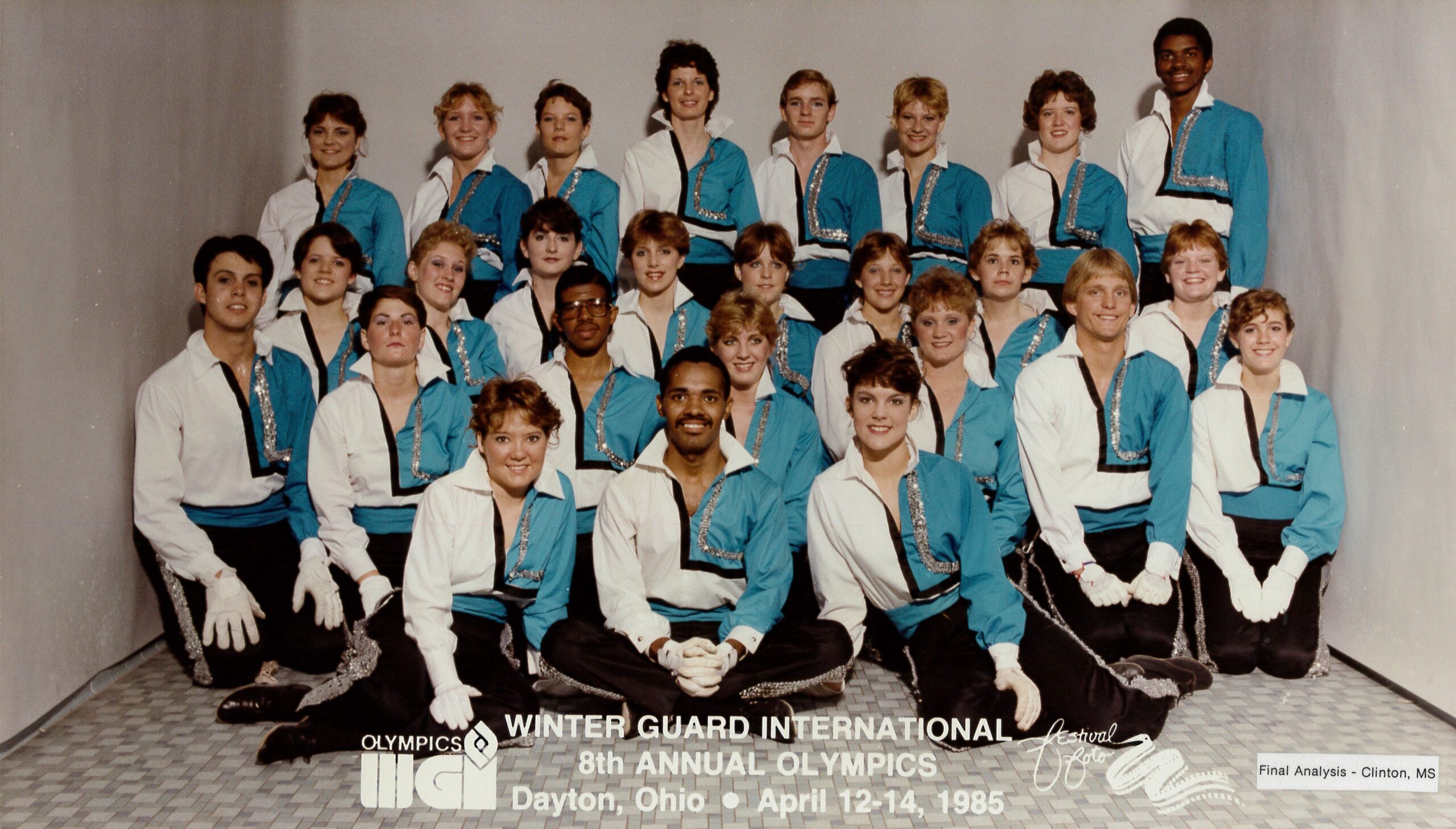 Competition is also helping to fuel a creative explosion among designers. "We are hyper-aware of what competitors across the country are doing today," Martinez says, "especially with social media and YouTube. In the past, we didn't know what everyone else was wearing because we couldn't see it."
Today's hot trends include reflective materials, mirrors, and sequins. Next season, it could be completely different—"One year it might be individualized looks, the next, it might be the use of digitally printed fabrics," Valentine says. "Then one year, it might be a return to simplicity."
According to Martinez, the latest looks for indoor marching revolve around texture and distinctive fabrics. "Digital printing garment technology has taken design options to a whole new level of individuality," he says. "The fabric is run through a machine and the ink is pressed into the fabric itself. You can design your own print. It can be photo realistic, a custom color, or an image treated in Photoshop. You can pretty much design whatever you want: If your show is about fire, you can print realistic images of flames onto a variety of fabrics. This is very appealing to people concerned with the cutting edge and being ahead of the game."
Technology is also bringing new textures to fabrics of all kinds. "We can use a laser cutter to create very intricate, lacy patterns," says Person. "We're seeing lots of shredded fabric too. We were hand-cutting fabric in the past; now lasers are making the cuts. Then there's velvet burnout technology—which burns designs into the fabric—and embossing, which creates a stamped texture."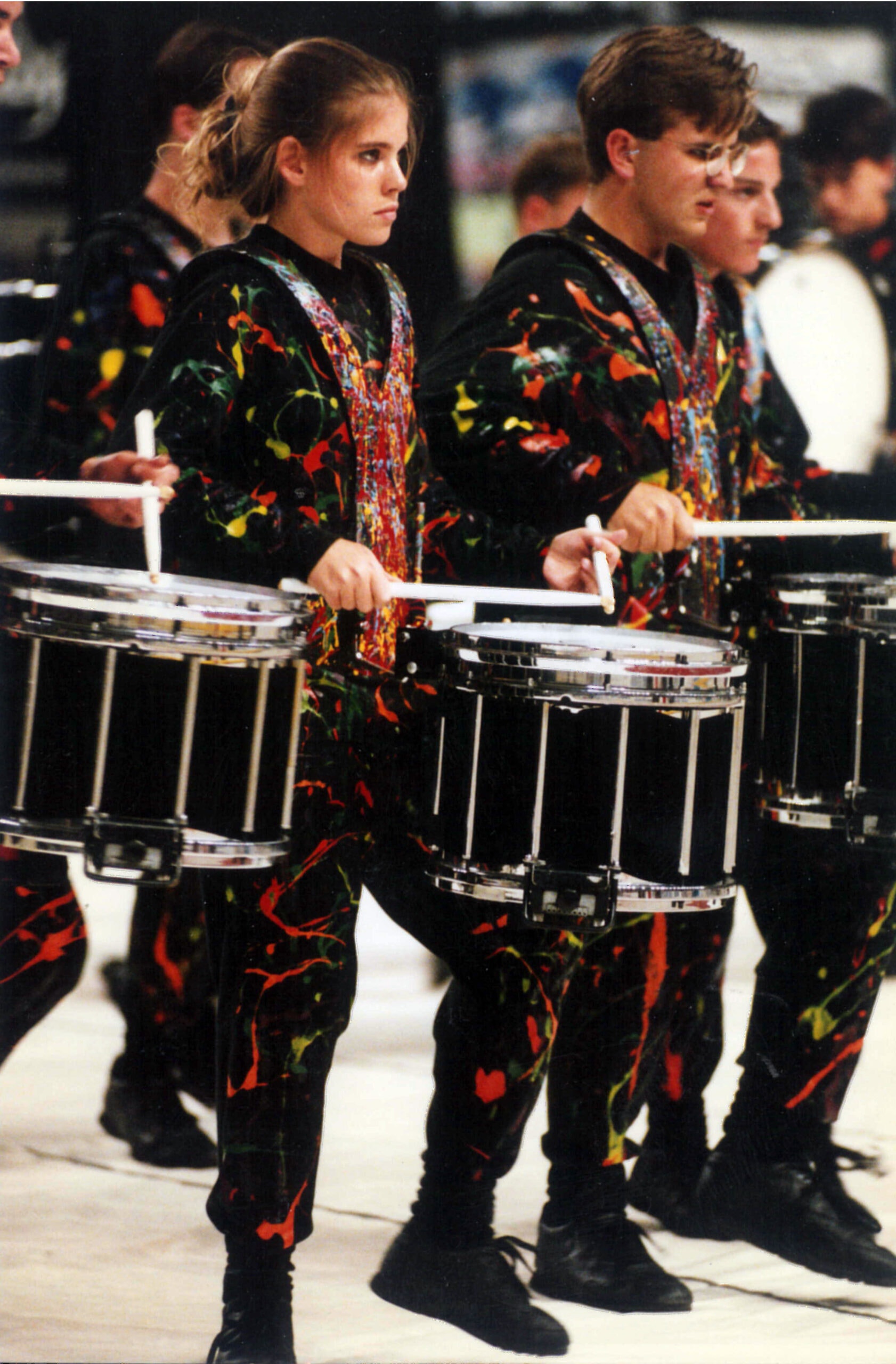 With all these options, uniforms can become pricey, especially if you replace them each season. But groups don't have to spend a lot to hit the floor in style. "In truth: you don't have to wear a million-dollar uniform to look like a million bucks," Valentine says. "With the right hair, makeup, and—this is important—tailoring, even a 'design on a budget' garment can look important and tasteful."
Martinez suggests wearing "in-stock basics" such as pants, unitard, etc., as a base for multiple seasons. "Then you can pair those with custom skirts or tops, which is less expensive than creating an entirely new outfit from scratch each year."
Another challenge is finding a design that will look good on an ensemble of performers of different sizes and body types. "Focus on uniform elements that can help your group look stylish and thematic while being flattering on all members," Valentine says. "It is so important for each performer to feel confident and secure in what they're wearing. Confidence in costuming will only enhance their performance level."
According to Martinez, making an entire group look unified for a whole season boils down to three factors: silhouette, fabric choice, and storage. Regarding silhouette: "You don't want to put someone super tall in something that makes them look gangly, and you don't want someone short to wear something that makes them look shorter," he explains. "The goal is uniformity, and you want to [visually] reach from the field up to the press box. With fabric choice, certain colors are going to pop more than others. Finally, proper storage isn't discussed much, but it's essential. There are so many products to store uniforms, and having good hangers, moth- and mold-proof boxes, etc., will keep uniforms looking amazing."