In our "WGI Archives" Feature Series, we take a look back at feature stories from past print copies of FOCUS Magazine! In this archive snapshot, we revisit the Color Guard finals performances of WGI's 2016 season, first published in the Spring 2016 WGI FOCUS Magazine.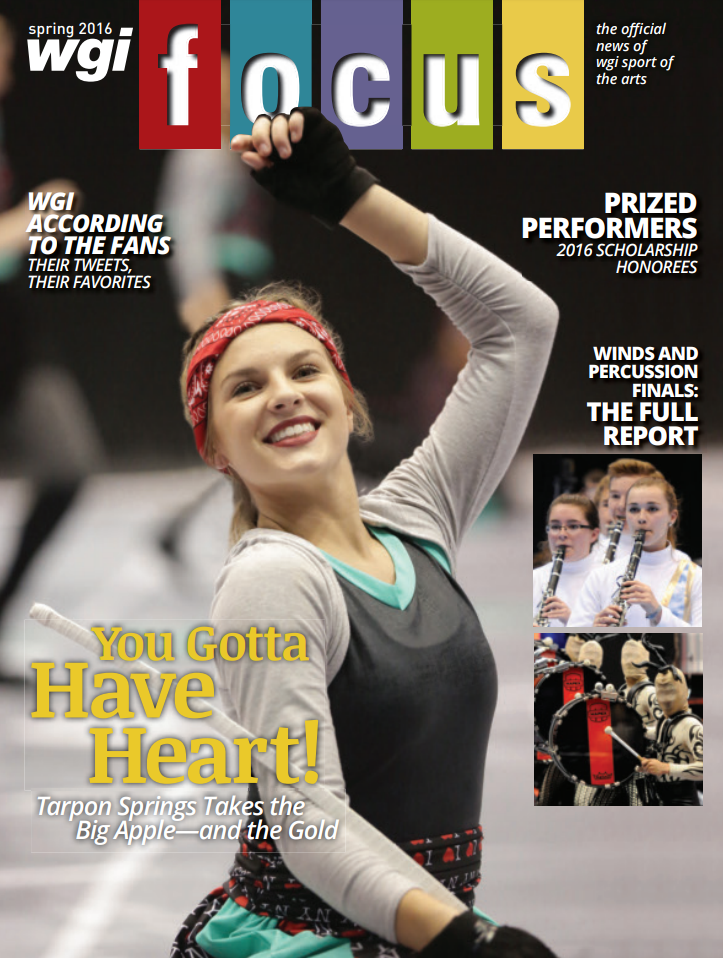 By Michael Reed and Ashley Duross
Pride of Cincinnati, Tarpon Springs HS earn gold in dramatic Finals
What a difference 365 days make! Last year's WGI Color Guard World Championships were blessed by warm, sunny weather; for 2016's edition, light snow blanketed the ground on the morning of Finals. But the action on the floor was still sweltering, and there was more of it than ever. The number of Finalists this year expanded by one third to 119, in order to accommodate increasing entries and provide additional performance opportunities to a greater number of guards. For the first time, Finals were held at multiple locations, with A Class Finals occurring at the Nutter Center, while Open Class Finals took place simultaneously across town inside UD Arena.
The many placement changes between Prelims, Semi-Finals, and Finals ensured that there was no shortage of drama. Santa Clara Vanguard's razor-thin margin over Pride of Cincinnati in the first two performances vanished by a few tenths in Independent World Finals. A Semi-Finals tie in Independent Open was resolved as Juxtaposition edged the Pacificaires, with Lexis nipping at their heels as the top three guards were separated by a scant 0.35. The other class winners maintained their leads throughout the weekend, but the order shuffled underneath as numerous guards jumped a few spots in the final order.
Trends for this season included an increased use of props that were integral components of the productions, along with a higher level of sophistication in staging and choreography by the designers. And the fans came in droves, as Saturday evening's World Class Finals smashed previous attendance records.
INDEPENDENT WORLD
Pride of Cincinnati (Ohio) captured its fifth Gold Medal with "WANDERLUST." On a starry floor bedecked with rotating compass-point props, the guard dazzled us with an arsenal of meteoric tosses seemingly high enough to fly into orbit.
Defending champs Santa Clara Vanguard (Calif.) just missed repeating and took home a Silver Medal with "Rumble, Unravel, Rise." The group gradually moved from back to front as the original soundtrack kept on ascending. Bronze Medalist Onyx (Ohio) is synonymous with creative movement, and its "I, Will" was both cerebral and accessible, setting rock-solid equipment work to the timeless music of Rachmaninoff.
Blessed Sacrament (Mass.) performed "Cymbal-ism" with an impressive assortment of crash and suspended cymbals in its 37th straight Finals appearance. Rocketing into the top five, Paramount (Ga.) segmented its membership into thirds, with different colors and equipment for each, in "The Rule of Three." Imbue (Calif.) used large white rectangular frames that could be doors, giant device screens, or whatever the viewer wanted them to be in "See It Through." The all-male cast of Diamante (Calif.) took on the weighty burden of leadership during a stressful era of American history in the poignant "John F. Kennedy."
Mayflower (U.K.) flew the friendly skies in "Excess Baggage," with airport imagery including luggage, passports, and a flight arrival board in the flag design. For "Seated," the members of Alter Ego (Conn.) sat, stood, and spun on white stools in an ever-shifting myriad of permutations. In "'Bull'ero," Black Gold (Texas) became a herd of bulls "mooving" to the driving rhythms of Ravel. Fantasia (Calif.) conveyed the experience of gazing at the sky on a warm summer evening with their captivating program "A Night Under the Blue Moon."
FeniX Independent (Ariz.) were high-wire artists in "Walking on Air," as a pole connecting tall buildings on their tarp reminded us of the Flying Wallendas. With "Elevation," UCF Pegasus World (Fla.) imagined the years of sights an old hotel elevator might recall as it passed from floor to floor. Emanon (N.J.) presented a flood of memories in a stream-of-consciousness manner to a hypnotic soundtrack in "THIS PLACE." Cypress Independent (Texas) explored the gamut of verbal communication, from intimate words to difficult heart-to-hearts, in "Conversations."
SCHOLASTIC WORLD
Gold Medalist Tarpon Springs HS (Fla.) earned the crown with the vibrant "NY2." The guard captured the essence of the Big Apple with street musicians, subway cars, Broadway playbill silks, and wads of cash littering the ground. Moving up three places from Semi-Finals, Silver Medalist Avon HS (Ind.) struck it rich with "Crude." Rifles were tossed over pumping oil derricks, and the prismatic colors seen when looking at an oil slick were spun with silky refinement. Bronze Medalist Carmel HS (Ind.) introduced almost every conceivable neon color in "Tabula Rasa." The fluorescent rainbow vanished at the end with members covered by an ebony tarp.
"Ssssuperb" described the members of Flanagan HS (Fla.) in "Old Skin," as they shed their pink and purple snakeskins, emerging as beautiful yellow-and-black spinning serpents. James Bowie HS (Texas) drew inspiration from John Cage's controversial "4:33" with "Anarchy of Silence," challenging the audience's perception of what a performance is. James Logan HS (Calif.) gave the classic tune "Nature Boy" a contemporary facelift, as tall flexible poles bent every which way with tosses around and over them. In "Mirror, Mirror," Mechanicsburg HS (Pa.) gazed at its flaws in mirror shards, eventually realizing that what's inside is what counts.
Center Grove HS (Ind.) found belonging while spinning to a choral version of "Somewhere" in "A Place For Us," using the Island of Misfit Toys as a motif. Pondering the existence of intelligent life in space was Miamisburg HS (Ohio), who performed "2 Possibilities Exist" with crop circle figures on the floor. Warren Central HS (Ind.) vented frustration from young American minds in "Somewhere in America," set against a palette of dingy, smoky orange. Likely causing nightmares was Nease HS (Fla.), whose "Sounds of Silence" suggested that members were losing sanity with menacing whispers.
A celestial goddess controlled the performers of Arcadia HS (Calif.), who moved to her motions as musicians follow a conductor in "Rite of Passage." The members of Norwin HS (Pa.) became notes adrift on the ocean in "Message in a Bottle," beginning and ending inside bottle-shaped props. With light blue costumes, North East Independent School District HS (Texas) reminded us of water droplets swirling around colored drains in "Vortex." It was a jungle for Stoneman Douglas HS (Fla.), as zebras, cheetahs, and "The Animal Within" stalked the floor.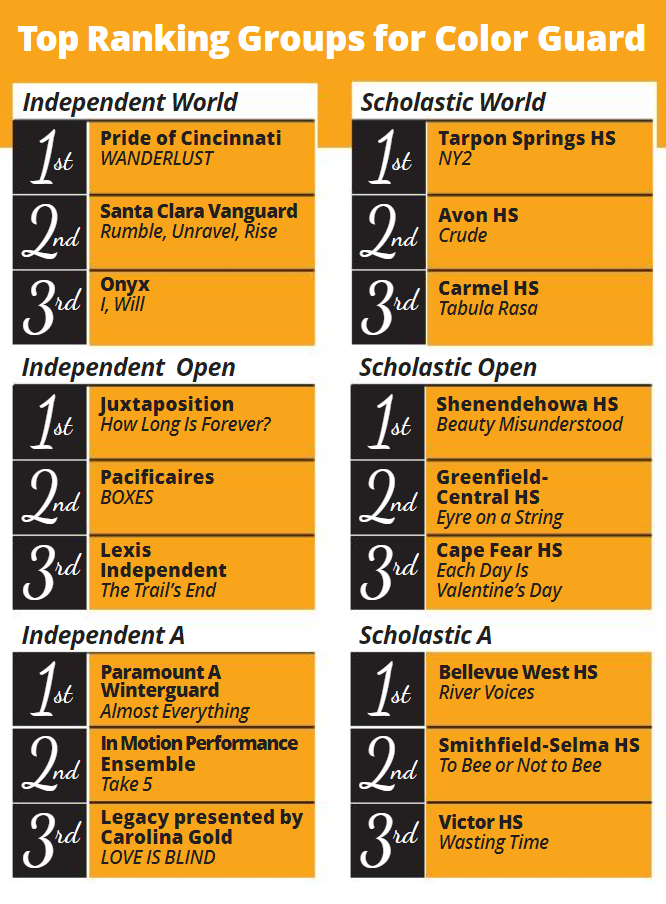 INDEPENDENT OPEN
Costumed as white rabbits in colorful waistcoats, Gold Medalist Juxtaposition (Ohio) turned UD Arena into a virtual wonderland with "How Long Is Forever?" The lone Canadian finalist, Pacificaires (B.C.) tugged at our heartstrings for a Silver Medal with Charlie Winston's "Boxes." Bronze Medalist Lexis (Ky.) portrayed the undying love of outlaws Bonnie Parker and Clyde Barrow in "The Trail's End."
The Pride of the Netherlands (NL) showed how artistic numbers can be with "M.C. Escher – Images of Mathematics." Malachi Independent (Colo.) laid down railroad tracks to an undefined location in "Transcendent Journey." Stonewall Independent (Va.) treated a plethora of purples to a lush orchestral soundtrack in "Until the Last Moment," and Diamante (Calif.) had all its colors fade to black In "Dissipate."
AMP Winter Guard (N.J.) showed the angst which can accompany romance in "Give Me These Moments," while Vox Artium (Calif.) reflected on lost love in "Maybe I…," set to "Always on My Mind." Premonition (Fla.) moved with reckless abandon to Nina Simone's "Wild Is the Wind," and Alta Marea Winterguard (Ala.) reminded us that sometimes what isn't said speaks volumes in "Unspoken."
The Pride of Missouri State (Mo.) advocated giving space to those we care about in "If You Love," and Q (Pa.) incorporated war imagery with heavy knapsacks and medical kits in "Coming Home." UCF Pegasus Open (Fla.) brought light out of a cloudy dreariness with "Daylight kisses everything," while in contrast, CGT Dallas (Texas) reminded us of vanity's darkness in "Narcissus."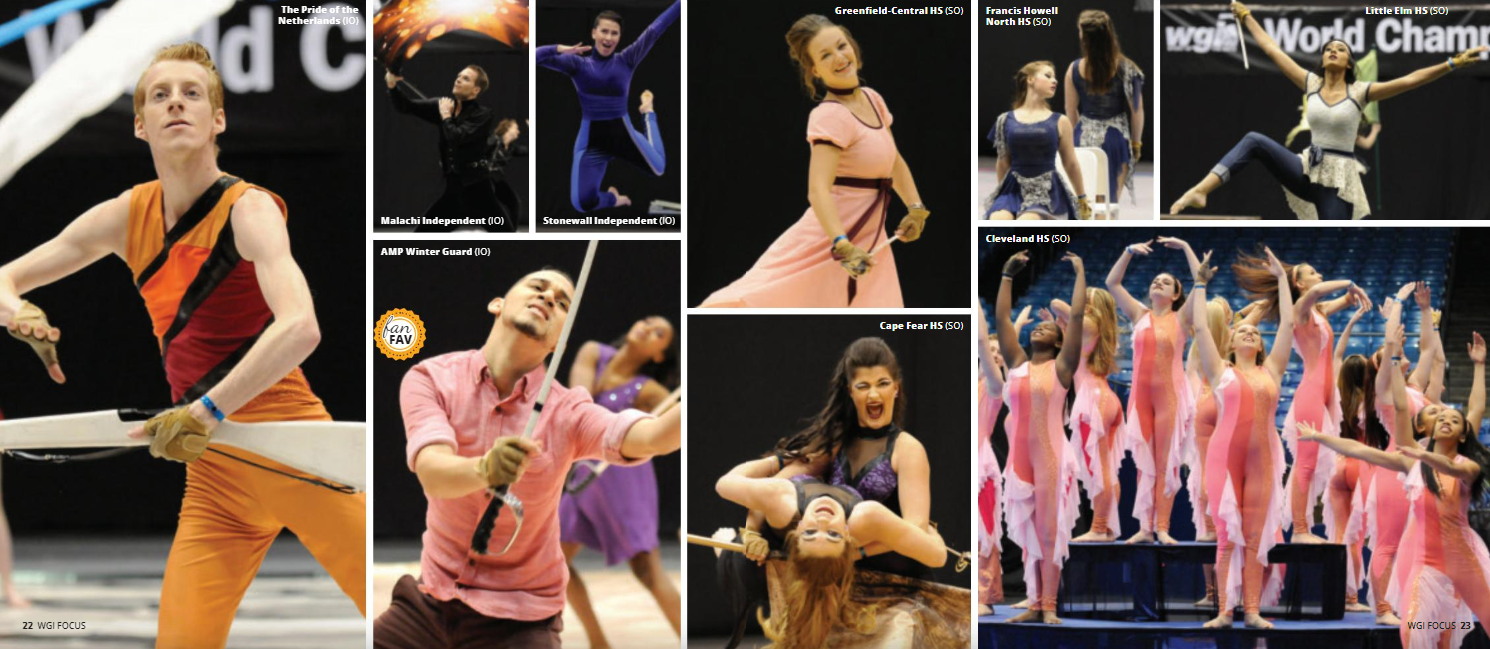 SCHOLASTIC OPEN
Shenendehowa HS (N.Y.) turned into bats, spinning equipment while hanging upside down from a bridge, in the Gold Medal-winning "Beauty Misunderstood." With "Air on a String," Silver Medalist Greenfield Central HS (Ind.) gave the beloved novel Jane Eyre a unique take. "Each Day Is Valentine's Day" for Bronze Medalist Cape Fear HS (N.C.), whose adorable show gave us the warm fuzzies. Frances Howell North HS (Mo.) used empty chairs to express emotional isolation in "Together Alone."
Little Elm HS (Texas) evoked a sense of quiet determination over the Dixie Chicks' "Top of the World," while Cleveland HS (N.C.) gracefully swayed to gentle undersea currents in "Chorale Fantasia." Eastlake HS (Texas) rustled up some fun with its boot-scootin' frolic "The Hoedown," and El Dorado HS (Calif.) recreated the construction of an illuminated sculpture in "Building Urban Light."
Members of Wakeland HS (Texas) became human pinpoints on a map of the U.S. in "We'll Be Just Fine," and Choctaw HS (Okla.) reached into our cognitive faculties with the intellectual "Introspection." Marvin Ridge HS (N.C.) honored visionaries whose ideas changed the world in "The Dreamers," while Norwalk HS (Conn.) honored the courage of women fighting for the right to vote in "Movement."
South Brunswick HS (N.J.) used an array of cubic props with squares on its tarp in "Outside the Box," while William R. Boone HS (Fla.) brought moments of blissful serenity with a placid "Nocturne." Summerville HS (S.C.) illustrated that we're capable of continual growth in "A Work in Progress," and Chino Hills HS (Calif.) illuminated a darkened world in "Eight Twelve," based on John 8:12.
A blind man found solace in painting for Diamond Bar HS (Calif.) with "Finding Color in the Dark," while East Coweta HS (Ga.) spun on a tarp with long curves that rose six feet tall for "In the Loop." Members of Eden Prairie HS (Minn.) coveted the vacant seat of power in "Dethroned," and Mill Creek HS (Ga.) joined the ever-youthful Peter Pan for adventures that began from "The Window."
INDEPENDENT A
In "Almost Everything," Gold Medalist Paramount A Winterguard (Ga.) portrayed the struggle of a teenager transitioning to adulthood but ended with hopeful smiles. Silver Medalist In Motion Performance Ensemble (Calif.) presented "Love Is Blind," taking the audience through intense emotions with blind eyes. Bronze Medalist Legacy presented by Carolina Gold (N.C.), in its second year of WGI competition, celebrated the lives of loved ones lost and brought hope in "You Are Not Alone."
For its Fan Favorite program "Paint a Starry Sky," Artistry IN BLUE (Ohio) explored the inspiration behind Vincent van Gogh's "Starry Night." University of Georgia (Ga.) reached out to claim the No. 5 spot with "Open Hands." Interplay (Mich.) presented "Take a Stand" with a piano medley of Lady Gaga hits.
Pegasus A (Fla.) showed the struggle that many encounter—but some can overcome—along "The Road." Legacy Performing Arts (Ind.) gave a sweet performance of "And So It Goes," ending in resolution. Delazure (Del.) presented "Coronation," where royalty takes its rightful place. MBI (Minn.) radiated excitement with "Auto-Correcting Society," all about the effects of technology. Paradigm (Fla.) went back to the drawing board in "The Architects," and National Avenue (Mo.) came full circle in its performance of "Exposition."
CGT Fort Worth (Texas) gave light to a "New Day" with its 2016 program. "Sharing Spaces" by Salem Blue (N.H.) had a clean and retro look with fresh turquoise accents. Sacred Heart University Winter Guard (Conn.) broke through the ropes with an exciting flag ensemble in "The Love That I Have." James Madison University's Nuance Winterguard (Va.) dazzled in hooded uniforms and layered choreography for "Can You Hear Me?" Allegiance (Ind.) presented the refreshing, autumn-inspired "A John Denver Production." ATX Winterguard (Texas) maintained the audience's attention in "FIME: A Situation Explaining Your State of Being."
Plainfield Winterguard (Ill.) illuminated the arena with its candlelit performance of "Into the Darkness." Reverie Independent (Ga.) flashed contagious smiles and fiery red flags in "Me and Bobby McGee."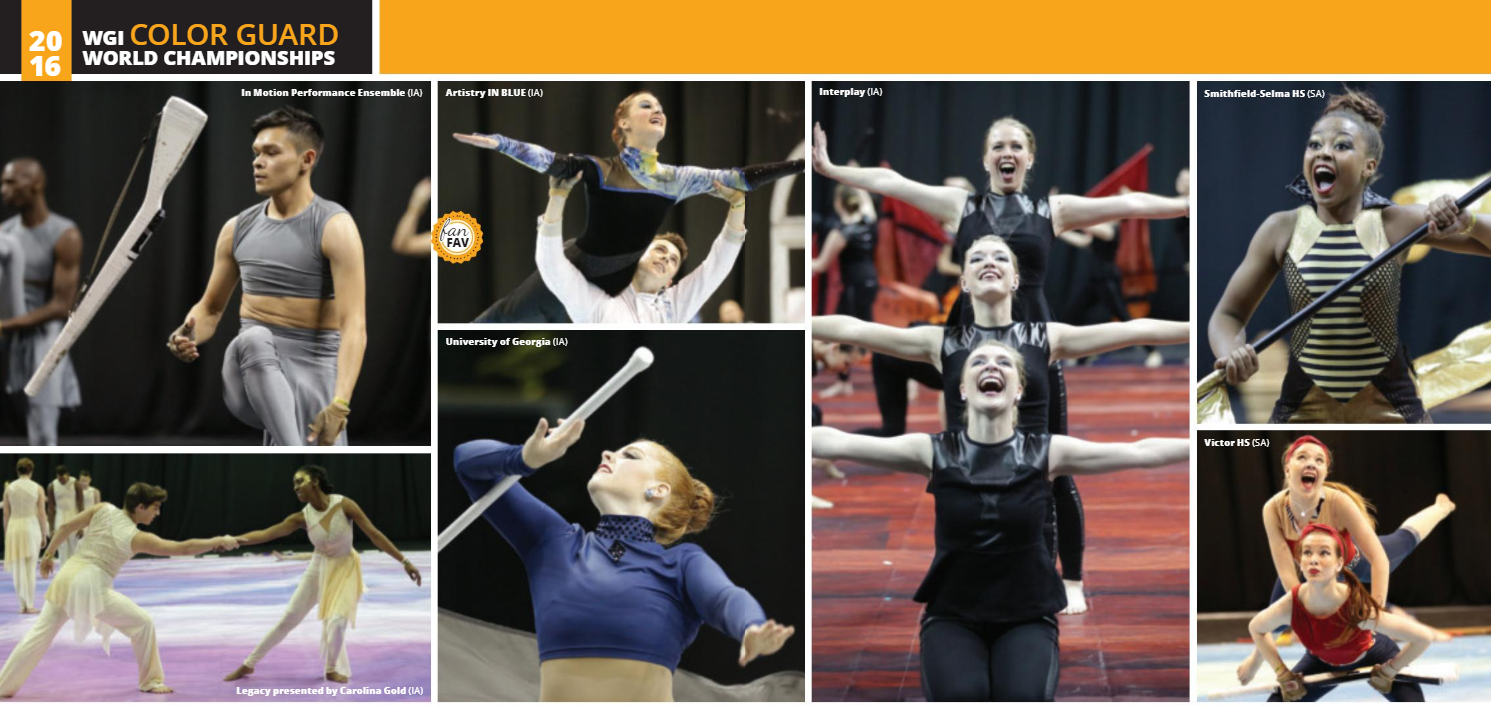 SCHOLASTIC A
With floor-length deep blue dresses and absolute precision, Gold Medalist Bellevue West HS (Neb.) enchanted the audience with its performance of "River Voices." The beautiful bumblebees of Silver Medalist Smithfield-Selma HS (N.C.) got the crowd buzzing in "To Bee or Not to Bee." Dainty and witty, "Wasting Time" by Bronze Medalist Victor HS (N.Y.) delivered the sort of free spirit normally only found in a kid in summer.
Washington HS (Mo.) electrified the arena with "GRANDscapes." Elk River HS (Minn.) hit the bullseye with its military-style program, "On Target." Father Ryan HS (Tenn.) delivered a sweet-as-pie rendition of "What's Inside."
The witches of Arlington HS (N.Y.) completed their performance with the shrieks of getting burnt at the stake in "Witch One?" You could watch through the looking glass with Lowndes HS (Ga.) as performers traveled through "Wonderland." Judson HS (Texas) moved from postcard to postcard in "Please Come to Boston."
A dollhouse came alive in a playful Dripping Springs HS (Texas) performance of "The Greatest Things," personifying little girls' best friends. Lake Howell HS (Winter Park, Fla.) escaped from the cage during its bird-themed "Captum," while Bridgewater-Raritan HS (N.J.) set out to sea in "Ver-loo-spow: A Viking Journey."
It's not just a rumor: Dartmouth HS (Mass.) won WGI Fan Favorite while tackling the issue of cyberbullying in "#Gossip." What started as a metal barrier later became a ramp that Apopka HS (Fla.) performers used to "Rise Up" over challenges.
Northwest Cabarrus HS (N.C.) grew through heartbreak in "You Don't Bring Me Flowers." Glittery lost boys from Kickapoo HS (Mo.) found their way in "Never, Never Lost." Keller Central HS (Texas) dazzled in silver and pink for "Reflections."
Thunder struck as Downey HS (Calif.) gave us "I Think It's Going to Rain Today." Mt. Juliet HS (Tenn.), in fluid motion, presented "And the World Turn." Green Hope HS (N.C.) put on a haunting performance of "If You Truly Wish to Be," inspired by Willy Wonka and the Chocolate Factory.
Milford HS (Ohio) delivered a light and airy "Over the Rainbow." Americas HS (Texas) maneuvered a mysterious box around the floor in "What Lies Ahead." Oak Ridge HS (Texas) brought the fire with its performance of "The Flame Within." And once upon a dream, Cumberland Valley HS (Pa.) gave an enchanting demonstration of the power of love in "Love Spell."
See the full scores here.