In our "WGI Archives" Feature Series, we take a look back at feature stories from past print copies of FOCUS Magazine! In this archive snapshot, we revisit the Color Guard finals performances of WGI's 40th Anniversary, first published in the Spring 2017 WGI FOCUS Magazine.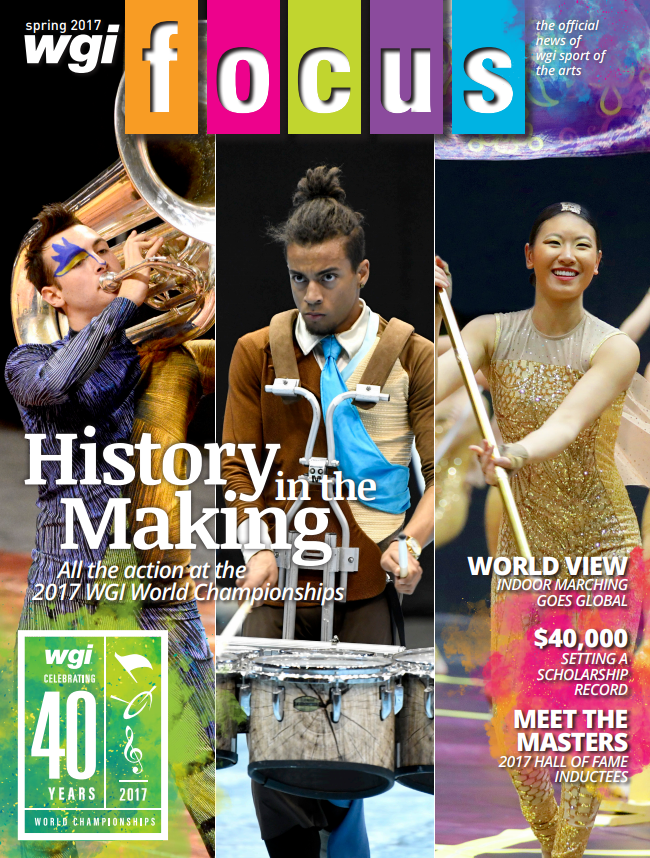 By Jenny Lyons and Michael Reed
Pride of Cincinnati and Carmel see gold in ruby celebration
The confetti has settled on another color guard season, as WGI celebrated its 40th year in existence. World Championships week saw hundreds of incredible performances by guards from around the globe, spanning five venues over three days. Performers at the top of their class continued to propel the activity forward with intellectually engaging concepts and standard-setting choreography. The trend of exploring dimensionality through props continued, most notably with reigning Independent World champion Pride of Cincinnati's rotating, latticed cube—from which performers hung, leapt, tossed, caught, and conquered—as well as Scholastic World champion Carmel High School's beautiful golden swings, on which the performers maneuvered as light as air.
All classes saw their share of placement trading, but Independent World in particular experienced tremendous movement between Prelims, Semis, and Finals. Although Pride maintained their first-place standing throughout the week in spite of Aimachi's strong showing, Blessed Sacrament edged Imbue out of a bronze medal by tenths. The top 15 saw numerous upsets on Finals night, with both Diamante and FeniX showing impressive upward mobility in the season's final hours. To cap off this ruby-anniversary event, WGI took pause at Finals retreat to look back over four decades of pageantry with a celebratory Parade of Champions, featuring representation of all its gold medalists since 1978 in their full costume regalia.
INDEPENDENT WORLD
Achieving the first back-to-back Independent World win in a decade, Pride of Cincinnati (Ohio) sealed their fate as six-time World Champions with "The Inevitable Direction of My Life." Pride delved into both the depths of the human psyche and new creative possibilities with their cubic stage. Though the medal they earned was silver, Aimachi (Japan) dazzled in gold and black, stealing hearts with their flawless performance of "May the Music Never End." Never failing to provoke thought, Blessed Sacrament (Mass.) won bronze with "B.," a unique take on the opera Madama Butterfly that generated stillness, abandon, and new-wave drama.
In "A Moment, Imbued," Imbue (Calif.) ran the gamut of emotions while manipulating a moment in time. The conceptual intrigue continued with "Dual" by first-time World Class finalist CGT Dallas (Texas)—which engaged in wordplay between dual and duel with loud colors, ramps, and heavy use of saber—and with Paramount (Ga.), whose bold, modular program "TO THINK IS ENOUGH" explored conceptual freedom and artistic singularity through contrasts in soundtrack, choreography, and aesthetics.
With "Blueprint 31," Alter Ego (Conn.) stepped into the unknown with a sleek blue-and-white color scheme and a dynamic soloist. Meanwhile, Fantasia (Calif.) patiently used stillness and free-flowing silks to beautiful effect in their rosy, understated "by any other name." In sharp contrast, Diamante (Calif.) took a dark turn with "Obsession," a gripping exposé of a mind obsessed.
The 2017 edition of Onyx (Ohio) shattered expectations in "BIZARRE BAZAAR." Among the surprises hidden in the ensemble's ever-unopened tarp was a one-of-a-kind take on spectacle and risk. Using a strikingly vulnerable soloist and a stark white silk against a dark ensemble, UCF Pegasus World (Fla.) appealed to the viewer's "Ethos." First-time finalist Lexis (Ky.) explored coming of age in their charming program "Once Upon Another Time."
Less than a year after the devastating Pulse nightclub shootings, Black Gold (Texas) paid tribute to those lost in their poignant program "ONE: We are here to remember." FeniX Independent (Ariz.) dove into their passionate "Weathering the Storm," while Juxtaposition (Ohio) revamped Dickens' Great Expectations in "The Miss Havisham Effect."

SCHOLASTIC WORLD
Carmel HS (Ind.) was a revelation in gold this year, earning their fourth top placement with "Arabesque." These golden girls ascended to first with balletic beauty and effortless grace, performing the show's namesake and making masterful use of their ornate swings. In "Vox Balaenae," silver medalist Avon HS (Ind.) gave a sometimes whimsical, always compelling interpretation of the voice of the whale, using a jellyfish robot, fluid soundtrack, and solid soloists. Bronze medalist James Logan HS (Calif.) brought "Hope" to the arena with a musically reimagined version of Barack Obama's "Yes We Can" speech, climbing block-like props to uplifting heights during an emotionally charged dance feature.
On a bright and sweeping floor, Center Grove HS (Ind.) invited us to "Be the Change" with a seamless display of variation. Awash in a gradient of oceanic greens and blues, the sirens of Stoneman Douglas HS (Fla.) performed "Untethered" to an ambient soundtrack. In "Apollo Control," set to an original arrangement of Elton John's "Rocket Man," Flanagan HS (Fla.) soared, taking us with them on the historic Apollo 8 mission.
Back on earth, Trumbull HS (Conn.) took a haunting look at what it means to be trapped by the one-dimensional happenings on our various screens in "Twenty-Seventeen." West Broward HS (Fla.) stood out with the infectiously fresh and funky "AMY," paying delightful homage to the late British songstress Amy Winehouse. James Bowie HS (Texas) gave a smart and striking interpretation of the Wordsworth poem "Intimations of Immortality," meandering through complex themes with sophisticated beauty.
Arcadia HS (Calif.) took us on a triumphant journey through Barack Obama's presidency in "HOPE," a highlight of which was a gorgeous flag feature set to "Amazing Grace." In a playful interpretation of a classic, and an impressive demonstration of performance range, Greenfield-Central HS (Ind.) brought "Peter and the Wolf" to life. By revealing an inundation of silver mirrors, costumes, and silks, Warren Central HS (Ind.) showed audiences "The Silver Lining."
Miamisburg HS (Ohio) celebrated excellence in their fun look at "The Drum Major Instinct," including a flag feature to "Don't Rain on My Parade" and a show-stopping double turnaround line. Backed by high-voltage music, the skydiving "Adrenaline Junkies" of Shenendehowa HS (N.Y.) floated high above earth with gravity-defying props. Finally, Bellbrook HS (Ohio) tackled the literal with "BELL…Brook," featuring live music with a variety of bells.

INDEPENDENT OPEN
AMP Winter Guard (N.J.) earned a first-place finish with their take on love gone awry and Damien Rice's familiar "9 Crimes" in their winning show, "I Carry Your Heart." In Motion Performance Ensemble (Calif.) implored us to remember that we are "more alike than unalike" in their hopeful program, "Human Family," which won them second place. Reaching third, University of South Florida (Fla.) provided an impassioned plea for Mother Earth in their heartfelt program.
Through memorable movement and the contrast of deep colors against pure white, Paramount Open (Ga.) explored "Still Life." Amid pleas written on cardboard signs and the tattered garb of refugees, Legacy Performing Arts (Ind.) offered a message of hope with "There Will Be Rest," as did Sensation Performance Ensemble (Netherlands) with strong arguments for the "Power of Education." In a similar vein, Reverie Independent (Ga.) empowered themselves and the audience with "Rise Up," as they constructed an industrial-era skyline.
In "Deconstructing Time," Malachi Independent (Colo.) disassembled a massive clock while manipulating time via movement and sound. Vox Artium (Calif.) dreamt of a kinder world in their politically bound "In Times of Chaos." Mirroring their blue-to-red gradient design, Fusion Winter Guard (N.J.) ascended from sadness into joy in "THE FIGHT INSIDE OF YOU." In the elegantly crafted "My Muse," Stonewall Independent (Va.) immortalized their muse in pink, caramel, and gold with soft Victorian-era aesthetics. The Brigadiers (N.Y.) picked up the "PIECES" in their emotionally driven program, while Legacy presented by Carolina Gold (N.C.) brought song lyrics to life in "With His Song." The Pride of Missouri State (Mo.) explored the pain of solitude in "All by Myself," while Q (Pa.) delved into connection with "Desire."
SCHOLASTIC OPEN
First-time finalist and champion Stockdale HS (Calif.) conveyed incredible will and perseverance in "Resolve," which wowed with its soaring flag feature and lush soundtrack. Ever the class act, Lyman HS (Fla.) clinched a silver medal with their gorgeous ascent of a spiral staircase in "Spiraling." North Syracuse Central HS (N.Y.) earned bronze by inviting audiences to their lively "Clubé Brasil: The Music of Astrud Gilberto."
With an intriguing mix of "Adagio for Strings" and "Imagine," Mill Creek HS (Ga.) took on concepts of balance and humanity in "People Need People." The strong ladies of Smithfield-Selma HS (N.C.) delighted with trick sequences, exchanges, and rifle choreography galore in their ultra-fun and sassy "Annie Get Your Gun." Clad in soft, sepia-toned animal print, Fishers HS (Ind.) took a somber look at the taming of the West with "Where the Buffalo Roamed." Little Elm HS (Texas) went "Cybernetic" in their green and black analysis of a web-driven world. Milford HS (Ohio) showed how love can play one's heart like the keys of a piano in "Play My Heart," and Hendrickson HS (Texas) brought about "The Winds of Change" with a joyous blue flag feature.
With a gradient aesthetic and lights, Marvin Ridge HS (N.C.) raged against "The Dying of Light." Using a unique soundtrack and distinctly stylized movement, Washington HS (Mo.) took on the abstract in "Open to Interpretation." In a more literal vein, El Dorado HS (Calif.) masterfully interpreted "The Bells" by Edgar Allan Poe. In "Andy," Plymouth-Canton Educational Park (Mich.) canonized pop-art mogul Andy Warhol with bright colors and iconic soup cans. Finally, Eastlake HS (Texas) embodied the music of Copland's Appalachian Spring in "Take One," while Eden Prairie HS (Minn.) bolstered hope with "When One Door Closes."
INDEPENDENT A
Gold medalist FIU Winterguard (Fla.) incorporated traffic imagery in "The Road Ahead," with street signs, stoplight silks, and pieces that formed a car at the ending. Silver medalist MBI (Minn.) combined honeybees and a spelling contest in "The Bee," as members spelled challenging words until there was one winner. Allegiance (Ill.) took home the bronze medal for "Ansel Adams: The Beauty of Black and White," in which several of the photographer's nature shots materialized on the floor.
Interplay (Mich.) looked through windowpane silks in "When It Rains…," as clumps of grey flags formed thunderheads. Our feathered friends from The District Independent Winterguard (S.C.) were "Strange Birds," spinning owl-eye silks in a misty forest. Pennsauken Independent (N.J.) honored pioneers of the 1960s civil rights movement with "One person can change the world," and an arid floor grew lush vegetation for Sacred Heart University Winter Guard (Conn.) in "GROW." In "Moving On," Anesidora (Colo.) reflected on the house they were leaving while loading a moving truck. A ladder to the sky was the focus for Pegasus A (Fla.) in "Hallowed Grounds," as tribal spirits sought their resting place. The piano inspired Onyx (Ohio) to present the ebony and ivory colors, piano benches, and Steinway logo flags of "Opus 9," while Georgia State University Winterguard (Ga.) made lemonade in "When Life Gives You Lemons," with vibrant yellow color throughout.
Quebec's 3rd Legend conveyed longing and other intense romantic emotions in "Heart to Heart." CGT Fort Worth (Texas) gave us a hypnotic fantasy using a colorful array of silks in "Dreaming in Color." Black Gold A (Texas) was an Impressionist painting come to life for "A Golden Sunday," as an afternoon shower gave way to sunlight, and wandering Lancaster Independent (N.Y.) carried suitcases for their journey in "Fair Haired Traveler."
San Diego State University Aztec Winter Guard (Calif.) brought eastern influences to the Midwest with "In the Eye," while Tampa Independent (Fla.) displayed raw feelings of grief at a loved one's gravesite in "With a Heavy Heart." Paradigm (Fla.) looked at mankind's effect on the planet for good and ill in "Genesis." BriA Independent (Texas) celebrated the energy and optimism of youth with "The Promise of Living," and JMU Nuance Winterguard (Va.) turned the floor into a flower garden for "Roses in Bloom."
SCHOLASTIC A
Klein Oak HS (Texas) told the tale of an emotionally distant man leaving a woman who still loves him in "Jamie," earning gold. Dartmouth HS (Mass.) created stunning effects using green LED lighting in "Bioluminescence" for silver. Bronze medalist Kickapoo HS Emulation (Mo.) took us to a rural setting where a country girl got jilted in "Done Her Wrong," while Mililani HS (Hi.) held an optimistic view of the future amid negative stereotypes of today's youth in "The Lost Generation."
Dawson HS (Texas) was geared up with "COGnizant," as large rotating cog props kept the concept in the forefront. Lowndes HS (Ga.) enchanted us with "Goodnight Moon," inspired by the children's bedtime book of the same name. Greater Johnstown HS (N.Y.) performed "Summit" on a mountain range floor, exhorting us to pursue our dreams, and Harrison HS (Ga.) employed a minimalist black set that magnified the impact of aqua and maroon silks in "The Empty Bench."
Small in numbers but great in execution, Clovis HS (Calif.) gave us the sensitive and poignant "Starting Over." Cary HS (N.C.) explored the mysteries of love on a magnifying-glass floor with "The Meaning of It All." Mt. Carmel HS (Calif.) plotted the heavens in "Discovering the Ancient Skies," while spinning star-like structures on poles. Green Hope HS (N.C.) created chills on an icy mountain peak floor in "Wherever You May Go," and Cumberland Valley HS (Pa.) provided disturbing visions of post-apocalyptic life with "After."
West Ranch HS (Calif.) utilized coat racks in "Coat of Many Colors," about a mother who sewed a coat of rags. The girls of Kettering Fairmont HS (Ohio) danced with mannequins in "Wallflower," set on a gym floor at a school dance. Allen HS Varsity (Texas) incorporated a 12-foot lamp in "Illusory Light," turning their members into rays of light. East Lincoln HS (N.C.) packed a wallop of a program with "If I Don't Have You," combining power with sensitivity, and Southlake Carroll HS (Texas) moved from drab, negative messages to colorful, positive encouragements in "Brand New Me."
A large maroon fabric contorted every which way for Marian Catholic HS (Ill.) in the sorrowful "It's Over Now," while Fleming Island HS (Fla.) earned huge applause for a brilliant closing flag feature in "Every Second Counts." Terre Haute South HS (Ind.) tore through the arena with "Wrecking Ball," using an armada of grey spheres. Father Ryan HS (Tenn.) was a Girl Scout troop enjoying a weekend "Get Together" in the forest. Colerain HS (Ohio) performed Sylvia Plath's poem "The Mirror," about the thoughts of a mirror reflecting a woman's gaze. And Westerville North HS (Ohio) couldn't sleep in "Insomniac," but a flurry of movement tired them out.
See the full scores here.