In our "WGI Archives" Feature Series, we take a look back at feature stories from past print copies of FOCUS Magazine! In this archive snapshot, we revisit the Percussion finals performances of the WGI 2014 World Championships, first published in the Spring 2014 WGI FOCUS Magazine.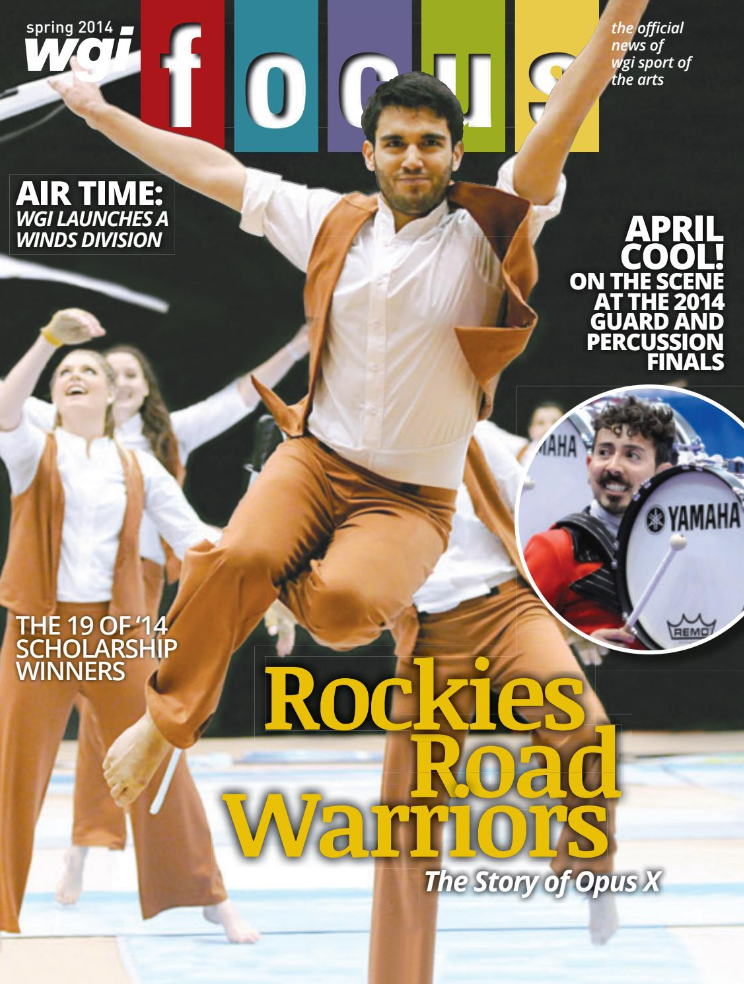 Pulse and Dartmouth take Percussion World Class titles in a World Championship weekend packed with innovation and emotion.
A record 220 indoor percussion lines arrived in Dayton on April 10 through 12 to compete for the 2014 WGI Percussion World Championships. Stepping onto a bold new black performing surface (which replaced tan of old), they encountered plenty of intense competition from all over North America and beyond—and even more intense love from the fans in the stands.
INDEPENDENT marching WORLD
Pulse Percussion (Calif.) won the Gold Medal with "That Which Confines Us," based on music as disparate as the theme from Beetlejuice, "Little Boxes" and "Moonlight Sonata." Bass drummers dangled from overhead racks and snare drummers played while hanging upside-down. Music City Mystique (Tenn.) centered "Windows to the Soul" on the flickering eyes of a statue that appeared to be carved out of granite, earning the Silver Medal. The Bronze went to Rhythm X (Ohio) for "The Razor's Edge," inspired by the dramatic tightrope antics of Philippe Petit.
Riverside City College (Calif.) explored the evolution of humanity and history in "So, this is Earth…?" as witnessed by an intergalactic species observing television signals sent into space. Gateway Indoor (Mo.) offered a provocative look at the Vietnam War era with "Oh Say Can You See," with names of Dayton soldiers killed in action scrolling across a video screen. The members of Matrix (Ohio) were costumed as rock artists in the high-energy production of "Rockstar."
Infinity (Fla.) won the Fans' Favorite Award for "All Hail," a show inspired by regal music of the British Empire and the rock group Queen. Atlanta Quest (Ga.) paid tribute to the bad guys in "Villain," from the perspective of the miscreants. "The Train Ride Home" stopped in Dayton before pulling away from the station for the ride to the Santa Clara hometown of Vanguard (Calif.).
The grim, dystopian future of Ray Bradbury's Fahrenheit 451 provided the title and mood to POW Percussion (Calif.). "Fearless," a poem by Marianne Williamson, offered affirmation to weakened souls in the United Percussion (N.J.) production—which happened to have the same name. STRYKE Percussion Ensemble (Fla.) explored the contrasts between the creative and analytical sides of the human mind in "The Fine Line."
"A Show of Hands" by NorthCoast Academy (Mich.) was all about human hands and what those hands could accomplish. Orange County Independent Percussion (Calif.) explored "The World In You," largely based on the music of pop singer Alicia Keys. OC Indoor (Ore.) based "RELENTLESS" on a simple idea that gives rise to multitudes of great things.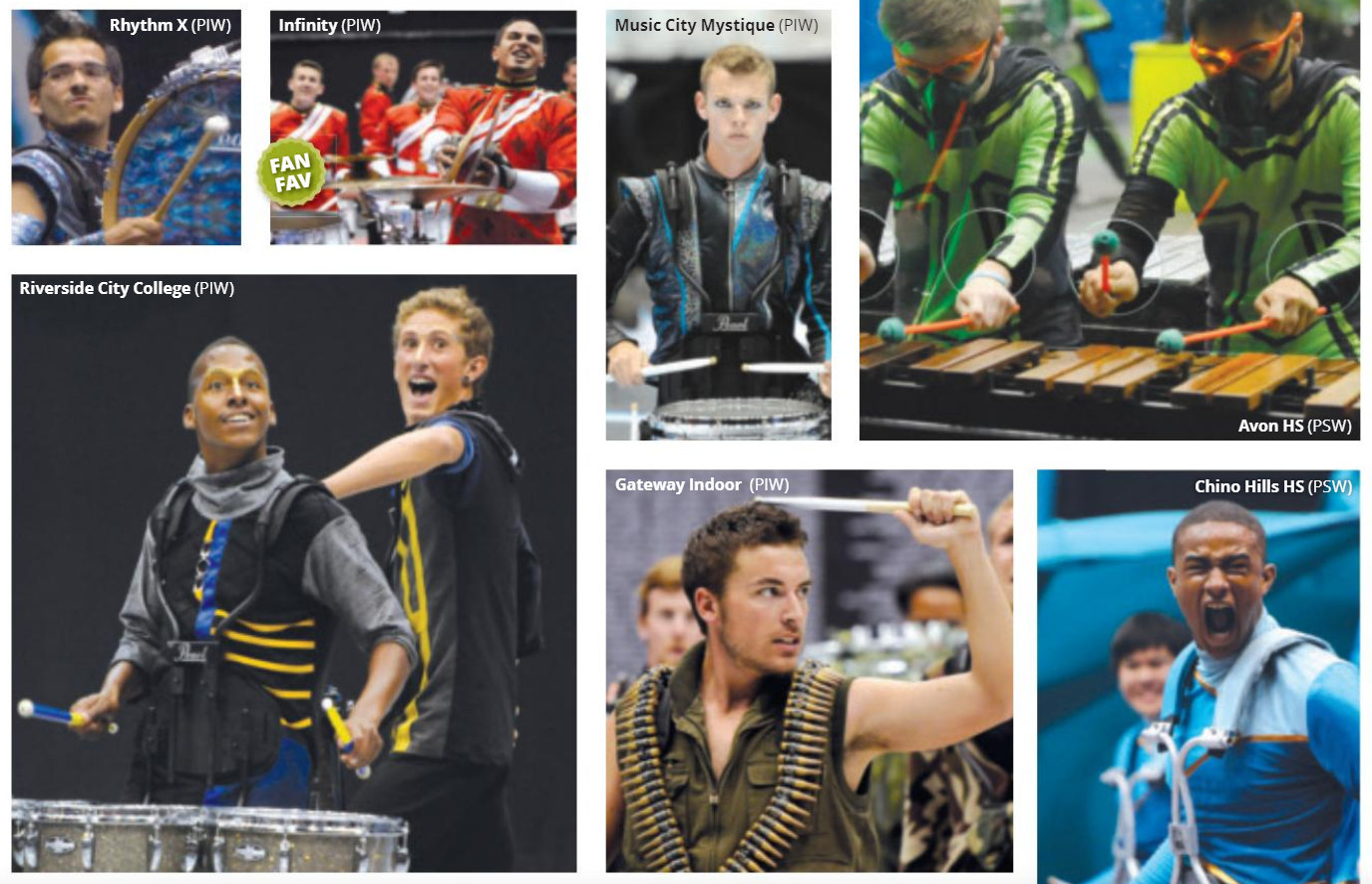 SCHOLASTIC marching WORLD
Dartmouth HS (Mass.) won both the Gold Medal and the Fans' Favorite Award with "Let Them Eat Cake: Marie Antoinette's Scandalous Life." An elaborate Parisian ballroom set was the scene of the 18th Century French queen's extravagant parties—and of her downfall at the hands of an angry mob, which eventually headed her off to the guillotine. Chino Hills HS (Calif.) took the Silver Medal with "I Was Here," built upon the idea of leaving one's footprints in the sands of time. Ayala HS (Calif.) earned the Bronze for a disquieting look at the life of Lee Harvey Oswald in "Que Sera-Sera." "Genocide" was the theme of North Shore HS (Texas), set in countries where political mass killings have occurred, ending with the line being swallowed up by a graveyard. Avon HS (Ind.) employed Imagine Dragons' song "Radioactive" for its show, "Quarantine," complete with quasi hazmat suits and gas masks. Arcadia HS (Calif.) buried the negative elements of the past in "Find My Way."
"Dreaming Beethoven" by Homestead HS (Calif.) alternated between moments of beautiful serenity and dissonant rage as the composer dealt with his increasingly severe deafness. Center Grove HS (Ind.) based "The Heart of a Warrior" on the army of underground terracotta soldiers discovered in China. A tall gilded birdcage was prominent in "Painted Like a Warrior" of Rowland HS (Calif.), inspired by Charles Bukowski's poem, "Bluebird."
Upper Darby HS (Pa.), promoted to World Class after its final WGI Regional, told the story of a returning soldier in "The Long Walk Home." In "The Game," Centerville HS (Ohio) led the audience through a variety of board, video, and computer games. Based on the Book of Genesis, "The Fall of Eve" of Petal HS (Miss.) explored original sin.
"Bending Reality" of Walled Lake Central HS (Mich.) included an awesome mallet feature where alternating players executed every other note in a series of 16th-note runs. Mental breakdowns caused by the pressures of contemporary society were the theme of "Fr(agile) Minds" by Eden Prairie HS (Minn.). Ben Davis HS (Ind.) based "The Factory" on the busy commercial studio of pop artist Andy Warhol.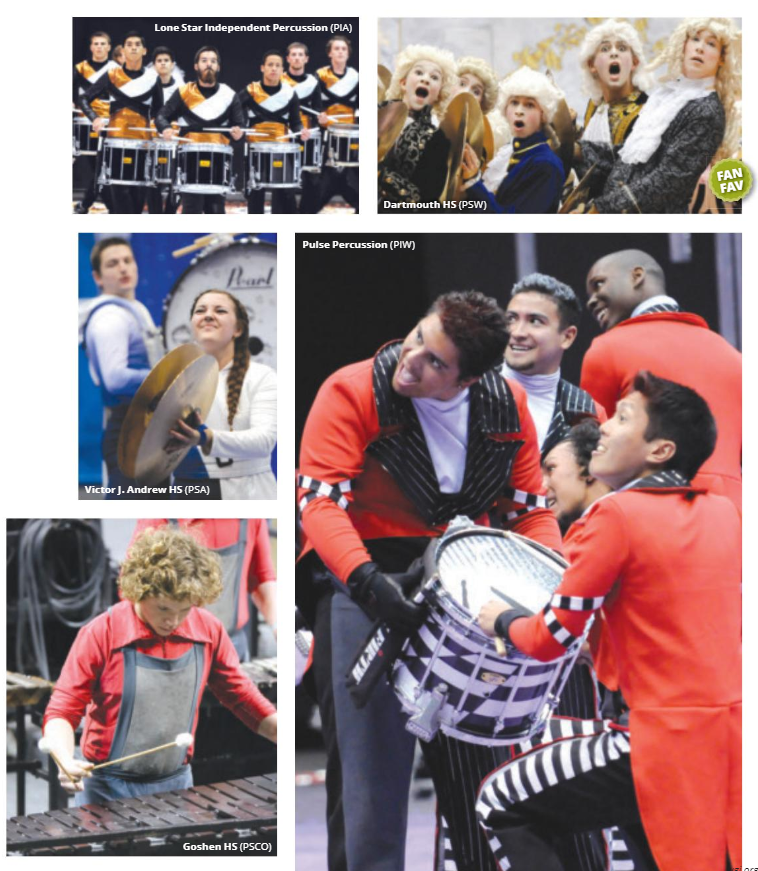 INDEPENDENT marching OPEN
Cadets Winter Percussion (Pa.) won the class with "Copy of a…". Two of the songs, "Copy of a…" and "A Warm Place," were by Nine-Inch Nails, the show concluding with Karl Jenkins' "Palladio." Pioneer Indoor (Ill.) took the Silver Medal for "Spiritum Ipsum (spirit game)" set in a graveyard and ending with members running from zombies. Valley Independent Percussion (Calif.) took the Bronze Medal for "Let Go," encouraging all to release themselves from their fears.
River City Rhythm (Minn.) won the Fans' Favorite Award for "Run Before You Walk." Demonstrations of instrumental basics led to acrobatic stunts over the keyboard percussion. Spirit of America (Mass.) took us to Asia in "Hero: The Dragon & Tigers Within," highlighted by taiko drums. Vigilantes Indoor Percussion (Texas) performed Metallica's "Ride the Lightning," leading to an electric-chair execution that dimmed the lights.
"Soldiers of Innocence" by Dojo Percussion (Neb.) touched on how war affects child soldiers. Red sand on the feet of the members of Tyler Junior College (Texas) eventually covered the floor in "It All Runs Out," with 12 digital timers acting as a reminder that time waits for no one. DrumSpirit (Belgium) explored the poem "In Flanders Field," about the World War I battle site in the line's home country.
"2001" of Legends (Mich.) was inspired by HAL 9000 from the famous Stanley Kubrick film. Ancient City Ensemble (Fla.) performed atop an optical illusion of various colored dots in "Clarity." In "Coming Home," Bakersfield College (Calif.) explored one's hope of making it back to familiar ground.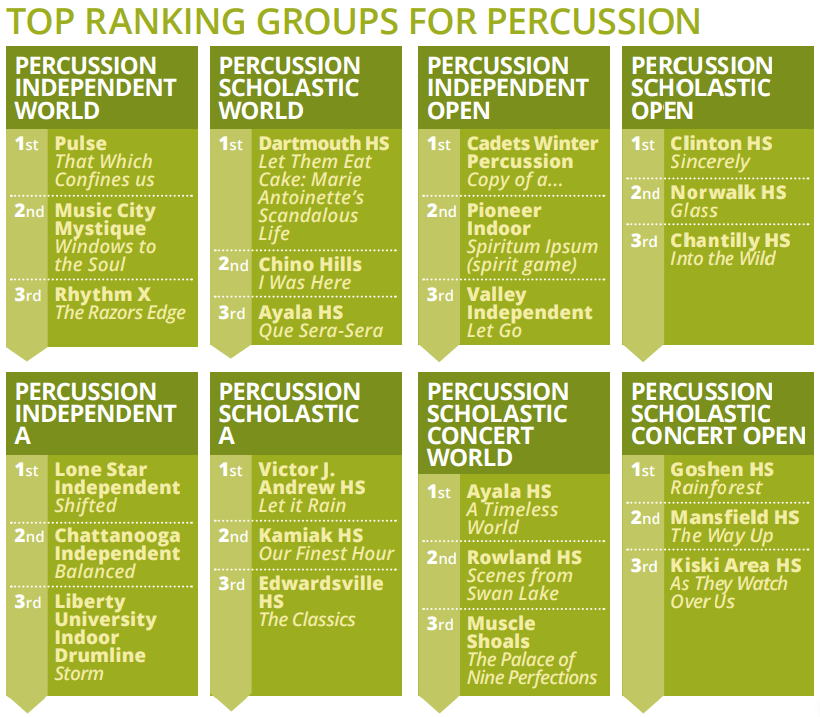 Scholastic marching OPEN
Clinton HS (Miss.) took the Gold Medal with "Sincerely," about the power of the written word when read in the form of a letter. Norwalk HS (Conn.) figuratively shattered "Glass" as the line broke through barriers of personal darkness, capturing the Silver Medal. Chantilly HS (Va.) entered a rainforest in "Into the Wild," earning the Bronze Medal while characterizing traits of indigenous animals.
Old Bridge HS (N.J.) took charge of its underdog position in "No White Flags," valiantly refusing to surrender to overwhelming odds. Cy-Fair HS (Texas) filled the floor with greening shrubbery in "The Arbor Effect." Los Alamitos HS (Calif.) explored the exuberance of youth in "Skip," with members performing while skipping rope. "Turning Heads" of Great Oak HS (Calif.) effectively directed the heads of the audience to various parts of the floor.
Flamenco music filled "Don Juan Sevilla" by Hilton HS (N.Y.), the snare line matadors impressing the female dancers. Clover HS (S.C.) took the Fans' Favorite Award with "Pop," exploring Pop Art, pop music, the sound of popping corks, and ending with someone drinking a can of soda pop. Lebanon HS (Ohio) utilized LED lights as stars in "What Dreams May Come," proceeding from sleep, passing through nightmares, and ending with tender dreams.
A graphic of desert dunes enhanced "Mirage" by Trumbull HS (Conn.), blue LED lights seen as water by a thirsty man. BCC Drumline (Thailand) became the first international line to perform in a Scholastic Finals with "Believe," stressing faith in one's passion, imagination, and dreams.
INDEPENDENT marching A
Lone Star Independent Percussion (Texas) won the class with "Shifted," full of metallic machine sounds that went on until the members were "turned off" at the end. Chattanooga Independent Percussion (Tenn.) performed acrobatic feats of dexterity in "Balanced," taking the Silver Medal. Liberty University Indoor Drumline (Va.) secured the Bronze while fighting off the increasingly threatening weather of "Storm."
Civitas Independent (S.C.) sampled Nelly's "Hot in Here" during "Bring the Heat." eNVision (Nev.) explored the "Chemistry" of science as well as two people in love. Paradigm Percussion (N.C.) provided examples of apples found in history and folklore in "Apple." Farmington United Percussion Ensemble (Mich.) gradually replaced their black floor with a variety of colors in "Linear Projection." Velocity Indoor Percussion (Fla.) captured the Fans' Favorite Award with "The Greatest of All Time," following the life of Muhammad Ali, with cymbal players practicing left hooks with their instruments.
Railmen Indoor Percussion (Neb.) led us through the first moon landing with "One Small Step," featuring Van Morrison's "Moon Dance" and Debussy's "Clare de Lune." Clarksville Audio Theater (Tenn.) viewed a romantic breakup in "Burning Bridges," seen from the woman's point of view. The cymbal line of REEF Independent (Fla.) couldn't make it through "Change of Heart" without experiencing a cardiac event. Anything that could be associated with a circus clown made its way into the "Clown Couture" production of PureFusion Percussion (Mass.).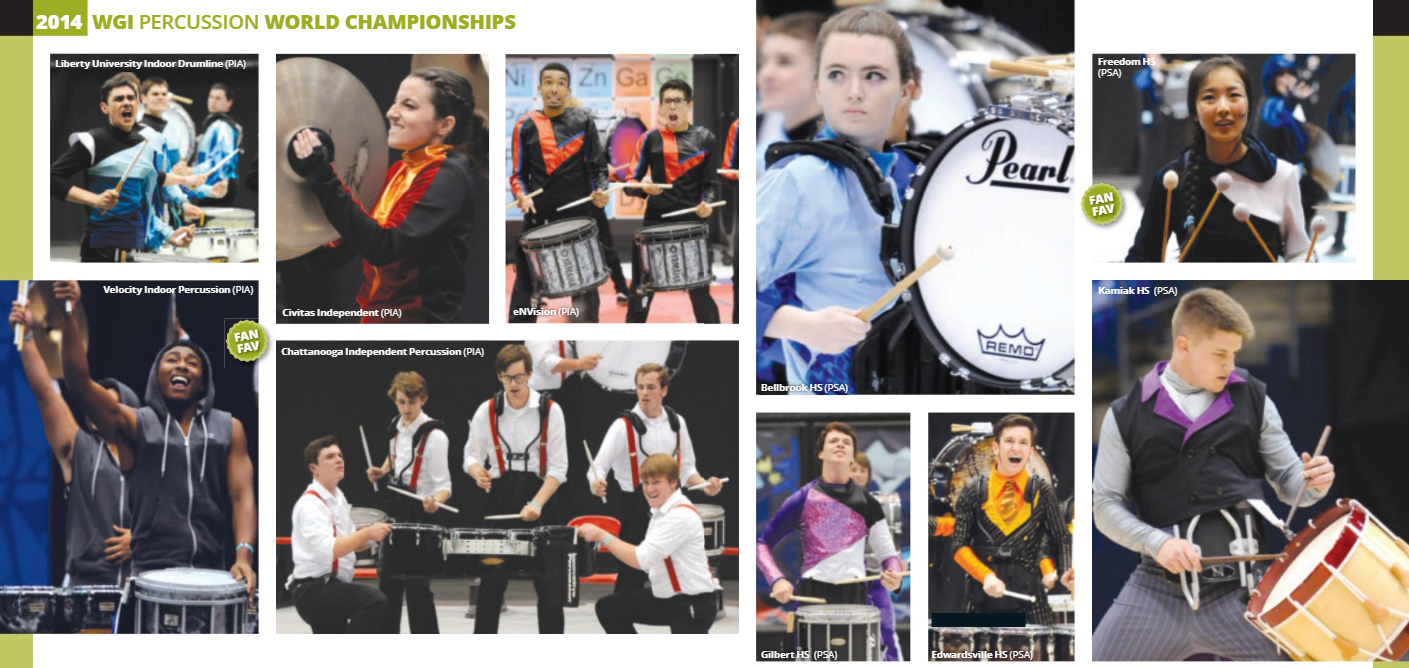 SCHOLASTIC marching A
Victor J. Andrew HS (Ill.) won the class with "Let It Rain." Members were dressed in faux raingear and were surrounded by the sounds of an ongoing downpour. Kamiak HS (Wash.) won the Silver Medal with "Our Finest Hour," based on inspirational speeches regarding stepping up to adversity. Edwardsville HS (Ill.) took the Bronze with "The Classics," a sort of classical music version of "Name That Tune."
Gilbert HS (Ariz.) started out blindfolded in "Open Your Eyes," metaphorically urging the audience to not go through life unaware of its surroundings. Bellbrook HS (Ohio) gradually filled in a giant jigsaw puzzle in "Peace by Piece," with each section being a famous classical music motif. Sparkman HS (Ala.) explored primal aggression in "untamed," which featured a variety of jungle sounds. Freedom HS (Va.) won the Fans' Favorite Award for "Look Within," an introspective quest to know oneself, based on the writings of Khalil Gibran.
Decatur Central HS (Ind.) utilized chess pieces, dice, and a Monopoly board in "Every Game Is Life." La Cañada HS (Calif.) braved a snow emergency in "The Journey Home," eventually making it safely back to comfort and warmth. Fort Mill HS (S.C.) fought oppression and tyranny in the Big Brother-tinged "Project Human." Greenfield-Central HS (Ind.) explored and obliterated a substantial variety of irrational beliefs in "Superstition." The members of Eagan HS (Minn.) played on silhouetted drums through illuminated fabric in "Shadows."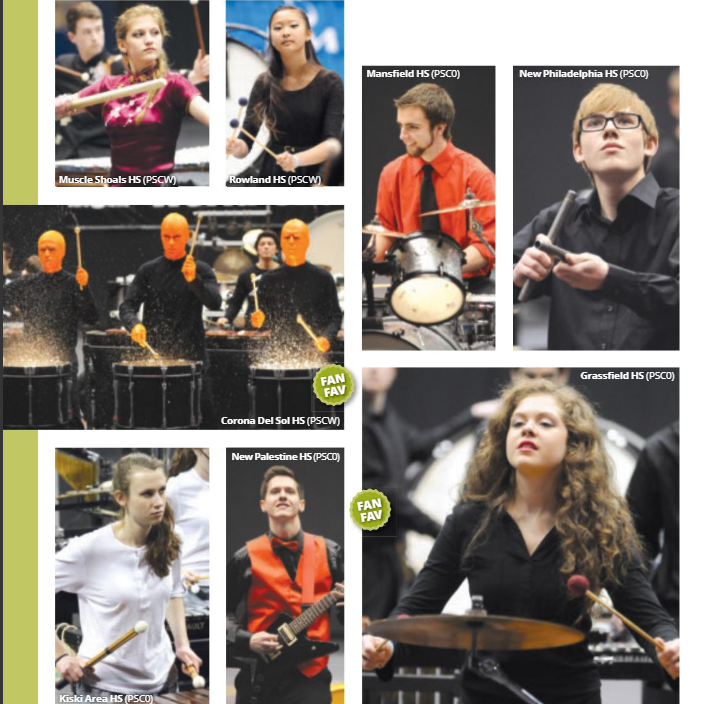 SCHOLASTIC concert world
Ayala HS (Calif.) won the title with "A Timeless World," featuring marimbists on castanet machines. Rowland HS (Calif.) earned the Silver Medal with Tchaikovsky's "Scenes from Swan Lake." The Bronze Medal went to Muscle Shoals HS (Ala.) for "The Palace of Nine Perfections," infused with Japanese taiko drumming. Corona del Sol HS (Ariz.) captured the Fans' Favorite Award with the whimsical "OMG"—in this case, short for "Orange Man Group."
SCHOLASTIC concert open
Goshen HS (Ind.) won its class with "Rainforest" while evoking exotic environmental sounds. Mansfield HS (Mass.) captured the Silver Medal with "The Way Up," followed by the Kiski Area HS (Pa.), whose Bronze-medal winning show was called "As They Watch Over Us." Among the other finalists were New Philadelphia HS (Ohio) for "Piped In," New Palestine HS (Ind.) for "Red, Hot, and Righteous," Pine Creek HS (Colo.) for "Supernova," the Fans' Favorite Award-winning Grassfield HS (Va.) for "Scenes from Swan Lake," Golden HS (Colo.) for "Mendoza," and Scottsburg HS (Ind.) for "Piano Concerto No. 2."
See the full scores here.