In our "WGI Archives" Feature Series, we take a look back at feature stories from past print copies of FOCUS Magazine! In this archive snapshot, we revisit the finals performances of WGI Winds' inaugural year, first published in the Spring 2015 WGI FOCUS Magazine.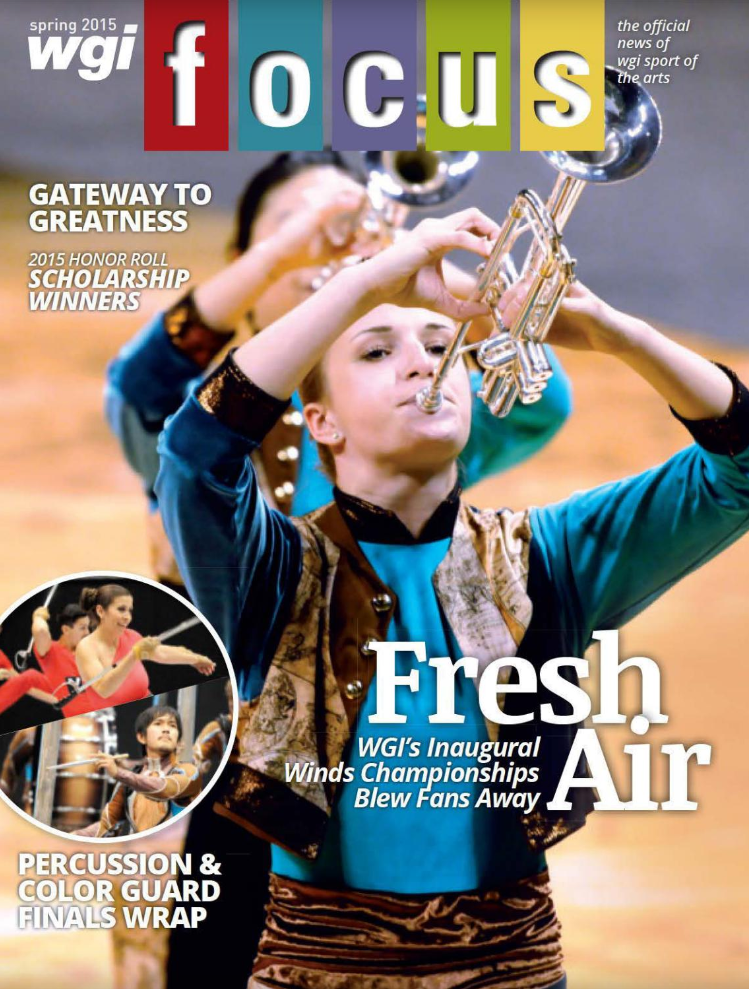 Rhythm X and Father Ryan Win Inaugural WGI Winds World Class Titles
Twenty groups from 11 states were on hand for April 12's inaugural WGI Winds World Championships at the University of Dayton, and it seemed that each one was determined to bring something different to the arena.
The diversity on display did more than entertain the crowd; it also showed some of the creative possibilities available to groups wishing to explore WGI's new division. Some used active guards, some had no guards; some used marching percussion, some had none; some presented a storyline complete with special costuming, props, and sets; others played music solely for music's sake. If the options seemed virtually endless, it's because they are. You can bet that some ensemble leaders in the crowd were taking notes for next year.
WINDS INDEPENDENT WORLD
Rhythm X Winds (Ohio) won with "Uncharted Territory," exploring the New World from an Old World perspective, pushing the boundaries of marching brass and woodwinds technique while delivering a sound that would be welcomed ay any concert hall. Orange County Independent Winds Ensemble (Cal.) used the music of Samuel Barber in "Agnostic," an active guard exploring the bleak demeanor with subdued colors.
Third place went to Project Arts (Fla.) who brought out a guard and large percussion pit for "Arbor Vitae." Leaves seemed to blow in the breeze as confetti rained out of the spinning flags.
Northglenn Performance Theatre (Colo.) captured the Fan Favorite Award for Independent Class with "Welcome to the Timely Manor," incorporating a string quartet, a marching ensemble of battery percussion, and dancers who appeared as ghoulish gargoyles.
WINDS SCHOLASTIC WORLD
With "The Elements of Style," Father Ryan HS (Tenn.) won the Scholastic World title after being promoted from Open Class earlier in the season, combining the music of Beethoven with the modern musings of John Adams. A member at a computer provided the entire percussion contribution, and six guard members added a joyous acclamation to the visual program. Ada Hs (Ohio) was runner-up with a dystopian program about the fiery end of the world in "Apocalypse: The End," featuring a desolate color scheme set afire by flaming flags at the conclusion.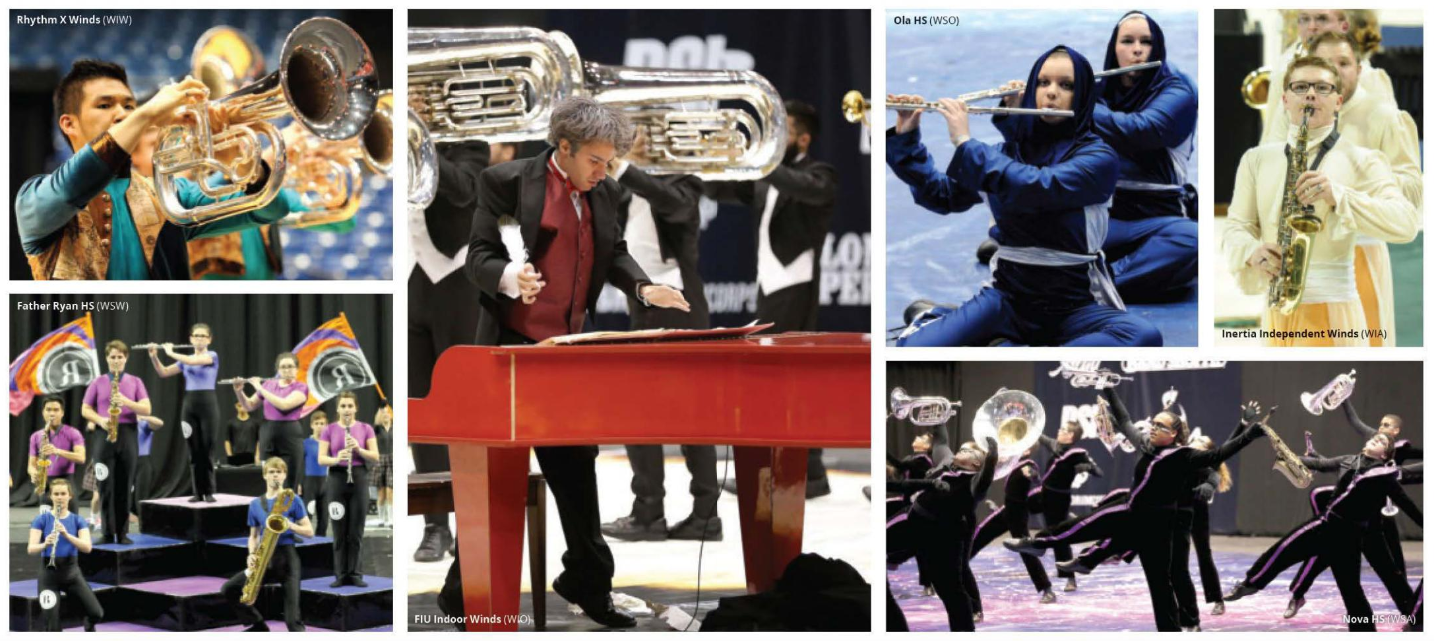 WINDS INDEPENDENT OPEN
FIU Indoor Winds (Fla.) moved up from third place in Prelims to win the class with "Curse of the 9th," as a Beethoven figure at a grand piano feverishly worked to complete his Symphony No. 9 before succumbing to the "curse" that struck down so many classical composers. STRYKE Wynds (Fla.) took second place with "fOreVER," exploring the concept of infinity. Notre Dame College Winds (Ohio) placed third with "!Round," having fun with a series of musical canons (better known as rounds).
WINDS SCHOLASTIC OPEN
Division-winning Ola HS (Ga.) glistened like a frozen wonderland in "A Midwinter's Night's Dream," a stunningly beautiful production that ultimately blanketed the members in a layer of drifting snow. Runners-up Central Lafourche HS (La.) won the Fan Favorite Award for Scholastic Class with "Do Not Go Gentle Into That Good Night," featuring selections by Shostakovich interspersed with quotes from the Dylan Thomas poem of the same name. Greenfield Central HS (Ind.) came out in sweatshirts and pajama bottoms, catching some Zs whenever they could during their third-place production of "Dreamzzz…"
WINDS INDEPENDENT A
Inertia Independent Winds (Ohio) won while demonstrating the versatility of their wind members, having many of them switch over to marching percussion instruments during "The Music Performer in 4 parts." LakeShoremen (Mich.) took the floor with only 10 members, all of them winds players, earning second place for a program titled "Escapade."
WINDS SCHOLASTIC A
In winning its class while "Lost in Space," Nova HS (Fla.) presented quite a bit of body movement, incorporating Radiohead's "Creep," and ending in the iconic "Space Invaders" form while playing music from the film Signs. River Ridge HS (Ga.) took second place with "The Lady in the Woods," telling the story behind the story of Hansel and Gretel. Jackson County Comprehensive HS (Ga.) placed third by walking "The Road Not Taken" in a forest of changing autumnal colors—accompanied by narration of the Robert Frost poem with the same title. Pecos HS (Texas) took us "WEST" with a large group of over 30 winds, unafraid to throw in some whimsy on the journey. Hart County HS (Ky.) gradually transitioned from darkness to light in "Black and White." Alter HS (Ohio) offered a rock rendition of Beethoven's "Symphony No. 5" in "fiVe." Not only did it sound great; Alter will go down in history as the very first group to perform in a WGI Winds World Championships Finals.
See the full scores here.