In our "WGI Archives" Feature Series, we take a look back at feature stories from past print copies of FOCUS Magazine! In this archive snapshot, first published in the Fall 2010 WGI FOCUS Magazine, we learn more about the excitement and challenges of international competition!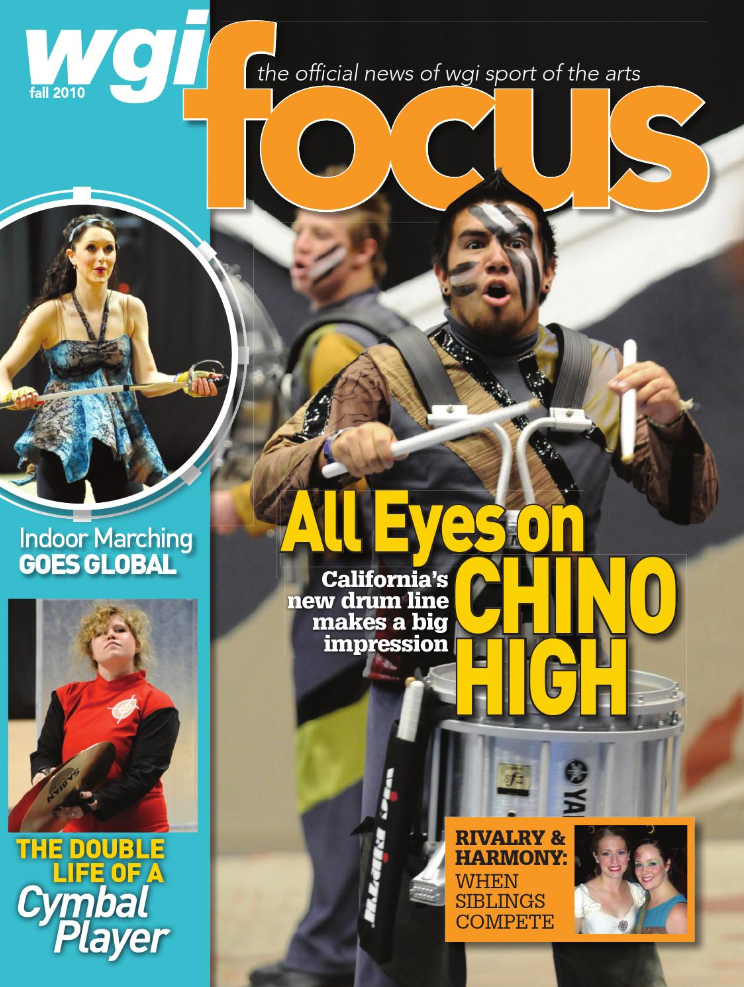 In 2010, the WGI World Championships' global presence was larger than ever. A record number of international groups entered the competition, and for the first time ever, an ensemble from outside the United States took home a gold medal, as British Columbia's Pacificaires won the Independent A Color Guard Class. This is no minor feat—especially since just deciding whether or not to compete internationally can be daunting. Why do groups choose to make the trek to Dayton, and what challenges must they meet to get there? Several international group leaders took time to discuss these questions with WGI Focus.
Why They Compete
Les Eclipses, an independent color guard from Longueuil in Quebec, Canada, participates in at least two Regional competitions every year and has competed in the WGI Championships every year for the past 15 years. These events are very important to the group because in Quebec, according to director Annie Pelletier, there are no other competitors in this category. "It's also a challenge for our members to perform in front of a new crowds and show them our talent and our style, which can be a little different, as per our French culture."
Paul Morgan of Northern Academy, a color guard based in Sheffield, England, considers the WGI Championships "the pinnacle in the world! We want to see how far we can go, giving the kids more of an experience. We plan to come again and again and again. We are trying to bring back a trophy and won't stop until we do. We are quite driven."
The members of Radizele, Belgium's DrumSpirit—the first European drumline to compete at the WGI Percussion Championships—were inspired by the opportunity they received to see several top U.S. ensembles up close and personal. Director Didier Rosez explains that WGI groups have been going over to Europe for a small annual tour for the past four years. DrumSpirit supported the visiting groups, providing accommodation and entertainment. During the visit of one group, Matrix, the DrumSpirit staff started joking about doing the reverse and going to the States. Everybody was so excited about the suggestion that they started looking at the possibilities.
"After some investigation and talking with people over here, we decided to go for it," Rosez says. "The indoor percussion community in Europe is very small, and after some years of local competition, DrumSpirit felt ready to push the limit and try to raise the level a bit higher.
Clearing the Hurdles
The biggest obstacle for international groups competing in the U.S. is the sheer expense of getting here. "It's around $5,000 to $6,000 per Regional and more than $10,000 for WGI," says Les Eclipses' Pelletier. "We have our own equipment, so we need a bus to get to shows. Members get used to their equipment, so it's important that they have the same equipment when they perform. Also, we have our own flags and floor that match our show, so it's really impossible to rent equipment."
Other groups are trying to eliminate or lessen the need to cart gear. Robby Overvliet, director of The Pride of the Netherlands, based in Huizen, Netherlands, says that his color guard is making changes in this area: "We used to bring all of our equipment, but the airlines are getting tough on extra pieces of luggage. The first year, we brought our floor. We actually cut it in several pieces, so each of the performers carried a piece as part of their luggage. We brought our floor last year too, but we didn't bring it back because it was too much of a hassle. Last year was the first time we borrowed flag poles."
Michael Gaines, designer for Nagoya, Japan's Aimachi, mentions a few possible ways of alleviating costs. "Aimachi has been going to WGI every year, but they alternate: one year percussion, one year color guard. The kids have the experience every couple of years, but at least they don't have to raise money every year. The percussion group borrows equipment from corps over here, and they bring what they can. The color guard, on the other hand, doesn't need as much equipment, and I try to design the shows so that they don't have a lot."
Alan Dyck of the Pacificaires point out that there other hurdles international groups may not realize. For example, "we travel south across the Canadian border, and sometimes there are two- or three-hour waits there. Ever since September 11, everybody has to have a passport. That's a challenge, especially if [members'] families are divorced. Sometimes it's difficult to get both parents to sign off. These are things you don't think of." Because WGI adjudication is in English only, it may also be necessary to bring translators.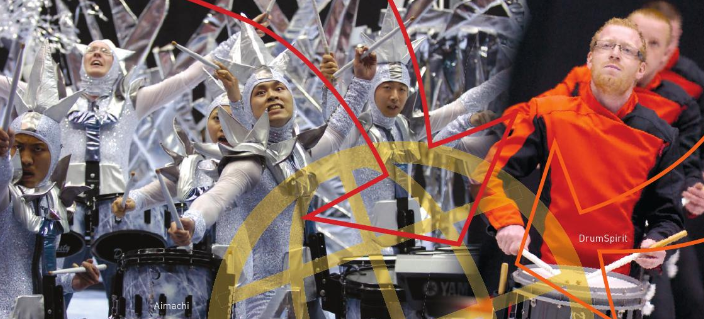 Getting Ready
Once foreign ensembles have cleared the hurdles and arrived in Dayton, they still need to rehearse. But where? "Sometimes we get lucky when it's during spring break and there's more availability in schools," Aimachi's Gaines says. "But if not, we make connections at recreation centers, churches, or ballrooms in hotels."
The Pride of the Netherlands' Overvliet states that the most important thing an international group can do is make contact with people in the U.S. who can help. "The first time in the states was a learning experience," he recalls. "We had help from the Pride of Cincinnati in finding rehearsal facilities. We also went to their rehearsals, and just watching them rehearse was a large benefit that helped our performers understand how to rehearse at a higher level."
When Northern Academy got to Dayton for the World Championships this year, they rehearsed every day for eight to 10 hours a day, according to Paul Morgan. "We won't do that next time. We'll be more prepared before we come over. Be prepared weeks before you go and you won't have to worry about as much rehearsal time and space."
It took DrumSpirit two season to prepare for the WGI competition, with the occasional assistance of Rhythm X's David Isaacs. "We gradually worked on getting the product as we wanted it to be," says Rosez. "Doing something for the first time is always hard, but everybody was focused on that moment: to be able to perform in the Finals. If we do this again—and a lot of members are already asking us when—everything will be more clear and we can even focus more on the competition."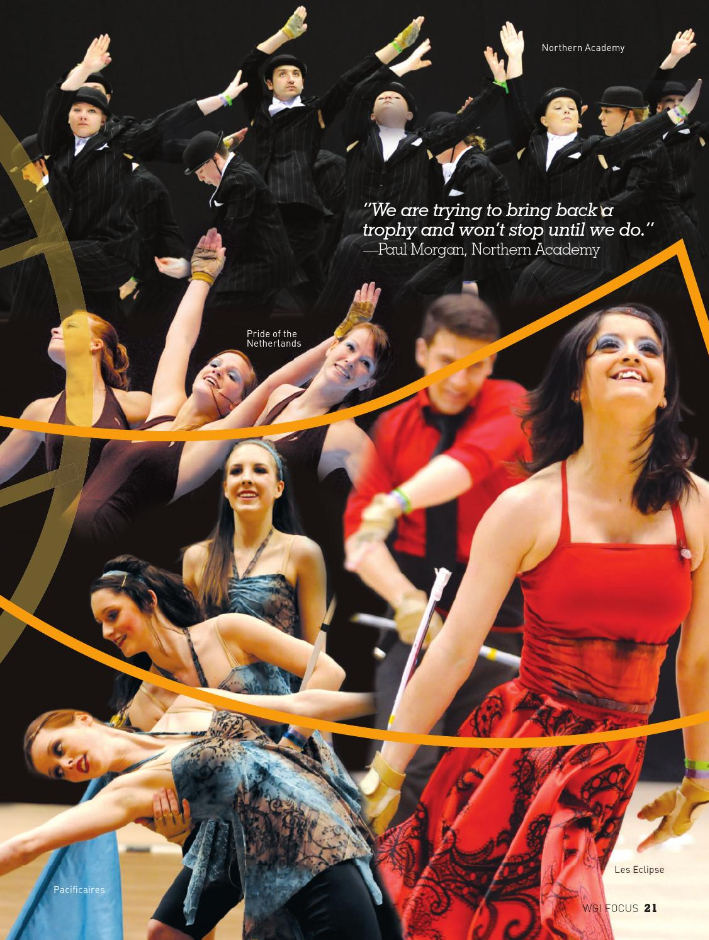 The End Result
One point everyone interviewed for this article agreed on is that the international experience was a positive one. "Eventually, we go t through to Finals and even placed third in preliminaries, with a score that nobody had even been dreaming of!" Rosez says. "Performing in the Finals was a dream come true, and the score didn't really matter. Everybody enjoyed themselves! The whole adventure was such a stimulation for the group, both musically and socially, that I would recommend for every group."
Overvliet is just as enthusiastic. "While this has been a separate project for us, now it is a permanent part of the organization," he says. "We want to come over every other year because it is so important for the organization and the response is so positive."