By Jenny Lyons
On May 14, 1977 at the Sheraton-Palace Hotel in San Francisco, six people were about to change the face of the color guard activity. These individuals were brought together by the dream of an international color guard organization and the desire to create a national stage upon which the world's top groups could compete.
Until 1977, color guard had thrived under the umbrella of the drum and bugle corps activity, but was beginning to outgrow its roots. Color guard championships were held in August under the generous wing of DCI, but as the activity grew, several issues arose. Though guards created and worked their programs during the winter months, this August championship was the only time for groups to compete within a national venue – long after the peak of their season had passed. WGI Co-Founder Marie Czapinski recalls the last summer guard championships as being held in something like a poorly lit barn with a meager six rows of bleachers. She remembers thinking, "This has to change." Though grateful to DCI for hosting thus far, it was time for color guard to move beyond the summer activity.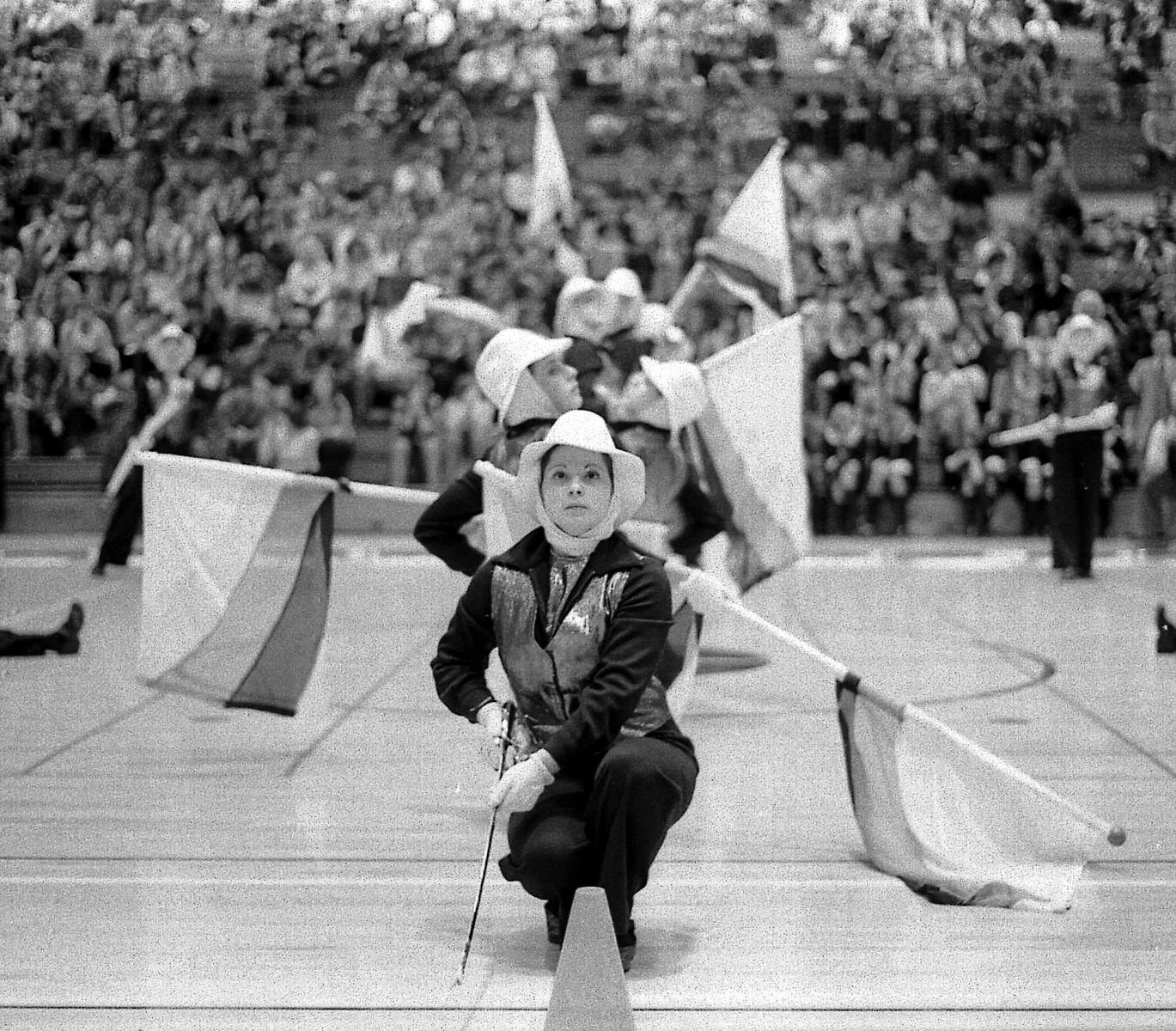 With this motivation for change, six color guard leaders from around the country – Don Angelica, Shirlee Whitcomb, Stanley Knaub, Bryan Johnston, Marie Czapinski, and Linda Chambers – met to try to improve the activity about which they were all so passionate. At that meeting in 1977, their goal was simple: to provide color guards from around the nation the opportunity to see one another and compete in one place, under one governing set of rules. The result was the birth of Winter Guard International.
Though competition and standardized regulations were a focal point of WGI's creation, the founders' larger hope was that guards from across the country would be able to appreciate and be influenced by the distinct regional styles that each had to offer. Marie Czapinski recalls that groups from the West Coast were "very Hollywood and flashy" with a penchant for dance, make-up, costumes, and theatrical expression, while East Coast groups were more military and drill-oriented with highly advanced equipment technique and a regimented style. "Those East Coast children had sabers in their hand from the time they were born," she jokes. Though most of the guards from opposite regions had never seen the other, the founders had witnessed the unique styles, all beautiful in their own right, and anticipated that their union would be something special. Shirlee Whitcomb especially points to the great friendship between Stanley Knaub, who spearheaded the more theatrical West Coast style with his passion for movement and dance, and George Zingali, a color guard great from the East Coast style, as pivotal in the development of color guard as we know it.
To the delight of the WGI founders, when the two coasts finally met at the first WGI Championships, then called the WGI Olympics, in 1978, the results were stunning. Finally, the top color guards from around the country could compete head-to-head, and spectators, instructors, and performers alike could expand their ideas of the activity. "When it all came together, it was mind-boggling," Marie remembers.
The results of this collision of styles have exceeded all expectations the founders had. "The evolution has been wonderful," Shirlee Whitcomb says. Ultimately, once exposed to multiple styles, color guard grew from something military into something that at its core was expressive and music-driven. This has allowed people from all over the world to connect with the activity in a meaningful way, and, as such, has ushered its growth, which has been exponential since Winter Guard International's inception. Only a few timing and spatial rules remain as vestiges of the strict regulations of the past, and, consequently, the creative boundaries of the activity continue to evolve and be pushed year after year.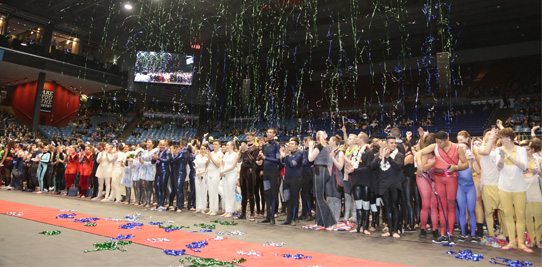 What's next for WGI? Two of its founders, Marie Czapinski and Shirlee Whitcomb, see continued growth ahead. Marie anticipates that winter guard will continue to grow in its union with the dance world, pointing to the fact that dance becomes more and more integral to the activity every year. She believes that WGI will continue to grow even larger and more inclusive, opening the door to the dance community and beyond. Shirlee Whitcomb sees WGI continuing to expand its global reach. As the years go on, WGI continues to impact performers in more and more corners of the world. "I would never have dreamed that it would be all around the world," Shirlee says, "It's astounding."
That meeting 40 years ago would lead to the creation of Winter Guard International, and, ultimately, so much more. It would lead to the metamorphosis of guard into what we know and love today. It would lead to the growth of the activity, ushering in scholastic divisions, and with it, the opportunity for thousands of students to enrich their high school and early adult years with the arts and hundreds of scholarship opportunities. It would lead to countless programs that have inspired so many young people to dream. It would lead to a culture of excellence in which thousands of performers push their personal limits in pursuit of reaching the rarified stage of WGI World Championships. It would lead to 40 years of stunning pageantry, passionate performances, and the pushing of artistic boundaries.
Marie Czapinski emphasizes that WGI has surpassed all of the founders expectations, and "here we are today," she says. Starting with only twenty units from across the country, WGI now hosts hundreds of group from around the world every year, sees thousands of spectators pack UD Arena each Spring, and has expanded to include both WGI Percussion and WGI Winds. As Marie says, "It really is beyond all of our wildest dreams."
Looking back over its first 40 years, Winter Guard International has grown beyond even that which its founders thought it could be. Looking forward, it seems that the possibilities are nothing short of endless.
---
About the Author: Jenny Lyons is a freelance writer and graduate of the Literary Journalism program at the University of California, Irvine. She is particularly enamored with nonfiction writing, archival research and reporting, as well as editing. She is a recent alumna of WGI, having performed with the Santa Clara Vanguard Winter Guard from 2013 to 2015. Jenny has also marched with several drum corps including Pacific Crest, The Academy, and the Santa Clara Vanguard. When she is not writing, Jenny can be found continuing her passion for color guard through teaching.