By Michael Reed
All groups make sacrifices in talent, time and treasure to get to Dayton for WGI World Championships. However, some have to make more sacrifices than others. The further away a group has to travel, the amount of funds necessary to make it happen increases exponentially. Viridian Percussion Academy came all the way from Bangkok, Thailand to compete in their first WGI World Percussion Championships.
We caught up with staff members Narupa Patcharug and Nuttawat Sitti after their performance to talk about their trip and the state of the activity in their homeland. The members, staff, and a few supporters came to the states on April 2, flying into O'Hare International Airport in Chicago as that was the most economical place to fly into, according to Sitti. They will depart on April 15, making their stay almost two weeks long.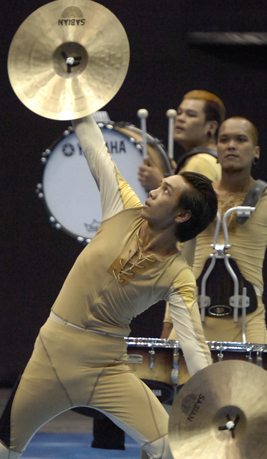 Viridian Percussion Academy has been in existence for approximately 10 years, but they have only been competing as a marching ensemble for 1 year. Based on their prelims performance in the Percussion Independent World prelims, they are quick learners. They fared very well against the more experienced U.S. lines, coming within two points of moving on to Semifinals. It was evident the designers did their homework, as their program "The Vitruvian Man," based on DaVinci's famous drawing, featured as creative a visual design as anyone in the class.
The ensemble won the championship in Thailand last year and decided to dip their toes in the WGI waters. Thanks to the modern miracle of YouTube and the WGI Fan Network, designers and instructors across the world can view performances of U.S. lines to see what the latest fashion in the activity is and to draw inspiration. Sitti explained the most of the Thai lines do shows that very much like copies of U.S. shows. However, their creative goal is to be original and come up with their own signature style.
Part of the maturity process is becoming acquainted with the expectations of the WGI judges. Their hope is to return to World Championships in future years, and add more of their own unique elements so they will not look or sound like anybody else. There are approximately 30 competing lines in Thailand, and they hope to inspire other Thai lines to come over and compete at World Championships.
When asked for their impressions of their WGI experience, both indicated they were very impressed with the level of organization and how timely the event was conducted. Sitti also noted one refreshing philosophical difference between the Thai circuit and the WGI experience: In their native circuit, the lines compete to win. At WGI, it's more about challenging yourself to be the best you can be. While every line wants to do well competitively, they mentioned that winning is not the top priority for most of the lines they've met in Dayton.
Welcome to Dayton, Viridian Percussion Academy. We eagerly anticipate your return to the WGI Percussion World Championships in the near future!