Vincent Thomas is a pioneering performer, choreographer, and teacher in the marching arts community. Working with groups like Lake Mary HS, Onyx World, Paradigm Winter Guard, Just Class World and more, his creative touch has inspired many. Each time, his work leaves countless hearts endlessly inspired.
He sat down to share a snippet of his life journey with WGI, starting where it all began—dancing in his living room growing up.
The Beginning of Vincent's Dance Journey
"I have always moved my body, and I must recognize and honor that starting place that I hold so dear," Vincent says. Music and movement were a part of his life since childhood.
Vincent describes how he would watch shows like Soul Train with Don Cornelius, American Bandstand with Dick Clark, Solid Gold, Hee-Haw, and The Lawrence Welk Show—and as he watched, he would dance. Vincent explains, "Music and motion are synonymous. You can't separate those two."
However, his first formal dance class wasn't until college.
Vincent says, "I remember that very first jazz class standing there with my palms exposed. That first head roll we did was euphoric, and I was captivated. I couldn't really put my finger on why I was so captured just by moving my head, like that and being in this space called a dance studio. So, I continued." He received his Bachelor of Music Education from the University of South Carolina, and he used every elective he had to take dance classes. When he ran out of electives, he started taking classes in the community. He took tap, ballroom, ballet, and jazz.
After college, he started teaching K-5 music in South Carolina—but in the summers, he would continue his dance journey. For three summers, he participated The American Dance Festival in North Carolina which gave him six weeks of intensive dance training.
"From there, I went to Florida State University to receive my Master of Fine Arts in Dance and I had two years of total intubation of dance. I was choreographing, performing, and studying. I really immersed myself in the art of dance at that level because I wanted to do more. I knew there was more that I wanted and could do, even though I didn't know what it was," he says.
Vincent's Color Guard Journey
While Vincent was at Florida State he started teaching Lake Mary HS. "Seeing them go from A Class all the way to World Class, and winning gold medals and silver medals and bronze medals was incredible," he says.
From there, his color guard journey spiraled. He started working with Paradigm Winterguard. He taught for the Music for All summer camp, Just Class World, Onyx World, and group after group, leaving his magic touch of inspiration everywhere he went.
But he didn't start out a World Class choreographer. In fact, his color guard journey started back in high school when he was a trombone player.
He led the marching band as drum major—standing up on that podium watching the ensemble, he would see the colors of the silks moving across the field and he fell in love. He said to the band director, "You know, I'd love to try my hand at this flag thing." So, he did. Vincent would stand at the back of the ensemble and follow along with what the color guard was learning.
By his senior year he was choreographing all of their routines.
Then in college in South Carolina, he joined a winter guard called 308, named after the gym they practiced in. The team was directed by the late Chase Mullins, a Madison Scout. Vincent later became the first Color Guard Caption Head of Carolina Crown, through this connection. He says, "I think the universe was aligning so much for me and I didn't even know it."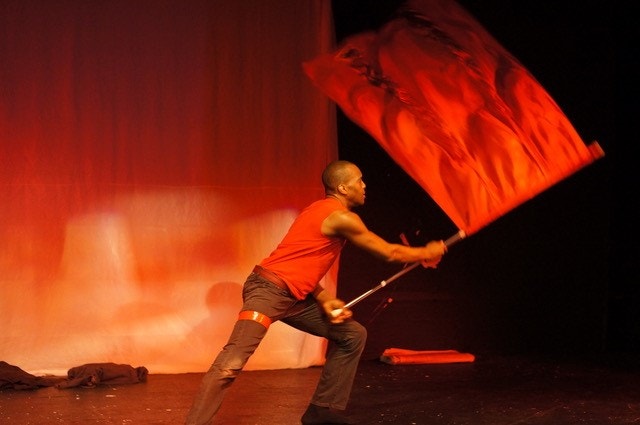 Vincent describes how he has always loved teaching. He would teach his cousin dances when he was younger, and he loved teaching his high school peers. He just had a knack for it. When Chase asked him to come and teach Camden High School color guard with him, he happily went along. It was one of the first times he taught color guard, outside of choreographing for his own high school. He says, "Chase was such an amazing creative spirit, and it was through watching him that I learned a lot. My intuition about teaching aligned with his."
Before long, every summer of college he was teaching color guards across South Carolina, North Carolina, and Georgia. While he was teaching at Carolina Crown, he was also asked to go to Ontario, Canada, to work with Dutch Boy Drum and Bugle Corps.
Although he had to leave Carolina Crown to continue his dance exploration at The American Dance Festival, it didn't slow down his color guard journey. After taking some years off from Drum Corps, he had the opportunity to "go back in a different capacity." He says, "I love this capacity, where I can go and give information, create art, work with their artistic teams and then I can walk away—and I know that I've done something in some small way to help another mover be expressive in this art field."
He went on to work with Boston Crusaders, the Blue Stars, the Colts, and Spirit of Atlanta. He says, "I did some work with South Winds, the Cadets a couple of years ago, and then I went back to Crown."
Vincent talks a lot about how the universe connects us in meaningful and wonderful ways. Through each path in his life, he maintained both his choreographer and performer journey, all the while keeping a flag in his hand. "The way the universe works and how it connects us and how it keeps us connected is quite fascinating. It's been a long, long road, but it's been like an amazing journey."
Inspiration through Everything
Vincent is perhaps best well-known today for his innovative choreography, master classes, and workshops.
He says, "As a kid, I didn't know the word choreography. I was just making stuff up, but it was coming from this strong physical place driven by music. I've been drawn to the idea of choreography for a very long time."
He danced with Liz Lerman Dance Exchange for years, and he explains how vital this experience was for his performance and choreographing journey. He explains that Jawole Willa Jo Zollar from Urban Bush Women and Liz Lerman were two of the individuals the universe clearly put in his path for a reason. When he left the Liz Lerman Dance Exchange, it was because he wanted to work on developing his own artistic voice.
He found inspiration everywhere, and he wanted to use it.
"I find inspiration in almost everything," he says. I find it through music that sends a bolt through my spine. I find inspiration in humanity and in nature. I think the creators have given us such a platform of inspiration. What we experience, what we smell, what we see, what we touch, and what we taste all becomes some form of inspiration. We just have to allow ourselves to use it and to recognize the inspiration in every single thing."
He created an outlet for this inspiration, and for his artistic voice. Vincent named his company VTDance.
"I really wanted an outlet for me to explore and collaborate with artists of all disciplines and even artists that are not recognized as artists yet."
He also used this platform to explore social awareness through dance. Vincent explains, "There was a critic who wrote about my work who said that there was a social justice lens to it. I was really curious about that because I didn't know exactly how I would label that for myself, but I did know that I wanted to create work that could elicit social awareness of who, and how, we as human beings in this world live with one another. I wanted to be able to explore a variety of topics around the ways I was seeing the world and seeing myself in the world in relationship to other people."
VTDance also allowed Vincent to keep the flag in his hand. "After leaving my performance career in winter guard, I kept teaching—which kept the equipment in my hand—but I also incorporated color guard within some of the larger projects of VTDance. The flag has found its way into the landscape of the art in a very intentional way."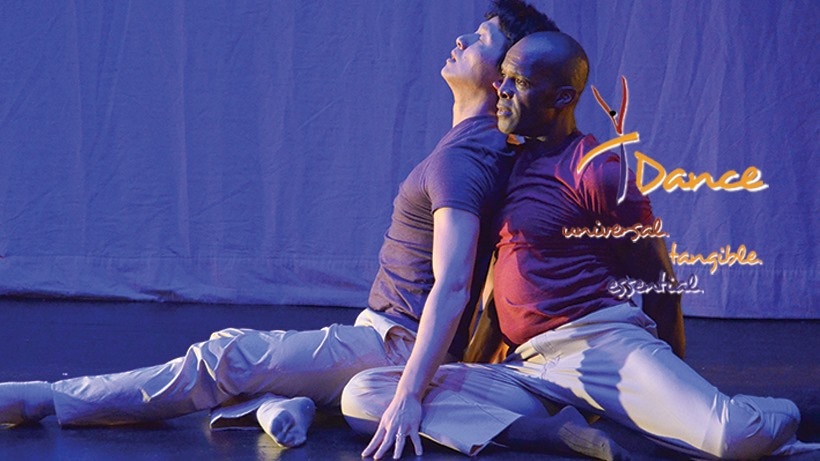 Meaningful Moments
When asked the most rewarding part of his career thus far Vincent said, "There are so many, so many moments." But he shares a few of these with the WGI community.
"As an educator, one of the most rewarding moments was when I was selected by the Board of Regents here in the state of Maryland to receive the Award of Excellence in Research, Scholarship, & Creative Activity, the highest award that the Board of Regents gives faculty."
"As a performer, performing on an international stage with the Scottish National Ballet in Scotland for two weeks with sold out audiences was a huge highlight."
"As a choreographer, I would have to say, my solo work—"iWitness"—I performed at the Edinburgh Fringe Festival in Scotland. It's a solo version of a much larger work called "Witness" that premiered at the Kennedy Center in Washington D.C. Another huge highlight was the evening length performance experience called "What's Going On: Life, Love and Social Justice", which uses the music of the late Marvin Gaye to look at our lives, our loves, and our social justice in the world that we live in."
"A highlight in the marching arts was the first five years teaching at Carolina Crown and winning the best auxiliary a few times. Working with Onyx World is also an amazing highlight because of the level of inquisitiveness about the art and their exploration of possibilities that may not exist yet. That search keeps me really, really engaged in the activity."
Sharing Life Lessons
As a lifelong teacher, a renowned choreographer, and a current Professor of Dance at Towson University (MD), Vincent has a plethora of life experiences from which to share advice with the marching arts community.
"My advice to current designers and instructors is to continue to remove the boxes—to find the possibilities beyond the box. Judges talk about box five, but I think there's something beyond that. Instead of being kept in this box five, I ask—what is beyond that, that we don't know about yet?"
He says, "The learning and the excavation of what we do in the pageantry arts has to keep growing and sometimes it has to keep growing by us breaking down the things that we know."
"My advice for performers is to keep learning from the pageantry arts. There's so much to learn from the art form—discipline, structure, accountability, friendship, and so much more. I truly believe that we also learn a lot about ourselves in that process too."
Vincent explains, "What the pageantry arts teaches is what the world really needs. I want performers to take what they're learning and push that out into different aspects of the world. It's not to take away from doing drop spins. But when you break that down into lessons that you learn for yourself, it's amazing. Those are lessons that I'm not sure a lot of other areas of the world we live in get to learn. Lessons such as working toward a common goal, removing divisiveness, and living life in an ensemble."
ABOUT VINCENT THOMAS: Vincent E. Thomas, dancer, choreographer and teacher, received his MFA in Dance from Florida State University and a BME in Music from the University of South Carolina. He has danced with Dance Repertory Theatre (FSU), Randy James Dance Works (NY/NJ), EDGEWORKS Dance Theater (DC), and Liz Lerman Dance Exchange (MD). His choreography has been presented at various national and international venues including DUMBO Festival (NY), Philly Fringe (PA), Edinburgh Fringe Festival (UK-Scotland), Barcelona and Madrid, Spain, Avignon, France, Athens, Greece, Bari, Italy, Copenhagen, Denmark, Taipei, and Singapore. He received rave reviews for his performance of "Come Change" (2012) and "iWitness" (2014) in the Edinburgh Fringe Festival in Scotland. Vincent was the Movement Coach/Choreographer for Everyman Theater's Brother's Size by Tarell Alvin McCraney, Mosaic Theatre's Unexplored Interior by Jay Sander, and Everyman Theater's Los Otros by Ellen Fitzhugh. He is the Artistic Director/Choreographer of the national touring What's Going On project. Vincent was awarded the 2017 Pola Nirenska Award for Outstanding Achievement in Dance (DC), the 2019 University System of Maryland Regents Faculty Award for Excellence in Research, Scholarship & Creative Activity, and the 2020 MDEA Living Legacy Award. He is the Founder/Artistic Director of VTDance, an Urban Bush Women BOLD Facilitator, faculty member for the UBW Summer Institutes (NY), and Professor of Dance at Towson University (MD). www.vtdance.org
In the pageantry arts, Vincent has choreographed for many marching bands, color guards, and drum corps across the country. He was the first Color Guard Caption Head of Carolina Crown. Other groups he has choreographed: Cadets, Boston Crusaders, Blue Stars, Colts, Spirit, Onyx World, Mason World, Just Class World, Paradigm Independent, Lake Mary HS, and many others.
ABOUT THE AUTHOR: Trudy Horsting is a graduate student at Arizona State University pursuing her PhD in Political Science. She holds a BA in Political Science and a BA in Writing, Rhetoric and Technical Communication from James Madison University. While at JMU, she was a member, and captain for two years, of the Marching Royal Dukes Colorguard and JMU Nuance Winterguard. In 2019, she spun with First Flight World and is currently a member of FeniX Independent World.