By Caroline Meister
Azle High School's motto is: "achieving higher standards." In their rookie 2018 season, Azle High School Winds won the Scholastic Open class with a score of 94.88, a solid three points ahead of runner-up Mill Creek High School. Needless to say, the group upholds the motto.
Azle High School Winds originated in a school rich with WGI history. The high school has both a percussion ensemble and color guard that competes with WGI. This history acted as the catalyst for the creation of a winds group. Director Brandon Day noticed that although the school's marching band was very strong, wind players were at a clear disadvantage. Percussionists and guard members were able to practice and hone their craft year-round while wind players only exercised their marching chops during the fall. In an attempt to eliminate this disadvantage, Brandon began to form a winds group. And the rest, as they say, is history.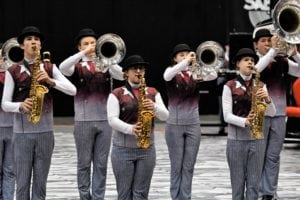 "The Barber," Azle Winds' 2018 show, is simple and straightforward. It's not flashy nor complex, but was executed with precision and cleanliness that was unmatched, at least in the Scholastic Open class. The show included selections from Sweeney Todd and The Barber of Seville, building off the famous history of these musical works. The show began with a barbershop quartet, moved into a light-hearted selection from Seville, transitioned into the familiar love ballad "Johanna" from Todd, and concluded with the barber, in true Sweeney fashion, murdering his love interest.
A tradition of excellence, a desire to improve, and a straightforward, but engaging show seemed like a recipe for success. But Day admits that he and his students went to Dayton with the goal of having a great time, gaining experience, and overall thoroughly enjoying themselves. Winning seemed very far in the distance and removed from the experience altogether, making the victory even sweeter. But how did this victory come about? What made these underdogs so special?
As is true in most cases, there's no single right answer. Many factors contributed to the group's gold medal. The first, and perhaps most important, is the determination of the members. Day described his members as incredibly hungry with a penchant for the unknown and the uncertain. Also, members felt a need to set an example, to prove themselves to their own community and also the marching arts community at large. Essentially, they're the perfect storm. However, a good team of experts also propelled the group forward. Azle, this season, used the same visual design team that indoor powerhouse Rhythm X uses, setting them up for success from the beginning. And the final step to being so successful right out of the gate? Phenomenal parent and administrative support. Day emphasized this point, explaining that it was vital for not only their success, but also their start.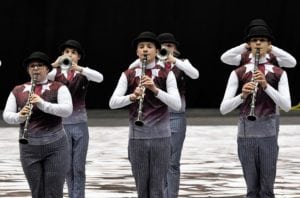 It's been about a month since WGI Winds Finals. What has been the impact of the win? There has been an outpouring of support from their community, both from their school and their town. Day admits that it's nice to see the kids receiving recognition for all their hard work. But, by far, the biggest impact that the win has had is the increase in individual abilities. There is a stigma that exists in the world of marching arts: that competing in indoor winds weakens concert bands. This couldn't be further from the truth, Day explains. Not only do players improve, but overall retention rates soar if indoor groups are present, especially in the big transition from middle school to high school.
What does the future hold for Azle High School Winds? Brandon Day admits he's not 100% sure, after all, no one can predict the future. But, he's mulling over the idea of bumping the group up to World class. No decision has been made about this just yet, we'll have to wait until after auditions for the 2019 season. Keep your eyes peeled for that one. But, there's one thing Day is sure of:  Azle High School Winds will return to the University of Dayton Arena. And next time? They'll be even stronger.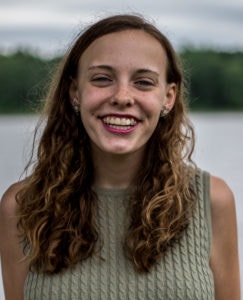 About the Author: Caroline Meister is a sophomore studying Telecommunications, Spanish, and Creative Writing at Ball State University in Muncie, Indiana. Prior to college, Caroline graduated from Zeeland East High School in Zeeland, Michigan. In high school, Caroline was heavily involved with the marching band, wind ensemble, and pit orchestra where she played flute, an instrument she's been playing for almost ten years. Currently, Caroline is in the Pride of Mid-America Marching Band where she marches piccolo.