By Trudy Horsting
The Woodlands High School winter guard put on a beautiful 2022 production titled "The Doors are Open," which left many craving to learn more about this program and receive some insight on how they got where they are today. In this piece, Cyndi Robbins, Director of The Woodlands, shares her strategies for the program's growth, delves into the details of their 2022 show, and explains her aspirations for the group's future.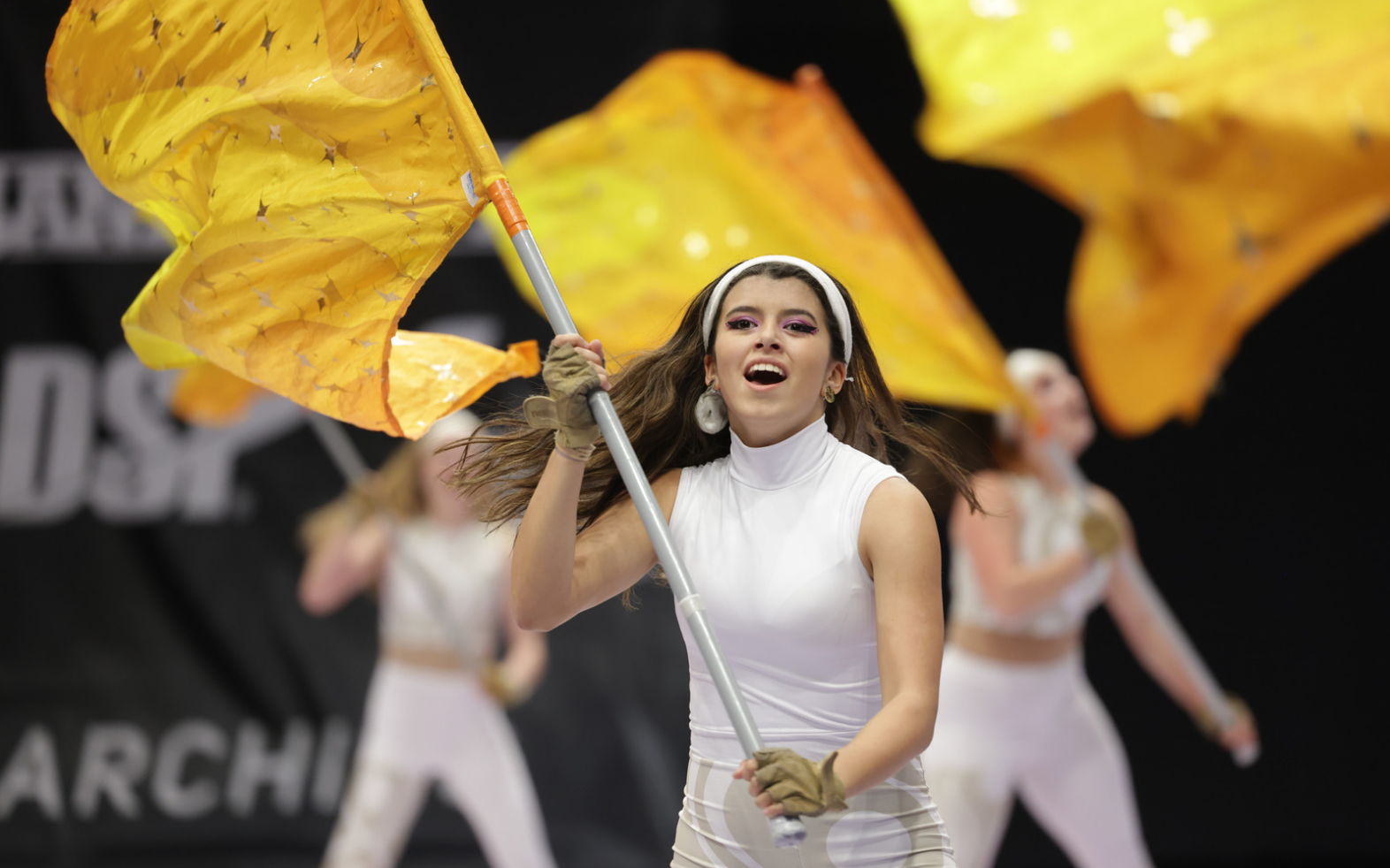 Building a program
2022 was Cyndi's eighth year with The Woodlands winter guard. The group has been in World Class since 2017, but they have done exceptionally well in the last few years. Cyndi explains, "I think what made the program explode the last few years was the development of our junior high program in 2019. Students were able to enroll in a color guard class and begin learning the basics of the sport in seventh and eighth grade." Cyndi says that in just four short years, the younger class has made a considerable difference in the development of the broader program. But the middle school program has also become "a little beast on its own," Cyndi reflects.
The middle and high school color guard class allows for a heavy focus on technique outside of rehearsal. However, at least the first hour of each rehearsal is also spent on the technical aspect of the sport. The class time for both groups has been instrumental in helping the programs develop.
Cyndi explains that although the middle and high school programs are distinct entities and students from one school can't compete with the other school's team, the two groups have plenty of interaction. They get to perform for one another and feel as though they are a part of the larger community.
This community feel has made program recruitment a breeze at The Woodlands. The school is situated amidst a large group of neighborhoods. Cyndi says, "the kids go outside to practice, and their neighbors see them and start to ask questions. As the program has grown, this natural recruitment has made my job much easier."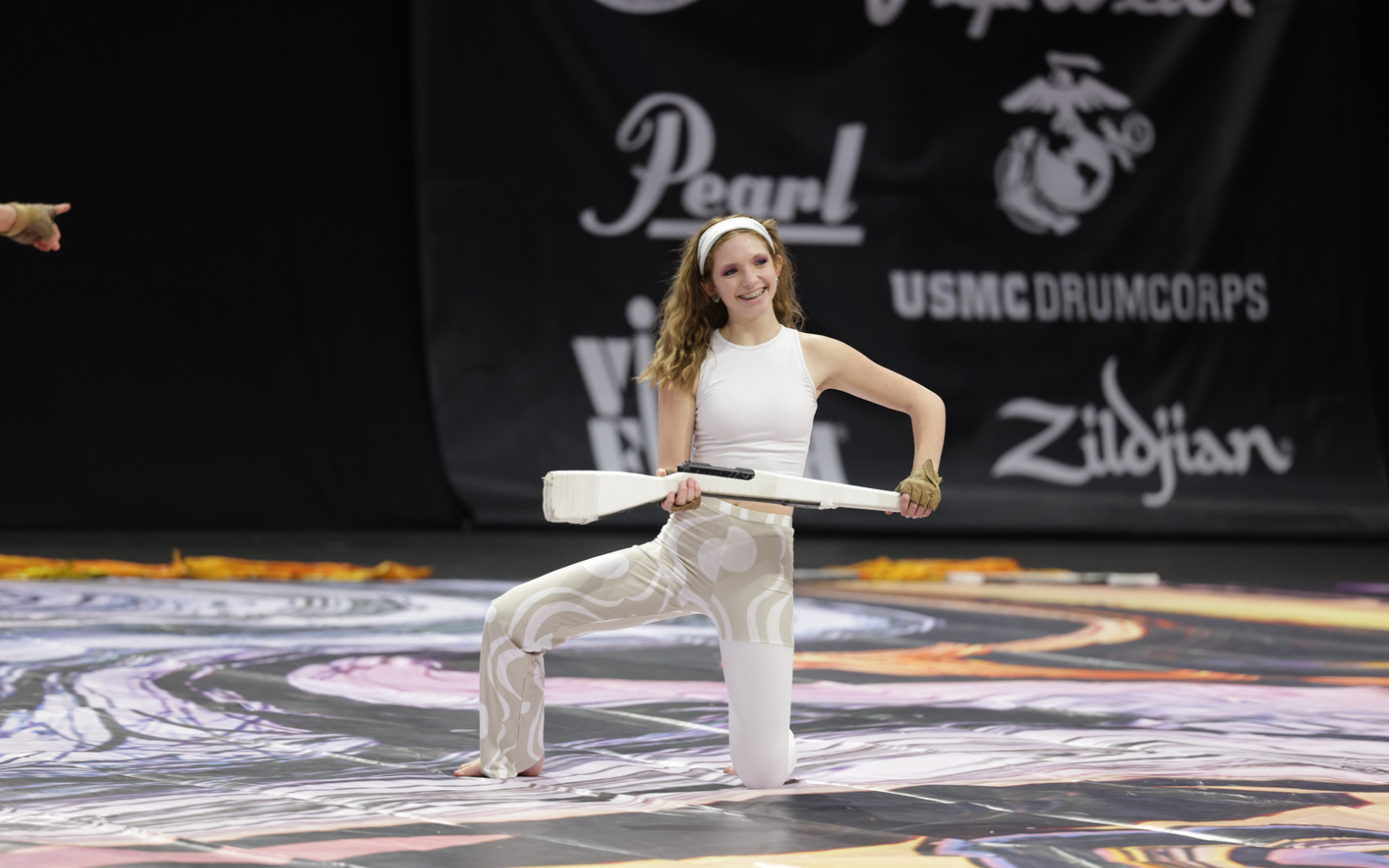 Building skill
Cyndi's first year with The Woodlands, the A team was bumped to Open Class at the second regional. Then, in her second year, the Open Class team was bumped to World Class. Cyndi reflects, "moving to the next level can be incredibly daunting. I think the biggest thing is you just have to be patient while training your kids to be at that level. There is no instant gratification. You have to meet your kids where they are at and then continue to build their skills. It takes time."
Cyndi also explains that it's not always an uphill journey. She says, "the biggest thing I've learned is that you must let your students fail. I always tell my kids that you have to be bad before you can be good. You have to be okay with being bad. You have to be okay with failing. You have to be okay with dropping that toss flat on the ground. If you're too afraid to try anything because you want it to be perfect, then you're not going to get anywhere."
For example, in their 2022 show, the team did an incredibly challenging rolling toss. Cyndi says, "I got asked a lot how I got my kids to do that toss. The answer is that we started four years ago. Back then, four kids were able to do it. Then new students join the team and think, 'oh, I'm supposed to be able to do that,' so they learn it. Things just grow from there."
But it's not just students who have to be okay with an uphill battle. Instructors can't be afraid of trying the hard stuff and pushing the envelope. "You have to let it be bad first, and that's okay," Cyndi says. "It takes a lot of time to learn those harder skills, especially when training kids to be a little more fearless."
Covid interruption
Cyndi explains that The Woodlands faced the same challenge as every other team when COVID-19 hit. She says that the biggest obstacle for her group was keeping the students invested when there were fewer performances and competitions. Additionally, like all groups, they had to figure out how to navigate rehearsals in unique locations. The team also had fewer members than in past years. Still, Cyndi again remarks on her gratitude that the junior high school program was established in 2019 before the pandemic struck, as it helped offset this reduction in numbers.
Cyndi says her priority throughout the pandemic was ensuring her students knew they were still a team and weren't alone. "I wanted my students to remember they were a member of a team working together to create something incredible. It may look a bit different right now, but they can still make something great if they maintain that sense of community."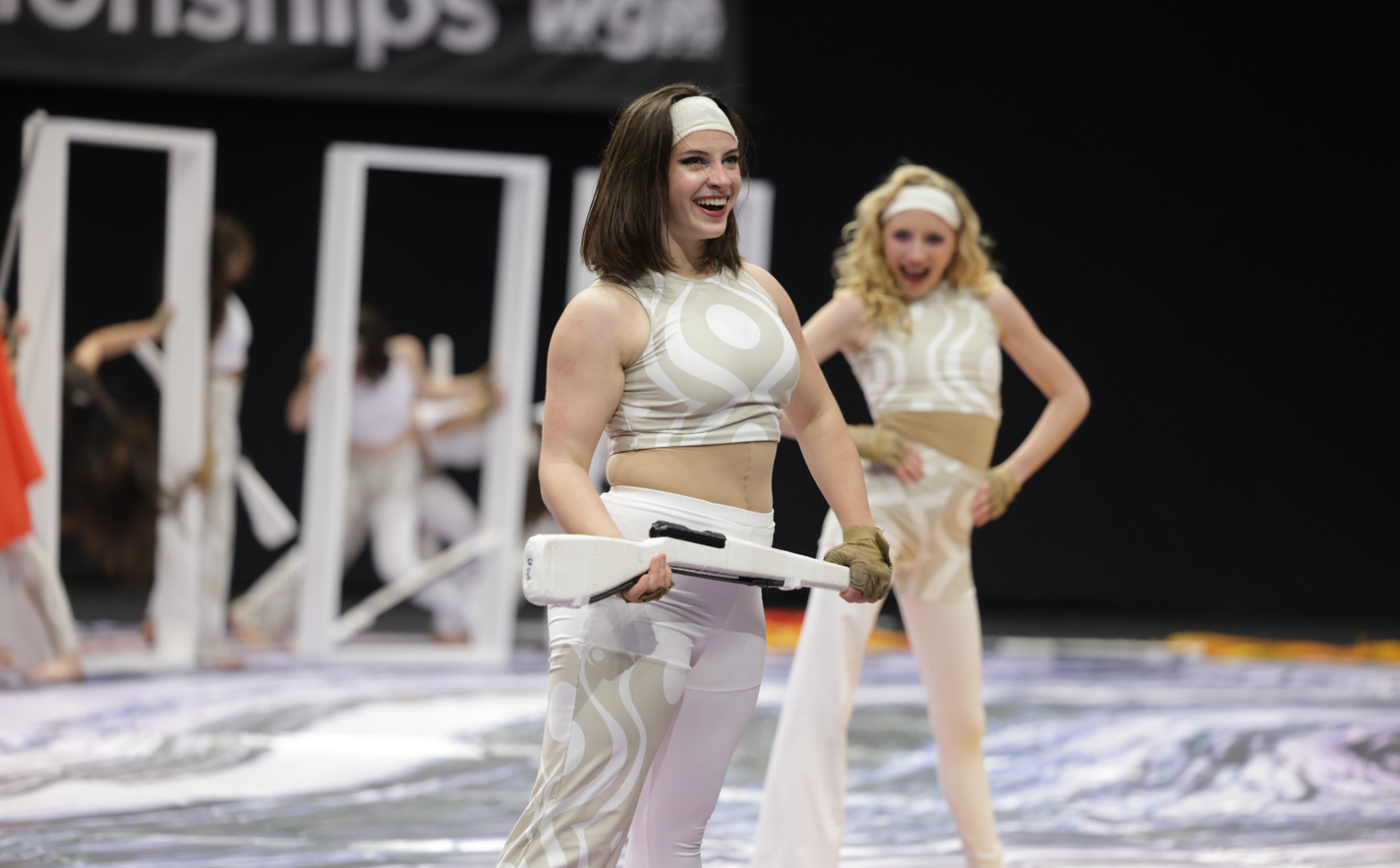 She also explains that, in some ways, the extra time COVID-19 gave students at home provided them with more opportunities to learn new skills. She says, "the kids go on Instagram and see a new trick, decide they want to learn it, and go outside and try it. They work until they get it." Cyndi explains, "I think that determination is a byproduct of building a culture with a strong work ethic and starting them young."
In typical times, the team rehearses two days a week after school. Texas' rule for extracurriculars limits them: rehearsals can't be longer than eight hours per week. But Cyndi says that in some ways, the limitation is a blessing. The staff must ensure their time is spent efficiently and their rehearsals are well planned. There isn't a minute to waste, and rehearsals are run like clockwork. Cyndi says, "That's all these kids have ever known, and they rise to the occasion."
She also explains that she doesn't hate the rehearsal limits because it allows students to do other things besides color guard. "It doesn't dominate every hour of every day for them, which I think is important."
2022 production
The Woodlands 2022 production started with an idea in the car. Cyndi heard The Doors come on the radio. She had always heard her dad listen to the group growing up. She says, "listening to the song just planted a seed in my brain, and I started looking into different concepts we could do with the music and brainstorming what we could do visually."
As this was the first WGI in a few years, Cyndi wanted to do a show the kids would have fun performing. She thought about her students' personalities and what they would enjoy performing and successfully doing. She says, "You always have a few different ideas that you're working with at first, but I think that's why I decided to go with The Doors theme, because the kids are fun and outgoing, and I thought they would enjoy that kind of show."
Cyndi admits, "I almost gave up on it because there is so much music, and I was having trouble putting it all together and creating that first moment of the show. It was getting to crunch time, and I started looking at backup music. But that day, I went to a spin class where the instructor played The Doors. It's cheesy, but I took that as a sign to keep pushing forward with the idea. I'm delighted I did."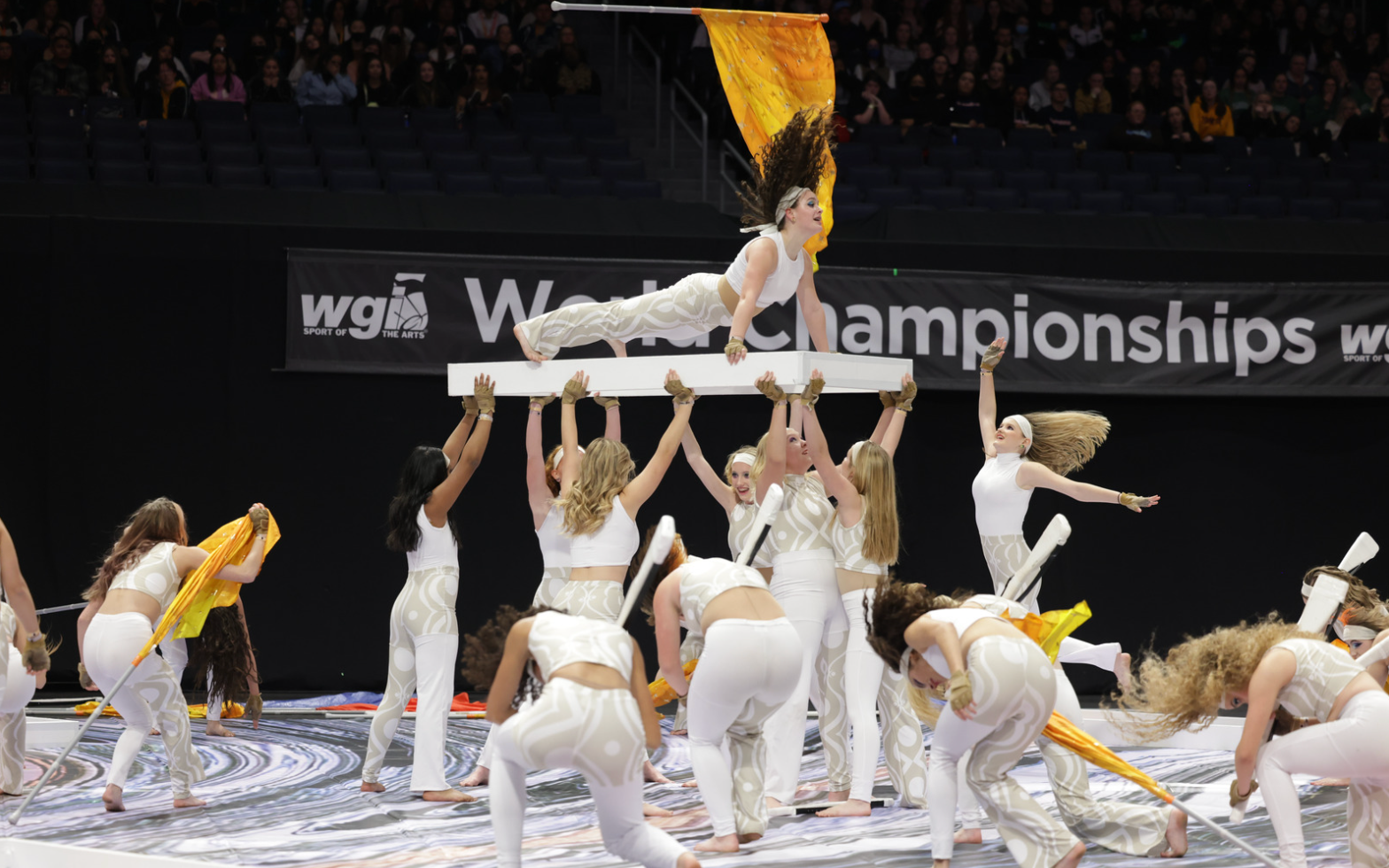 The title of the show came from a documentary about the music group. Cyndi wanted to find a way to incorporate doors in the show without being too literal. The parents created a prototype of the prop to see if it would be too heavy or too large to integrate into the production. They ended up with 14 props which were used seamlessly throughout the show. Cyndi says, "the props allowed us to do some things that were different and a little unexpected while still being user friendly and audience friendly."
Of course, props are never without challenges. Cyndi explains the time that went into making sure the props could be moved easily across the floor. She says, "having a 14-year-old freshman carry a big block of wood across the floor and make it look effortless is quite a challenge. Props must be functional, and it took a lot of experimenting to get them right. We asked the kids to pick up the props and move from point A to point B without walking to see what they would come up with. This allowed students an opportunity to use their creativity and be involved in the show a bit more."
Another challenge of 2022 was that it was the first time at WGI world championships for the entire team except for one senior who had attended in 2019 as a freshman. Cyndi knows this is not a unique experience for her group, and navigating the first season back in person presented some nervousness amidst the excitement.
Cyndi says, "I try to make sure that I provide the same experience for my students whether we're in a tiny high school gym or a big arena. Students have to be prepared the same way before every show, no matter the venue."
Students must approach world championships just like they've approached every other show. "If you emphasize the event too much, they start bringing different emotions into the performance that weren't there before." Cyndi always says to her students, "you know your 60 by 90 floor. That is the only thing you can control. Whatever is outside of that space is irrelevant. It doesn't matter who the audience is or how many people are watching, your 60 by 90 space is the same, and it's the only thing that matters."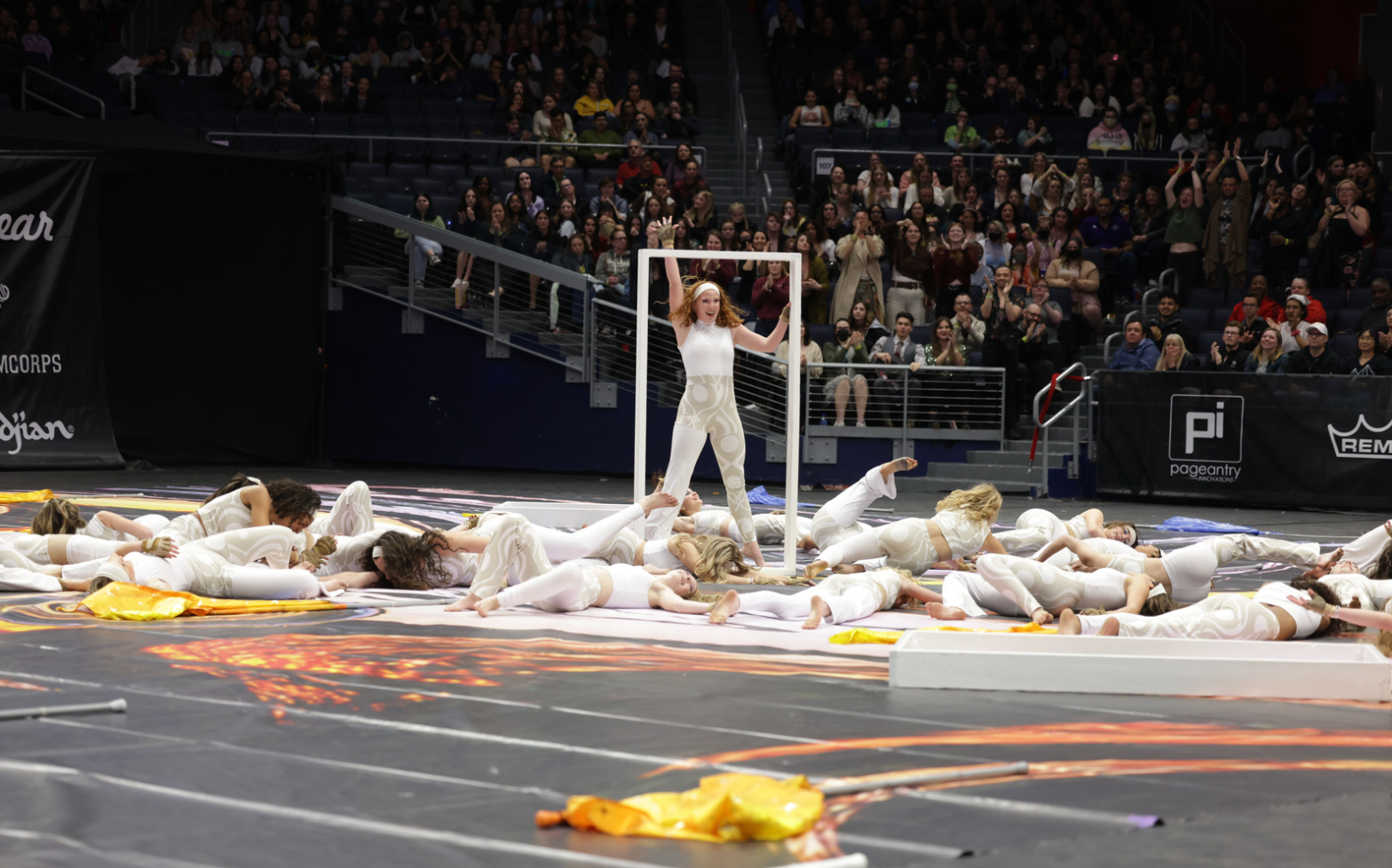 The future
When looking toward the future, Cyndi says, "I'm just excited to keep it going. We hope that each year we improve from the last. This year's goal was to do something the kids would enjoy and feel good about, especially coming out of a pandemic."
2019, the last time world championships were held in person, was the first year the World Class team made finals. Cyndi says, "competitively this year, we were really hoping to be safely in finals." That dream came true, and Cyndi says the team had so much fun. She says, "it was a blast. I love the show. The kids loved the show. And our competitive success was a byproduct of that passion."
The Woodlands had ten freshman and ten seniors in the world guard this past season out of 29 total members, and Cyndi is excited to see how the excitement of the younger members will fuel their 2023 season. "My students are not afraid of anything, and that's great. Their excitement is palpable. It makes me excited to keep building on that passion. It's fun to teach when your students are excited. And excitement is contagious. I'm so excited to see what we can do next."
About the Author: Trudy Horsting is a graduate student at Arizona State University pursuing her Ph.D. in Political Science. She holds a MA in Political Science from ASU as well as a BA in Political Science and a BA in Writing, Rhetoric, and Technical Communication from James Madison University. While at JMU, she was a four year member and two year captain of the Marching Royal Dukes Color guard and JMU Nuance Winter guard. She was a member of First Flight World Winter guard in 2019 and FeniX Independent World Winter guard in 2020.