By Michael Boo
Southeast Visual Ensemble is a relatively small Independent Class A color guard from a rural area just south of Jacksonville, Alabama, an area sporting few scholastic color guard programs. Some members typically drive over 100 miles one-way to get to weekend rehearsals.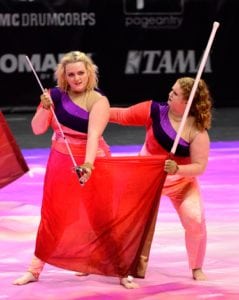 Through grit and determination, the guard has been able to raise the funds necessary to participate in WGI Regionals and the WGI World Championships three out of the past four years, which has gotten the ensemble notice from students at Jacksonville State University. For the 2018 season, nine of the guard's thirteen members had ties to the university. Consequently, undue hardship befell the guard when the university campus and much of the city of Jacksonville was devastated by a tornado the night of March 19, less than a month prior to the WGI World Championships.
Director Bryan Hobson lives about an hour from Jacksonville, but was following the television news warnings and immediately took to his phone to contact members he knew would be in town during the tornado. Fortunately, due to spring break, most members were out of town. Guard member Chris Mitchell was still taking refuge inside a walk-in refrigerator at the restaurant where he works when he answered the call from Hobson.
After learning that all of the guard's members were safe, it became known that two of the members suffered major losses from direct tornado damage. All nine of the guard's Jacksonville State University members were affected in some capacity, many when their jobs took a hit due to the dusk-to-dawn curfew placed on the city for weeks after the storm.
Guard member Zev Baughn wasn't in town during the tornado, as he was staying with two fellow guard members due to his dorm being closed for spring break. He learned that the roof of his dorm had been ripped off, and that news was especially hard to hear as his hometown of Ringgold, Georgia was devastated by a major tornado in 2011 that killed eight people. When he was finally able to get back to the dorm two weeks after it was hit, he saw that his bookshelf was surrounded by standing water, and he was able to salvage only 18 of his approximately 80 books. According to the Dallas mold removal company that helped with the clean-up, pictures of his family and friends were destroyed, as were much of his wet, mildewed clothing. His dorm room was covered with mold.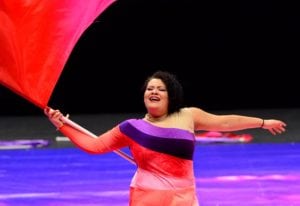 Baughn remarked, "My family at Southeast Visual Ensemble were the only people with whom I could feel like everything was okay, the only ones I felt could understand. Emotions were high at the first practice after the tornado, and every practice felt like a chore because we were all stressed out. Bryan Hobson sat us down and talked to us about everything. There were so many tears and so much love that we all became closer. There is no way that I am going to forget these events, but I thank this group for every bit of my sanity during this time. SVE is an especially close family that I cannot wait to be a part of forever."
Major roof damage also affected the home of member Autumn Moss, and she had to stay elsewhere until power was restored and a tree threatening to fall into her bedroom was removed. She was at work in Jacksonville when the tornado hit, and like fellow member Chris Mitchell, took refuge inside a walk-in refrigerator. She remembers the first people to check on her were Hobson and the members of the guard, leading her to comment, "SVE isn't just a guard; it's a special family. Knowing during the scariest moment of my life that my SVE family cared and loved me helped so much, making it much easier to recover."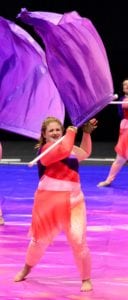 Southeast Visual Ensemble had planned a huge party and fundraiser to benefit the guard's trip to Dayton, but after the tornado, it had to be cancelled. That meant some tough choices had to be made regarding the remainder of the season. According to Hobson, "Being a small group and spending so much time together every weekend, we were already a close-knit group; the tornado just reinforced that for us. It was one of those 'make you or break you' events. Granted, it caused a lot of anxiety for the entire group, but in spite of all the uncertainty surrounding us, we decided to rally together over the next few weeks to fundraise whatever money we could towards the trip to the WGI World Championships."
Because the members of Southeast Visual Ensemble were willing to do whatever it took to pull off the trip to Dayton, they eagerly made several concessions to keep alive their collective dream: They carpooled their way to Dayton, found an extended stay hotel that was cheaper than their first choice, crammed members into fewer rooms than originally planned, and cooked most of their meals during their stay. Hobson stated, "It was tough, but the kids made it through and were rewarded in the end with a trip to IA Semifinals."
For years, fans have known Southeast Visual Ensemble as, "The little guard that could." This year, SVE became, "The little guard that did."