By Jenny Lyons
Is it the unique strength that male performers bring to the arena? Is it the uniformity of like bodies moving over the floor? Is it the rock star fan base? What is it that makes an all-male ensemble so compelling to watch?
"It's electric and exhilarating," says Northern Lights alumnus Pepe Ochoa of performing with an all-male ensemble. "There is overwhelming power."
This electricity is something onto which winter guard audiences have latched from the beginning. Through the years, some of the most beloved shows in WGI history have come from all-male ensembles. In an activity dominated by all-female and coed ensembles, there is an undeniable and unique magic that a strong male group exudes, one that audiences look forward to generation after generation. Since its inception, Winter Guard International has seen memorable performances from all-male casts of groups such as The Cavaliers, Pride of Cincinnati, Northern Lights, and South Shore. These groups carry with them a legacy of excellence, strength, and brotherhood.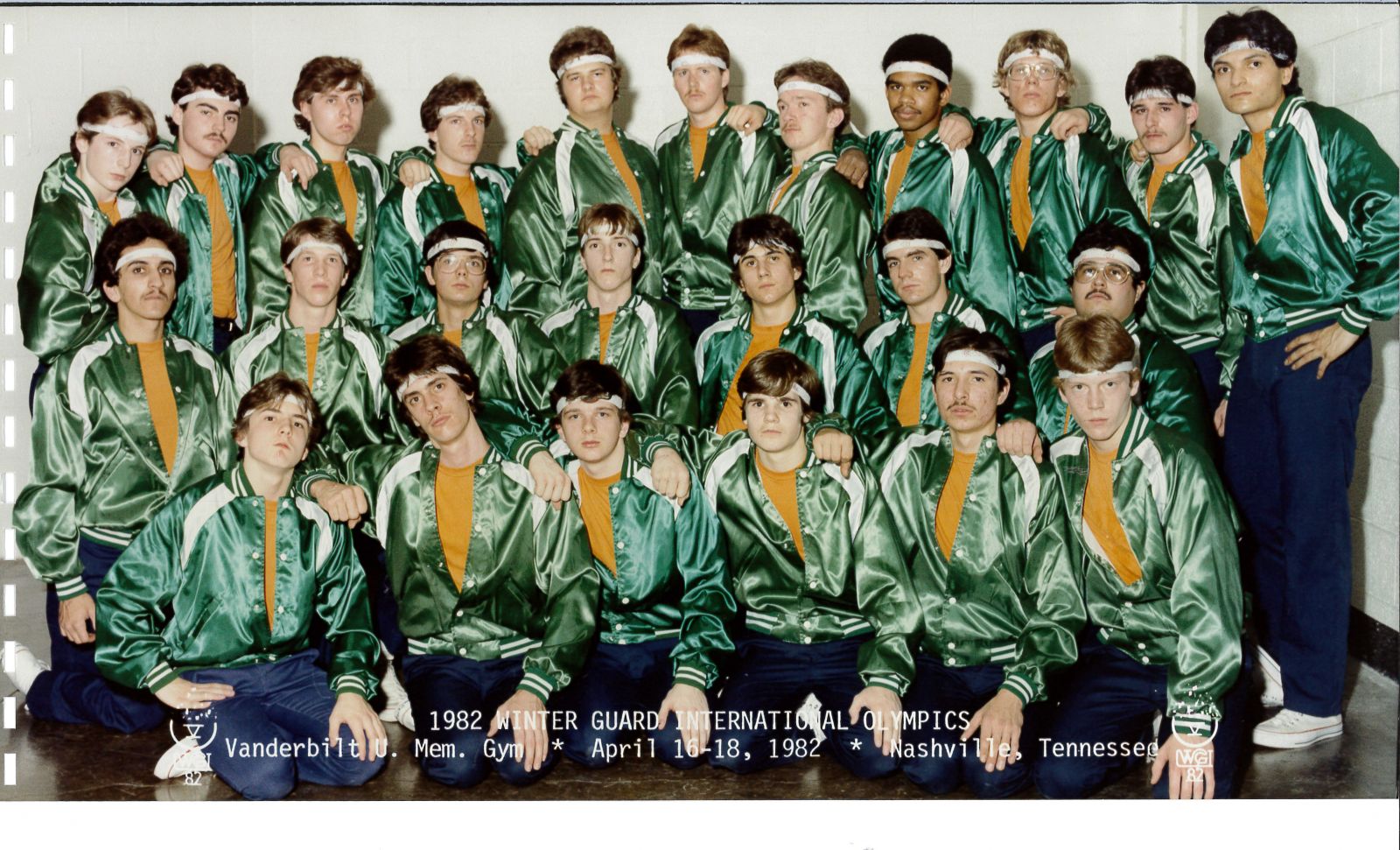 WGI's history of all-male excellence begins with The Cavaliers. Known for their success in both WGI and DCI, The Cavaliers winter guard was a mainstay in the Midwest color guard circuit long before either organization had been created. The Cavaliers became a charter member of WGI and sustained finalist status in the years that followed. Hailing from The Cavaliers Drum and Bugle Corps, The Cavaliers Winter Guard was strongly rooted in an all-male tradition, making it one of the only, if not the only, winter guard to have been all-male from day one and to have sustained an all-male membership throughout its existence. The Winter Guard existed out of love and commitment for the activity, brought about by summer members convincing the staff to field a competitive winter guard.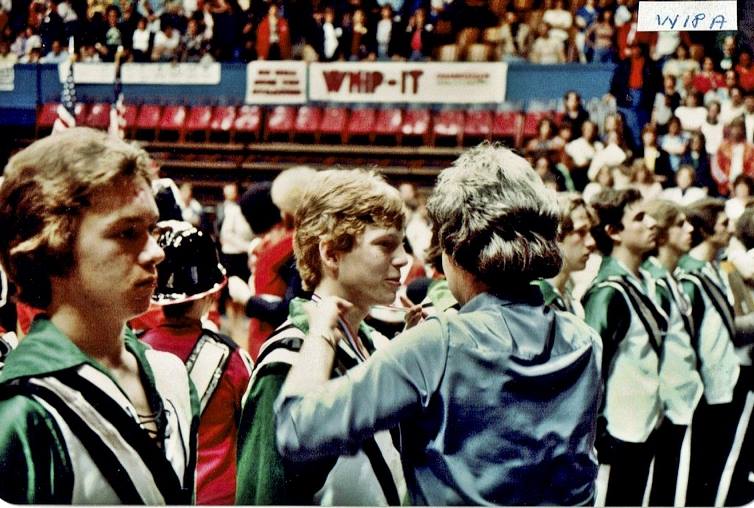 The Cavaliers made waves from 1978 to 1980 before securing their first win in 1981 with "We Will Rock You!" an exhilarating take on the Queen classic. The Cavies followed up in 1982 and 1983 with two more consecutive wins, performing the beloved programs "Jets" and "Bond," respectively. "Jets" portrayed the Jets of "West Side Story," while "Bond" captured the magic of the famous "James Bond" stories. The Cavaliers returned in 1985 with "Lover Boy," another crowd favorite, and again in 1988 with "Mars". Still early in WGI history, these shows captured the verve and strength of the all-male ensemble that audiences would look forward to for years to come. The style was in transition from the "eyes right," "flag presentation," and voice commands of the old school past to color guard as we know it today, and it already had the trappings of an exciting spectacle, punctuated with riveting exchanges, powerful lifts, and beautiful musicality, all while maintaining a consistent symmetry, marching style, and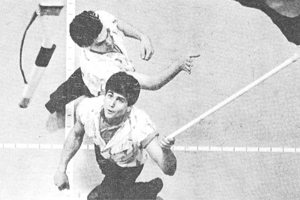 carriage we no longer see in modern color guard. Alumnus Jeff Wroblewski, a member of the organization from 1973 to 1985, remembers the intense talent and drive of the group to push their boundaries. "We would throw caution to the wind and experiment with death defying tricks, tosses, and full-court exchanges," Jeff recalls, "The girls in the audience would go crazy." Alumnus Daniel Wiles was a member of the Cavaliers organization from 1980 through 1989, growing up in the Cavalier Cadets before moving on to the A Corps and Winter Guard. Daniel went on to work with groups such as Avon High School, Bluecoats, Carolina Crown, and most recently, has returned to The Cavaliers as Artistic Director. Daniel recalls watching those who marched in the winter guard before him during the "Bond" years and regarding them as legends. Watching them "made me, drove me, made me want to be great," Daniel says. When it was his turn to be a part of the legendary group, he recalls, "We walked to our own beat. We thought we could rule the world."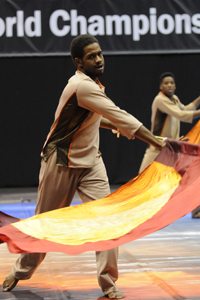 More recently, WGI has seen all boys in groups such as South Shore. South Shore was created in 1980 with just four members. It was all male until the late 80's. The organization has since been joined by the Ladies of South Shore as well as SS2, a co ed or male A guard. South Shore alternates between having a coed and all male cast, but many of their shining years have been all- male. South Shore is known for their strong storylines and powerful ensemble. Alumnus Johnny Morris, a member since 2003, describes the differences between performing in a coed and all-male setting, "I have performed with our all-female flag line before and they are equally talented, but there's nothing like being in an all male guard."
It was not until 1997 that WGI would see another all-male powerhouse ensemble out to "rule the world." In an unexpected cast from Pride of Cincinnati. Pride of Cincinnati, whose illustrious history includes WGI wins in 2001, 2005, 2007 and 2013,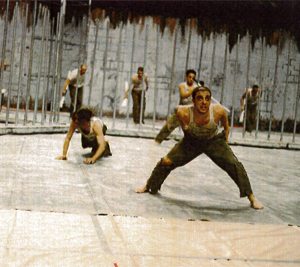 presented its first and only all-male cast in 1997. After spending his first summer with The Cavaliers, Pride of Cincinnati alumnus Andrew Toth remembers the prospect of marching an all-male ensemble with POC "sounding like the opportunity of a lifetime," and indeed it was. Andy Toth went on to become a long-time designer for Pride of Cincinnati, a role he still revels in today. "Alcatraz" left a lasting impression on the WGI arena, remaining a fan favorite and earning a bronze medal that year. The show is a powerful look into the depths of San Francisco's most storied prison, complete with rolling sets of bars and distinct inmate garb. "Alcatraz" is the first all-male turn in modern color guard history, and asked of its performers a tremendous amount of character development and investment. The show is jarring, powerful, beautiful, and the energy from the performers simply leaps off the floor. It is a story that could only be told as it was by the young men who brought audiences along for the journey that winter. On what makes being a part of an all-male cast so special, Toth says, "Within any group a healthy competition exists between individuals that inspires you to be better at your craft. But, there is a very specific energy that manifests from a group of men competing as a team that is indescribable."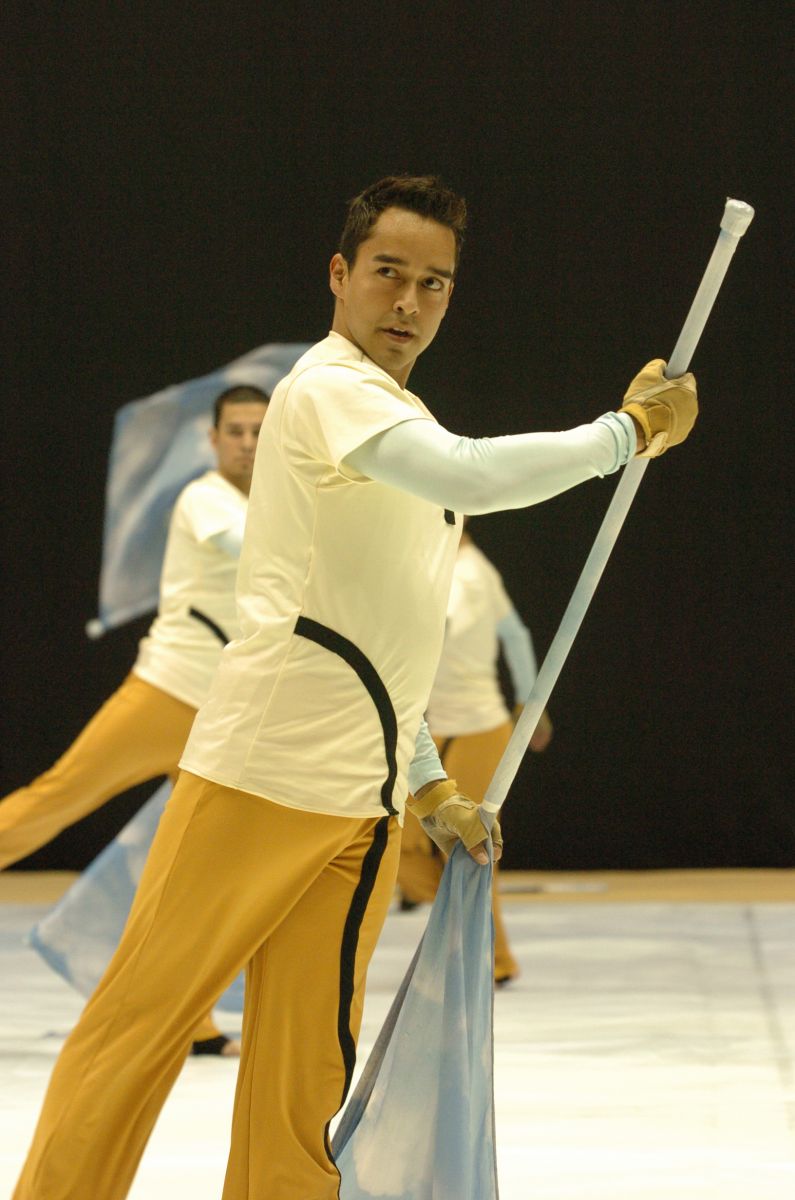 Famously, Northern Lights dominated the all-male scene in the early 2000's, capturing audiences' hearts from 2004 through 2006. Northern Lights was born from the Every Body Winterguard (est 1993) in 2001, a year after Joe Sowders and Tracy Wooton took over the organization and the guard made the leap from 14th to 5th place. It was not until 2004 that the landmark decision was made to move forward with an all-male ensemble. It was a turning point for the organization, which turned out year after year of beloved shows in the seasons that followed. Of this special time, alumnus Pepe Ochoa says, "The fraternal aspect was enhanced by multiple members living together. So many guys had traveled from around the country to be a part of something special." Before folding in 2006, Northern Lights graced the WGI arena with "Road to Perdition" ('04), "Shawshank Redemption" ('05), and "Meditation: In Memory of John Lennon" ('06). Both "Road to Perdition" and "Shawshank Redemption," during which the guard earned a silver medal and reined among the top five, respectively, harken back to the story of the criminal explored in POC's "Alcatraz." These shows explore these narratives with strength, heart, and beautiful nuance, delving not only into male strength and prowess but into brotherhoodas well. 2006 is a beautiful departure from the stunningly dark "Shawshank" and "Redemption" with a celebration of John Lennon. "Meditation" is a revelation, a brilliant example of that magic energy that is unique to the all-male cast. In "Meditation" we see the show culminate in a beautiful rifle feature–sensitive and strong–that is brought to life by the wonderful cast that earned Northern Lights a second WGI silver medal.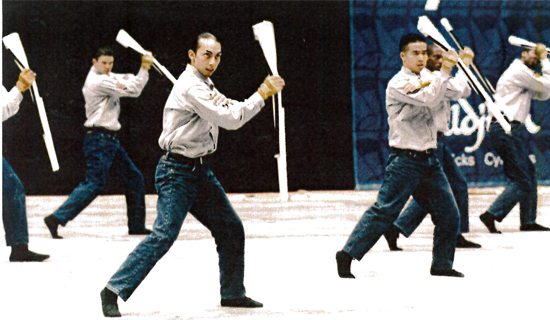 2016 will see the first all-male ensemble in recent history in the form of Diamante's newest cast. Diamante was founded in 2005 on the heels of the Black Knights ensemble. In the years that followed, the guard ascended from open class finalists, to open class medalists, to world class competitors by 2009. Most recently, Diamante placed 9th in WGI World Class Finals during their 10th Anniversary year. Historically coed, this will be Diamante's first run as an all-male ensemble. Nine year veteran and captain of the organization, Andrew Padilla says, "Personally I think there's definitely an expectation of excellence when it comes to an all male cast due to the caliber of the groups that have gone all male before. You can definitely feel the pressure, almost the need to uphold the legacy these other amazing groups have left. "
Through the years, there is one constant among these ensembles that explains the electricity, the exhilaration, the magic that these men have felt performing together: brotherhood. Unprompted, every alumnus describes their peers on the floor as their "brothers." Of his time with The Cavaliers, Daniel Wiles says, "These are the friendships, these are the things that have shaped me." This bond creates an energy that Andy Toth describes as " the energy that makes you feel immortal and ready to take on any challenge that presents itself." It is this energy that audiences can feel so palpably in an all-male performance, one that makes them remember it for years to come. This bond is one that the members continue feel so strongly throughout their lives. Pepe Ochoa of Northern Lights remembers a recent encounter with his brother: "It was as if we had just walked off the performance floor, getting caught up and remembering some of the most best times of our lives." As a member of the newest band of brothers to grace the WGI stage, Andrew Padilla of Diamante adds, "It creates this brotherhood within the team that I've never really felt in previous seasons." If the all boy programs of the past are any indication of the future, WGI looks forward to bearing witness to the newest chapter in the all-male history of the organization as well as to the many all-male moments that have yet to come.
---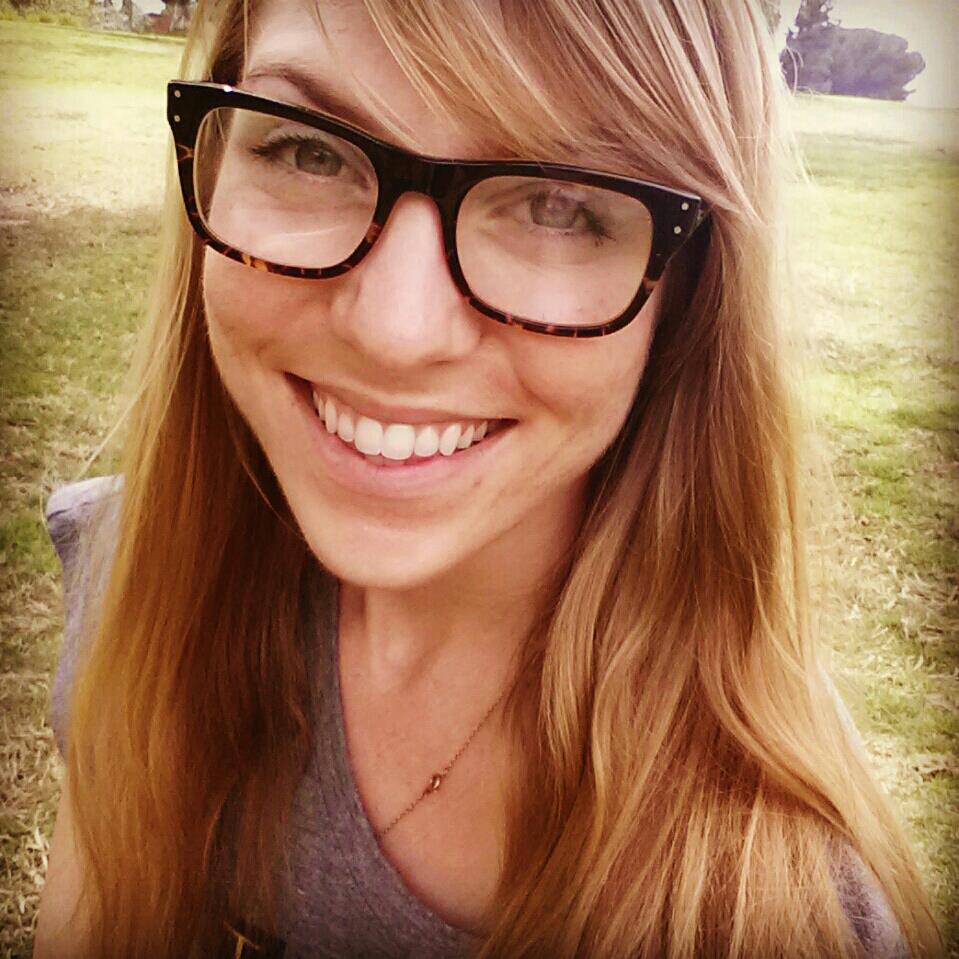 About the Author: Jenny Lyons is a freelance writer and graduate of the Literary Journalism program at the University of California, Irvine. She is particularly enamored with nonfiction writing, archival research and reporting, as well as editing. She is a recent alumna of WGI, having performed with the Santa Clara Vanguard Winter Guard from 2013 to 2015. Jenny has also marched with several drum corps including Pacific Crest, The Academy, and the Santa Clara Vanguard. When she is not writing, Jenny can be found continuing her passion for color guard through teaching.