The Foundations of Tampa Independent
Tampa Independent (TI) had their first competitive season in 2015 after a group of four close friends who had marched together at USF (Armando Loney, Christy Hobby, Mitchell Weber, and Nicholas DeBadts) decided to start an independent group. Armando explains how the director of USF at the time, Mary Dooley, encouraged the friends to move forward and helped spearhead the launch with her guidance and mentorship. He says, "There were a lot of performers in the Tampa area who didn't have a home and we were just trying to give more students opportunities to perform."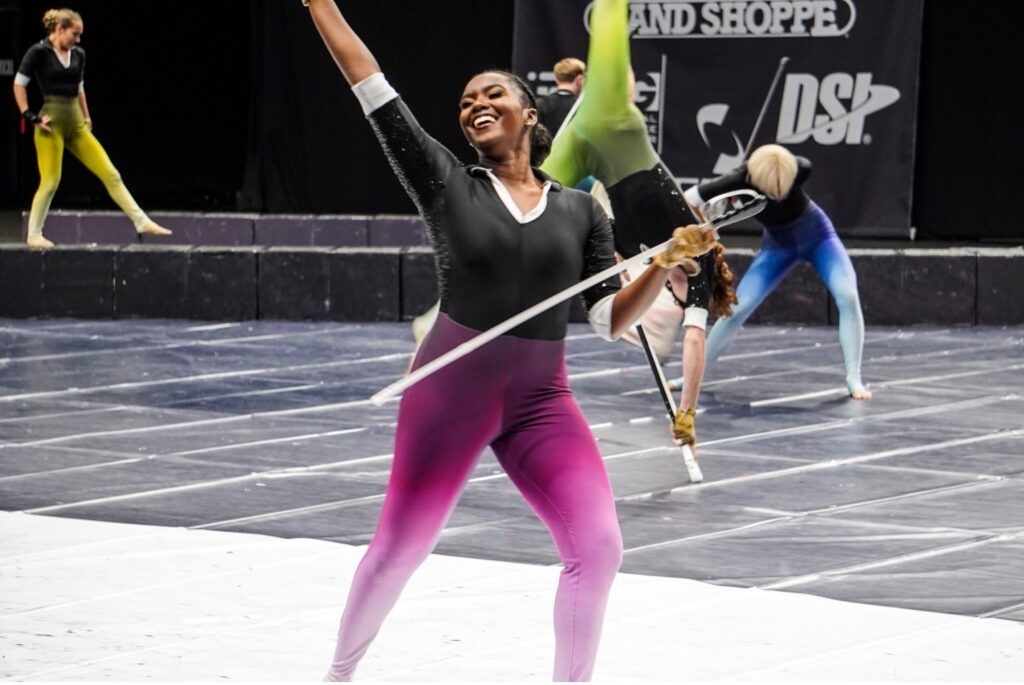 The group started in A class, making semifinals their first year at WGI World Championships. Armando says, "Our goal was to take a bunch of new performers who had never been to Dayton, to championships so that they could experience it, and so that we could experience it for the first time as instructors." So much was learned that first year, Armando explains. "We learned how to book facilities, manage dues, and hire designers. The entire process was new for us and for the performers."
Since that first season, Tampa Independent has grown and excelled. In 2022, the team won Bronze in Independent Open and in 2023, their first year in World Class, TI earned its spot in finals. In this piece, they share more of the organization's story and journey to success.
A consistent Approach to Design
Despite moving classes over the years, Armando explains that TI has never changed their design approach. The organization hires a separate design team each year but has a consistent instructional staff who are the backbones of the organization. The instructional staff include the four founders of the organization along with Brittanie Ditman.
Armando says, "We feel that it's best to hire a designer who can have all of the artistic liberties. That way there's no attachment for us. If we were the designers, we might get too attached to things and not make the right decisions for our teams." Armando explains that having a separate design team helps make the other staff better at their jobs. "It removes any cloudiness from what is expected of us in our roles."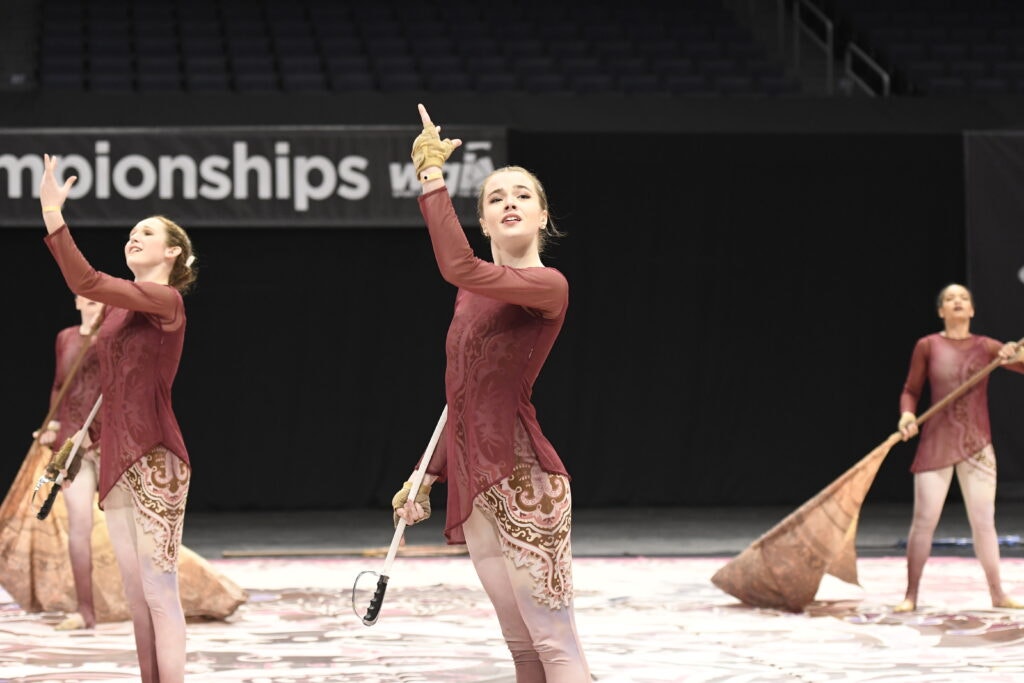 TI has two design teams, one for their A team and one for their World team. "That way, each design team can give their full attention to each of the groups," Armando says. "Moving into World class, we knew that is what we needed. We needed two teams who were willing to invest their time and energy and, most importantly, their love for our kids." Specifically, moving into World class, TI was looking for a team to help them navigate the new class. "We needed someone who had been in that space and wasn't afraid to help guide us through it," says Armando.
In 2023, the A guard's show was designed by Brian Winn and Emma Boyce and the World guard's show was designed by John Lemire and Eric Babula.
Armando explains that the design team is always afforded full design control. "Whoever is designing the show has to be the one in love with the show." Of course, as Director, Armando does ensure it's a good fit for his performers. "If I feel like it's not a great fit for the program or for the performers we have than I suggest a way to amend the idea to fit the group."
The World team's show in 2023 was the first pitch made to them for the year. Armando says, "We listened to the music and the design team explained the story they created to go alongside it. The symbolism of personal growth and development into a final portrait was beautiful and so fitting for our group as we entered World class. It felt like a fresh new take on the organization's identity." Armando says, "Our design team was so invested and so passionate. I knew that this show was it for 2023. Of course, we were passionate too but to watch someone else be so invested about their art form makes you more invested in the process as well. We put our trust in our design team, and we knew it was a great decision from the start." He continues, "We have had the opportunity to work with designers who really value the performers as much as we do and have created a really strong bond with our students."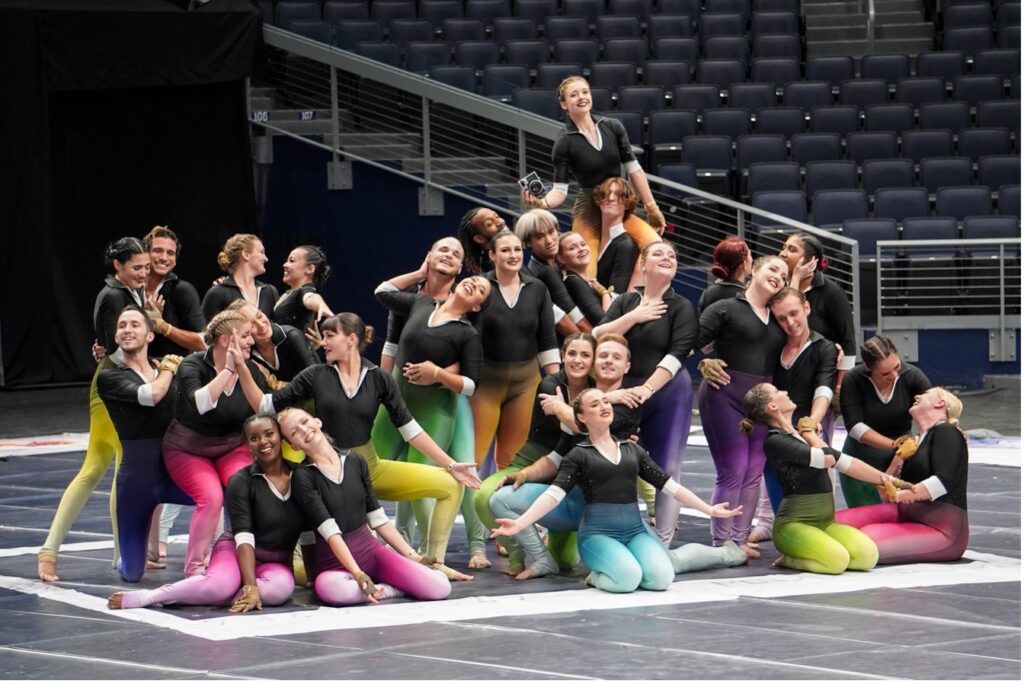 Armando says, "We haven't added any additional instructional staff with the transition to World class. However, we did add a separate design team for the World class team. From a scheduling standpoint, it made sense because all of our design staff don't live in Florida. It was more effective for us to have a design team that could be on the World guard's schedule and another design team that could focus on the A guard's needs."
To maximize efficiency for the instructional staff was more difficult with only 5 staff members. Armando says, "We have been very creative with how we structure things." Despite having a small staff, Armando explains how tight knit the instructors are. "Since we started the program, we are so fortunate that we are very close friends, and we hold the organization so close to our heart." He says, "We do hope to have some growth in our staffing in the future. We want other staff in our gyms who are going to love our performers as much as we do and give them what they need. For us, it is not just about building successful performers on the floor, but successful people off the floor. We want our students to be successful in all capacities."
Student leadership has also been critical to the team's successes. Armando says, "I would argue we have the best student leadership teams. We have a separate team for each of the groups (3 students for World class and 2 students for the A guard). However, both teams are very connected. Our student leadership does a great job at fostering that connection."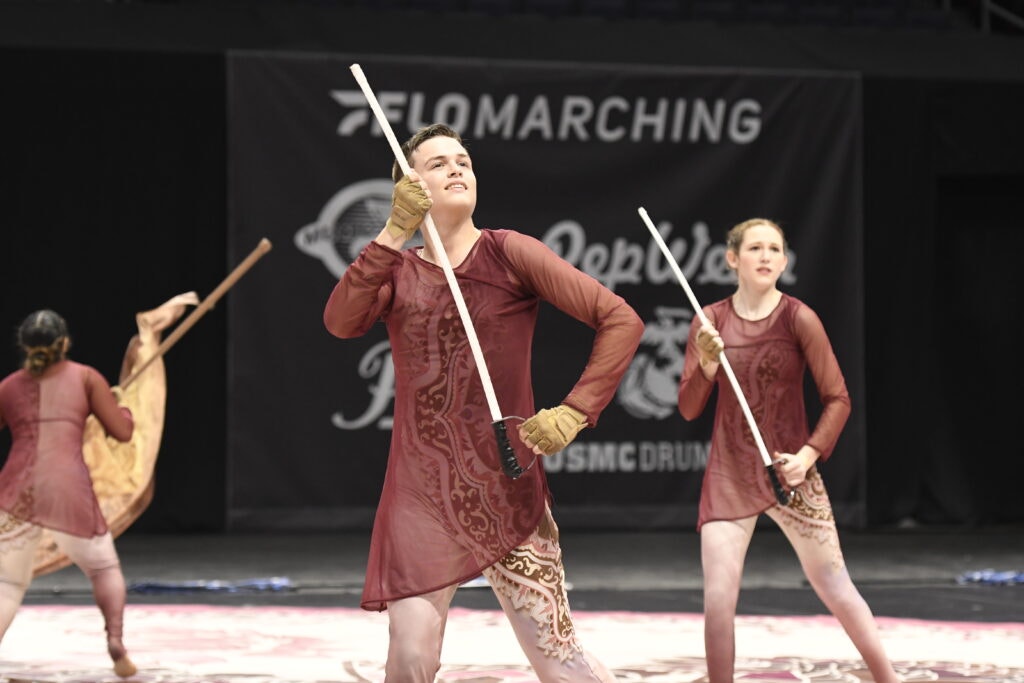 Armando says, "One of our World guard captains has been here for seven seasons, since our third year as a program. She has been there from A class finals, to medaling in Open class, and competing in World class for the first time. She has the same essence of pride and love in the organization that the foundational staff does. Having that passion within your leadership team really helps to bring a group together."
In regard to auditions, Armando says, "The audition process has always been the same. We strive to give as many performers an opportunity perform as we can. If you walk through the door and have a great work ethic, you'll find yourself a part of the organization in some capacity."
That said, of course World class brought another caliber, and the staff did look for a higher level of skill for the World class team. Armando explains how grateful he is to have two teams where students can find a home.
"The world guard in 2023 was the largest team that we've ever fielded at Tampa with 29 members. We had about 60-70% returning membership. We also had some really strong performers come in for their first year," Armando says.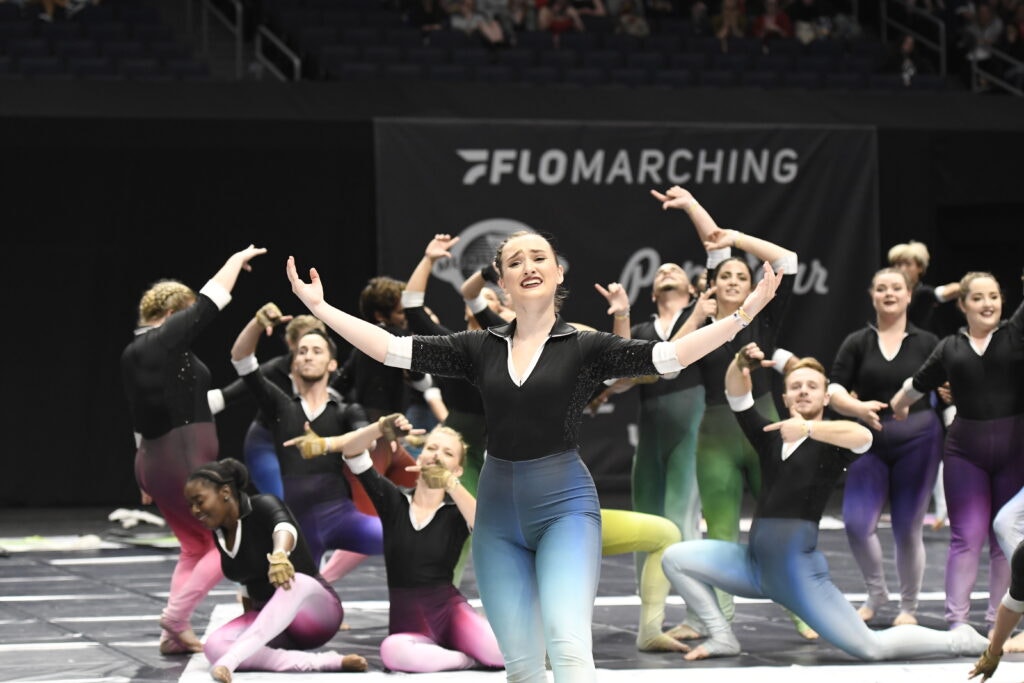 Armando says that the membership made such a difference in 2023. "Truthfully, the season felt easy because the students wanted to be there. They were always eager, prepared, and excited for the weekends to start. They were excited to work on the show and they were also excited just to see their friends. We have performers from all over the state and so some student would only see their friends on the weekends. My favorite thing about 2023 was the calmness of the season. Both of our teams got along so well and were so connected inside and outside of the rehearsal. Students took it upon themselves to foster their relationship outside of the gym and that was clear and apparent on the floor. It was the closest connection we've seen between both of our teams."
Having such an incredible group of students made the transition into World class easier. "In 2023 we had to trust the process," Armando says. "There was a lot we didn't know moving into World class and we knew it would be a lot of trial and error. Having a membership with a strong mentality and extensive passion made all the difference."
When TI only had one team, they rehearsed Fridays, Saturdays and Sundays. When the second team was added, Armando explains, "we had to get creative because we don't have a large instructional staff." TI had to split their time strategically. When the second team was formed, TI took advantage of weekends when there were no shows. For instance, Armando says, "the A guard might rehearse Friday and Saturday and the World guard may rehearse Saturday and Sunday. That way we could utilize our staff and our resources a bit better."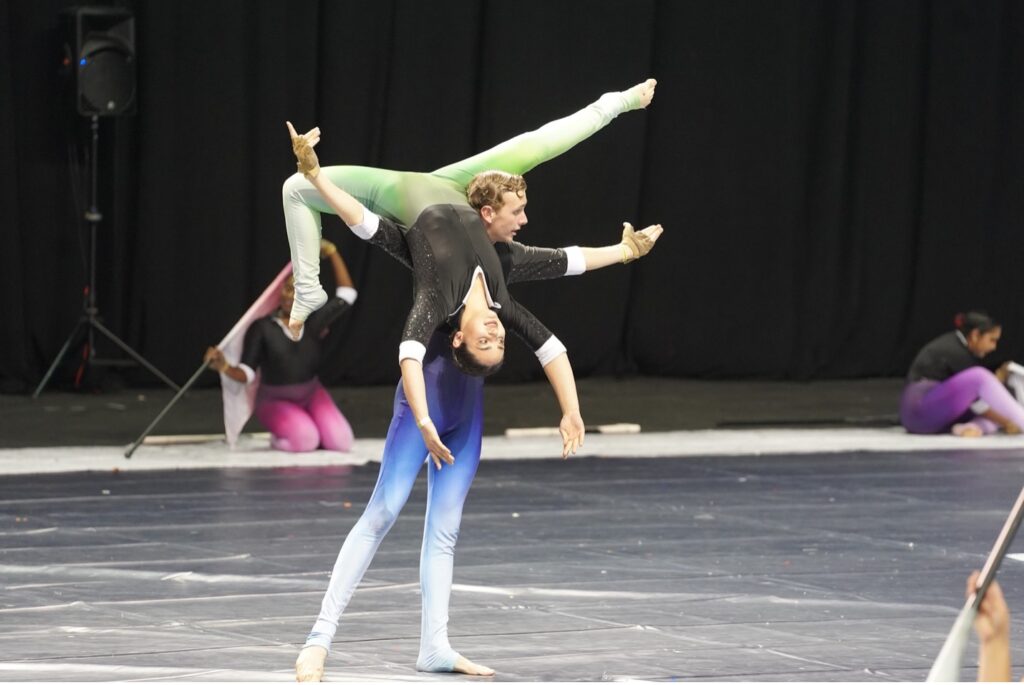 Armando also talks about how the staff is mindful of the mental fatigue that can arise during a long rehearsal day. Although many groups rehearse 12 hours a day, Armando noticed the fatigue setting in around hour 9 for both the performers and the staff. He recognized that their rehearsals were becoming ineffective. Armando says, "We now keep our rehearsals a little on the shorter side and we try to schedule breaks to maximize efficiency so that everyone's engaged."
Since going World, there haven't been many changes to the rehearsal schedule. The foundation has certainly stayed the same, but TI implemented a few extra rehearsals. "We wanted our World guard to make finals and we knew we had to put in a bit more effort to do that, but it wasn't a drastic shift," Armando says. "We had a few more weeks with three rehearsal days instead of two for each guard to help get us prepared for competition season."
Advice to Other Directors
Armando discusses that moving classes came with challenges. "The biggest challenge of moving classes was just the unknown. We had to learn how to navigate a new space. We had been in A class and Open class for a few years each and we got really comfortable with what was expected in the class. We had never thought about World class. It just wasn't on our radar. We were just in the now. So then moving into World class in 2023 was vast and unknowing."
For others going through a similar process, Armando says not to be afraid to ask others for guidance and advice. "I would tell others who recently moved classes not to be afraid to ask for help. Find people who will invest in you and find staff who really works for you."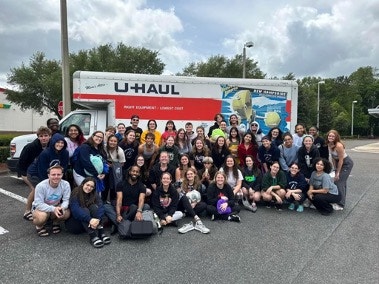 He also explains how critical it was to just embrace the new journey. Additionally, you have to not be afraid to take risks as you enter a new class. "You have to be willing to do something a little bit different in your new class to help you stand apart. You have to be willing to take risks. Remember that you know your performers better than anyone else and use that to your advantage."
However, Armando makes it clear that despite taking risks, it's critical to maintain your strong foundations. "Don't allow yourself to lose what got you into that class. You don't have to reinvent yourself. You just may have to think of color guard in a different way. Use the tools you've already acquired and maybe add a few additionally."
Looking forward to 2024 Armando says, "We're hoping to continue to grow in our success and to make World finals again. Our A guard was also recently promoted into Open class, so we have the same pressure as we did before to help those performers succeed in a new class as well." Armando explains, "We like to quantify our performer's goals, so students have something tangible to work for. Making finals is always a baseline goal but we always have other goals with more nuance each year." However, for Tampa Independent, the most important and most consistent goal is always to make a great experience for the students. Armando says, "We always have a goal to make it fun. We want our kids to feel successful and to learn new skills and grow each season. That is what it's all about."
About the Author:
Trudy Horsting is a graduate student at Arizona State University pursuing her Ph.D. in Political Science. She holds a MA in Political Science from ASU as well as a BA in Political Science and a BA in Writing, Rhetoric, and Technical Communication from James Madison University. While at JMU, she was a four year member and two year captain of the Marching Royal Dukes Color guard and JMU Nuance Winter guard. She was a member of First Flight World Winter guard in 2019 and FeniX Independent World Winter guard in 2020.