In honor of Black History Month, WGI is proud to feature strong African-American voices in the WGI community who are making significant contributions both in and out of the indoor marching arts.
In 1980, Chicago public school teacher Arthur Robertson founded South Shore Drill Team to offer a positive and creative outlet for inner-city youth. Below is a feature written by South Shore recounting their history in the indoor marching activity.
South Shore Drill Team began with four neighborhood youth in 1980. Founded by former Chicago Public School teacher Arthur Robertson, the team started as a traditional military-style color guard. Mr. Robertson set a high standard for the group, and team members always had a flair for performing. When the team developed its unique hip-hop style of precision-drilling, its popularity and reputation for entertaining really took off. Group members appeared in the 1986 movie Ferris Bueller's Day Off, and recapped their performance at Ferris Fest in 2016. The team became the fan-favorite at parades and festivals across the country.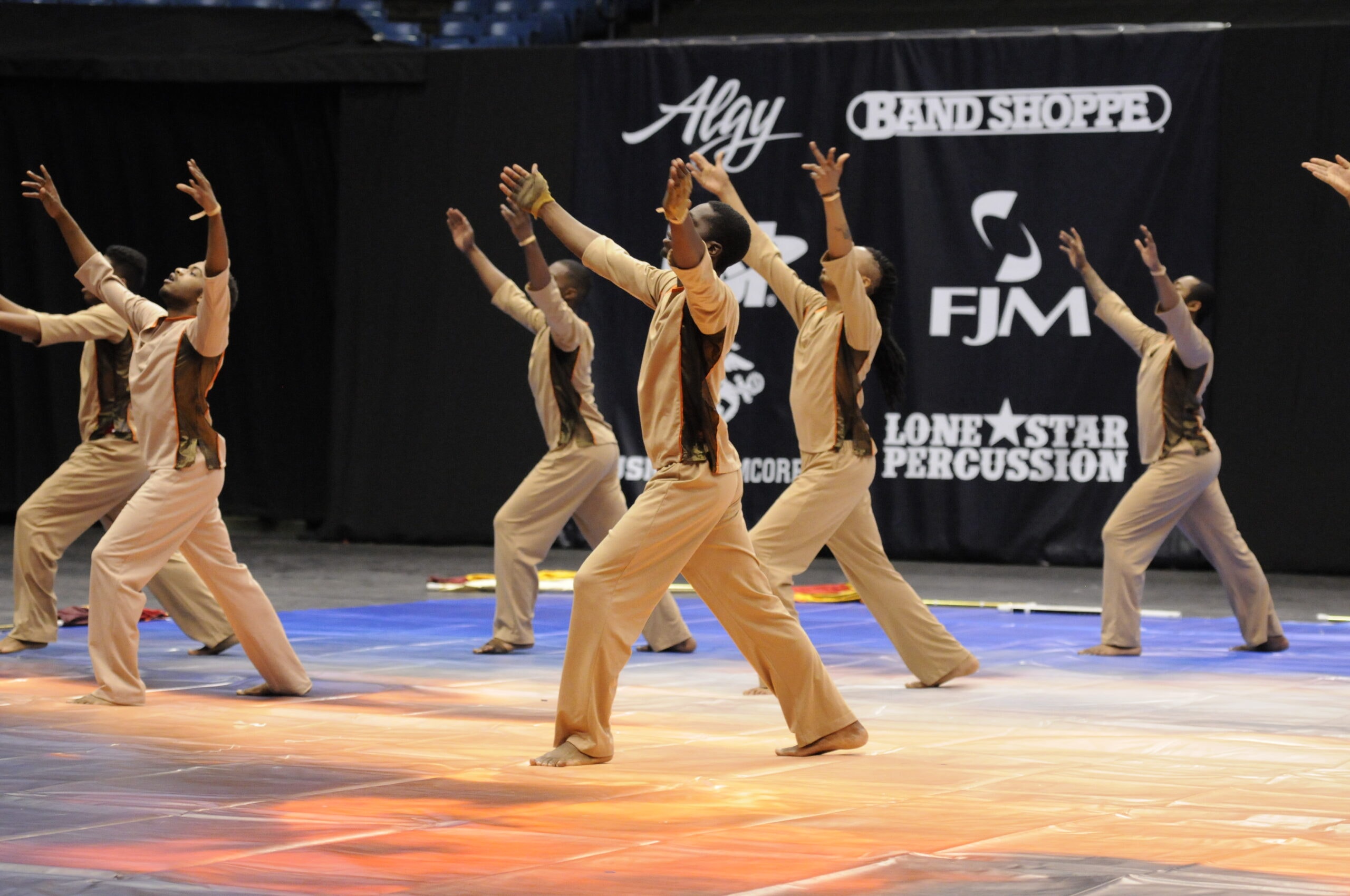 The group's mission extends far beyond entertainment, however. The team uses performing arts to engage youth throughout their critical teenage years, mitigating the dangers of gangs, drugs, and violence while guiding members toward their education and career goals. Approximately 85% of members reside in underserved neighborhoods where unemployment and crime are high. Most of the team's instructors grew up in the same neighborhoods as current members and presently offer empathy with guidance on overcoming obstacles to success.
Winter Guard International spectators know South Shore Drill Team members for their extraordinary equipment work, athletic moves, and dramatic storytelling. Many of their biggest fans are the young people they compete against. In 1992, South Shore Drill Team won the WGI World Championship, the first Black group to do so. They repeated the achievement by becoming World Champions again in 2011. And in 2018, the team entered a group that became the youngest male unit to make it to the finals in Dayton. Although they didn't win the championship, placing 15th in their class out of 170 groups, their journey created a lot of excitement. At their third and final performance, when the announcer said, "From Chicago, Illinois…" the crowd erupted into a roar that drowned out his saying South Shore Drill Team.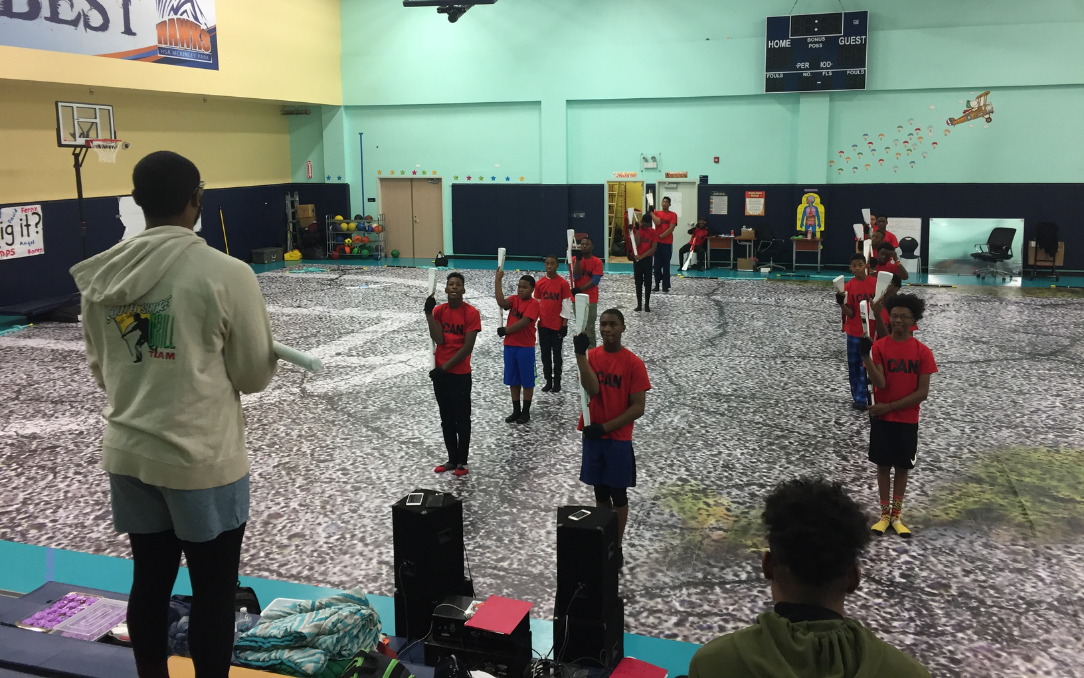 "This is what we all want – that people see beyond the headlines about violence and know that there are young people from Chicago's Southside doing great things and seeing themselves as empowered, not victims," explains Arthur Robertson. He was inducted into the WGI Hall of Fame in 2012, and Competition Director Kevin Ray was inducted into the Midwest Color Guard Circuit Hall of Fame in 2019.
In 2005, the group traveled overseas to Morocco, where they performed several times, including in the country's first parade. Since guns were not allowed, team staff and members developed a sleek, stylized version of the wooden rifle for this occasion.
When Barack Obama became president in 2008, the team applied to march in the Inaugural Parade but was not selected. The organization resolved to raise its national profile by performing at the 2011 World Children's Festival, a 2012 Department of Justice conference in Washington, D.C., and the 2012 NATO meeting in Chicago. They successfully reapplied for the 2013 Inauguration and became one of only 24 groups selected from 2,800 applications. Later that same year, they marched in the Macy's Thanksgiving Day Parade in New York, where team members visited the Statue of Liberty and enjoyed Thanksgiving Dinner in Harlem.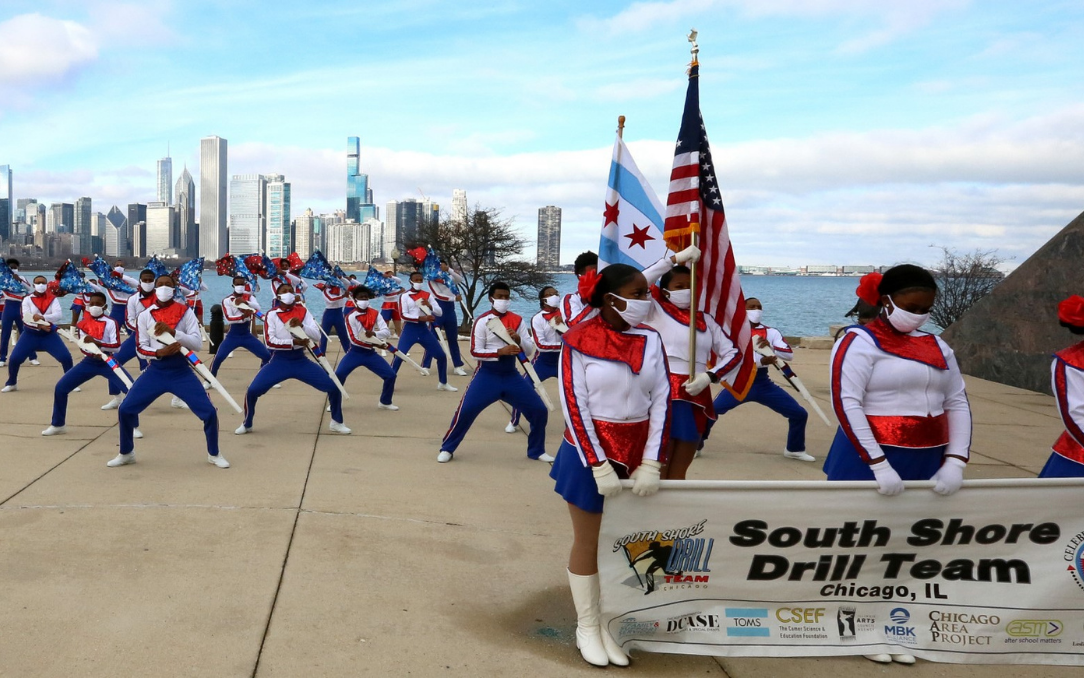 South Shore Drill Team is distinguished by its ability to engage and retain youth for an extended period of time. Many have been members for eight to ten years or more. The longer they stay, the better performers they become and the greater chance they receive the support needed to complete their education. While the majority attend Chicago Public Schools, where the graduation rate for Black males is less than 65%, team members achieve a 100% graduation rate, and nearly all continue to college. Alumni include teachers, first responders, lawyers, entrepreneurs, and medical professionals, all giving back to their community.
"South Shore Drill Team has grown to serve thousands of youngsters as a means to learn music and movement and exercise, but far more than that," according to Howie Mogil, President, Midwest Color Guard Circuit. "It has kept those thousands believing in education as the way out of such tough neighborhoods. Their Spring Show opens with every recent graduate from Eighth Graders to College being announced and applauded as they walk across the stage."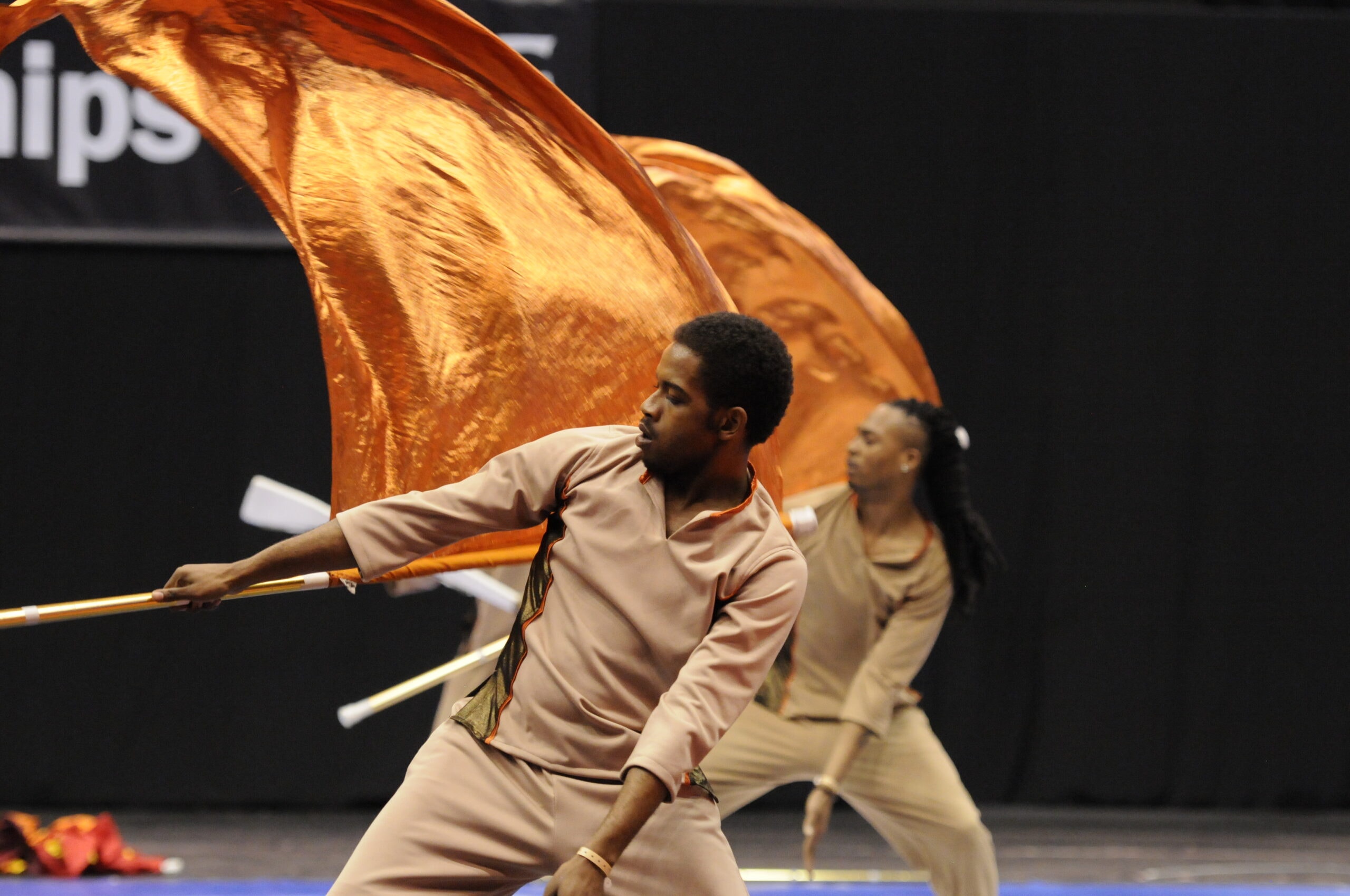 In 2020, the team had three groups enter and do well in competition when the season ended suddenly due to COVID-19. The group had more than 40 booked events canceled that year and lost $90,000 in performance fees. Instructors pivoted to remote rehearsals, discussion groups, and yoga lessons until in-person sessions began again. They learned they would be the only group representing the State of Illinois in the 2021 Inauguration on New Year's Eve. Staff selected an outdoor location and music, then choreographed and rehearsed the group before taping their performance on January 9. Shirley Madigan, Chairman of the Illinois Arts Council, congratulated the team for "representing the State in such a wonderful manner."
The team hosted its first in-person stage show in two years, in December 2021. While the pandemic had not disappeared and the weather was cold, the event sold out, and the audience gave a warm welcome back to the young people performing on stage.
Asked for his advice to younger generations of performers and competing groups, Arthur Robertson has some suggestions.
"Maintain a high standard of excellence and focus on teaching the importance of teamwork, fair play, and dedication," he says. "At the same time, make it fun and exciting for the youth. If you have a passion for working with young people, they sense it."