By Kathryn Hardison
A forgotten computer, locked sound cart and held-up prelims performance turned into one of the Duncan family's favorite memories performing in Inertia Independent Winds.
"One of the lowest lows turned into the highest highs," Ron Duncan, 49, said.
The group experienced a time penalty and a rough start to their show when – after a rush to retrieve the missing computer – the soundtrack meant to start off the show wasn't playing.
"The ensemble was confused and anxious to start its prelims performance," Jodi Duncan, 48, said.
Jesse Duncan, 21, realized a cord had been plugged in incorrectly and ran to quickly fix it.
"We were all upset about our performance," Jodi, the Ohio mother, said. "But that night, we realized there was nothing we could do about it."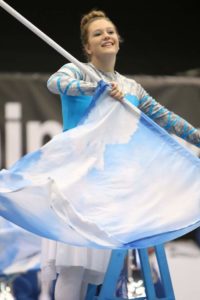 The prelims performance led to an exceptional finals run that placed Inertia Independent Winds in first place in WGI finals competition. Jodi remembered the gold confetti falling over the excited ensemble and the pure joy that radiated from the members.
"We were excited when they announced we broke 90," Jodi said. "I turned to my son, Jesse, because we were standing together at the awards, and go, 'Oh my gosh, we broke 90!' And then they announced the other group, and I go, 'Oh my gosh! We just won!'"
Ron, the Inertia Independent Music Director, said the group's finals performance was "one of those perfect runs."
"It was just one of those shows that as a director you pray to have that you very rarely ever have," the Ohio dad said. "I don't think we could do better than that."
Ron and Jodi's daughter, Jailee, 15, still feels proud of her 2017 finals performance.
"That was my best run," the color guard performer said. "It was awesome. I was smiling and screaming the whole time."
She said her favorite memory is a little different, because she remembers watching her mother trip over a power cord during a performance.
"I looked over and all I see is Mom on the ground," Jailee said with a laugh. "And I thought, 'What are you doing?'" Her mother didn't think the memory was quite so funny.
Over the last few years, the entire Duncan family has been involved in the Inertia Independent Winds ensemble in some way.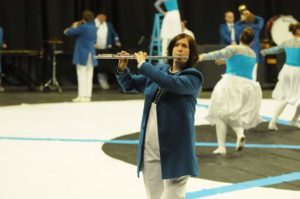 Thirty years ago, Jodi was a flautist and drum major for her high school band. So, when she joined Inertia Independent to march flute, it had been a long time since she'd been involved in the activity. She is also the woodwinds instructor for the ensemble.
"I probably had to practice a little more than the other kids, but I wanted to be able to play," Jodi
said. "As long as Jailee was okay with me being in the group."
Jailee, who also plays the oboe and is in her high school choir, said she "got used to it in the end."
Ron and Jodi's sons, Jesse and Josiah, have also been involved in Inertia Independent. Jesse, now a senior at Wright State University, has played keyboard and drum set for the ensemble, as well as helped with the technical side of the show. Josiah, 23, is a videographer and has made promotional videos for the ensemble, Ron said.
Ron, who was once a high school band director, is now a first grade music teacher for the Tipp City school district, where Jodi is an intervention specialist and Jailee attends high school.
Ron is in the 38th Infantry Division Band of the Indiana Army National Guard and has played taps before the start of the Indianapolis 500 race for the last seven years, he said. Just recently, he played the national anthem for an Indianapolis Colts football game.
While Ron has always loved music, he said he was a bit hesitant to join Inertia when director Kriss Davis asked.
"Truth be told, when I started taking Jailee over to practice, Kriss comes up to me. He goes, 'Do you think you can go in and help with the winds?'" Ron said. "It was the last thing I wanted to do."
"But they needed a little bit of help," he said. "And my daughter was in it and I wanted it to be good. Next thing I know, I'm working the music."
The Duncan kids were the first to be involved in the ensemble. Jodi then followed suit.
"When (Jodi) was thinking about doing this, she comes to me, and she goes, 'What do you think if I march next year?'" Ron said. "And I go, 'Knock yourself out.'"
As three Duncans – Ron, Jodi and Jailee – begin preparing for the 2018 winter season, they're thankful for the opportunity to compete as a family.
"I've had a lot of fun, because who gets to march with their kids?" Jodi said.
Ron said music has always been in their blood.
"The music is one of the things that has been a common bond to help keep our family together and rooted in one another," Ron said. "It's always been that way."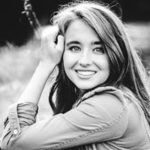 About the Author: Kathryn Hardison is a journalism student at the University of Missouri, majoring in news reporting and minoring in political science. Prior to college, Kathryn went to Kickapoo High School in Springfield, Missouri, where she marched the flute in the fall and played the cymbals for the Kickapoo Indoor Drumline. During her four years in marching band, Kathryn competed with the Kickapoo Golden Arrow Marching Band, of which she later became the flute soloist and junior and senior flute section leader. Kathryn's career in the Kickapoo Indoor Drumline included placing 8th in PSA World Championship finals in 2015 and a reclassification to PSO. After college, Kathryn plans to write for a newspaper.