What is a door? What does it represent?
It can embody the door to our future or the portal to the past; it is a symbol of opportunities given, opportunities missed, and opportunities yet to come; it is a representation of home, a safeguard from the outside world; it is the representation of something new, a gateway to a world rife with possibility.
It is this question and the lush opportunities which lie within its answers that Pride of Cincinnati (POC) explored in their 2019 program, "Another Door Opens," which ultimately earned them WGI Gold this winter. "It's an exploration of opportunities that life presents from the time that you're very young until you're older and more experienced," says Andy Toth, one of the longtime designers at POC.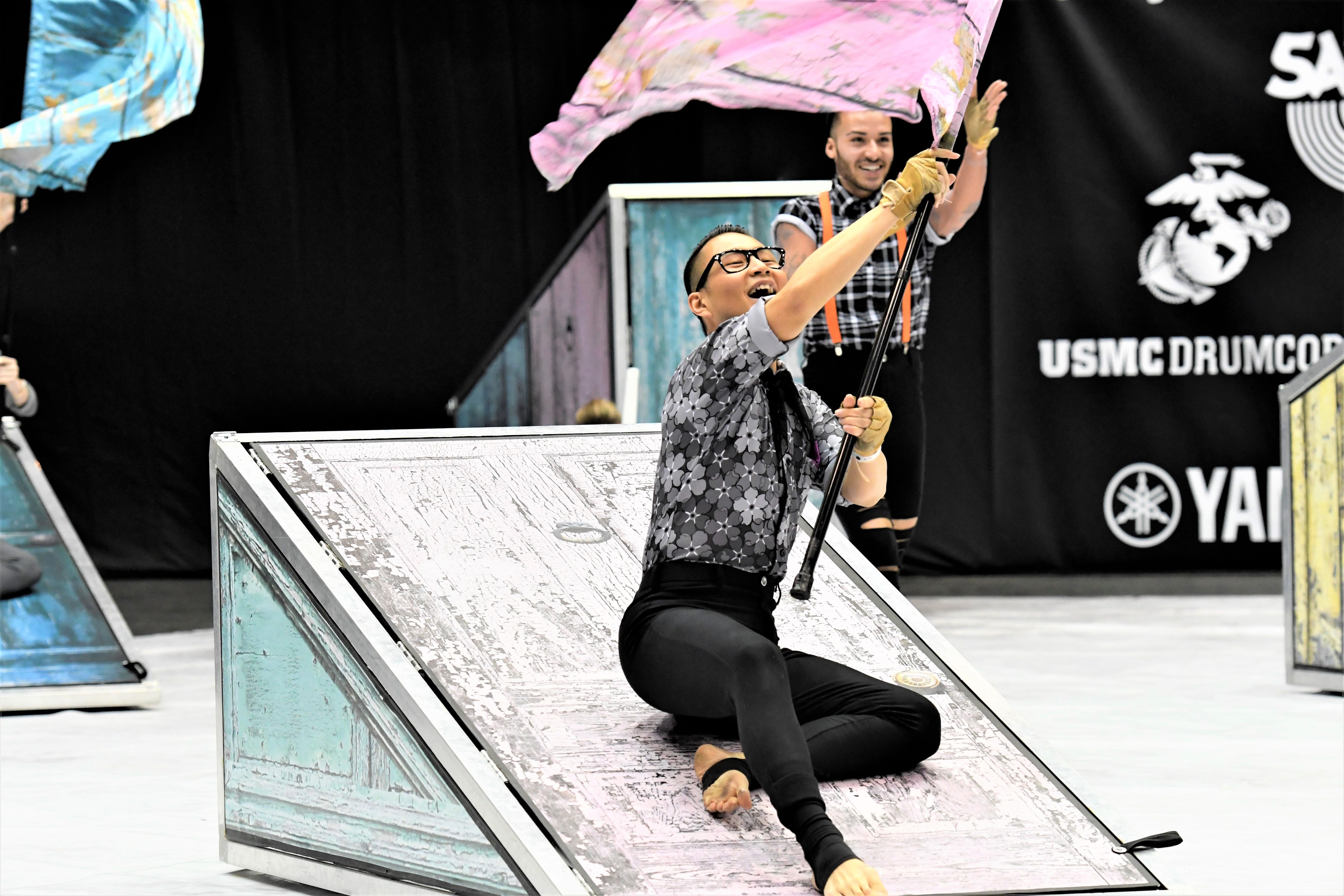 The cornerstone of Pride's 2019 program is their masterfully designed and utilized props. A set of twelve props––featuring weathered detailing in muted shades of oranges, yellows, blues, greens, reds, and pinks––roughly house as many doors and a host of secret entrances. An assortment of phone booth type stalls and ramp–like structures of varying heights, the props create the effect of floating doors, made more compelling by their ability to roll and align in seemingly endless combinations.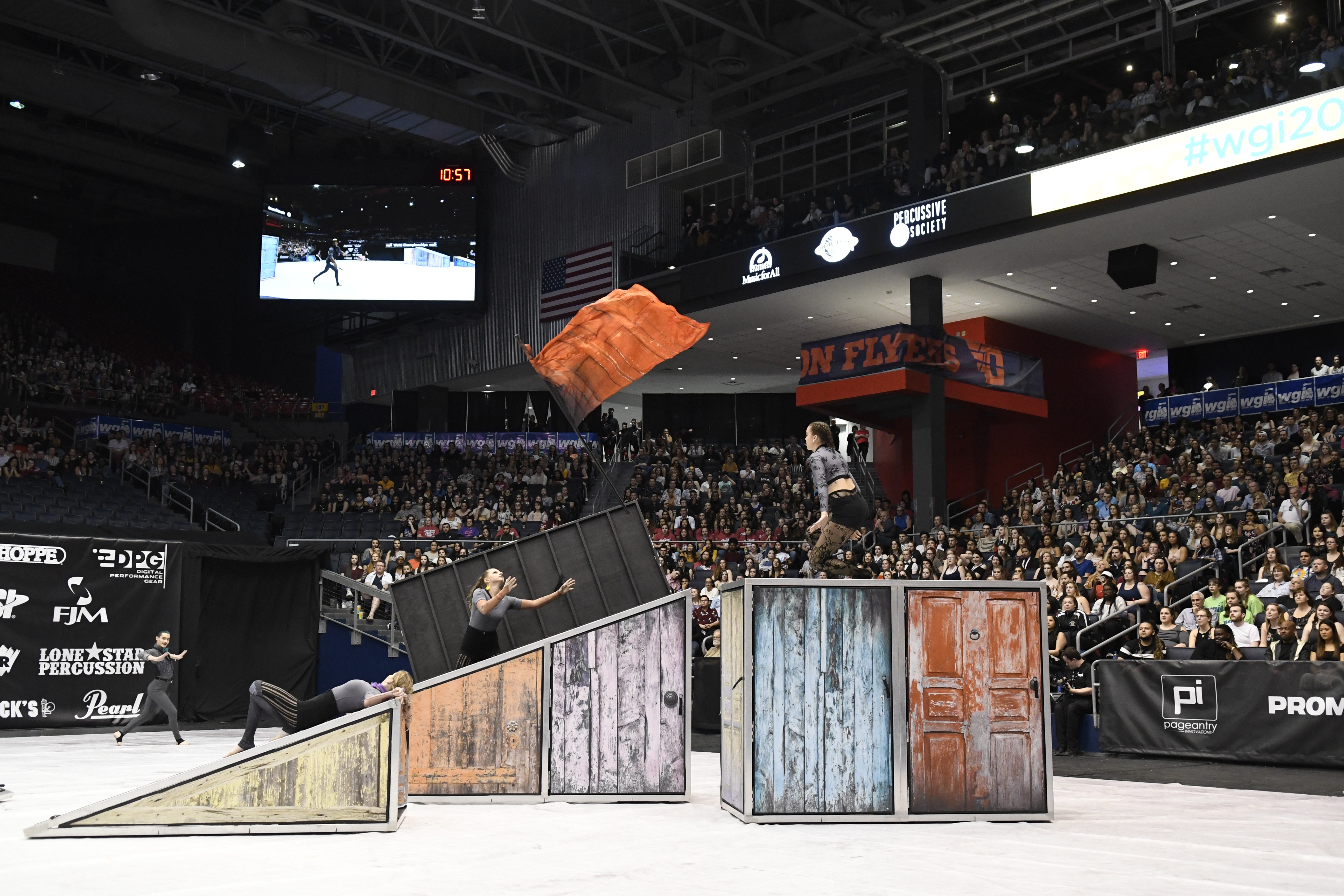 Toth describes the props as mobile theater wings, much like the ones from which dancers might emerge in a traditional performance, but with the ability to transport the performers. "With this," Toth marvels, "the performer is able to slide down into the prop while it's moving, put down a saber, pick up a flag, and enter the performance space in a whole new space than where they exited."
The show opens with the doors scattered and facing different directions. "A jungle of opportunity," Toth calls it.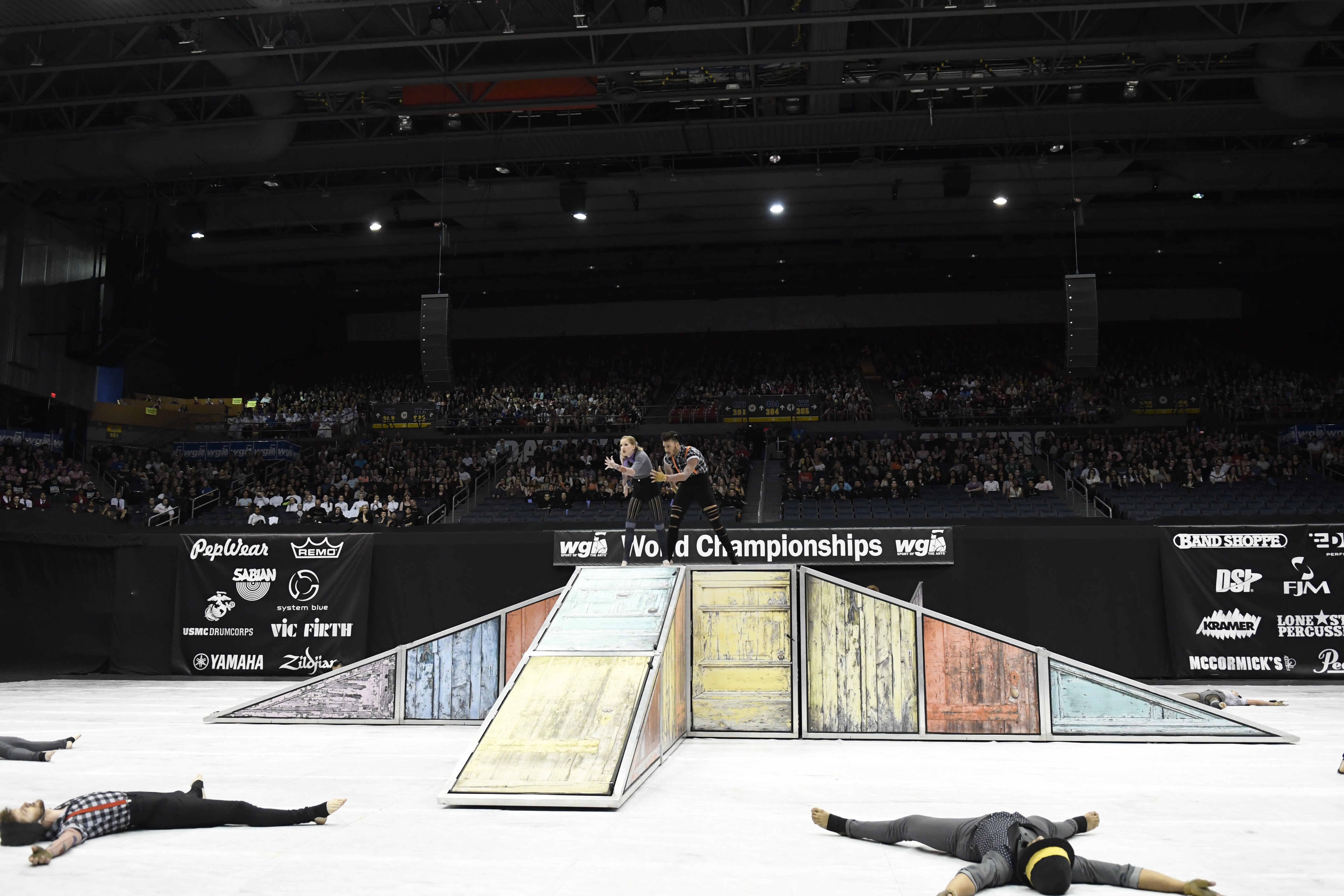 Doors swing open and slam shut. Performers gather in couples, trios, and groups, all representing the shared experiences over opportunity and all that it entails. Over time, the props move and whirl and coagulate and disperse until they reach a stark plus sign—a crossroads that seems to float out of the chaos unexpectedly. In the shock of negative space, there is immense vulnerability.
"The negative space creates that vulnerability," says Andy Toth. "The soloist looks back on the memories of what could have been," he says. "Or what was, but maybe shouldn't have [been] in hindsight."
From here, the program reflects nostalgia: "You've looked back at the opportunities that life has presented you, and you think, 'Could I have done something differently? Is there an opportunity that I should have taken?'"
From this crossroads, the props masterfully deconstruct and form something new, a canvas of fresh opportunities borne of the path we have taken thus far. Andy describes it as a celebration of past and future: "Now you've had this experience, and you're able to recognize the opportunities, and decide, and feel confident in those decisions."
In the end, the doors form a piecemeal ramp, beautiful in both its completeness and the individuality of each unique door. The performers, now gathered on the behemoth prop, open the doors and begin to trickle in. They all bid the audience adieu with one more collective wave before disappearing to thunderous applause.
This truly magical moment of pageantry is the brainchild of the entire Pride of Cincinnati design staff and Jeff Hurr and Chris Lewis, a longtime professional prop creators and friends of the winter guard activity. Andy Toth describes in detail the process that takes place behind closed doors.
It all starts with an idea. After sifting through past programs, meeting the cast, ruminating over what they hope to show audiences at WGI, and finally, anticipating the direction in which they see the organization continuing, the team lands on an idea.
"This year the concept came from Keith Potter of these floating doors representing opportunities, and the question: what can we do with that?" Andy says.
He goes on to say that the team became enamored with the idea of the door. "There's a certain nostalgia attached to a door," and so the weathered, multicolored look was born. They represent opportunities and experiences unique to each individual on their journey through life.
"We've all had a door slammed in our face before. A door could symbolize home, or a place of rest, or a place of anxiety, like walking into a job interview or the first day of school," Toth elaborates. The team hoped that the audience could latch on to this inherent and recognizable nostalgia.
How does a shining idea of nostalgia and opportunity come to physical fruition? The team had seen a door prop before, but wanted in earnest to do create a prop that was completely fresh and unexpected. They then created a rough sketch, which they passed on to Jeff Hurr, who created an actionable blueprint. "We knew we liked the idea of moving entrances and exits, and the idea of having the ramps coming together to create different environments and spaces, and he is just really great at making it work for us," says Toth.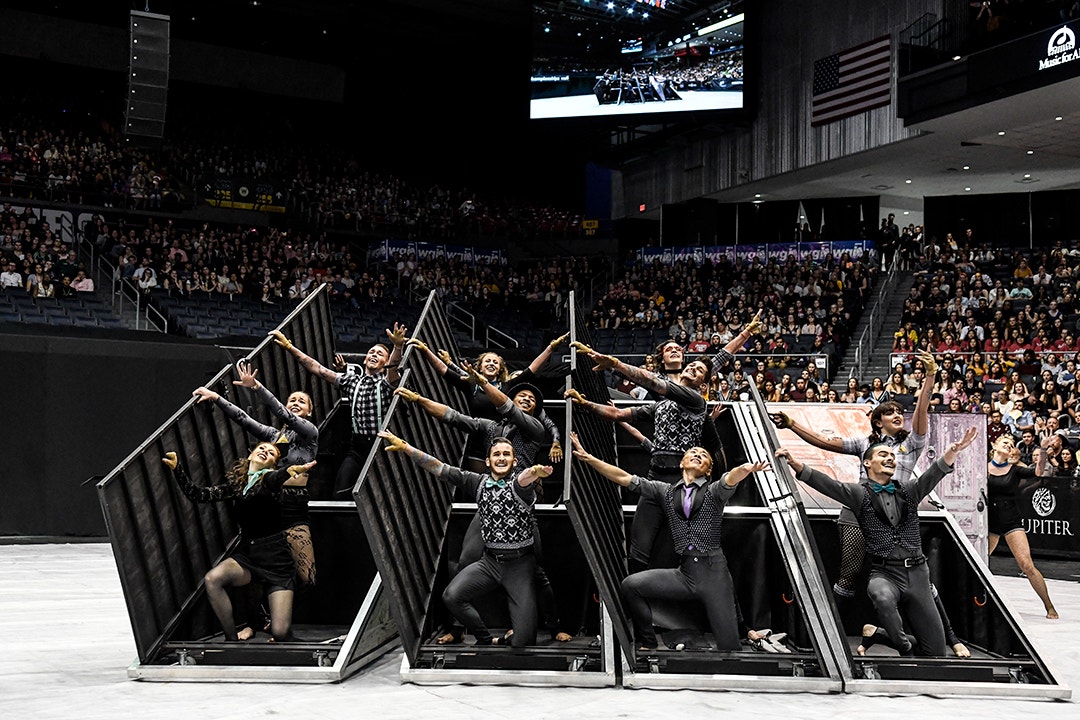 A de facto prop magician, Hurr is well versed in Winter Guard International's safety regulations and logistical details. He, along with his associate Chris Lewis, is also masterful in making sure his creations fall well within the WGI rules. The most important factor, though, is safety. He prides himself on creating "environments that are safe for all performers."
Pride's props featured wheels for smooth travel, hidden curtain entrances, steps inside the ramps to allow for equipment storage and performer entrance and exits, and connectability. Once the props were blueprinted and fabricated by Hurr and Lewis, it was the design team and staff's turn to work their magic.
Early in the season, the design process involved "a lot of imagining," says Toth. The performers slid a huge piece of cardboard as a stand—in for the props still in production. The team filled choreography and estimated how many performers would need to move the impending props, until they arrived in mid–December, after which adjustments were made accordingly. Chris Lewis and Hurr adjusted the props when needed; then, there was the complicated project of molding moments to occur seamlessly with performers jumping in and out of both props and choreography and space and time.
"It's a process," says Toth. "It's a fun process!"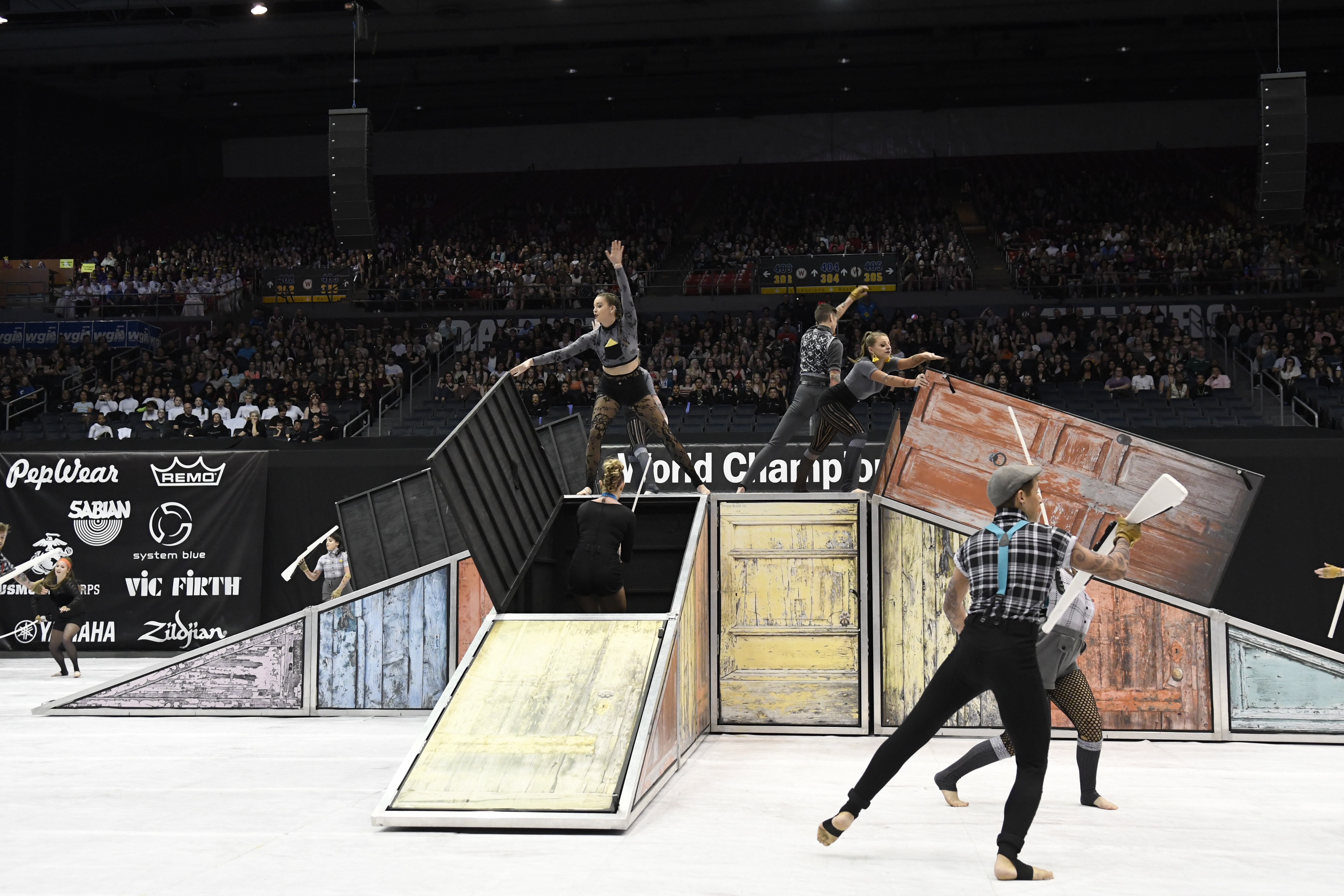 The result was a seamless and breathing piece of art, one in which the team hopes viewers see their own stories. "We don't want audience to have to follow a certain story," he says, "There are so many it could be: your own take on what your experiences are with your own opportunities… or missed opportunities."
On the topic of props, Toth insists that the team is cognizant of what they have created before and what they hope to create in the future. "Two years ago, we had a prop that looked like the mobile cage, and then last year we didn't even have a tarp. No props," he recounts.
"We purposefully did a show that didn't have any of that to show that you can still do all of the things that a show brings without having to use props. In 2019, we decided we wanted to go back to it."
"It just depends on what we're feeling," Toth says. Moving forward, all eyes are on Pride of Cincinnati as the world of WGI waits to see which door they will open next––in their upcoming season of POC Dance Ensemble and beyond.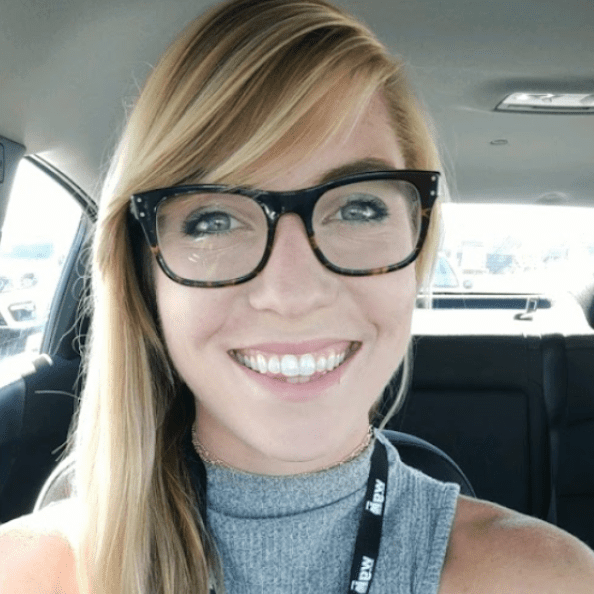 Jenny Lyons is a freelance writer and master's student of writing at San Francisco State University. She has a BA in Literary Journalism from the University of California, Irvine. She is an alumna of WGI, having performed with the Santa Clara Vanguard Winter Guard from 2013 to 2015, during which time she was fortunate enough to become a WGI World Champion. Jenny has also marched with several drum corps including the Santa Clara Vanguard. When she is not writing, Jenny can be found continuing her passion for color guard through teaching in the Bay Area and serving as caption head to the Vanguard Cadets.