By Irving Lopez
When a person joins a new guard they are introduced into a new world of rehearsal ethic, technique and members. Right from the start they take notice of who the ultimate vets are that set the example for the group. The veterans are the ones who have stayed dedicated to the program season after season setting the standard of excellence within the color guard.
Sharing their veteran stories with us, WGI caught up with two 4-year-vets, Samantha McMane from Fantasia Winterguard and Joseph Lebron from ATX Winterguard.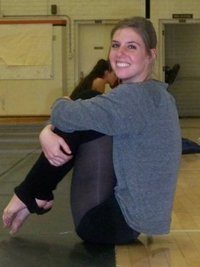 Samantha has been a part Fantasia Winterguard since 2010. When marching a new season she constantly reminds herself why she joined Fantasia.
"I am very inspired by Fantasia's history," said Samantha. "It is always encouraging to re-watch the shows that have inspired me to become a part of this group. My favorite memory that continuously motivates me to be an influential part of this activity is the first time I saw Fantasia live in 2004."
Since 2010 Samantha said she comes back each year because of the improvement the guard has made since she joined. She is accompanied by a small group of four-year vets who helped rebuild Fantasia after the color guard took a season off in 2009.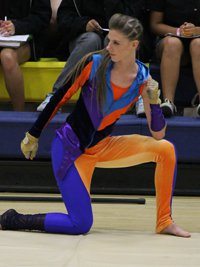 "The advancements and standards within the team keep me interested. I am constantly pushing myself to reach and surpass these new limits," said Samantha.
Being in color guard Samantha considers herself blessed by all of the opportunities color guard has provided her. It has allowed her to gain great teaching jobs, travel and gather irreplaceable friendships. Along with her friends who are also four-year veterans, it is her job to make sure the guard is run smoothly when captains need help. She does her veteran duty by providing new members with irreplaceable advice to make sure everyone is at the top of their game.
"My most important responsibility is to be an example at rehearsal," said Samantha. "I strive to set new standards for my teammates and to reach the standards they set for me."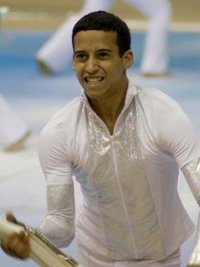 For Joseph he says that he loves coming back to ATX winter guard every season because he is constantly surprised at the new challenges he has to face. Since 2009, he has seen himself grow into a better spinner and expert performer.
"Every year I learn so many things from not only my staff but also my teammates about color guard and myself that have allowed me to go from quiet observer to full on performer," said Joseph. "I've learned so much about confidence and the ability to showcase my personality in a way I could not have imagined that I would have upon my high school graduation. I have and continue to take these things with me into my current job and in general with how I interact with new people that I meet."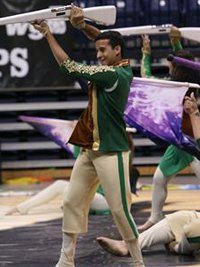 Since his team is an Independent A group, Joseph knows he will soon have to leave ATX winter guard because of the age-out limit. After he ages out, Joseph plans to march a world guard near his home in Texas while also staying close to his first home at ATX. This season, Joseph wants to end the season without regrets knowing he helped pushed his teammates to their fullest potential and reach their goals.
"I have a couple more years before I age-out of being able to do A or Open class but I already know that it's going to be extremely difficult to say goodbye to the group that has taught me almost everything I know and been such a huge part of my life," said Joseph. "I just hope that when I leave they remember me as someone they could count on, both on and off the floor, for years to come."