In honor of Black History Month, WGI is proud to feature strong African-American voices in the WGI community who are making significant contributions both in and out of the indoor marching arts.
Coming from a family heavily engaged in the marching arts, Marlieta's involvement in the activity began early in her life. After developing an exceptional performance and educational resume over many years, she continues to serve with multiple programs, fostering the next generation of the activity.
Marlieta Matthews was born and raised in Madison, Wisconsin where she also attended Madison West High School. Her exposure to the marching arts started from the beginning of her life as she was born into a drum corps family. Her father, Edward Matthews, was one of the first black drum majors for the Madison Scouts. Marlieta's brothers and sister also marched drum corps. From her beginnings, the marching arts was a part of Marlieta's life.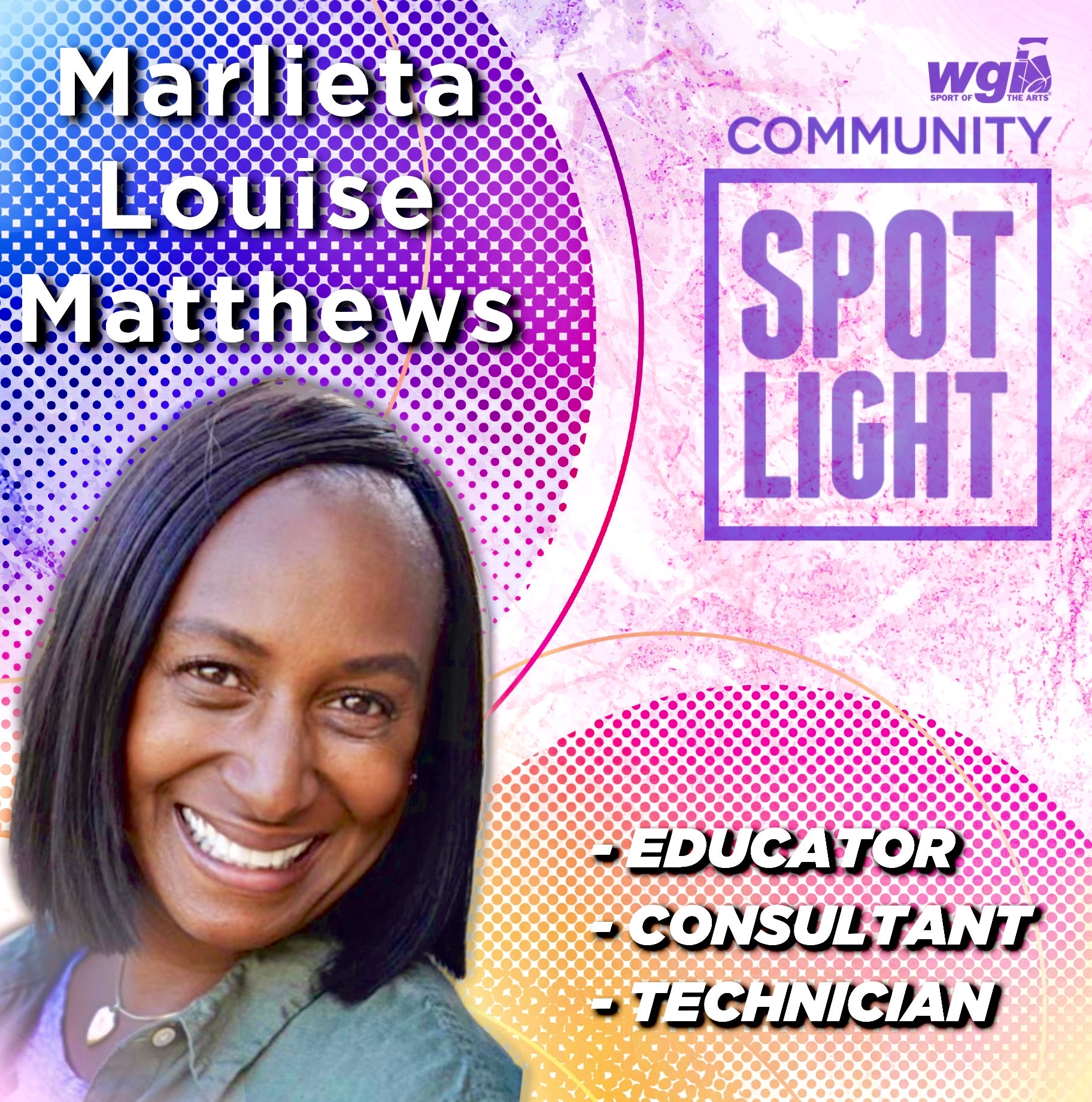 Marlieta started her performance career as a member of the Capitolaires Drum and Bugle Corps. The all-female corps was based in Madison. During the winter guard season, she performed with both State Street Review and the Guardsman. For her age-out in drum corps, Marlieta marched in the flag line of the 27th Lancers where she learned from some of the well-known and respected instructors and designers in the activity. It was her time in the 27th Lancers that she found her passion for the power of strong technique which catapulted her future career as a color guard technician. As a member of the 27th Lancers, Marlieta absorbed the value in how good skills builds excellence in color guards.
As she transitioned into her teaching career, Marlieta joined the staff of State Street Review. In the summer, she was the caption head for the Capitol Regiment Drum and Bugle Corps. Over time, she branched out and joined the color guard staff at the Bluecoats, and then joined the staff at Santa Clara Vanguard in 2009. Marlieta has also taught color guard for some well-respected high school band programs across the country including Center Grove, Marian Catholic, and Hebron. Another highlight of her career was her involvement on the staff as a movement technician for the Cavaliers Indoor Percussion. She also continues to serve on staff at Missouri State University with The Pride of Missouri State, and also works with Hebron High School in Carrollton, Texas.
Marlieta and her husband, David Beckman who was also involved in drum corps and winter guard, reside in Chicago.