By Jenny Lyons
Streaks of white light, rain slicked pavement; a sleek car in deep red, gliding down the street. A beautiful woman in a smooth ponytail grips the steering wheel and stares down the road ahead with a smile and a confident gleam in her eyes. Ariana Grande's "Bang Bang" plays buoyantly in the background. As the wine-red curves of the car round the corner of an L.A. street, a block of performers spin pink and purple ombre flags. The performers are dynamic, vibrant. In clips that flash in quick succession, they lunge, they barrel over with the flag poised on their shoulder blades; they flourish behind the nape of their necks, and their heads turn in a pristine snap, providing a stunning silhouette following the car that has passed. This is Cadillac's latest commercial, "Wonder," for the new XT4 featuring the cast of Diamante Winterguard.
While the dreamlike, driver-centric quality of the commercial is familiar, the appearance of a WGI World Class color guard spinning on a street corner in a nationally broadcast ad campaign is not. Color guard has been creeping into the national eye in several spots, such as the kitschy sauce packet rifle toss tweet from Arby's, the widely viewed "Flag Dancing Competition" ad for Hampton Inn and Suites, and the Tom's ad featuring South Shore Drill Team. What audiences had yet to see was a top-ten world class guard spinning at their level—something that would no doubt impress a viewer unfamiliar with the activity.
As such, Mario Ramirez—the successful, long-time director of Diamante, mainstay in the Southern California color guard community, and choreographer known for his bold and evocative style—was excited to take on the project. The L.A.-based producers of the XT4 commercial knew they wanted to feature a color guard in their new ad, and turned to YouTube as a first step to research their options. Searching for "Southern California color guard," they expected to find videos of a "tall flag" style color guard, featuring basic marching and simple shapes. Instead, their eyes widened to a rich world of movement and expression, far beyond what they knew was possible in the activity. Of these videos, they were immediately impressed with both Ayala High School and Diamante, two of Ramirez's programs. "They were in awe of what we were doing and what color guard has become," Ramirez says. The producers soon reached out to Ramirez to nail down the details, and the wheels were set in motion.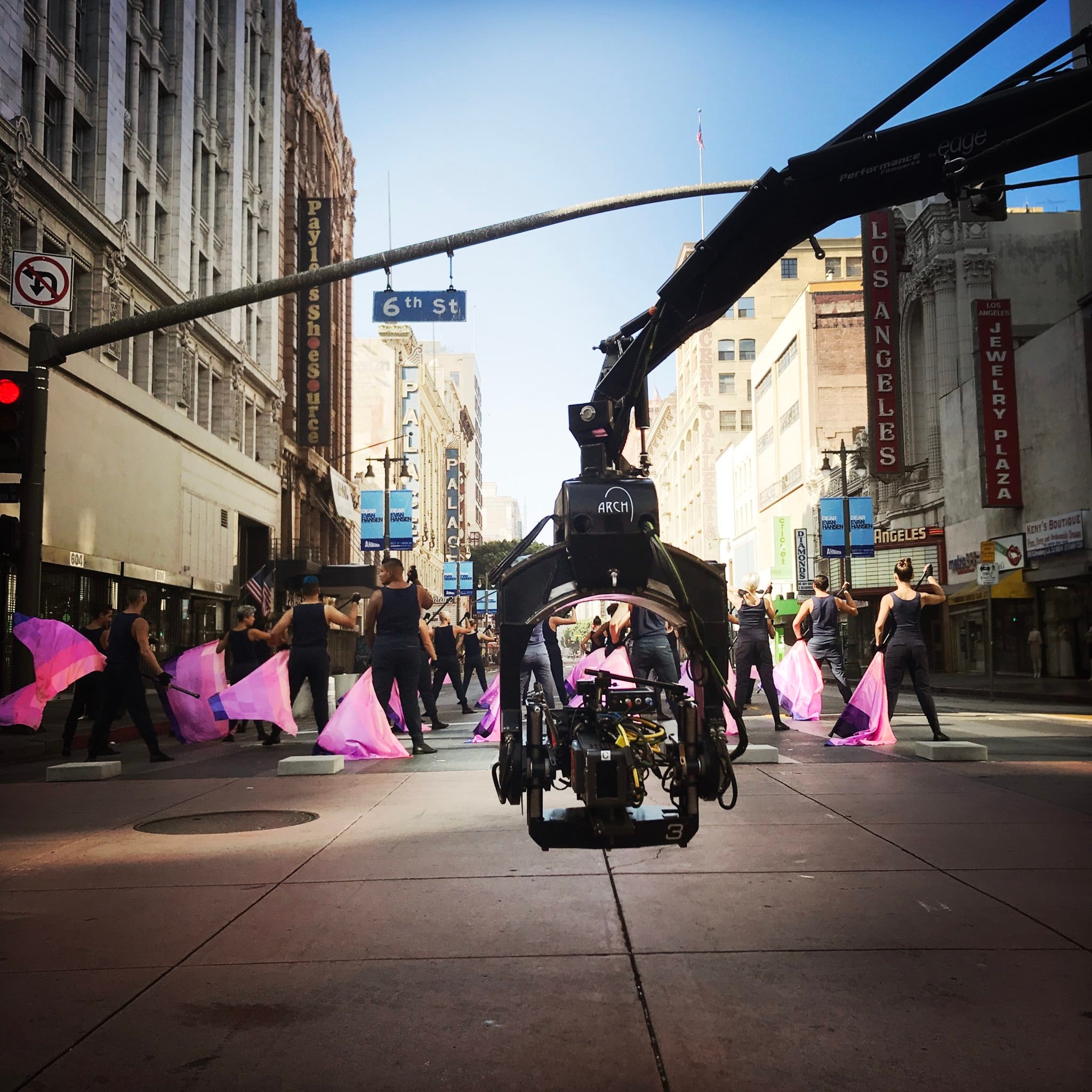 From the time producers reached out to Ramirez, to the time filming began, there were only three short weeks. With growing enthusiasm for the project, the producers went from an ask of fifteen performers, to twenty, to a final thirty—all cast by Ramirez from Diamante's 2018 and 2019 members. Though the T.V. choreographer assigned to the project pushed to provide simple "television ready" movement, Ramirez stood strong in his own style.
"If we were going to do this, I wanted to show what they are really capable of," says Ramirez.
Ramirez provided choreography in his own distinct style, albeit in a simpler state than you might see in Diamante's dazzlingly complex winter programs. Ultimately, the producers far and away preferred Ramirez's phrase and moved ahead with production. Unfamiliar with the typical timeline of ordering and procuring color guard equipment and costuming, the group had to expedite the process in the extreme. Amazingly, Doug Gardner and Carol Bieler at Field and Floor FX provided an impressive three-day turnaround on the silks featured in the ad.
On filming day, Broadway Street in L.A. was closed and the cast arrived at 5 a.m. to begin shooting. The day featured all of the staples of a media shoot: makeup artists, trailers, catering and a plethora of cameras. Known for their pristine performance hair and makeup, Diamante arrived ready to represent the color guard world well, and required nothing but a quick approval from the makeup artist. "They thought the cast already looked great," no additional makeup required, says Ramirez. Ever the professionals, Diamante learned their choreography on the spot and performed it in a loop over the next two hours. Brandi Ramirez, Mario's wife and a perennially vital part of the Diamante organization, was on hand to help the producers' and Mario's vision come to life. Brandi—a seasoned winter guard star—was featured in the cast and, from the front of the block, helped guide her castmates through the process. In order to create what Ramirez calls "T.V. magic," the performers were required to repeat the phrase time-and-time again, moving back four steps every take to digitally multiply the block in post-filming production.
Dynamic, expressive and ever-evolving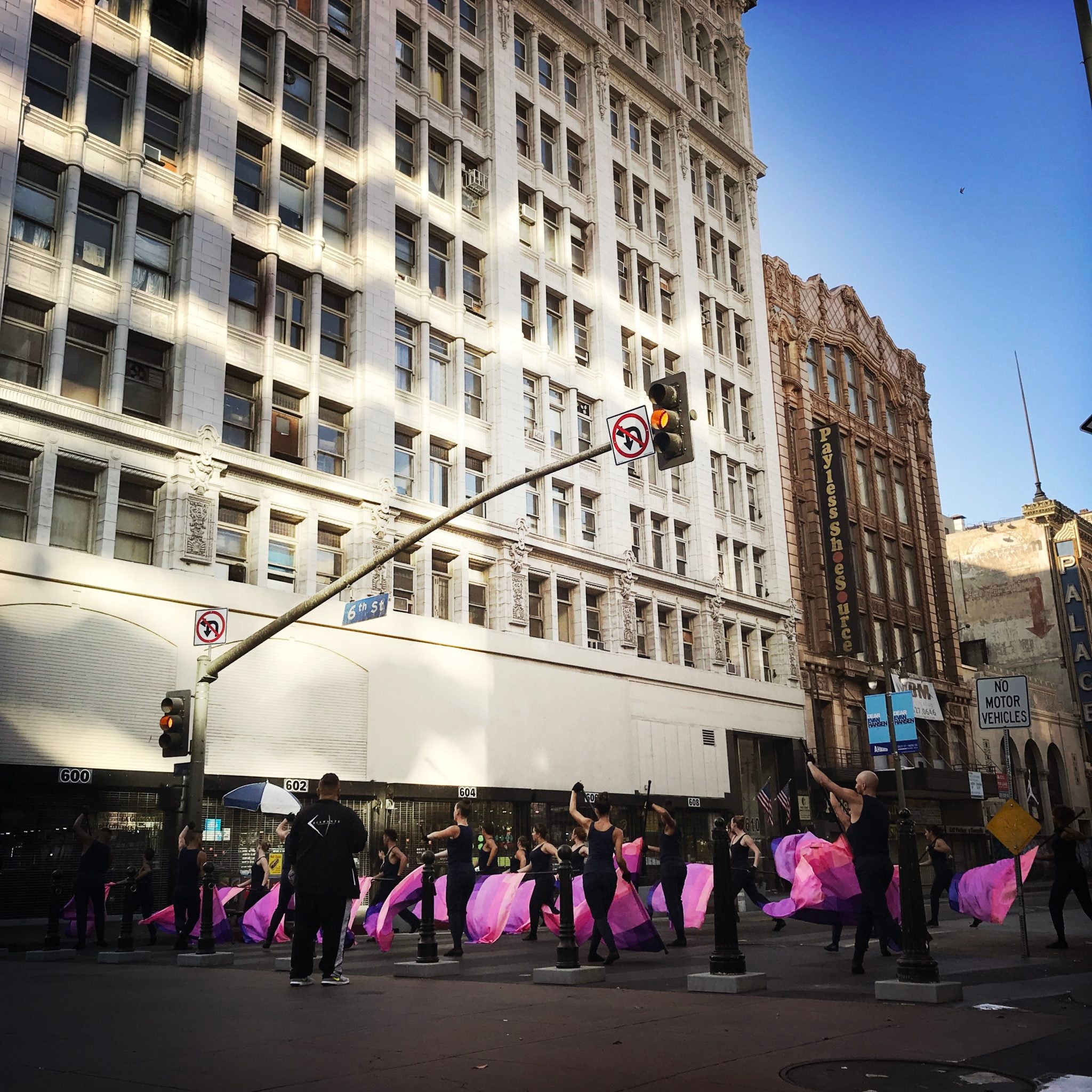 Having seen the final product, Ramirez thinks the production team did a stellar job, though, of course, he would have loved to see a bit more screen time. He is excited by the exposure that opportunities such as these provide, not only for Diamante, but for the activity as a whole.
"We are breaking away from what people think they know about color guard," he says. "Any exposure that is positive is great for the activity."
In the future, he hopes that more forms of media will take notice and provide a platform for color guard and portray it in the dynamic, expressive, and ever-evolving way that WGI viewers know and love.
"Obviously, what is shown on T.V. is not what we actually do every day," Ramirez says. "I want people to see what we do; the months and months of work that we put in, the technique, the movement," he says, "but we are on the right track."
Watch the commercial below!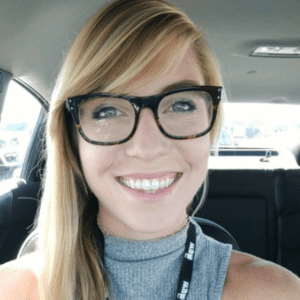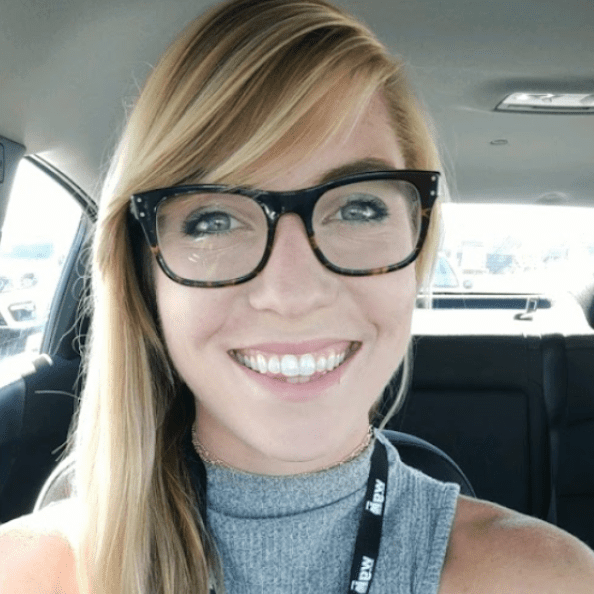 About the Author: Jenny Lyons is a freelance writer and master's student of writing at San Francisco State University. She has a BA in Literary Journalism from the University of California, Irvine. She is an alumna of WGI, having performed with the Santa Clara Vanguard Winter Guard from 2013 to 2015, during which time she was fortunate enough to become a WGI World Champion. Jenny has also marched with several drum corps including the Santa Clara Vanguard. When she is not writing, Jenny can be found continuing her passion for color guard through teaching in the Bay Area and serving as caption head to the Vanguard Cadets.