We are all thankful for what judges do for our activity. However, no matter how long you have been performing, the life of a judge feels unfamiliar to many people, and becoming a judge feels inaccessible. As much admiration as we have for this role, those who fill it can feel distant.
In this series, we strive to remove some barriers that make judging WGI feel so foreign by sitting down with a color guard, percussion, and winds judge. In this story, Julie Davila provides insight on judging for WGI Percussion.
the journey to adjudication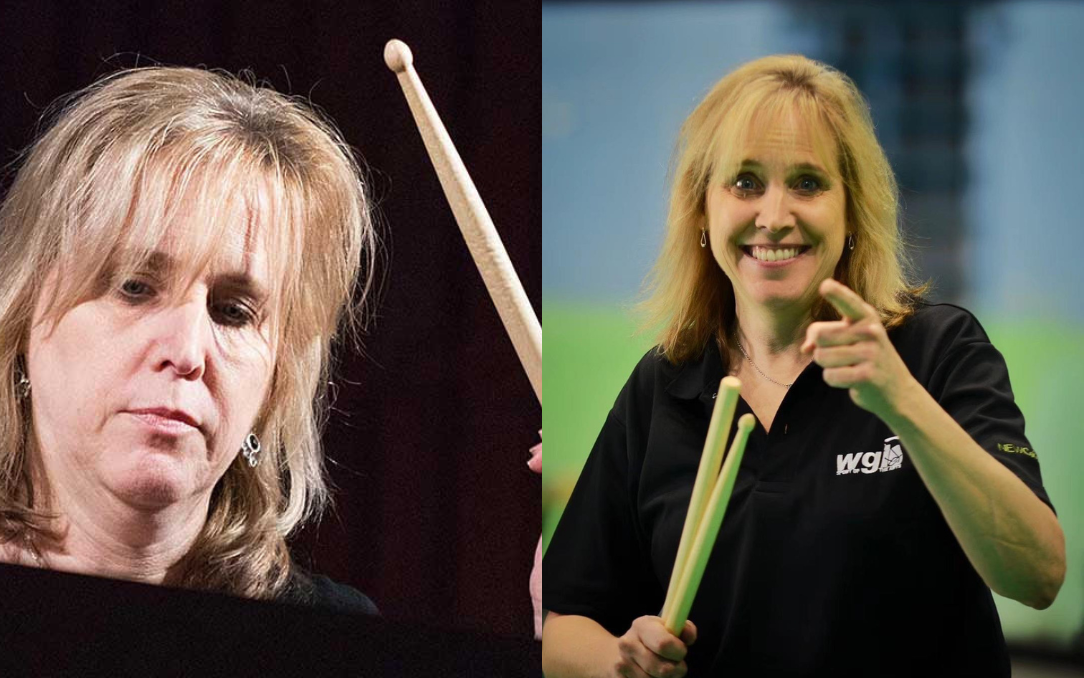 Julie started learning percussion in the fifth grade. She says, "I was privileged to have some really great teachers right out of the gate." While in high school, Julie attended a Bands of America (now Music for All) summer camp and enjoyed meeting and working with a few icons in the percussion industry. She says, "Dennis DeLucia and Fred Sanford were so encouraging to me in the early 80s when not many females participated in marching percussion, especially on battery instruments. Dennis and Fred's encouragement was a turning point in my confidence. I was always enamored with music and all my experiences while in school, but I came home from that camp knowing percussion was what I wanted to do for the rest of my life."
She then attended the University of North Texas, which had a phenomenal percussion program. Although WGI percussion didn't exist then, the Percussive Arts Society held a percussion competition for collegiate programs. Julie won three national championships with the North Texas Drumline and a PAS Collegiate Marimba Soloist title. She played in the front ensemble for two of those years and on the snare line the third year, which provided her extensive training in both the front ensemble and the battery percussion.
After college, Julie moved to Nashville and began teaching at John Overton High School. Julie started with their marching band, establishing a culture of percussion excellence. Eventually, she felt they were ready to try the indoor experience with a primary goal to keep students training over the winter season. Since there were no indoor activities in Tennessee, they first started performing in exhibition at color guard competitions and school pep rallies. The group received great feedback, and Julie eventually decided to take things up a notch and compete in Texas. She says, "I didn't really know where we were going to place, but that wasn't important to me. What was important was that I exposed the students to the indoor activity and the Texas culture of great percussion training." To their surprise, the group won the competition in Dallas, which was incredibly exciting and fueled the fire for the students. Fortunately, the band directors, Jo Ann Hood and Terry Jolley supported the indoor activity and were pivotal in supporting the growth and development of the program.
Julie started the first indoor competition in the Nashville area, beginning with about four drum lines. As the competitions in Nashville grew, so did WGI Percussion at the National level. Julie's program at Overton competed in both the marching and concert divisions, medaling many times in both divisions over the course of the decade. In 1996, John Overton won Percussion Scholastic World. Following her time at Overton, Julie started another program from scratch at Oakland HS. Oakland was active for three years and medaled two of those years before Julie decided to switch to the judging side of things.
She explains that it wasn't an isolated event that led her to switch to judging but a myriad of reasons to make the change. Julie had two young girls, and she wanted to be more supportive and available to help them find their activities and passions. "Competing in WGI means being at the top of your game seven days a week for many hours every day. Even when not in rehearsal, you're editing, planning, booking buses, or painting floors, and there's rarely a day off. I absolutely loved teaching but knew I couldn't sustain that intense time commitment while raising my family."
Julie explains that, at first, she simply planned to take a year off to focus on her family. But when Mark Thurston asked her to try judging instead, she decided to take the offer. She says, "I had received judge feedback for 15 years, and I think that experience was incredibly valuable for me as I transitioned into a judging role."
Julie took a year to train before she officially took an assignment. She studied the philosophy of judging, took a judge's seminar, made plenty of practice tapes, practiced number management, and received valuable feedback from Mark and the team. She says, "There is so much training that goes into numbers management, good commentary, and managing a field of 30 or 40 groups in a single day."
Julie became a WGI judge right out of the gate. However, she also judged for the SCGC circuit, helping as many local groups as possible in Tennessee. Additionally, she picked up area shows in Georgia and Kentucky, aiming to gain as much experience as she could while honing her craft.
Julie started judging the music caption first. She says, "I'm kind of a nerd when it comes to the analytical part of the activity and the mechanics at the granular level. I spent the first ten years in the music caption." She explains that in DCI, she started judging a few captions, like field percussion, music analysis, and some general effect. Now, for WGI, she is used where she is needed. She explains, "There are some similarities between music and music effect, but before I switched, I did thorough training to ensure I understood the nuanced differences. I listened to a lot of my colleague's commentary and sort of retrained for the Effect focus."
Judging weekends can be quite hectic. Julie says, "I try to keep my Fridays pretty light so I can hop on a plane whenever necessary. When I get to the destination, I do last-minute prep, making sure my paperwork is in order, technology is ready, get a good dinner, and try to get a good night's sleep."
The first day of the competition typically starts early in the morning, as judges are at the venue about an hour before the start of the show. "When we arrive, we check all the technology, ensure the Competition Suite information is correct, and get a feel for the venue. I also like to take a moment to review the sheets and focus my mindset," Julie says.
Shows with a critique in-between prelims and finals are truly a test of endurance. Julie explains, "You get very few breaks in the day, and critique is its own kind of challenge. I take copious notes, but it can be a challenge to answer detailed questions about a show you saw eight hours ago." After critique, there is typically a brief dinner break followed by finals. "After the show, we often return to the hotel quite late. If we have some time, it is so nice to unwind with some of our friends and colleagues from across the country." Early Sunday morning, it is back to the airport to head home.
"On the plane, I listen to my recordings as well as the recordings of some of my peers. I'm always listening back and evaluating how I can refine my work. Being a lifelong student is critical," Julie says.
"When I get home from a weekend of judging, I look at the week ahead of me and prep my next Monday – Thursday. It can be difficult to find time to decompress and recoup throughout the season. I'm rarely home on a weekend, and whenever I am, it's nice to be able to go to the bank and run errands like normal people do. I've learned that scheduling a few weekends off throughout the season is critical. I want to be fresh and at my best, and when you're going seven days a week for about eight to ten weeks straight, a few resets are important."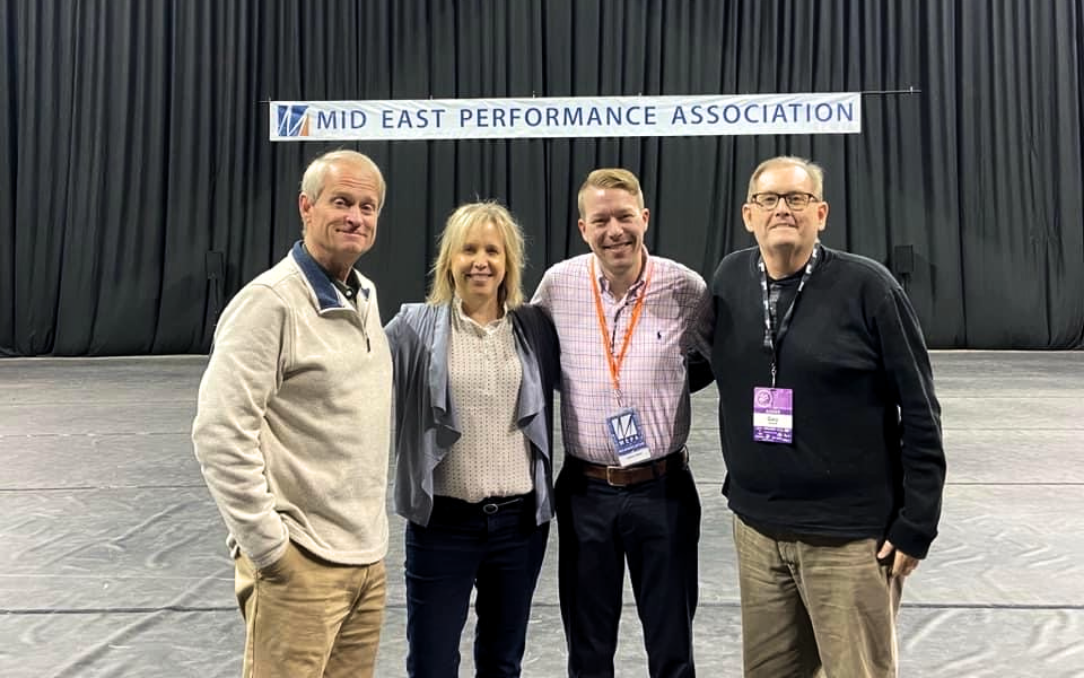 Julie says, "My favorite part of the job is absolutely the performances and the students. There's just an energy that is so incredible, and we, as judges, have the best seats in the house. I enjoy the efforts of every student. I know the hard work, money, and sacrifice students and families make to participate in this activity and want always to demonstrate appreciation and enthusiasm for every performance. In general, it has been amazing to see the progression of this art form over the past few decades, and the achievement is outstanding. Additionally, I respect and enjoy all the different aspects of craftsmanship, creativity, and variety the designers bring to the activity."
Another joy is the feeling that you have genuinely helped a group. "When I get a text or Facebook message from someone who says my commentary has been helpful, it is incredibly rewarding," says Julie.
Lastly, the community this activity has fostered is another amazing aspect of the job. "It's an amazing community of performers, teachers, and judges who bring such an energy to the activity. The personal experiences and friendships that I've made are invaluable."
The Challenges of Judging
Julie says, "The challenges when I first started judging are still the same today. The biggest challenge is trying to be at your absolute best for every group and give every group the opportunity to be successful. It's challenging to want to be every group's biggest fan but also understand that there is a responsibility to rank and rate to our best ability."
"I think one reason it was so valuable to have experience teaching groups before judging was that I could hear so many different tapes and hear what kind of feedback was the most valuable to instructors. I try to make sure that I'm encouraging and positive, but I also want to ensure that I'm truthful and honest, providing helpful feedback. Oftentimes, as judges, we echo what the instructor has been saying to the students, but when the students can hear it from a judge, it helps reinforce similar principles they hear from their instructor. I do my best to make sure that I offer the best insight I can to help each group refine and improve over the course of the season."
Another challenge is simply endurance and focus throughout the length of the day. "Every group that comes on has one performance. They have about 12 minutes to show what they can do. Judges often adjudicate 30 or 40 of these performances in a day. Staying fresh through 10 hours of judging requires endurance and mental prowess. We have to give the last three groups on that day the same energy and attention that we gave the first three groups of the day."
Sacrifices Made for the Activity
"Every teacher makes sacrifices. We typically put in far more time than we ever get reimbursed for, and that's fine because the rewards are a different kind of reward."
Julie explains that the most significant sacrifice is time. "There were times when I sacrificed family time for judging. However, I'm lucky that my own kids grew up in the activity and love it as much as I do. They grew up around the performing arts, which has become a part of their identity. I also think it's okay for our kids to see their parents work hard at something. Hopefully, seeing that will bleed into their work ethic."
The Future of the Activity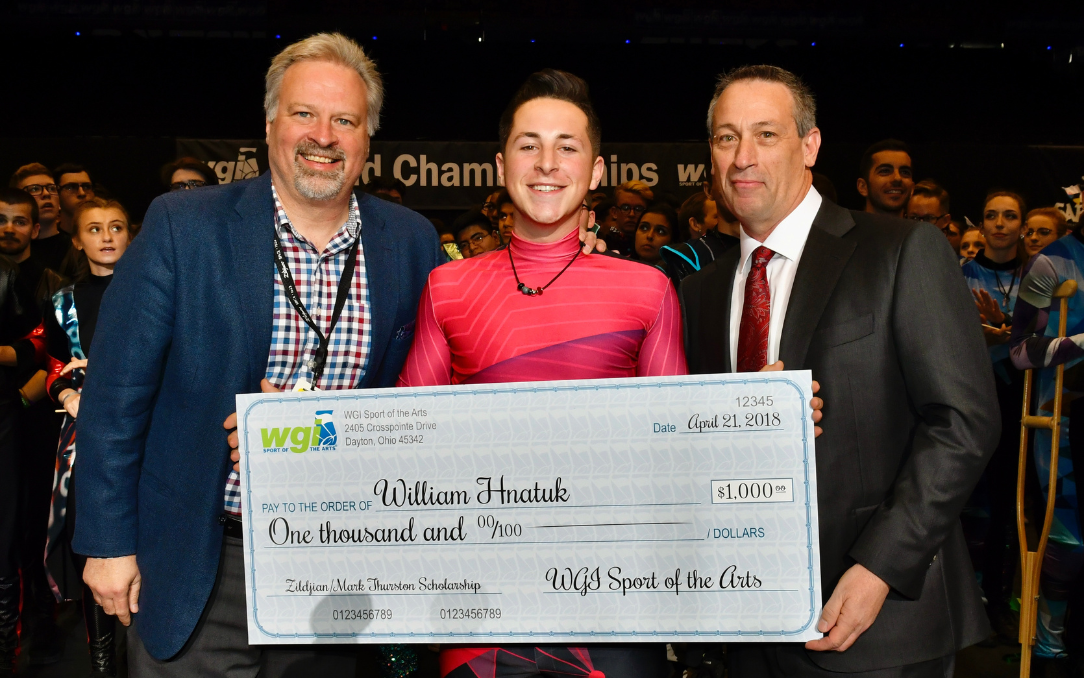 Regarding the future of the activity, Julie says, "I'm excited to see the continued creativity that groups bring to the floor. That bar is always going to continue to be raised. We have a community of really talented people." She explains, "The goal should always be to continue to elevate the activity and support groups at every level and classification. Every group should feel supported and encouraged. I would also advocate for diversity among performers, the judging community, instructors, and designers. I feel that we still have a long way to go in terms of continued development of diversity." One way this goal may be supported is through scholarships. "Continuing to build our community of offerings for scholarships may produce more student diversity."
Diversity is also needed among judges. "I think at times there is a reservation for females to get involved in judging, especially in percussion. It is still a very male-dominated activity. You must have a certain amount of confidence to judge as a female. Especially in percussion, when you are sitting behind a critique table, most of the people you interact with are male." There are two female judges on the roster, and as the roster has grown over the years, there remain to be only two female judges. Julie explains, "I think there are some really talented females out there, and many who are still teaching, which is perfectly fine. But I hope to provide some encouragement for those who take the leap when ready and interested in judging. We are seeing many more female participants, so I think we're headed in the right direction."
Julie also provides some general advice for all of those in the activity. She would encourage performers and teachers alike to work to maintain balance. "Each competition is incredibly important, but it's truly about the journey and the life lessons along the way. It's important to keep that core perspective. There is value in every aspect of participating, not just in winning a medal, so it's important to keep those values in mind."
She continues, "I also see a lot of burnout with instructors, and I want to encourage them to protect life balance. I encourage all instructors to keep a healthy culture and a safe team environment. You can certainly aspire to reach the highest level of excellence, but maintaining balance is also critical." Julie explains how important it is for students to maintain their other priorities. "Stay committed to your other goals, school, etc., so that when you age out, you're not behind," she says.
Perhaps the most important piece of advice Julie offers is to enjoy it. "I would have given anything to have participated in this activity as a kid. Enjoy it and be coachable. Being coachable can apply to every aspect of life. So much of our world operates through networking, which might start with whom you interact with in your ensemble."
Advice to those interested in judging
"I would encourage all those aspiring to be judges to stay a student. Always try to elevate your knowledge of what you will be asked to judge, whether that is performance considerations or design considerations. Strive to equalize your strengths. You know your strengths, so audit your weaknesses and listen, learn, and don't be afraid to ask questions."
Julie emphasizes just how important it is to practice judge. "Sit in the audience and make some tapes for a few groups. Then, listen back and evaluate yourself. Ask yourself how well you communicated the things you wanted to. Also, practice your numbers management. It's ideal if you can find a mentor who is a judge and is willing to listen to your practice tapes and offer feedback."
Julie also encourages prospective judges to read and digest the concepts and philosophy of judging in the WGI Handbook. The Handbook is incredibly thorough. "They've created tons of tools we can use as judges to help us be at our best."
Finally, Julie says, "eventually, you just have to dive in, get out to local shows and start judging. Start small and see where this journey can take you."
About the Author:
Trudy Horsting is a graduate student at Arizona State University pursuing her Ph.D. in Political Science. She holds a MA in Political Science from ASU as well as a BA in Political Science and a BA in Writing, Rhetoric, and Technical Communication from James Madison University. While at JMU, she was a four year member and two year captain of the Marching Royal Dukes Color guard and JMU Nuance Winter guard. She was a member of First Flight World Winter guard in 2019 and FeniX Independent World Winter guard in 2020.