Jeannine Ford, the Director of the Tarpon Springs High School Leadership Conservatory (TSLCA), grew up surrounded by the marching arts. "I grew up in Boston where there is a strong drum corps and color guard community," she says. "My parents were heavily involved in the Amvet Lancers and Amvet Brigadiers Drum and Bugle Corp based out of Massachusetts." Jeannine marched with many of the local drum corps and CYO affiliates, and she explains how privileged she feels to have been a part of so many wonderful organizations.
Jeannine marched with the Sancians winter guard prior to her family's move to New Hampshire. Once there, she marched with the Surbanettes winter guard. She says, "It was there that I had the privilege of being taught by George Zingali, Mark Sylvester, Jay Murphy, and Jim Vitagliano, to name just a few. I continued on my color guard career marching with the Cadets of Bergen County and spent my final moments of my performance career with Dale Powers, Jon Vanderkolff, and Jim Moore in Emerald Marquis."
Through her marching journey, Jeannine's passion for the sport exploded. She says, "It was through these experiences that I was able to learn about the color guard activity, but more importantly, it was where I was able to find a sense of belonging and true friendship. I found my passion for color guard."
Jeannine's early career performing in the sport illuminated all of the benefits the activity can provide to performers. She craved to offer the same benefits she experienced to her students as she moved into her role as an instructor.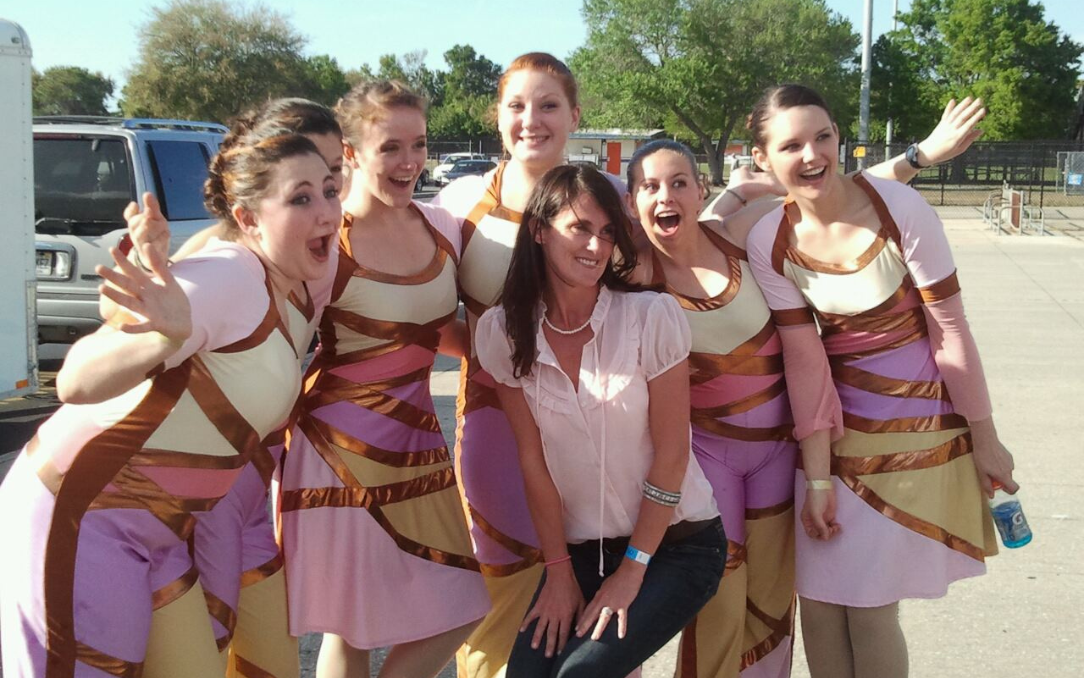 Twenty-nine years ago, Jeannine married Kevin Ford, the Band Director of TSLCA, and moved to the Tarpon Springs area. She explains that although she has been fortunate to teach for many organizations, Tarpon Springs is the community that she and her husband have dedicated their professional lives to.
Jeannine says, "Kevin and I share a passion for developing and serving youth in our community. We are proud of our Tarpon community and are grateful for the culture of excellence that has become the standard for our student performers." She continues, "The Conservatory's mission is to not only provide an extraordinary performing arts experience but also a very strong leadership curriculum. This curriculum develops each individual's growth mindset and teaches life skills through leadership. It is because of this philosophy that I have been able to dedicate the majority of my life to TSLCA."
Jeannine emphasizes that it's not just about building performers. It's about developing individuals. She says, "If you stop and think for a moment, yes, we are developing students as color guard performers, but we are also doing so much more. We are inspiring our world's future leaders, and we have an opportunity to instill in our students the importance of serving others. How I see it, it becomes our responsibility to create good people by developing their leadership skills, all while creating a family-like community." Jeannine explains that through her time at Tarpon, she has been inspired daily by the future leaders coming through the program who are looking to "inspire others to dream more, learn more, do more and become more."
Tarpon Springs started with just a few students, and Jeannine has been humbled to see the organization grow. Today the organization is one of the country's most well-known winter guard programs. Jeannine says, "Our humble beginnings provided us the opportunity to build the program from the ground up. This has allowed us the opportunity to focus on developing our student performers from the inside out and building a culture where our sole focus is 'winning the day' as scholars, performers, and individuals."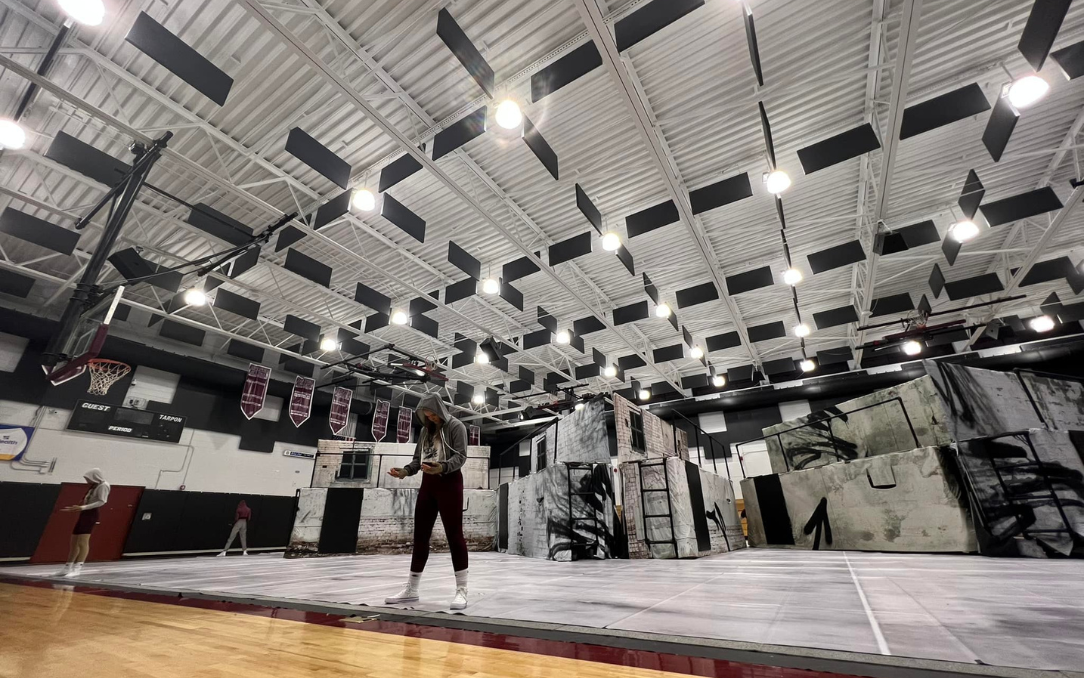 Bringing Tarpon Springs to WGI
Jeannine chose to bring Tarpon Springs to WGI on day one. She says, "The WGI platform showcases Sport of the Arts athletes at the highest level, and our philosophy was that by exposing the team very early on to some of the best groups in the activity, this would inspire them to be the best they could be."
Jeannine discusses how important she believes it is for student performers to watch other performers and groups in the activity. "We teach our students to be fans of other performers and of other teams. Exposing our students to other groups 'in action' helped them to see first-hand what a culture of excellence looks like. Through this experience, they could see their true potential. Early on in our development, we would line up and observe the groups who were the best in the activity warming up. Students were able to see their peers doing impressive things, which was inspirational. It is through this experience we were able to see the most growth."
Fostering this culture of excellence certainly paid off. Over the last 29 years, Tarpon Springs has made many of its own contributions to the activity. Jeannine says, "We have been blessed with many extraordinary young people, and I am proud each year of what students in the team accomplish." Tarpon Springs has created a legacy. "Without the efforts of past students, we wouldn't be where we are today." Jeannine says, "I also feel so blessed to have worked with some of the most creative designers in the country. Having these individuals share their talents with our students has been such a blessing."
Each show Tarpon Springs has produced has a special place in Jeannine's heart. "I can recall every show we have been blessed to perform over the past 29 years, and each contains a special story and memories that will last me and our performers a lifetime. To me, every show has value because of the students and the connections that make up the team." However, Jeannine says, "Some of the most rewarding moments have happened without any audience at all." She continues, "To watch a student overcome adversity is where the magic comes from. That's what it means to me to 'win the day.' Those are the moments that motivate me and bring me the most joy."
The Training Program at Tarpon Springs
Tarpon Springs started from humble beginnings. Jeannine explains, "When we first arrived at Tarpon, we had less than 15 students in the guard program, and most of them were actually band members." However, Jeannine and Kevin had big dreams and were determined to build the program.
Jeannine says, "It had always been our dream for the TSLCA to be a K-12 program, and we were finally able to start implementing this in 2010. Our first step was starting an after-school program at Tarpon Springs Middle School. For the winter season, the high school has both a World and a Scholastic A class guard. Our feeder program at Tarpon Springs Middle School has both a Varsity and JV guard." Prior to COVID-19, Jeannine started two other programs, one at the Elementary level and one at a nearby middle school.
Jeannine has made it a mission to ensure that all of her teams have the opportunity to interact with one another. However, the different rehearsal schedules make it a challenge for interaction to happen on a daily basis. As a result, Jeannine decided to host Friday night performances in the high school gym so that students from the different programs could get to know one another and interact.
Additionally, Jeannine has implemented a buddy system. "The high school students are assigned a 'lil sis/brother' from the middle school. This has resulted in an instant connection and provided our performers with a mentor they can rely on for advice or inspiration. It creates a smooth transition into the high school program as well. Since the students already have a strong bond, high school becomes a little less scary!"
Tarpon Springs also encourages interaction between the groups by training together. "We invite our Middle School Guard students to train with the HS during the summer at our Tuesday night Summer Training rehearsals. This has resulted in consistency in our students' approach to technique and work ethic. We believe strongly in this process of mentorship."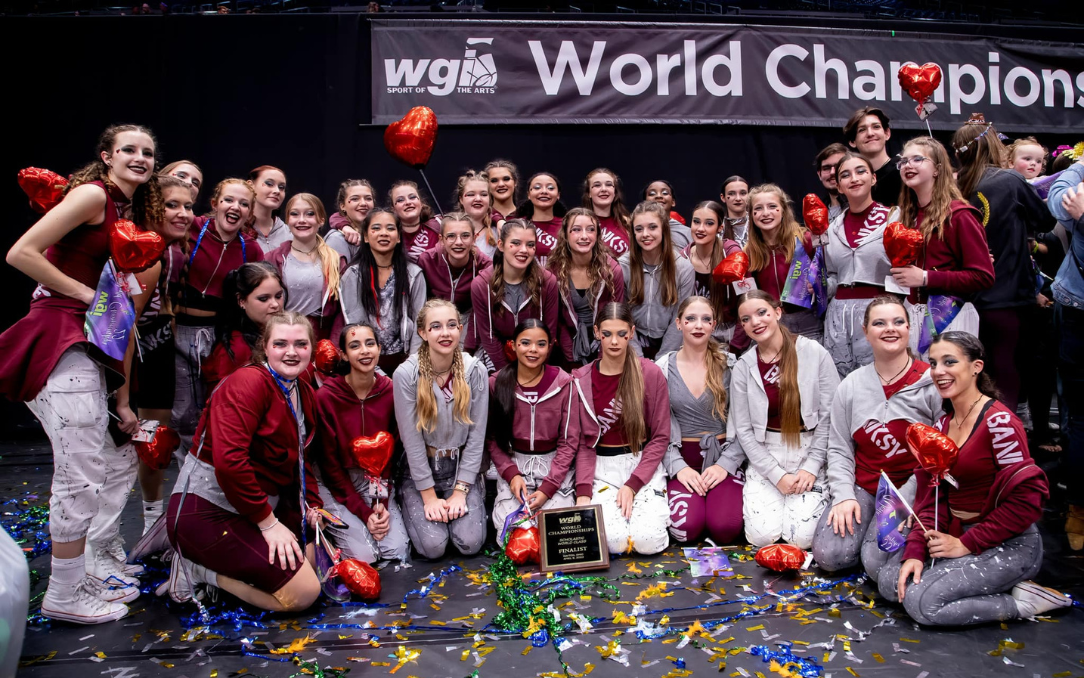 Bringing Her Own Children Through the Program

Few people have the privilege of instructing their own children through the sport, and Jeannine is so thankful to have had the opportunity.
Jeannine says, "My children have been heavily involved with TSLCA since before they were born. You could say they inspired my husband and I to be the founders and visionaries of the TSLCA. We built the program around the experiences and education we wanted to provide for our own future children. This organization has now become a vehicle to enhance the lives of all of our students."
"My daughter Madison was a flute player and Band President, and she attributes much of her success to the life skills and leadership she was taught in the TSLCA. It was an amazing experience being able to watch her excel in and out of the performance arena."
"My daughter Brooklyn decided after playing French horn in middle school that she would start to crossover into the winter guard world. She started her career as an 8th grader performing with the Tarpon Springs middle school program. It is there that she found her passion. Fostered by Tarpon World alumni, including John Kregler, Nelson Pott, and many, many others, she quickly became obsessed with color guard, and the team became her backbone. She has been in the Tarpon World Guard with me all four years of her high school career."
Jeannine continues, "As parents, all we want for our children is for them to feel a sense of pride, acceptance, and belonging, and Brooklyn found that in the Tarpon guard program. The journey with her has been extraordinary. It honestly brings tears to my eyes just thinking of all she has had to overcome to be a successful member of the team. Now as a senior, words cannot describe the amount of pride I have for her. She is one of the guard captains, she is a lead weapon, and she had to navigate through some very challenging health issues to get here. She is truly an inspiration not only to me but to her team and her community."
Jeannine emphasizes that the entire Tarpon community is a family. "Beyond our own two daughters, we sincerely feel like all of the Tarpon kids are our own and feel so blessed to have the opportunity to teach such amazing individuals year after year. They have all brought so much joy into our lives."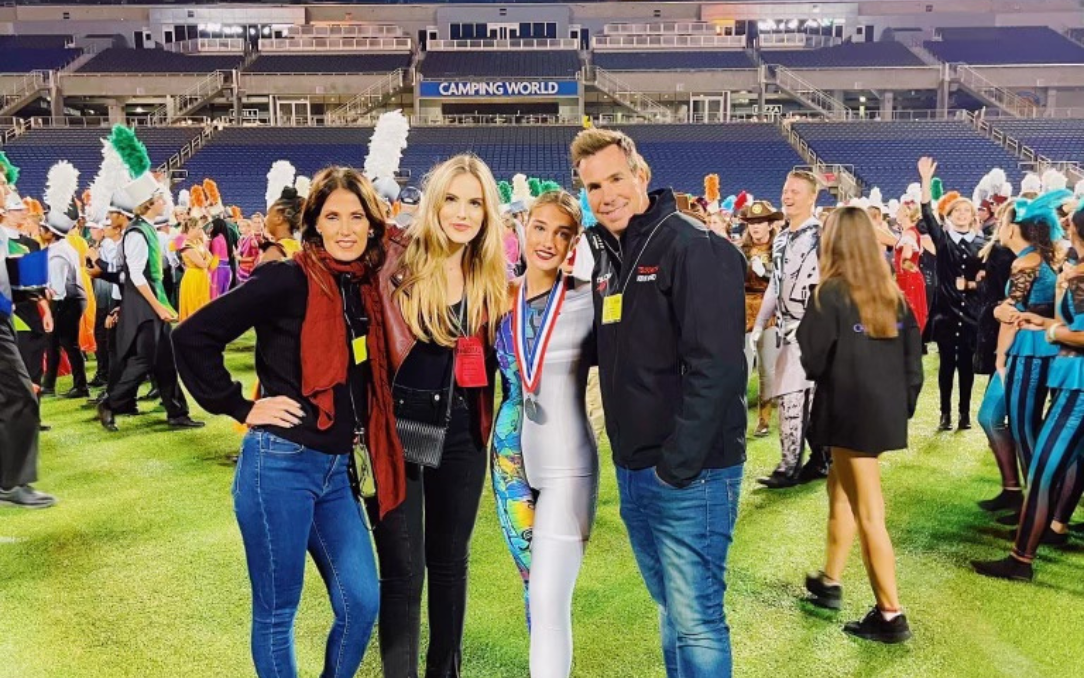 Advice for Educators

Jeannine's primary advice to other educators in the activity is to remember that there is not one correct way to educate. "Don't compare your journey to anyone else. Be grateful for whomever you have the privilege to teach and remember that your purposeful efforts can make a difference in their lives."
It's also important to think about what vision you have for your program and for your students. Jeannine says, "Have a vision for your program and a mission for the kind of people you want to produce. Always put the people over the product."
Remembering that color guard is about so much more than the show you create each year is critical. It is about the students, and Jeannie emphasizes that instructors owe their students their best effort every day. She says, "As much as we want to be, we will never be everything to every performer. However, we can control our effort. If you know that you have shown up every day and given it your all, that is enough." It's easy to equate success with placement. But sometimes success comes from other things, and each group is different.
Jeannine says, "Define your goals and expectations based on the talent in the room and do your best to help your performers develop into the best people they can be. Our focus is just to 'win the day.' The goal is to be better than you were yesterday and to recognize that each performer's success will look different."
To encourage personal development, Jeannine starts each color guard class with a quote. She shared that the quote for one of their recent rehearsals was:
"Culture is dynamic, not static. Every person on your team and organization creates your culture every day by what they think, say, and do. You elevate it by what you think. You improve it by what you say, and you make it great by what you do."
"Teaching others, especially young people, is a unique and valuable opportunity. You will be, of course, teaching color guard techniques and performance skills, but there is so much more that you will have to offer. You are offering YOU and YOUR time. Our youth today, more than ever, need people that believe in them."
It is important for students to feel as though their instructor is invested in them as a person, not simply as a performer in the show. "You become an integral part of who your team will become," Jeannine says.
"By teaching camaraderie, tolerance, patience, and teamwork, you are instilling life lessons that will remain with your students forever. Through your guidance, you will create lifelong skills, a sense of constructive learning, and a passion for performance not just in the arts but throughout their life's journey. Through your guidance, you are helping to shape and mold their perspective. The culture you create for your team will also contribute to your student's success at home, in their classes, and potentially even in their career."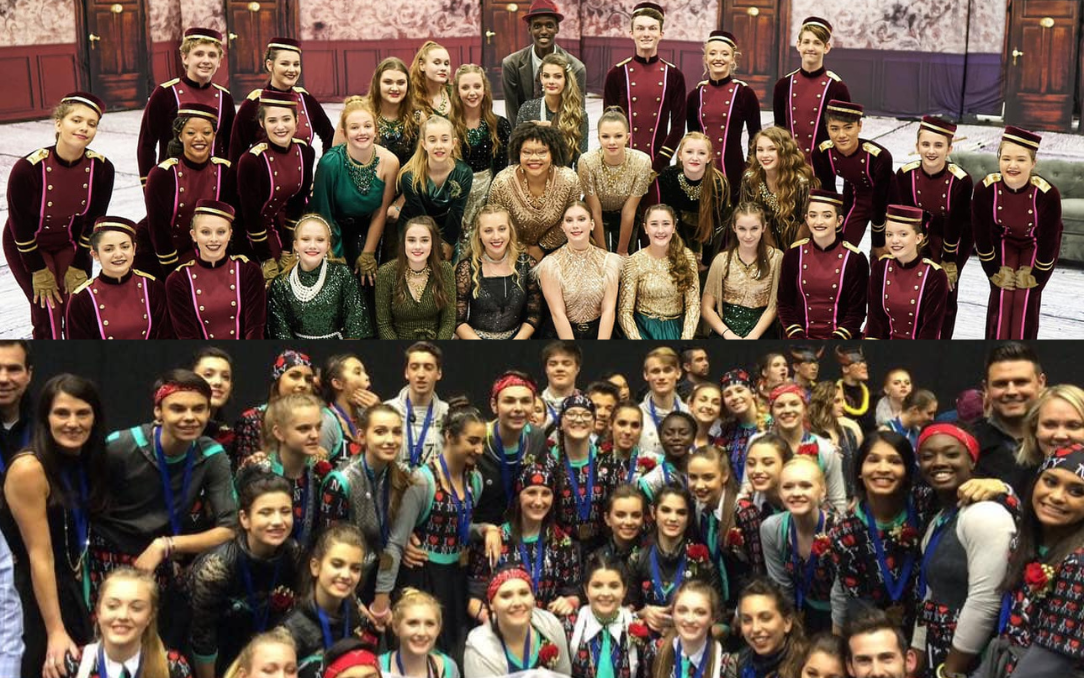 Advice for Performers

To performers, Jeannine says, "Be humble, be hungry, and be the hardest working person in the gym. Through this activity, you can become the person that you were created to be. Success is not the award on finals night because there is no guarantee. Success is based on your own personal journey, in which you are the driver. Represent the ideas and possibilities. You are inspiring our younger generation, and what we focus on will be what shapes this activity into the future. You are the uncommon breed of people who stay late, come early, and are relentless in pursuit of their goal."
Tarpon Springs' Enduring Mission

Jeannine says, "At Tarpon, it has always been our mission to inspire the world through our performances by fusing music, dance, artistry (emotion), and technology. Our passion for innovation is to create something out of this world that takes 'elevating experiences' to the next level and a bold step towards the next big thing." She says, "In pursuit of this, we must be reminded that when we come together and join forces, it is possible to change the world."
"It's important to look past what everyone is doing and strive to be the best version of yourself, to pursue that dream that we may not have thought was possible, and to take risks. Every day we talk about how we can move past complacency and look for a life of artistry, not just in guard but in all aspects of our life." It's also about passion. "You have to find the passion for what you wish to do and then also work to help others get to that point, giving back what's been given to you. We do not only talk about successes, but we also talk openly about people who overcame their challenges or disabilities. Others are inspired when you are able to overcome your challenges."
"Additionally, success is a team effort. I have been so blessed to work with so many incredible people, and I hope that each and every one of them knows how much I appreciate them and all that they gave to help provide life-changing experiences for our Tarpon student performers. We are appreciative to the WGI Administration for providing this platform for our youth and especially to all of the volunteers who help provide this opportunity for our WGI community."
Jeannine has helped shape not only the lives of her student performers at Tarpon Springs but the WGI activity as a whole. It is through passionate leadership like Jeannine's that this sport continues to grow and thrive year after year, creating a culture of excellence.
About the Author:
Trudy Horsting is a graduate student at Arizona State University pursuing her Ph.D. in Political Science. She holds a MA in Political Science from ASU as well as a BA in Political Science and a BA in Writing, Rhetoric, and Technical Communication from James Madison University. While at JMU, she was a four year member and two year captain of the Marching Royal Dukes Color guard and JMU Nuance Winter guard. She was a member of First Flight World Winter guard in 2019 and FeniX Independent World Winter guard in 2020.