By Kathryn Hardison
They say change is a good thing, and that may be true, but it doesn't come without its challenges.
OC Indoor faced hardships this year that pushed the performers to work harder than they ever had before.
For this Portland, Oregon-based group, change came just in time for its 10th anniversary of competition, and members said the group had never been better.
A new year, a new OC Indoor
Joshua Madrid, previously a drum tech for the ensemble, assumed the role of OC Indoor director this year, after the previous director had to step down.
"This was going to be my last year, and then there was that call to action for someone to step up and do this," Madrid said.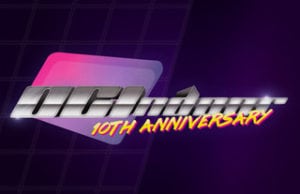 When he ascended into the position in November 2017, Madrid said OC Indoor didn't have a show prepared for the 2018 season. For a group that's used to having a show nailed down by September at the latest, this threw a curveball for the group's season.
"It kind of galvanized the staff and design team," Madrid said. "We created the show in about a weekend of discussions… We've been two months behind all season, but we've been pretty transparent with the group through the whole process."
Transparency, he said, was a new practice for the group. Despite being behind for most of the season, Madrid said in an interview before World Championships that the group was ahead of the game.
"Everybody kind of bonded over all the craziness that happened," Madrid said. "Everyone on the staff had to step up and take on more work, and the kids had to be way more professional this year."
In addition to having a new director, the group began a new partnership with TAMA and created a new logo for their 10th anniversary. Not to mention their late start to the game.
"We've always said: If we make it to Dayton this year, that's already a success for us," Madrid said.
Once in a Lifetime
OC Indoor, a Percussion Independent World group, performed in preliminary competition at UD Arena during the 2018 WGI World Percussion Championships. The group scored an 80.975.
The show, entitled "Once in a Lifetime," took the audience back to the 80s, from the costumes, to the music, to the ideas. Madrid said the performers were asked to watch movies from the 80s, read news articles, and listen to music from the 30-year old era to inspire their performance.
The show choice became an "educational process for (the performers) to not think of the 80s as mullets and type fonts," because "there were big issues that happened there that they should know about," Madrid said.
These Pacific North-westerners aren't "GE giants," — they're "coffee-drinking, book reading people" who like to sit around and talk about concepts, Madrid explained, which means this show was right up OC Indoor's alley.
"When I think about the 80s, I always think of trickle-down economics, the AIDS crisis, Farm Aid — all these crazy things that kicked off all the things happening today," Madrid said. "There's a lot of comparisons in today's society to back 30 years ago … there was counterculture back then, there's counterculture now."
Madrid said a main concept in the show was that everything is generational, but it's all once in a lifetime. Though something today seems the same from the 80s, it's experienced differently, he said.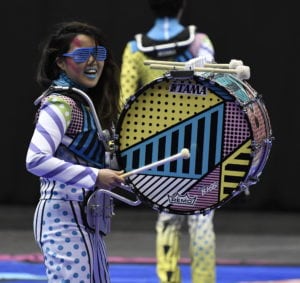 Riley Elam, section leader for the visual ensemble, loved this year's show. She was even allowed to dye her hair bright purple.
The group also had someone work with the color guard to coordinate choreography this year, which was another addition for the group.
"There was obviously a lot more thought put into what my section was doing this year opposed to last year," Elam said.
The group performed in six competitions before making the trek to the Midwest for WGI Championships. OC Indoor started off their season with a score of 70.30 at a February local competition with Northwest Association for Performing Arts, and three weeks later, jumped 10 points at a home show. In the group's first WGI appearance at a Portland, Oregon, regional, OC Indoor scored a 78.80. A week later, the group jumped 5 points to 83.15 at a local winter showcase just one month away from World Championships, and continued to improve with the following two performances.
Though the ensemble wasn't completely set when the season began, Conrad Garrison, a tenor drum section leader, said the group came together and worked well. There were only two quad players for the first two months of the season, and then, the group welcomed a wave of new faces from Japan, Holland and the local area to fill any existing holes in the ensemble.
In an interview after the group's World Championships performance, Madrid reflected on the season, and shared his favorite memory:
"That's hard. I think my favorite memory right now was our last rehearsal. We had been awake since 6 a.m., it was the 15th hour of our day, and we were uncertain of whether we were going to progress to semi-finals (at Dayton). They were all exhausted, sunburned, and we went into that gym and (they) were just relentless and didn't stop until someone told them they were done. That last run-through we did— not even knowing that it was going to be our last run-through ever — was pretty powerful. And I know it's going to sound cliché, but [it was] the best they have done, and the most energy they had put into it, despite everything. It was probably the time that I felt the most proud."
Looking Forward
Madrid said that a main concern for him and the group leadership is to make sure the performers' best interests are at heart moving forward. This means the group might be looking at policy changes in the future, though he didn't get into specifics.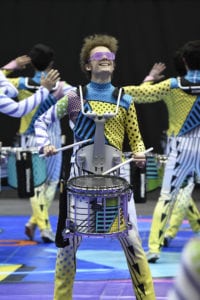 Cassandra Firmin, a member of the front ensemble, aged out this year but hopes to return to help OC Indoor for future seasons.
"My plan is to keep OCI moving forward," Firmin said. "I believe in this group and my plan is to come back and help teach, and show everyone what we're made of."
Firmin joined OC Indoor when she was 18, and was a member for three years before taking a year off. She joined the group halfway through the 2018 season when the group had a whole in the front ensemble. With all of the changes made this year, Firmin said she was blown away by the positivity in the group.
"No matter how bad things got, no one complained," Firmin said. "We went through so much, but coming here and producing the product that we did — I'm really proud to have spent my last year here, I really am."
Garrison said he most appreciated what Madrid did for the ensemble — stepping up as director and dedicating so much of his time to OC Indoor.
"I have a lot of respect for him," Garrison said of Madrid. "I really appreciate what he did. He took care of the stuff that we didn't need to worry about, and I think he did a good job."
Looking forward, the group will work on growing the administration team and the business side of OC Indoor's brand, as well as looking over the group's practices and philosophies, Madrid said. After World Championships, he said the entire team was committed to coming back for the following season, and there were already new additions to the team lined up.
Elam, Garrison, and Firmin all said they were looking forward to OC Indoor's next season.
"There's so much hope for the future," Firmin said. "I think this group is really going to show everyone what we're made of."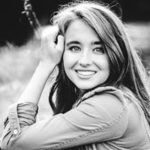 About the Author: Kathryn Hardison is a journalism student at the University of Missouri, majoring in news reporting and minoring in political science. Prior to college, Kathryn went to Kickapoo High School in Springfield, Missouri, where she marched the flute in the fall and played the cymbals for the Kickapoo Indoor Drumline. Kathryn's career in the Kickapoo Indoor Drumline included placing 8th in PSA World Championship finals in 2015 and a reclassification to PSO. After college, Kathryn plans to write for a newspaper.