By Trudy Horsting:
2022 was the first year Dobyns-Bennett High School Winterguard made WGI Finals. Jed Garvey, Director of the Colorguard, reflects on the longevity of this goal in an interview with Trudy Horsting. "The guard has been trying to make that push into finals for about two decades. 2022 was the year we finally made the jump." Jed wanted to build a name for the program, and he certainly did.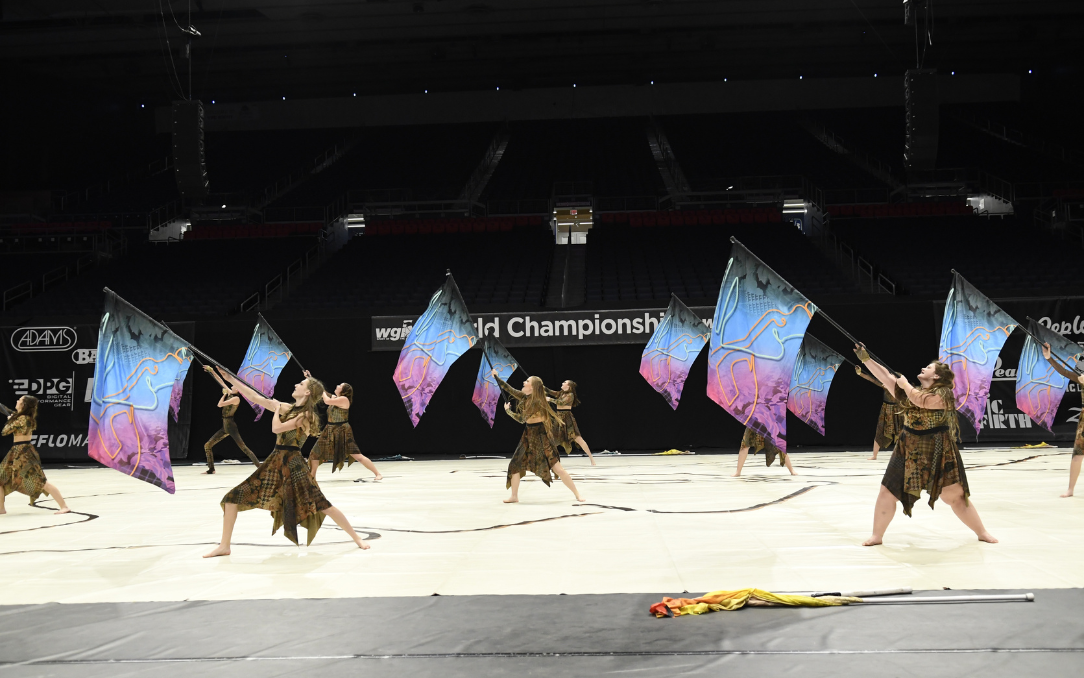 "It was something we frequently discussed throughout the season as a team to motivate the students," Jed said. "It was motivating for them to try and make a name for the winter guard program here."
He explains how the marching band program at Dobyns-Bennett has had much recent competitive success. The winter program, however, was not always as successful on a nationally competitive field. "We have been working to change that for so long, and it was nice to see some of that hard work pay off."
Jed reveals a few factors that contributed to his program's success this year: mindset and a phenomenal staff.
"There was definitely a different mindset with this group of kids," Jed reveals.
The Varsity team had 18 students, and not a single performer had been to WGI World Championships before. Of course, this was not a unique scenario for Dobyns-Bennett. For many students, 2022 was their first year attending a regional or WGI Championships due to the pandemic.
Jed says, "We simply kept working during the pandemic and lockdown. We used videos and remote learning. We studied the activity and, more specifically, our competitive class. We refused to slow down. We kept pushing the kids to improve, reinforcing the foundation, and celebrating the small victories. Then we came back full force when the world began opening again."
2022 was the first year the school offered a Color Guard class in the spring semester. They had one in the fall for a few years but adding one in the spring was undoubtedly a factor in their success, according to Jed. Class participation was not mandatory for the membership, so about half of the JV team and two-thirds of the Varsity members took the class.
Jed explains, "it wasn't enough to really do anything as a full ensemble with either of those groups, so it was a lot of individual spinning or spinning with friends and helping one another, learning new tosses and tricks, etc. Some of the older Varsity members helped teach the JV members new skills, which, of course, has benefits for the person teaching."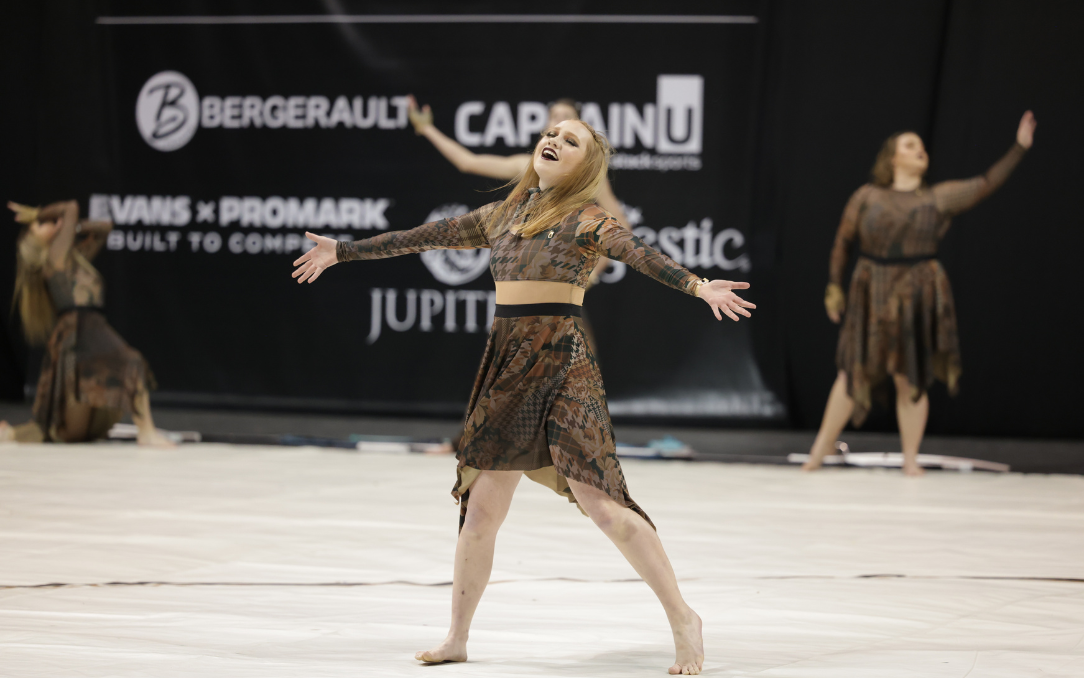 Regardless of what is done during each class, Jed explains, "having that much school-based, individual practice time as opposed to trying to make that happen at home on the "good faith system" is a big help." It was also helpful to have a community atmosphere in the class. Jed explains how the freshman in the JV guard would learn choreography from the Varsity show, and now, going into the Fall 2022 season, the skill of those younger students has skyrocketed.
Another positive aspect of this past season was the general camaraderie of the ensemble. "The kids got along well together. They meshed, they worked hard, and they built each other up. While focused, the group also had a silly and lighthearted attitude; they were able to keep that positive, fun energy before walking on the floor for each show. It set them up for success."
Throughout the season, it was also helpful for the students to see how positively the audience reacted to the show. "Frankly, it was something new for me, as the director, to have people running into the gym to make sure they got to see us perform. It was such a cool experience. People seemed to truly love what we were doing, which pushed us all to work even harder."
Jed describes, "it was a year of many firsts for us. It was the first time our program won a WGI Regional, and in fact, we won two. It was the first time our program won our class in our circuit." Part of that success was due to the performers' mindset and the positive atmosphere created in the class.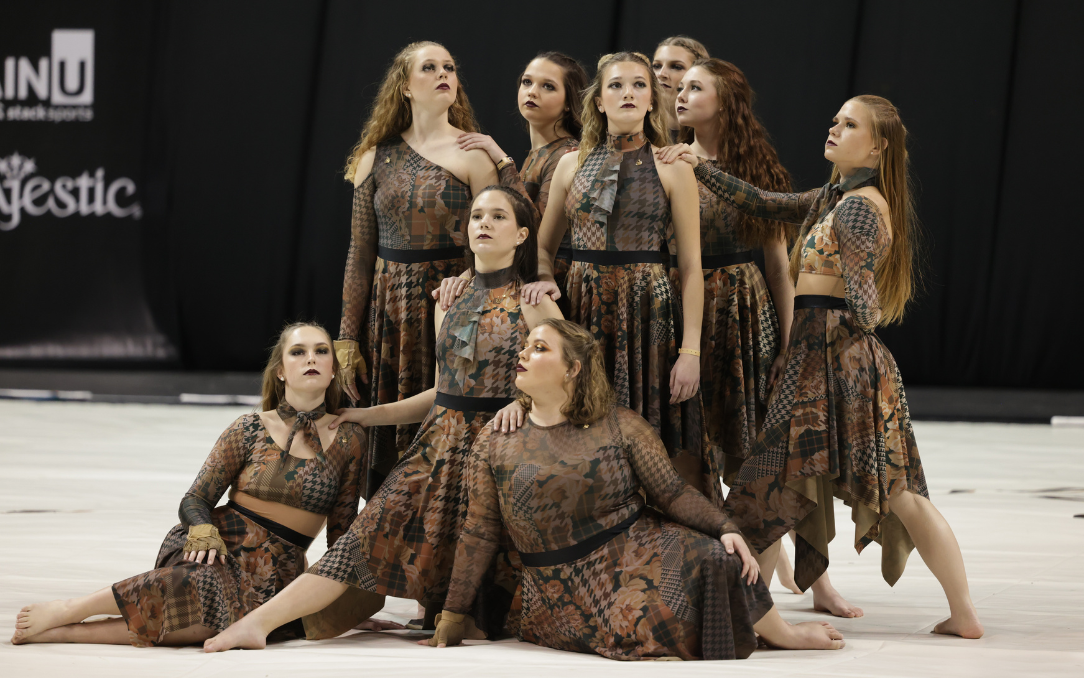 Jed explains that being in a smaller town presents unique challenges. One of these is staffing. Located in northeastern Tennessee, far from any metropolitan area, the team has only two primary staff members for the entire season: Jed and Catherine Gilbert. "It's like a different world when you start getting in the neighborhoods around bigger cities where they have a plethora of individuals with lots of Color Guard experience to pull from. That's simply not the reality in Kingsport, Tennessee."
But in 2021, Jed reached out to his friend and fellow designer, Byron Valentine, and asked him to be involved in creating the 2022 production.
Jed explains, "I felt like we hadn't yet found the right mix of people to make things happen from a programming standpoint. Fortunately for us, Byron was one thousand percent invested. He was instrumental in getting us to where we wanted to be." Tyler Garcia, who has worked with the Dobyns-Bennett fall program for several years, also joined the winter design team as a choreographer. Additionally, Vince Oliver was brought in to work on the soundtrack design.
"Being able to add these three new minds to the winter design team was critical," Jed states. "We are incredibly fortunate to have a lot of school and community support–that is something we're thankful for. However, I am also grateful to have found people willing to fully invest their numerous talents into our winter guard. The mix worked well for us."
Jolene and Diane: The 2022 production
The idea for the 2022 winter production began with inspiration from the 2021 Fall Season. The marching band performed a show with ties to the Appalachian area, where the school is in Eastern Tennessee, which resonated with local audiences. "I wanted to follow that up by doing something regionally inspired and local to us for the next competitive winter guard season. I immediately thought of Dolly Parton as she is one of, if not the most, iconic artists to come out of Tennessee. She is so deeply ingrained in our culture here. When we worked together on an unrelated project several years ago, Byron had also mentioned his desire to create an "ode to Dolly." You've heard the expression 'the right place at the right time – it was pretty much that!"
Even knowing this, Jed explains it took a while to find the exact show they ended up with at Dobyns-Bennett. He describes the design team listening to an abundance of Dolly Parton songs, trying to figure out a good fit for the group. "We began steering away from a greatest hits medley as we didn't want to present something that felt overly familiar. We wanted a unique twist. Byron stumbled across Cam's Diane, which the artist wrote in response to Parton's Jolene. This idea of two women, two songs, two eras, two conversations, etc. – all connected by one man – excited us."
On Vince Oliver's development of the soundtrack: "He is an amazing sound designer, and I believe the pacing, layering, and total audio presentation ended up being one of the highlights of our season. It's something people recognized, and it set us apart from the crowd."
The line art in the floor design portrayed two faces, representing the interlaced perspectives of the two characters: Jolene and Diane. Jed states, "ultimately, the show was designed to be a conversation piece between two women, equally wronged by the same man. They assume each has a conflict with the other but instead form this common ground and start a conversation. Jolene has a straightforward narrative. When we hear Jolene's follow-up perspective in the song Diane, we learn that she didn't know someone else was in the equation. These two voices meeting and weaving in and out provided the visual inspiration for the set design.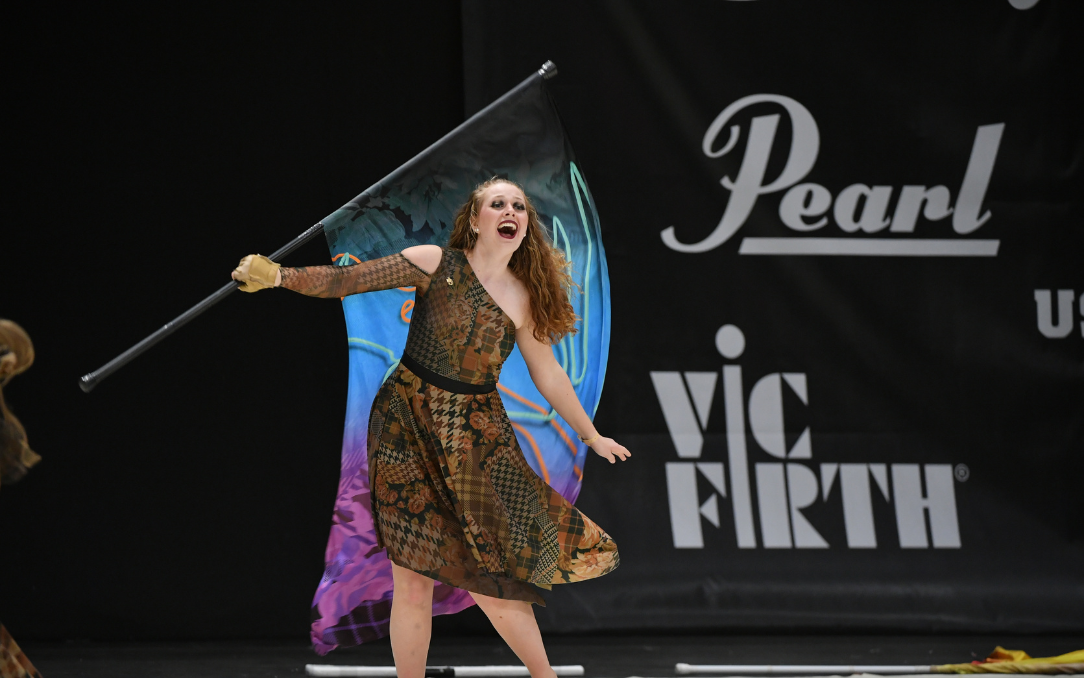 The costume and flag designs reflect a distinctive mix of patterns and palettes. Jed says, "on the body, Byron combined vinyl trims with sepia-toned layers of plaid, houndstooth, florals, and paisleys. These same prints were presented on the silks in contrasting colors, as we wanted to create a second visual juxtaposition of dual voices."
Jed discusses the challenge of standing out in A Class while balancing the staff's artistic vision and their student's abilities and needs. "We required something that could be competitive and make us memorable without sacrificing the entertainment value the performers and staff hoped for. I also had to consider the current skillset of my kids and what they would authentically enjoy performing. It needed to be the right blend."
"I also believe it's a good idea to lock in what you want your identity to be as a group. Stick to your guns about how you want to be perceived while considering how you can stand out. Especially in the A Class, because there are so many groups, getting lost in the mix can be easy. Identifying your brand, so to speak, is essential."
Jed also urges those struggling to uncover a show design to prioritize thinking about their goals. "It's important to consider your goals, both long-term and short-term. Is your goal to be competitive? If so, competitive at what scale? Is your goal recruitment? If it's recruitment, it is important to think about what kind of show will get people in the doors." Jed says, "I believe recruiting is something we've gotten pretty good at over the last few years. I think about shows, costumes, and marketing at our auditions, and I try to gravitate toward what is going to get more people in the door." He adds, "once you have the numbers, it's time to put in the work to be competitive. We made this, being nationally competitive, our primary goal for the 2022 Winter Season."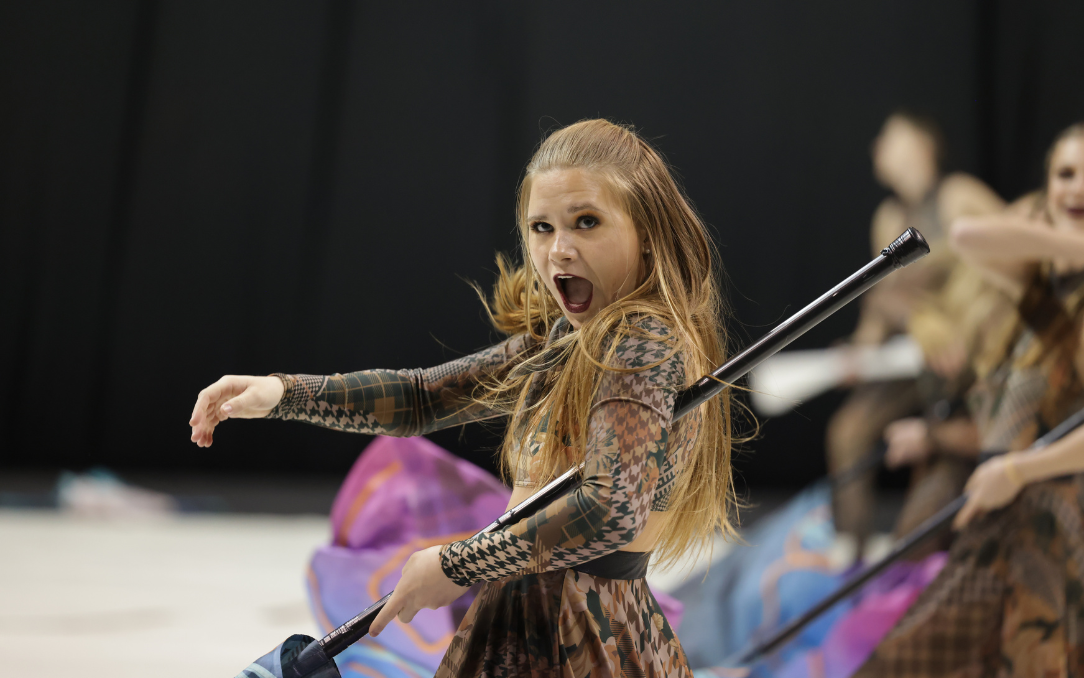 Jed is ecstatic to see how much progress the students have made in the last year. For example, he shared how his weapon program has grown so much in a year. "The kids have fully bought in; they are finally spending time on their own and working on skills. They believe in themselves as performers. The weapon line we have this fall is night and day compared to where we were last year. I'm excited to see what this ambition means for the upcoming winter season."
Jed adds, "The kids are excited too, which is wonderful. It's not always been the culture at Dobyns-Bennett for the students to be highly invested in Winter Guard. Part of that is because our marching band season is quite time-consuming and competitive at the national level. Also, with us being a small community, the Friday night lights at football games mean a lot to the membership. It puts a hyper-focus on the fall season."
But Jed says the 2022 Winter Season has brought forth a new outlook to the program. "The kids are already talking about Winter Guard. That's truly never been the case here. They're looking forward to seeing what the next step is for their program. They seem genuinely inspired, and it thrills me. It took us a while to get here. We worked hard, focused on the mentality, developed a team, and, in turn – and by our standards – made a name for ourselves. Now…we keep going!"
About the Author:
Trudy Horsting is a graduate student at Arizona State University pursuing her Ph.D. in Political Science. She holds a MA in Political Science from ASU as well as a BA in Political Science and a BA in Writing, Rhetoric, and Technical Communication from James Madison University. While at JMU, she was a four year member and two year captain of the Marching Royal Dukes Color guard and JMU Nuance Winter guard. She was a member of First Flight World Winter guard in 2019 and FeniX Independent World Winter guard in 2020.