By Joselyne Grace
A traditional percussion ensemble uses drum harnesses to move around the floor with their equipment. However, it can be quite demanding and restraining to carry a heavy drum with you while you perform.
Then came Dark Sky Percussion's 2019 program: "PHRĒ."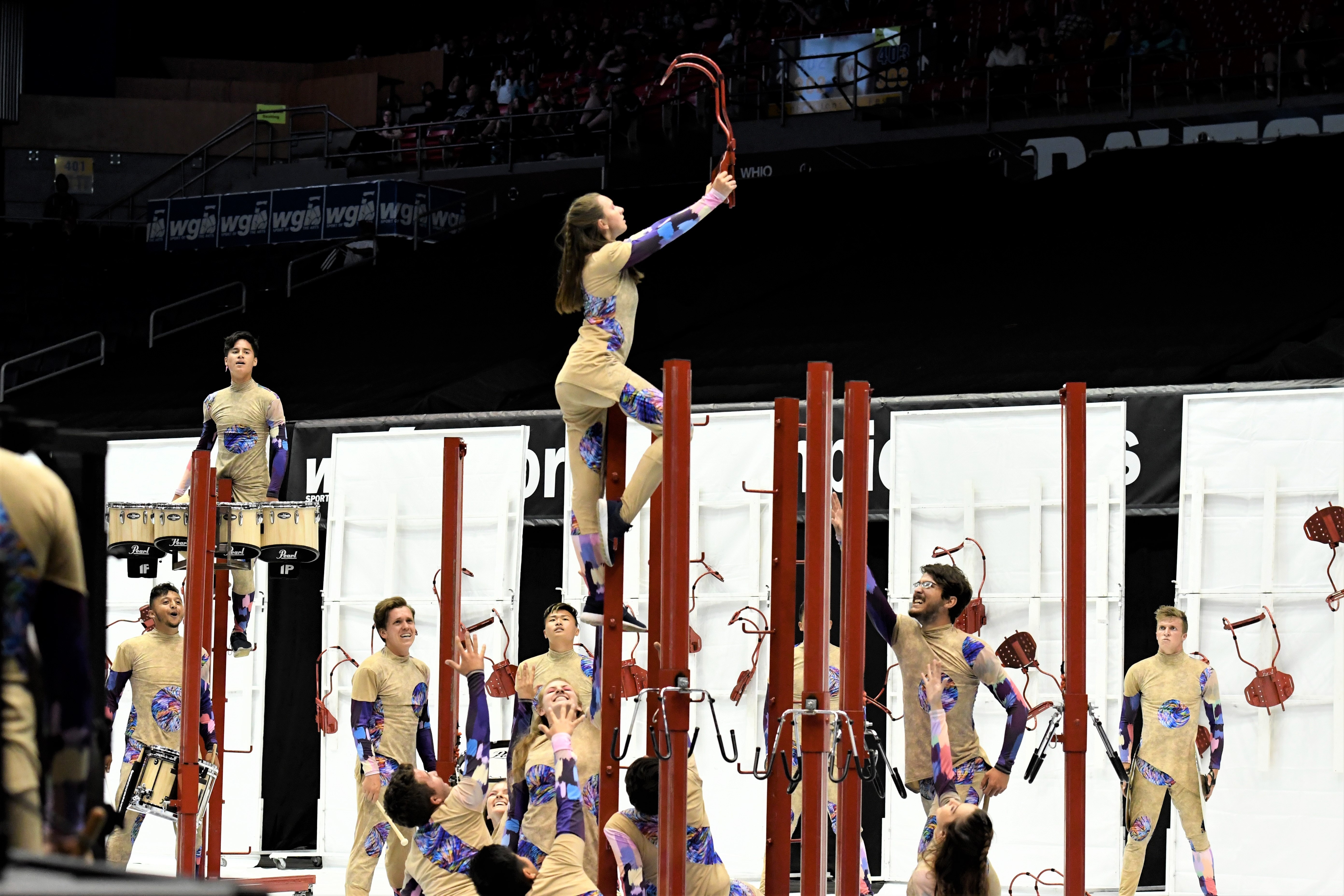 "PHRĒ" takes the audience on the journey of a man who falls asleep and dreams he was a butterfly, only to wake up not knowing whether he was a man who dreamt he was a butterfly, or a butterfly who dreamt he was a man.
From the get-go, the stage is set for an eye-catching performance with towering 8-foot fire-engine red props as the main focal point on the floor—in stark contrast to the pastel white, sky blue, and tan tones of their tarp and costumes. Seconds into the performance, the audience watched in shock as members proceeded to hang up their harnesses—leaving them on the back wall for the remainder of the show and attaching their drums to the 8-foot props. From there, Dark Sky treated the audience to a show bent on creativity and mobility, maintaining awe from start to finish.
So how does this show concept tie into the world of indoor percussion? Inspiration for "PHRĒ" goes back to Dark Sky's debut in 2008, where they first set forth to establish their own unique image as an ensemble. To be different and unconventional has always been the vision for Dark Sky, and that goes hand-in-hand with their program "PHRĒ", a show that quite literally represents freedom and autonomy in so many ways.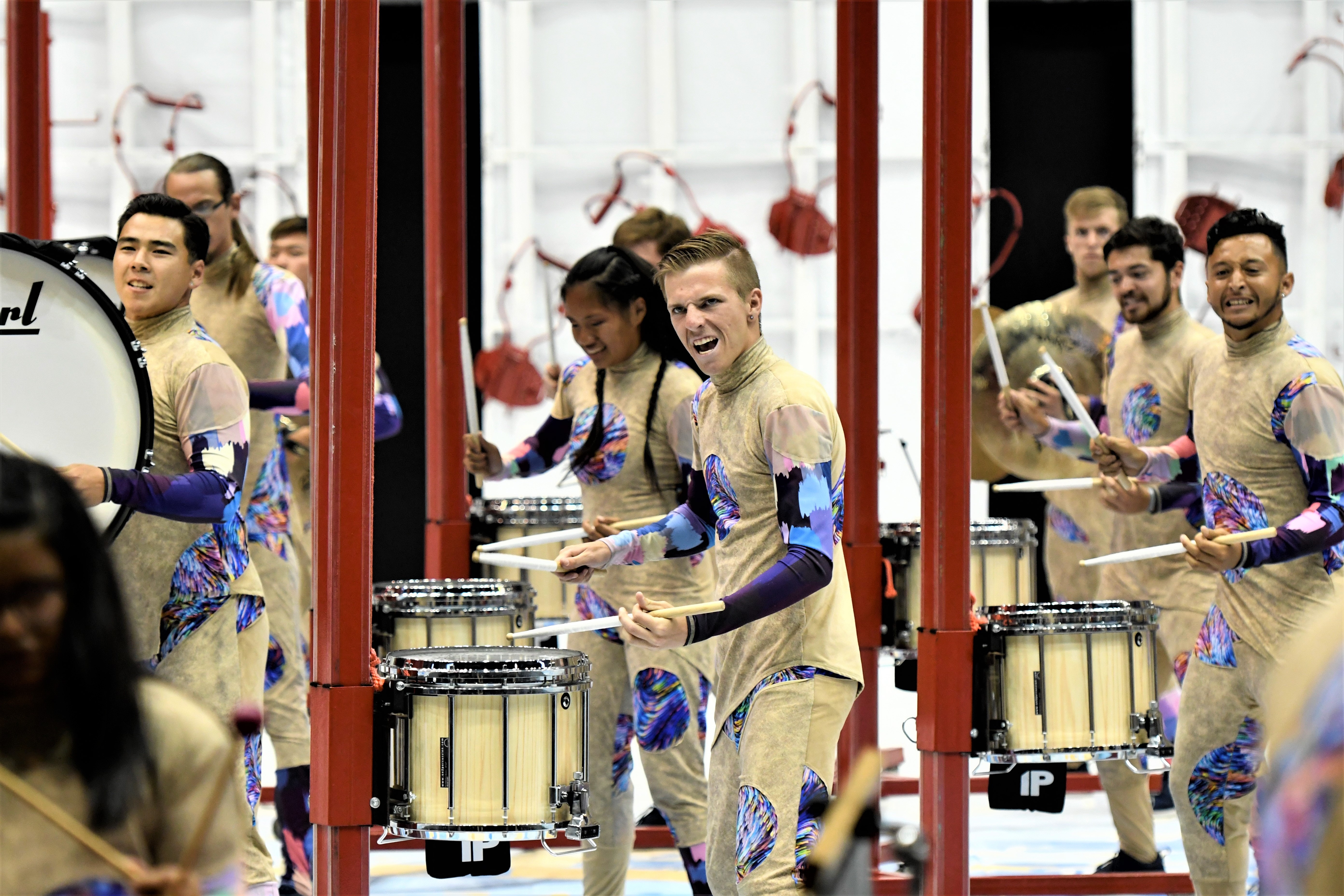 Dark Sky Battery Caption Head Henry Gillard went on to explain the complexities of designing and bringing "PHRĒ" to life, describing how every uncharted concept and show design comes at a price. Designing 8-foot props that can move fluidly across the floor, suspend a person 8 feet up in the air, and can tilt their drums in multiple different angles was no easy task.
So, how did they make it work? Gillard explained that the props are poles with a rope inside, similar to a flagpole, with a mechanism to attach the drum to which allows the drum to move up and down when pulling onto the mechanism. Additionally, a counterweight was added at the bottom of each pole for increased stability—allowing the drum and performer to safely scale the prop to the top of the prop without risk of tipping over. Determined to bring their vision to life, the staff at Dark Sky worked tirelessly to create these props with the safety and security of each member at the forefront.
Dark Sky Percussion has rapidly risen to the top since its debut in 2008. In their very first year, they were moved up to PIO, and by 2014 they were promoted mid-season to PIW. From then-on, Dark Sky only continued to grow and succeed, securing two semi-finals performances and three finalist performances in PIW. Their undying commitment to excellence and creativity has continued to bring them growth as an organization and ensemble.
And, as their definition of "Dark Sky" states, they will continue to shine bright like the stars and "light up" the indoor percussion scene for years to come!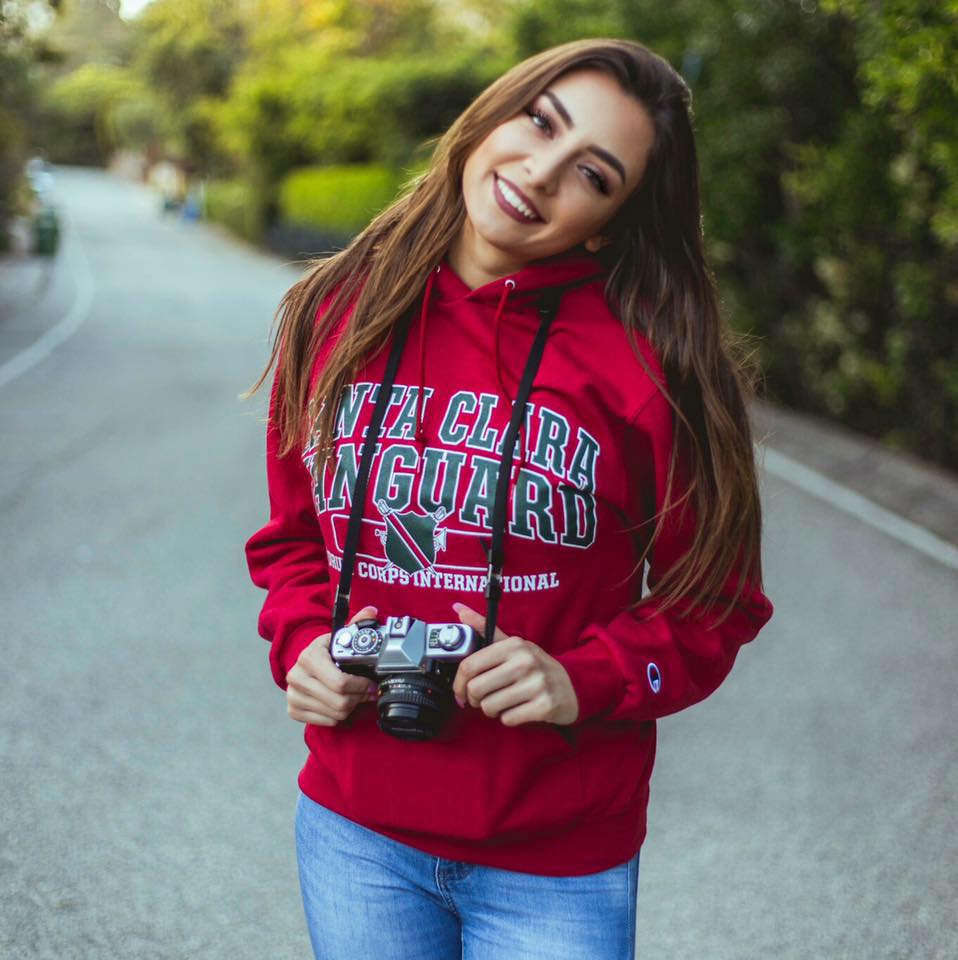 Joselyne Grace received her media studies undergraduate degree at California State University San Marcos, with an emphasis in marketing. As an avid supporter and alumni of the arts, she marched cymbals with Dark Sky Percussion in 2015 and 2016, as well as participated in DCI for 6 years. Within those years she was able to march in WGI Independent World Finals with Dark Sky in 2016, and won a gold medal with the Vanguard Cadets in 2017.